Top 5 Wedding Photography trends for 2020
Published 2nd July 2020 in ALL Categories, Photography
Photo above taken by A Shot Above The Rest Photography.
With weddings given the green light and wedding season just around the corner, we decided to get out the crystal ball and predict what are set to be the biggest wedding photography trends for the remainder of 2020. If you are getting married and you're on the lookout for the freshest photography ideas and inspo for your wedding album, this blog is for you!
Relaxed candid wedding photography
The days of traditional choreographed formal wedding photography may be coming to an end. An ever-growing number of couples are opting for a more relaxed and casual photography approach to their big day.
2020 is definitely seeing an increase in candid documentary-style wedding shots. This is where the photographer stands back without directly influencing the unfolding events. Instead, their role is to simply focus on capturing all the wonderful moments 'organically' as they happen. Choosing this approach means that you and your guests don't necessarily need to pose or even look at the camera. It's all about naturally capturing the many organic interactions as people socialise, hug, laugh, cry and celebrate your special day. Candid wedding photography is spontaneous and perfect to shoot all those intimate and heartfelt moments, which are only possible without being directly influenced by the photographer.
One of the main benefits of taking a relaxed candid approach is that you don't need to leave your ceremony or reception for a posed location shoot elsewhere. It captures a snapshot of you just hanging out and enjoying your wedding with your guests. The downside can be that you don't always get images of everyone looking at the camera. Also be aware there is the potential for a lot of unintentional photo-bombing by 'free-range' guests in the background of every photo. Our best advice here is to make sure all your guests know they will be photographed throughout the reception so they can be mindful of this.
Choosing a candid photography approach can certainly lead to some stunning images of you interacting with your guests and family. There is also no reason you can't combine it with more traditional posed shots to get the best of both worlds for your wedding album.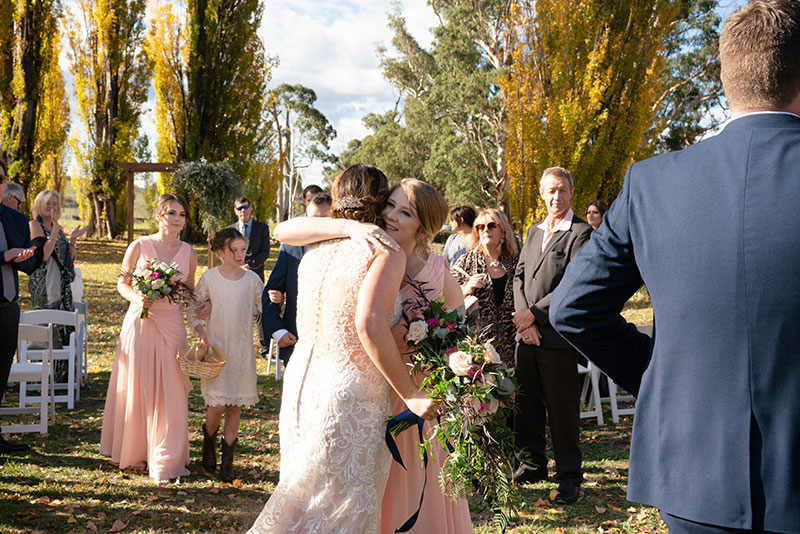 Candid photo taken by A Shot Above The Rest Photography.
Drone Aerial photography 
If you are looking for a little bit of wow factor that definitely wasn't a part of your parents wedding, then drone photography may interest you. This style is all about capturing your big day from a different perspective. It includes still images and video.
Drone photography will be able to capture the whole scene and vibe of your wedding, ceremony and reception from above, and works perfectly for outdoor weddings.
If your ceremony and reception are being held indoors it can still capture posed group shots and images of you as a couple, your bridal party and family in an outdoors location. You will be restricted if you are in a built up area, as flying a drone has some very tight restrictions around flying over people and around buildings. So please check with your photographer about appropriate locations and whether this style of photography will suit your big day.
Drone aerial photograph taken by Timeless Creations.
Unplugged wedding ceremonies
The rise of the friendly well intentioned, but completely oblivious wedding photo bomber is a real thing! Basically, it's where a wedding guest in a bid to get the perfect shot of your wedding for their insta and FB followers either stands in front, behind, or sticks their phone into the line of sight of the professional photographer. Ultimately this blocks your paid photographer from taking all the best photos of you on your wedding day.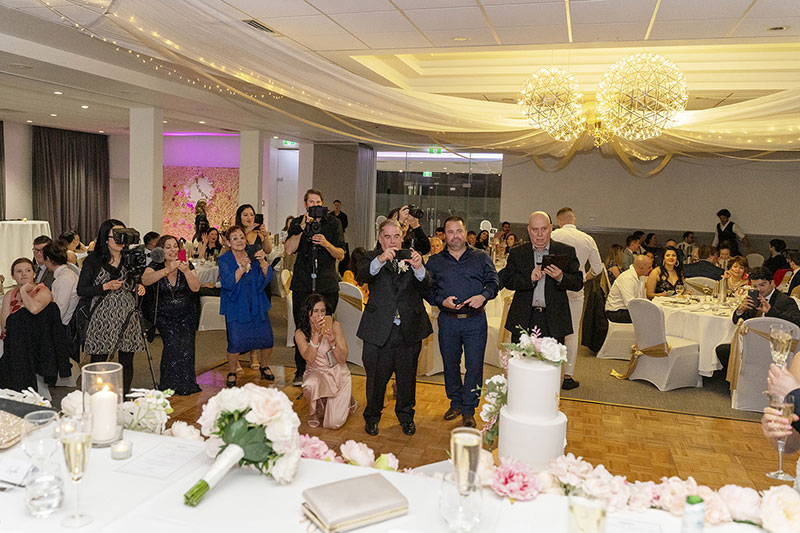 Photo taken by A Shot Above The Rest Photography.
Given you have paid for a professional photographer to capture all those beautiful, candid incredible moments of your wedding unfolding for your future pleasure, you may like to consider an unplugged ceremony. This is where all of your guests are invited to put their cameras and phones away and enjoy being 100% present on your big day. They can then have access to the photos you choose to post on social media.  The guests can pull their equipment out and capture everything after the ceremony, so they will still get that insta worthy shot without interfering with your images.
One thing to remember with an unplugged ceremony is you will have no candid images or video content of the event. Many brides and grooms comment after the day about how fast it all goes, and that sometimes reliving the moment through video allows them to remember all the small moments that are easily forgotten in the rush of the day. If you are going for an unplugged ceremony you may want to consider hiring a videographer who can professionally capture the moment in moving images. That way you can cover all bases without living with any regrets of missed moments to look back on in the future.
Photo captured by Timeless Creations.
Natural Environment Wedding Photography
This style of photography is all about incorporating the natural scenery and landscape into your wedding photography. In these shots the couple is the focal point, but they are captured in a way that shows them to be a small part of a much larger environment.  
This style of imagery offers endless opportunities to capture creative and unique photos that reflect where you are getting married. 
Whether your wedding is at the beach, in the mountains or a large country field with a beautiful old tree, your photographer can capture images of you interacting as a part of that natural environment - which ultimately makes for great art for your wall!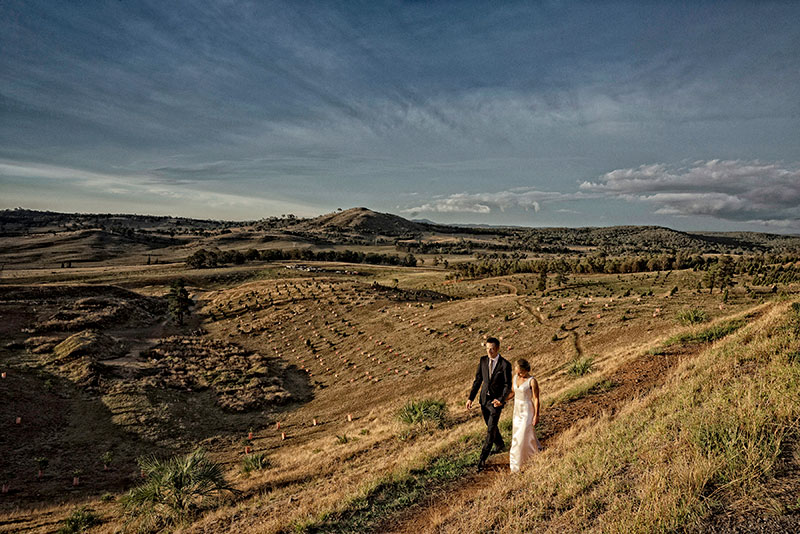 Bride and Groom captured in an extensive rural setting by A Shot Above The Rest Photography.
Natural Environment and Drone Photography
Now if you want to take your wedding photography to the next level, then you are definitely going to want to find a wedding package with a photographer that can combine the beauty and wonder of natural environment photography with drone photography. 
Just picture those shots of you hugging on a mountain or walking hand in hand joyfully on a secluded beach. The drone flies overhead candidly capturing you from a variety of different angles, some of which aren't even possible from the ground.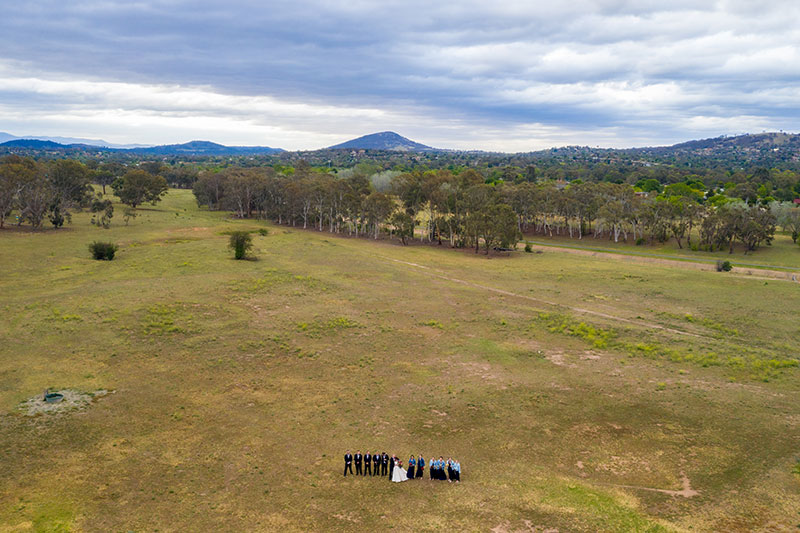 Wedding party in country setting captured by Timeless Creations using drone photography.
We hope this has given you some fresh wedding photography tips and ideas to help you find the right style of photography for your upcoming wedding. Let us know if there are any other trends you would like more information on to help you organise your nuptials in 2020 and beyond.
Photographs in this article supplied by:  A Shot Above The Rest Photography and Timeless Creations.