5 Minutes With: Annette Richards Celebrant
Published 8th June 2021 in 5 minutes with, ALL Categories, Celebrants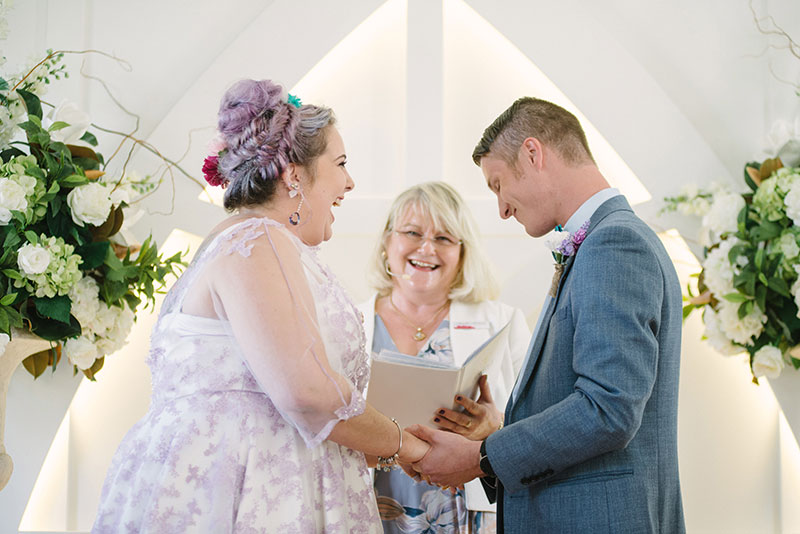 Accustomed to sharing couples stories at the ceremonies she officiates, this time the shoe is on the other foot and we're sharing her story with you!
If you're planning on visiting our wedding expos, it's likely you'll find Annette Richards Celebrant there, so come and say 'hello' - but in the meantime, enjoy spending 5 minutes with this bright, bubbly celebrant with a warm, calming personality.
 
How did you come to work in the wedding industry as a celebrant?
I absolutely love working with people. Having a background in people focused industries, from starting my working life as a hairdresser, to working in retail, early childhood education, tourism, human resource management and diversity and equity. I have studied communication and public relations and have a Masters degree in Management so… when you put it all together, this is the perfect profession to let me use all my skills on a daily basis. Being trusted to tell couple's stories is really special and I do my very best to make sure that I get it right.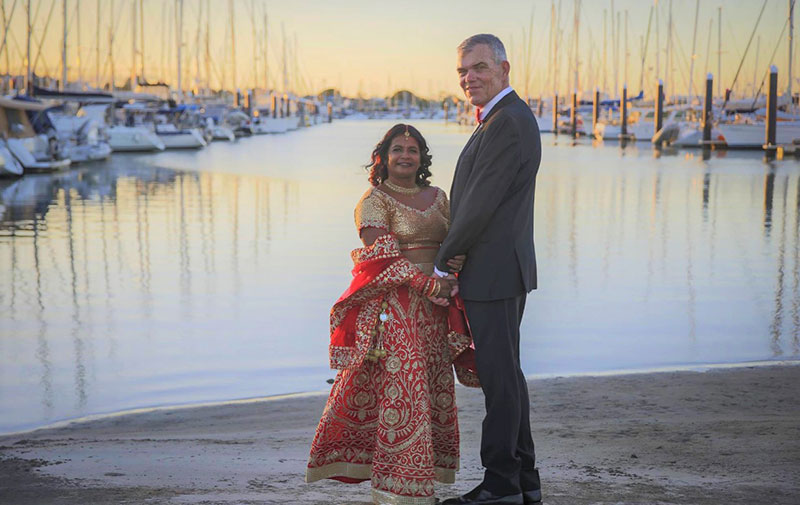 Are you a full time celebrant?
Yes. I have been doing this work for about four years now and, as well as performing weddings, I MC at events, conduct memorials, funerals, naming ceremonies and other "right of passage events".
What do you offer couples who choose you as their celebrant? 
My aim is to make their day as easy as possible – basically, I take the stress out of it. I will lodge all paperwork, download and play their music (legally) through my speaker, conduct a rehearsal, help with vow writing and personalise their ceremony by telling their love story. I also offer the loan of a handbook with examples of ceremonies, vows, rituals, readings, words for their ring exchange.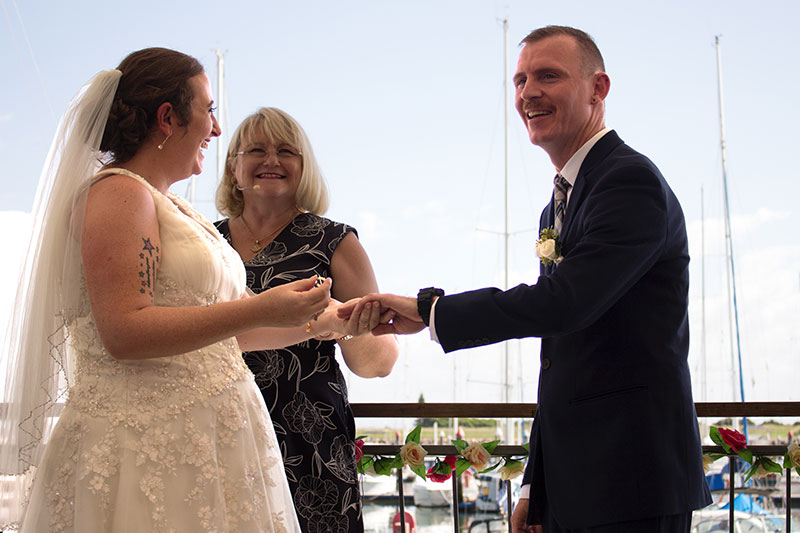 Couple exchanging rings during their wedding ceremony.
 
When should couples start looking for a celebrant - how long before their wedding date should they book?
It really depends on the time of the year. Traditionally, Spring and Autumn are really busy and need to be booked well in advance, usually 12 months or more, particularly if you want a Saturday wedding. That being said, legally you have to provide at least one month's notice of your upcoming wedding with the completion of a "Notice of Intended Marriage" form.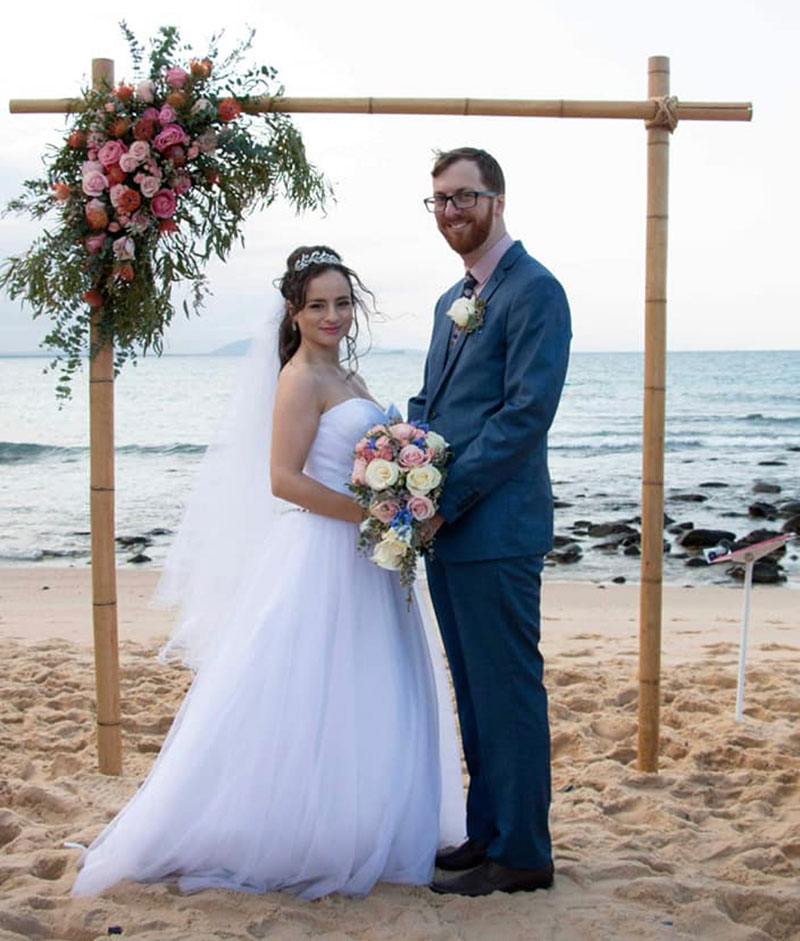 Would you run us through what happens from the moment you are booked, up to the wedding day? 
Oh my goodness, so much!
The first thing is to complete the "Notice of Intended Marriage" form. At this meeting, I lend the couple my Handbook to help them to understand more about a wedding ceremony – after all you don't know what you don't know.
Once the form's signed, I usually wait until about two months before the wedding date and meet with the couple again. At this meeting we talk about the ceremony and get down to the nitty gritty details. I'll learn more about them as a couple, what they love to do together, how they met etc. Basically, after this meeting, I walk away with a pretty good feeling of exactly what they want.
Then I write their ceremony and send it to them for their feedback and any further input.
I ask them for the names of the songs that they want played during their ceremony, so I can download them.
I encourage all couples to write their own vows and keep them secret from one another and help them as needed.
Once the ceremony is finalised, we get together for a rehearsal – usually the day before or a couple of days before the ceremony. At the rehearsal we can make sure that the bride enters at the specific spot she has chosen in her music. There is another paper that I usually get signed at the rehearsal - the "No legal impediment to marriage" form.
The Marriage Certificates are signed at the ceremony and the Ceremonial Marriage Certificate is presented to the couple.
Then I lodge everything with the Registry of Births, Deaths and Marriages and once registered, they will send an Official Marriage Certificate to the couple.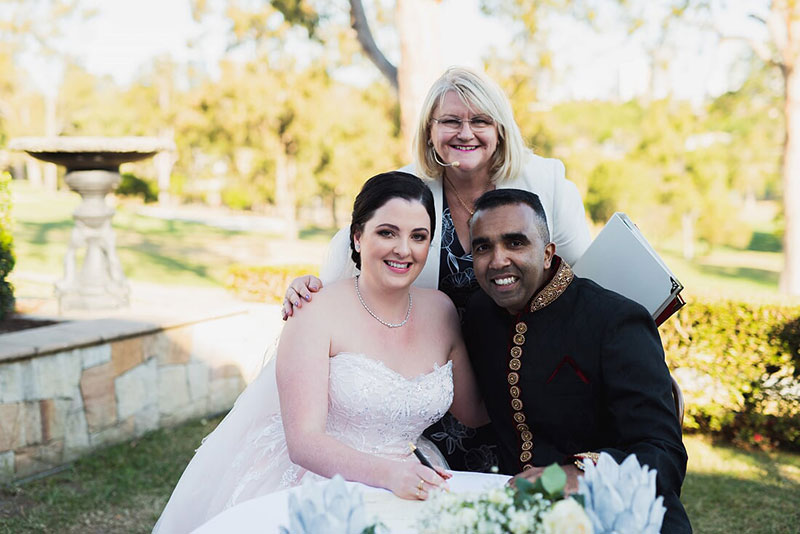 Newly wed couple signing their Marriage certificate.
What is the most memorable wedding that you can recall?
There have been a few, but recently I performed a wedding for a couple whose family live in Brisbane and Townsville, but who themselves live in Melbourne for work, as they're both actors. The poor things, they had to postpone their wedding because of COVID and had many false starts because of the Melbourne lockdowns.
They finally decided their wedding would be in March 2021, but then Melbourne had another COVID outbreak around Christmas time. While they managed to escape this lockdown, they still had to be tested for COVID here in Brisbane. Well, I think that was the final straw for them.
They decided to stay in Brisbane a bit longer, brought their March date forward to February and organised everything is about three weeks! The wedding was absolutely beautiful.
They had a flower man who spread some rose petals as he frolicked down the aisle. They had friends who provided live music and, because they were actors, were really comfortable "performing" in front of their friends and family, which just added to the fun of the wedding. They leaned in to each other all the time and wrote some heartfelt, but really funny, vows. The groom even grabbed the bouquet from his bride, took his Mum's arm and said, "my turn", and walked down the aisle with her. We laughed throughout the ceremony and basically had a lot of fun.
About a week after the wedding, they returned to Melbourne and another lockdown,  but this time they were Mr and Mrs.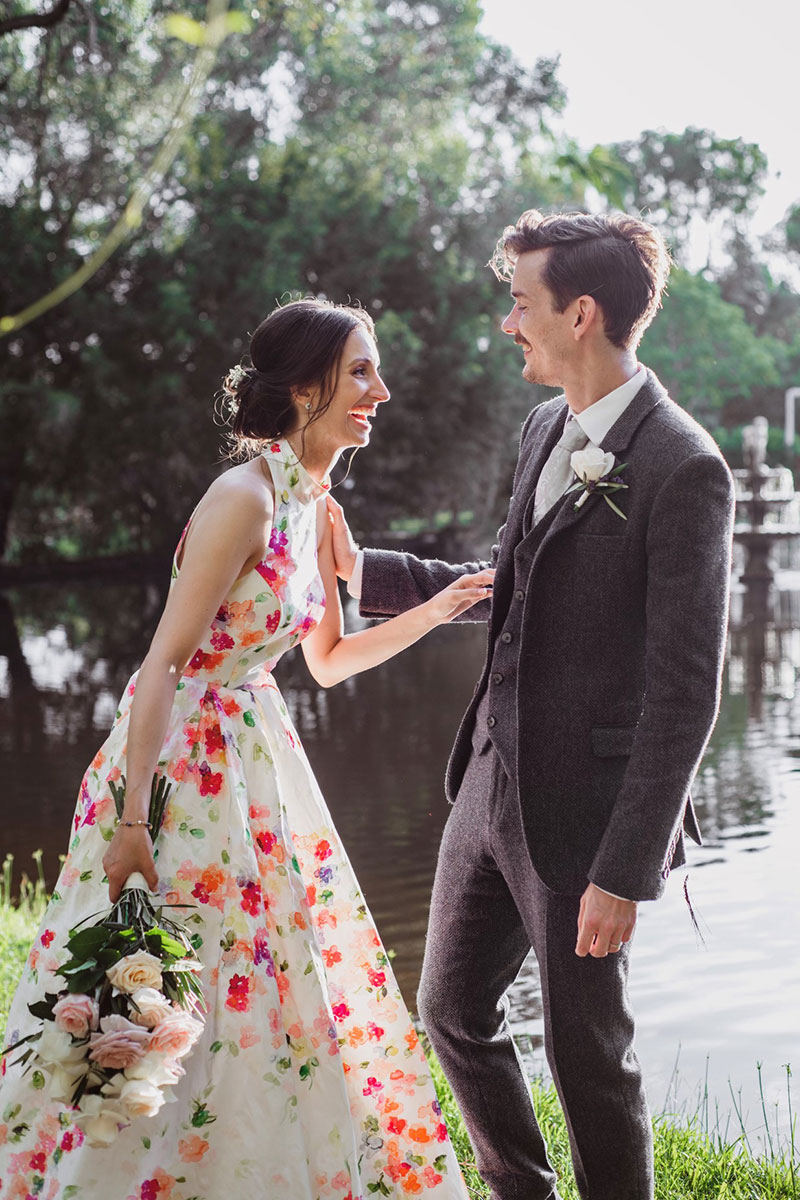 The Bride and Groom, Lauren and Anthony happy to finally be married.
What do you see as the most challenging aspects of your role as a wedding celebrant?
I don't think there are any real challenges. I love the people who I get to work with and most couples who choose me, do so because they have a similar personality, so their wedding is sure to be a bit of fun.
Many people think that Celebrants are expensive and to be honest we have a wide range of prices. But… I see being a Celebrant as a profession because it requires annual mandatory training and an annual registration fee.  If you think about all that we do, the number of meetings we have and the fact that you need a fully registered marriage celebrant (or a priest) to be legally married, perhaps you would get a better feel for the charges and the responsibility we have to make sure that everything is done legally.
The party/Reception is really important, but it would all be pretty meaningless if you weren't legally married. So, of all the people involved in a wedding ceremony, the Celebrant is the only one you need to be married (plus two witnesses of course).
 
Do you have any advice to share with couples who are looking for their celebrant or planning other aspects of their wedding?
You need to find a celebrant who you like and feel comfortable with. You will probably spend a bit of time with him/her and you want to look forward to your meetings not dread them.
The venue, celebrant and photographer are the three key things you need to book so get in early. Everything else will fall into place as you go.
Also, I let my couples know that I'm happy for them to pay off their ceremony, with regular payments, as I understand how hard it can be to pay for a wedding.
Click here to find out more about Annette Richards Celebrant...