5 Minutes With: Timeless Creations
Published 29th April 2020 in 5 minutes with, ALL Categories, Photography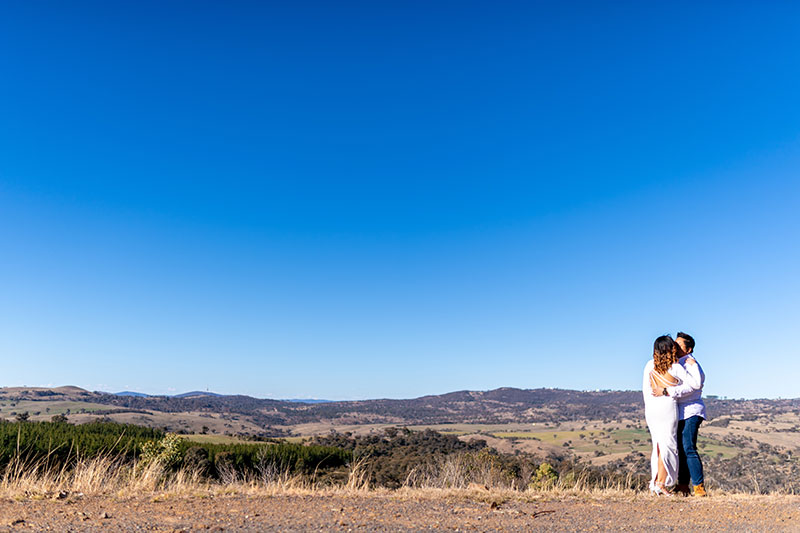 We recently caught up with Mark Jennaway, wedding photographer and owner of Timeless Creations to ask him a few questions about his thriving business. When you meet Mark for the first time, his passion for wedding photography is easy to spot, and his answers to our questions below confirm this. So if you're after fun, candid, natural looking photographs of your special day, the creative and experienced group of photographers at Timeless Creations may be exactly what you're after. Read on to see if they fit the bill for you...
How did you come to work in this profession?
I used to work for the APS, but I was finding it increasingly difficult to maintain positivity around having a purpose in my life as I felt that the work I was doing for the government had no true purpose, was not helping anyone in any way, and it started to feel like work for the sake of work, like a groundhog day, essentially.  I wanted to have something that was always different, always unique, challenging and fun.  I had always enjoyed taking photos, mostly for local models, and I found that quite satisfying in terms of there being a purpose for what I was doing, photographically. So, I started to look into options as to how to earn a living as a professional photographer, and decided the hardest thing to do would be to shoot weddings. It was the challenge that I was looking for. I started learning all there was to know from local talent and idols in the wedding business, and 7 years later, Timeless Creations is a very successful local Canberran wedding photography business.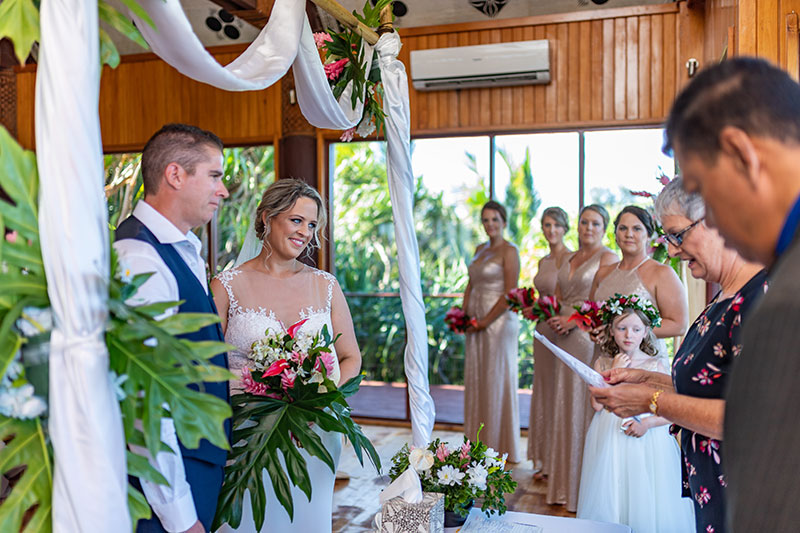 Beautiful, candid wedding photography
What are the unique or special features you offer to couples who choose you as their photographer?
One of the key features of our wedding photography is the possibility of drone photography, so long as the weather on their wedding day is conducive for flying, and the location we fly in has limited restrictions. We also offer two photographers always on every package that is purchased, which when we first started out was quite a unique feature in our offerings. Now, we are very well-known for our ability to be the perfect addition to any wedding day, in terms of our personalities, and we are one of the only photographic companies in Canberra that has the ability to take on up to 4 weddings on the same day, if necessary. That way, we can provide the quality of service and quality and style of imagery to almost everyone who wants to have us.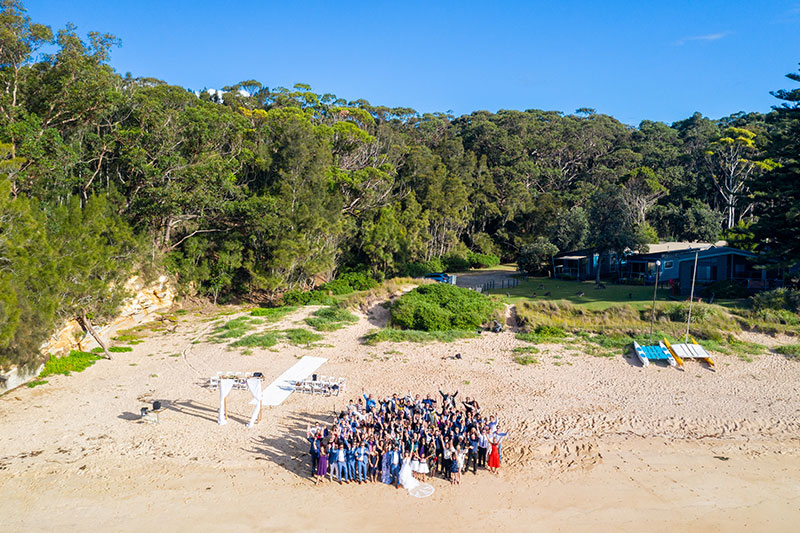 Drone photography
What is the most memorable wedding that you have captured?
We have photographed over 300 weddings now, so having a single one stand out as the most memorable is a very tough call. Every wedding is memorable and beautiful in their own way. However, for me personally, when children of the couple getting married are involved in the wedding, in a sizeable way beyond just wearing a beautiful dress/suit, like providing their reasons for why they want their parents to get married, or having the children sign a part of the wedding certificate, they tend to be the more memorable ones, as even I may start crying when everyone else does too! Perhaps the one that was most memorable of a wedding like that, was the wedding we shot in Fiji last year where the couple had her daughter tell a beautiful poem for everyone as to why she loves her new father, and why she want him in her life as much as her mother does, and only to hear from the step-father that he had already begun the paperwork for properly adopting her as his own child. Now whether it was the gorgeous backdrop of the Fijian skyline, or the level to which this couple were going to in order to become a wholly unified family unit, I don't know, but it sure sticks in my mind as right up there as a pretty darn memorable wedding!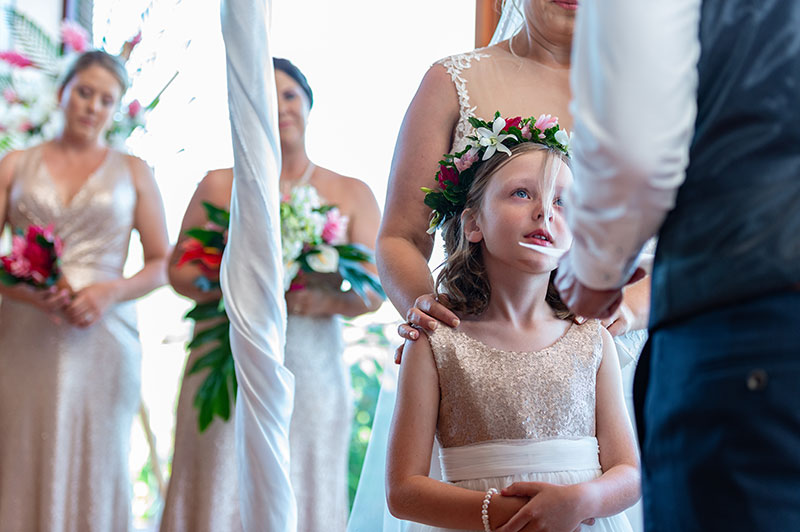 A memorable wedding in Fiji with daughter involved
What do your wedding services include?
We provide two photographers guaranteed, with offerings from 4hrs to all day. We provide all our images digitally on a USB, as high-resolution non-watermarked images. You receive 50-100 images per photographer per hour of coverage. You receive a wedding weblog and gallery, as well as a personalised framed print. There is the potential for drone photography and we also offer the chance for Astro Photography if everything falls into place for your wedding. And all of this comes in a neat packaged price that increases based on the number of hours coverage.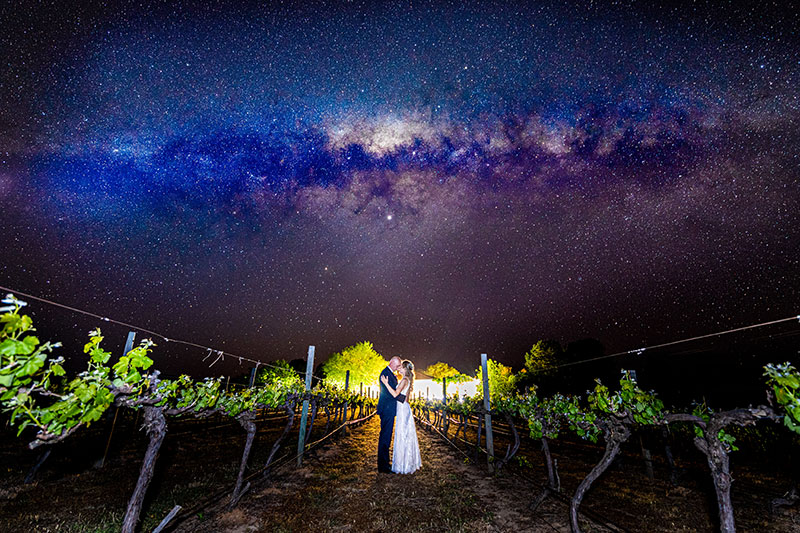 Astro photography
Why should couples choose you for their wedding?
Because we have seen every situation imaginable, and know how to cope when odd things arise. Because we are down-to-earth, happy-go-lucky people that know how to help you have a fantastic time, which in turn creates beautiful, candid, natural and romantic imagery. Because we will tell parents, or mothers/fathers-in-law where and when they need to be in order to get the photos our brides and grooms want. Because we know how to help you with any insecurities you have about yourself so that we take the most flattering images possible. Because we know how to make sure you feel at ease at every moment of your wedding. Because weddings are our passion, and we love capturing love. And because we have far too many people singing our praises for new brides and grooms not be at least a little bit interested as to the difference we create.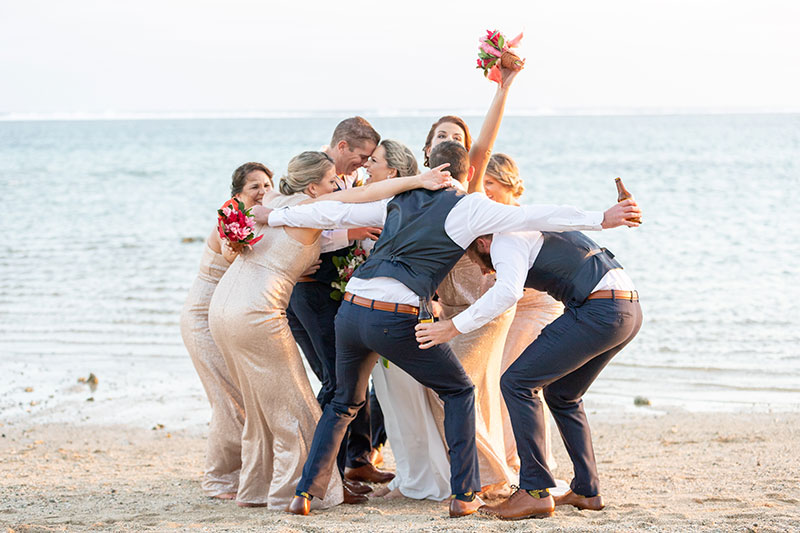 Fun, candid, natural photography
What do you see as the most challenging aspects of your role as a wedding photographer?
This is a fun question. Because for all the photographers at Timeless Creations, and there are 13 of us now, we have all been trained to know how to shoot every aspect of every part of a wedding, perfectly. We combine a variety of styles of shooting to provide a unique image set from the wedding, and this is all due to the experience we have. There simply isn't a part of the day that is challenging for any of us.
Years ago, I would've said "dealing with people" was the hard part for me, as I am personally quite introverted (I prefer to be alone in my studio, working on the images, rather than out in a crowd of people). But I couldn't perform my role as a wedding photographer if I didn't learn how to work with and deal with people, so I made that my strength over the years.
So, as awkward as it sounds, there really isn't any part of my or our roles as wedding photographers that we don't know how to meet head-on.
Any tips or parting words for couples-to-be?
The best advice I can give couples is that when choosing a wedding photographer, you first choose a style of photography (like a filter place over the image, similar to instagram), and you then choose a personality.  Every single photographer starts a photography business because they more or less "know" how to take a decent photo. Whether they can create a beautiful set of images across an entire wedding day is a different matter, and where experience plays a huge role in what you're looking for, but at the end of the day, we can all take a nice photograph. So this isn't what you should be looking for.  You should be looking for a style you like and then a personality you can get along with. I can personally guarantee that if you don't like my personality, it will be very difficult for me to get you to enjoy yourselves on your wedding day. Thus, it will highly likely be the case that you won't' really like the images that are taken.  Once you've established that you like someone, and can trust that they know what they're doing with their business, and can guarantee you that they will do the job perfectly, then make sure that you aren't being hoodwinked into spending more money after your wedding that you don't need to spend.
Click here if you would like to find out more and make contact with Timeless Creations.