10 Things to Consider to Create the Perfect Wedding Grazing Table
Published 13th March 2019 in ALL Categories, Catering, Food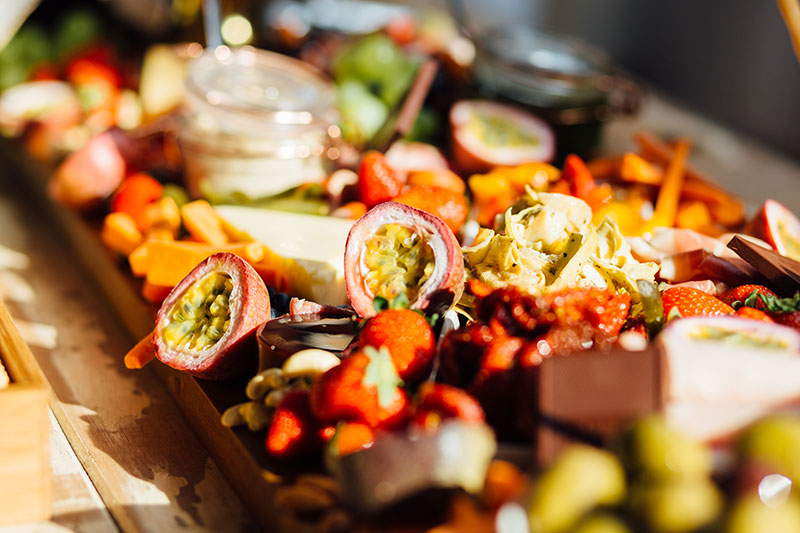 Vert Photographics
If you hadn't noticed lately, the popularity of grazing tables and grazing boards for weddings and events has gone through the roof! Colourful and flavoursome, with a definite 'Wow' factor, who wouldn't be impressed?
And grazing boards look like they're here to stay. Keen to find out a bit more about grazing table catering, (because let's face it, the last thing you want to do on your wedding day is have another thing to stress about), we went straight to the experts – In Season Catering & Events.
Originally based at Paradise Point on the Gold Coast, Craig and Sarah started out as Monsoon Catering. They had a small cafe to begin with, but with their catering business in high demand, they sold their small cafe, changed their name to In Season Catering & Events, and now cater for weddings and events around the Gold Coast and Hinterland. They pretty much cover from Brisbane to Byron Bay, delivering their fresh and inventive food and have a portable kitchen set-up or they can just as easily use your home kitchen or venue.
Lets take a look at some of their amazing grazing boards...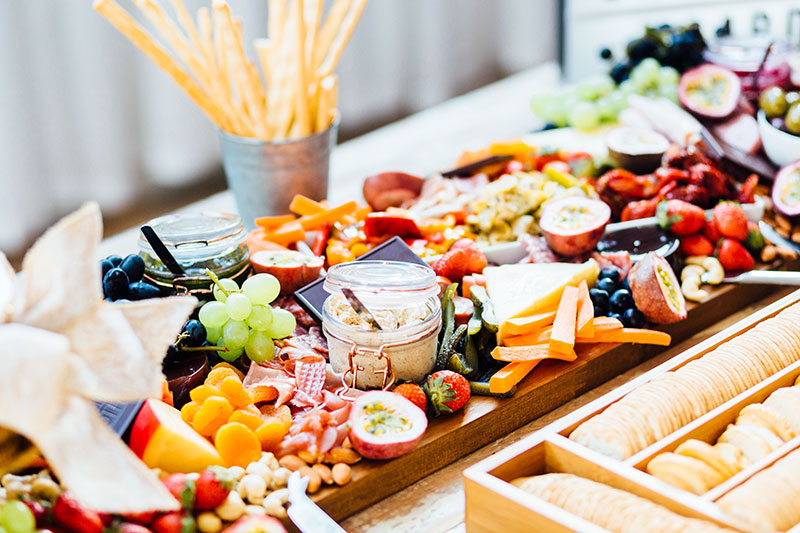 1. Designed to fit in with the celebratory vibe of canape hour
Grazing boards are generally used as an alternative to canapes, so the food typically is finger food, bite-sized and devoid of serving plates. It's the perfect way to get guests mingling as they wait while your wedding photos are being taken. It forces, (in a nice way) your guests to socialise around a central table of delicious, fresh food.

2. Sizes for pre-reception or small parties
A range of sizes to suit all budgets are available from the Mini to the Platinum. These grazing boards cater for light grazing from 10 to 100 people.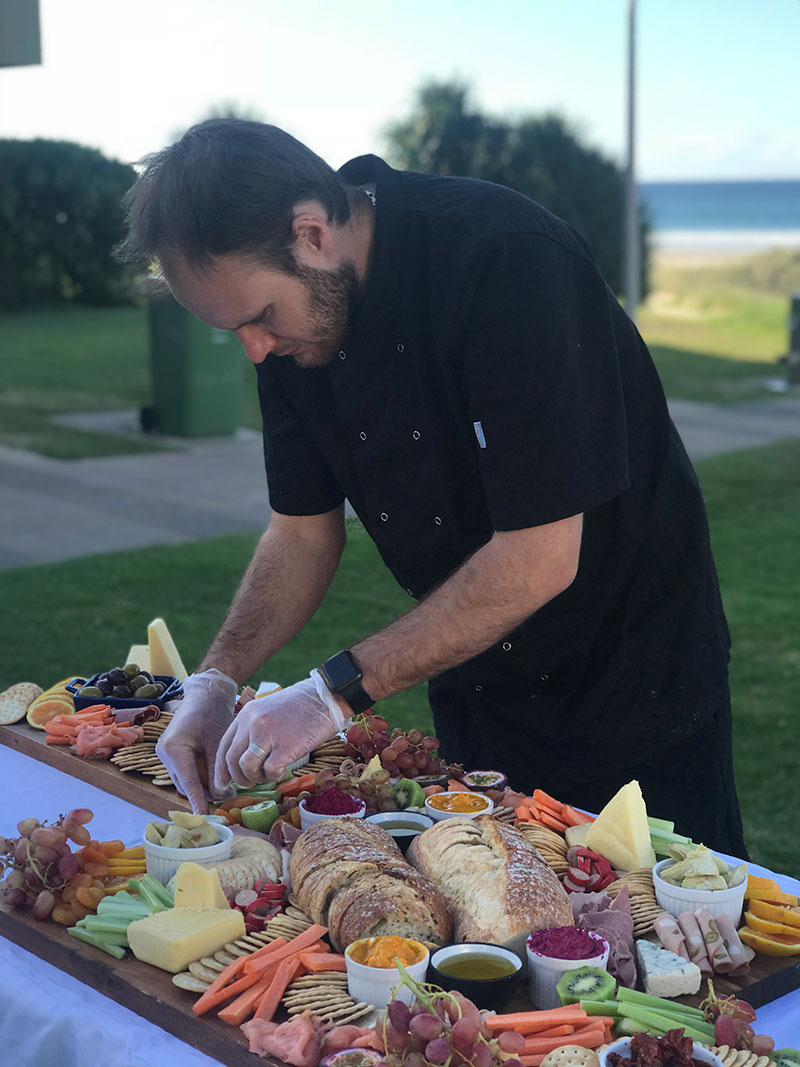 3. What to put on a grazing table
Not sure what to put on a grazing table? A range of house-made dips, cheeses, antipasta, cured meats, fresh and dried fruits, nuts and bread are a staple of grazing tables, but they can be whatever you choose. It's wise to note that an associated food license is required by small businesses to be able to offer grazing boards to the public. Make sure you  check the credentials of your caterer so you can be confidant knowing that your guests will be looked after. It goes without saying that the proper handling of food is paramount to the success of your wedding festivities.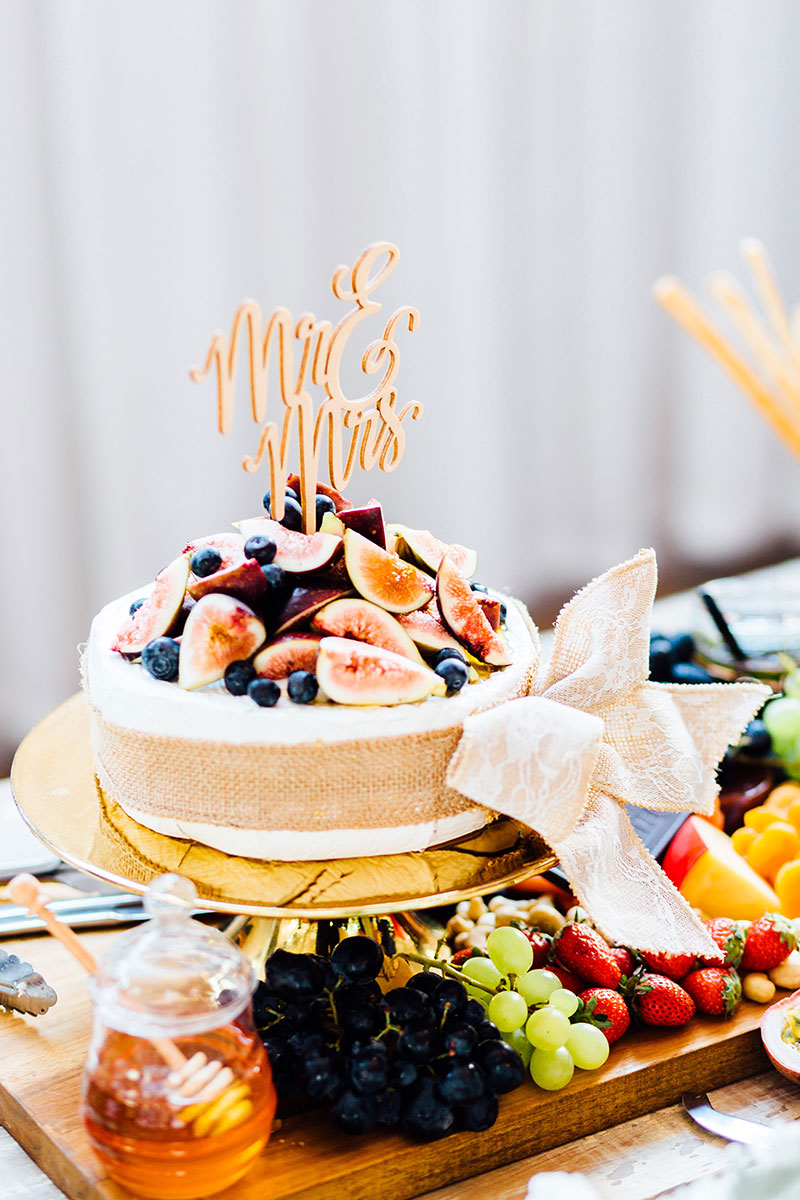 4. Tailored to suit your tastes
The beauty of a grazing board is it's adaptability - got a sweet tooth? Add in some sweet treats. Love seafood? Add them in too! Wedding grazing tables cater for a variety of styles and tastes and you can mix and match without worrying that something may look out of place – anything goes.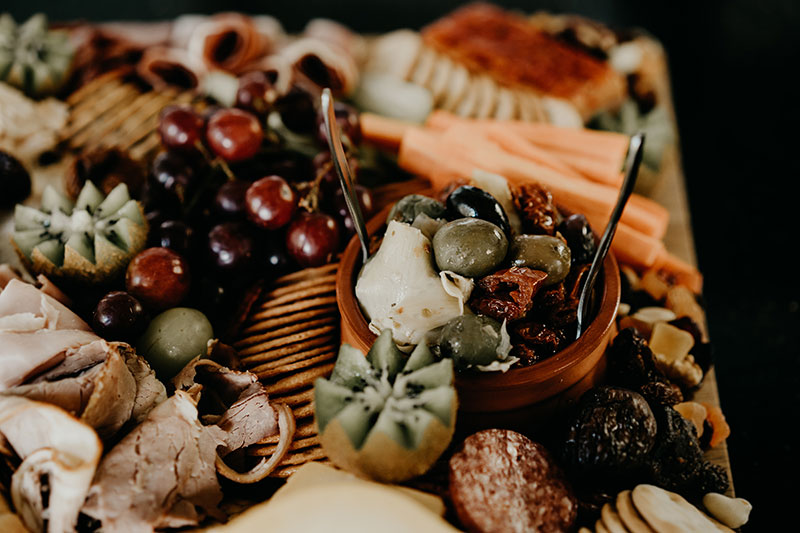 5. Relaxed wedding style
While they are sometimes referred to as grazing platter boards, or grazing platters, food for grazing boards are placed straight onto the boards, not on separate platters. The scattered food look fits in perfectly with a relaxed wedding style – boho, country weddings...we're thinking of you!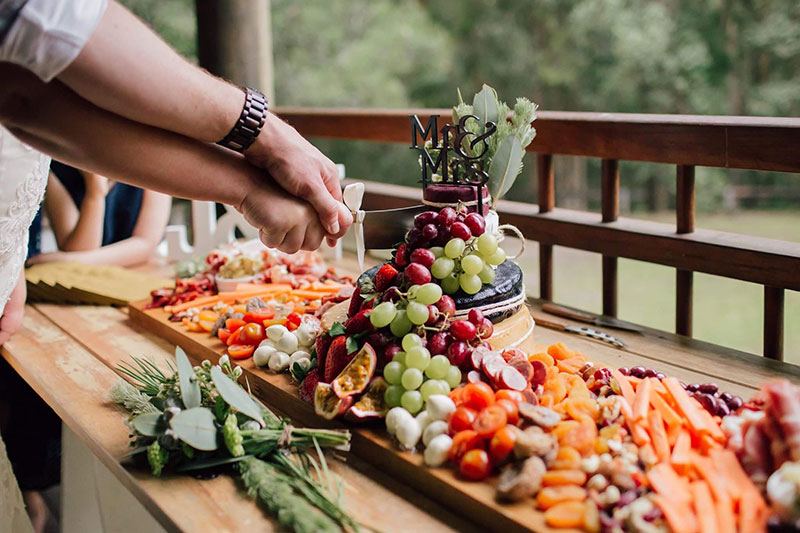 6. Keep it fresh
No plates, little rubbish and created using freshly sourced, seasonal, local products – we love the fresh and vibrant colours of this grazing board.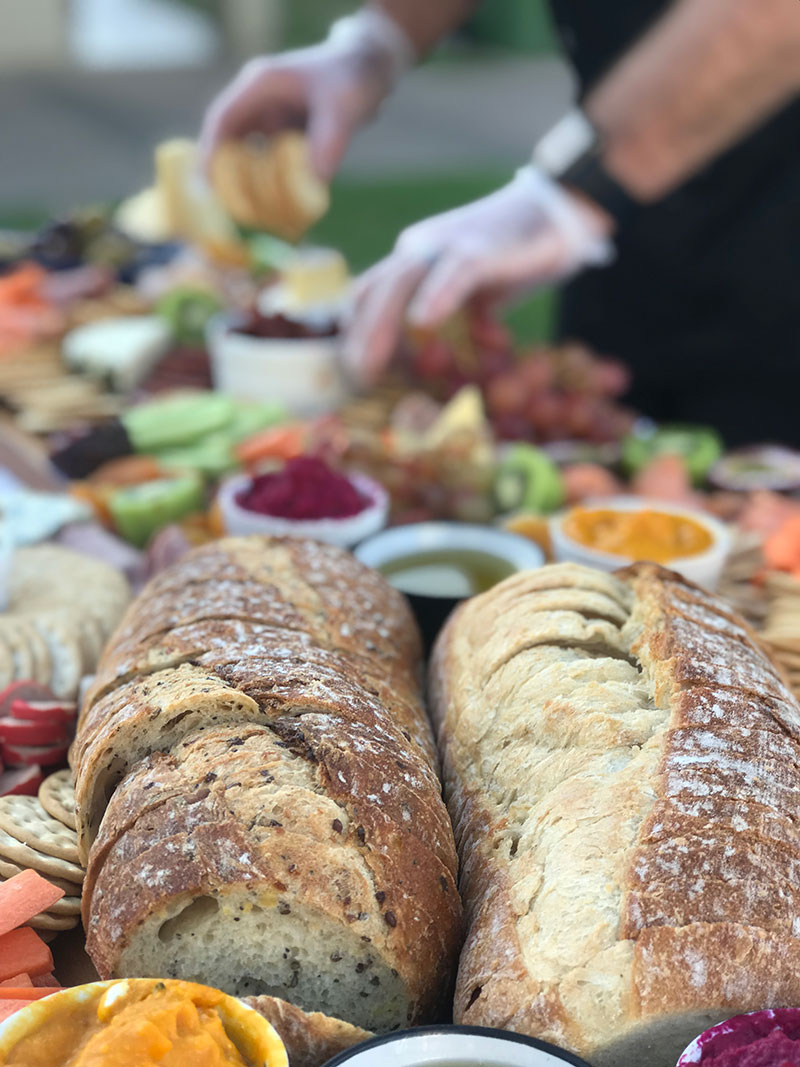 7. Presentation
We might love the scattered food look that a wedding grazing table displays, but once guests have been picking for a while, it can get a little messy. Make sure you have someone on hand to maintain it to keep it looking presentable.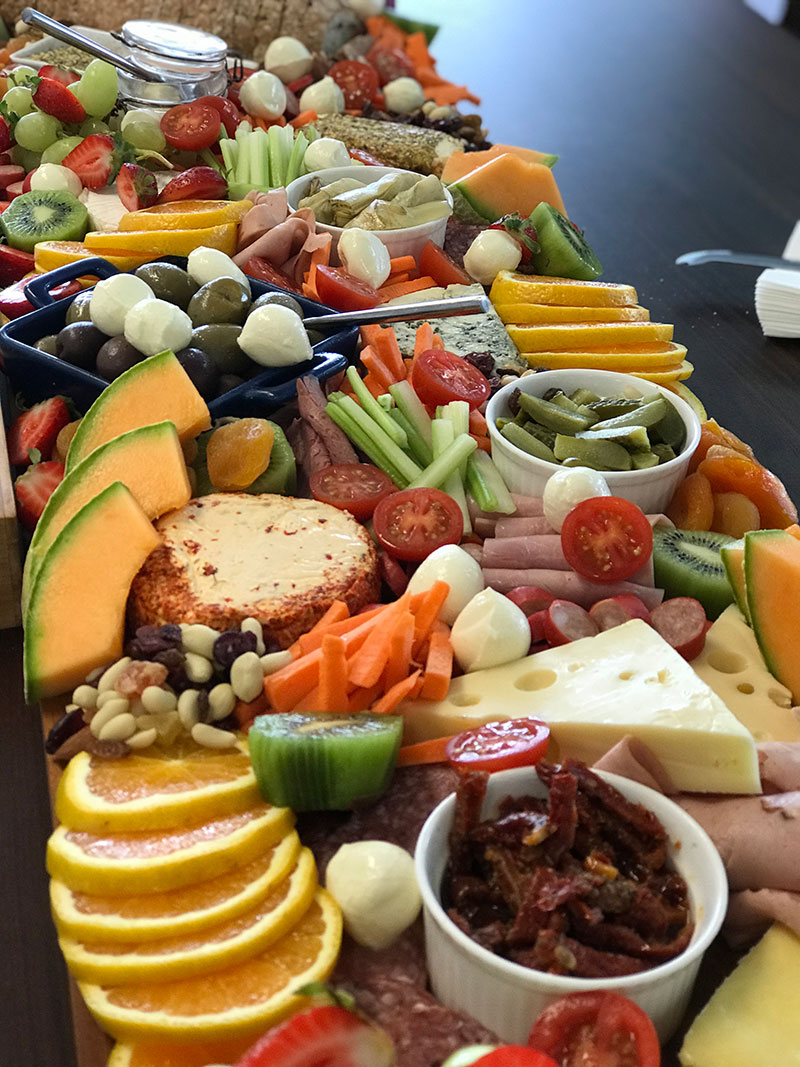 8. Be allergy aware
When it comes to wedding grazing platters lots of different foods together definitely add that 'Wow' factor, but just make sure you are aware of any food allergies amongst your guests. Some people may be highly allergic to even a tiny amount of contamination from certain foods. Take the time to check if anyone has specific food allergies and let your caterers know – it could just mean creating a couple of smaller grazing boards, rather than one large.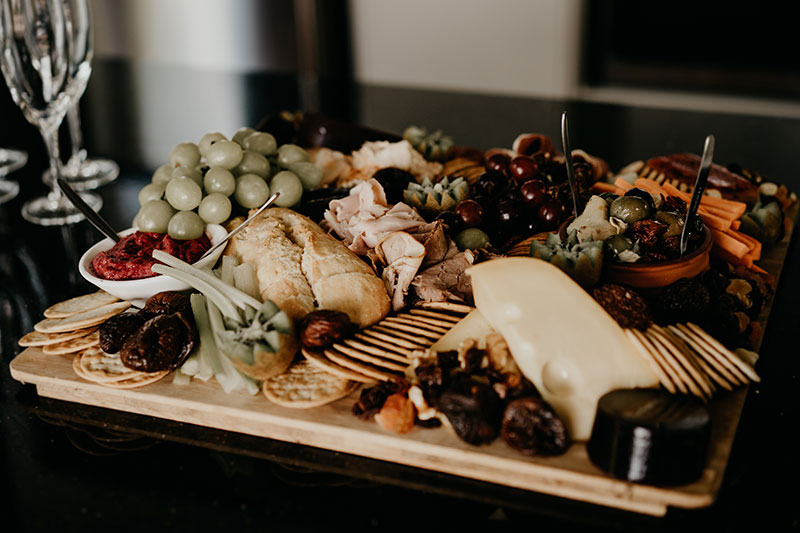 9. Seasonal perfection
This grazing board is one of our favourites – by replacing some of the bright colourful fruits with their dried counterparts, it looks like the perfect Winter feast.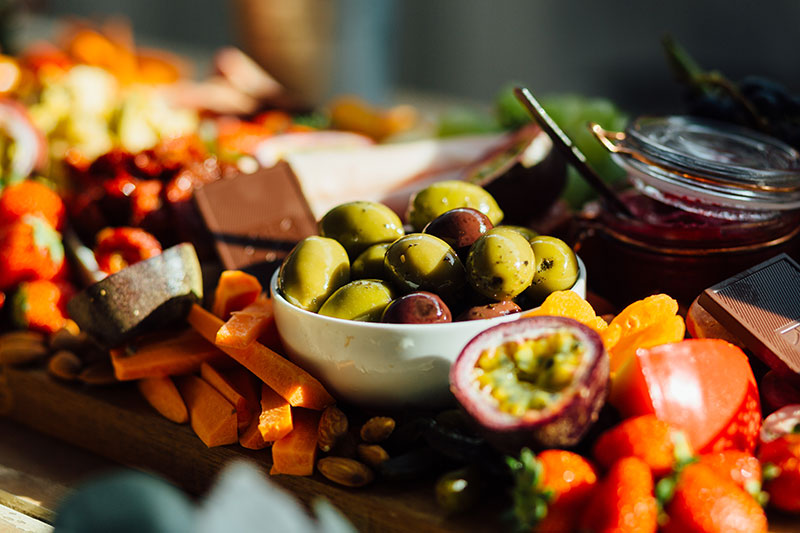 10. Make it special
Um, can we have two favourites...we can't go past the addition of chocolate thrown in for a decadent treat!
Want to know the most popular grazing board for weddings? The Gold – An amazing grazing board measuring 120cm x 60cm, from In Season Catering & Events. If a grazing table Gold Coast, or a grazing table Brisbane is of interest to you, In Season Catering & Events have a full range of grazing boards. They also offer full catering services from cocktail, alternate drop sit-down, share style grazing and buffets.
Photo credit: Vert Photographics