What's your venue style?
Published 5th August 2016 in ALL Categories, Reception Venues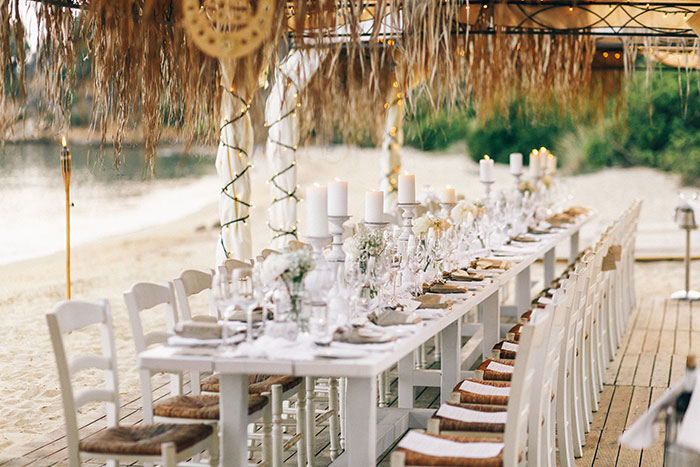 Sit down with your partner and answer these questions together (trust us, there's really no better way to ensure you're on the same page). Once you've agreed on all of the answers below, you'll have a much better idea of what venue to choose, how to budget and how to make smaller detail decisions too.
 
1. What adjectives describe your wedding? (Choose as many or as few as you want, or come up with your own!) Some examples: grand, formal, refined, elegant, romantic, classic, glamorous, modern, vintage, relaxed, ethnic, intimate, casual, festive, fun, offbeat, rustic, beachy, destination, seasonal, religious.
2. Where do you want to have your wedding?
Where you live
Where your parents live
Where your fiancé's family lives
Somewhere far away (destination wedding)
Somewhere special to you as a couple
3. What's the ideal size for your wedding?
Intimate (<100)
Average (100 to 200)
Large (200+)
4. What's the ideal season for your wedding? (If you have specific dates in mind, jot them down.)
5. What's the ideal time of day you'd like to hold your ceremony?
Sunrise
Midday
Sunset
Evening
Late-night
6. What's your favourite type of colour palette? (Check all that apply.)
Bright and bold
Rich jewel tones
Earth tones
All (or mostly) white
Soft pastels
Citrus colors
Black with an accent
Metallics/neutrals
Seasonal colours
7. What parties do you need to plan beyond the reception? (Check all that apply.)
Engagement party
Bridesmaid luncheon
Welcome party
Rehearsal dinner
After-party
Post wedding brunch
8. What are your priorities (aka your must-haves) for your reception? (Rank these from 1 to 10.)
Time of year/day of week
Officiant or ceremony location
Guest list (big family, large invite list)
Food and drink
Music (band and/or DJ)
Reception setting (proximity or type)
Ambience (flowers and décor)
Mementos (photo and video)
Paper elements (invitations and paper details like escort cards)
Fashion (designer wedding dress and bridesmaid dresses)
9. Whose opinions really matter to you when it comes to planning your wedding day? (Check all that apply; asterisk * who has the final word.)
You as a couple
Friends and attendants
Your parents
His/her parents
10. Who's going to help you plan your wedding? (Check all that apply; asterisk* who is in charge.)
You
Him/her
Your parents
His/her parents
Bridal party
A wedding coordinator
Friends and attendants