Top 14 Wedding Reception Venues on the Gold Coast & Hinterland
Published 23rd April 2019 in ALL Categories, Reception Venues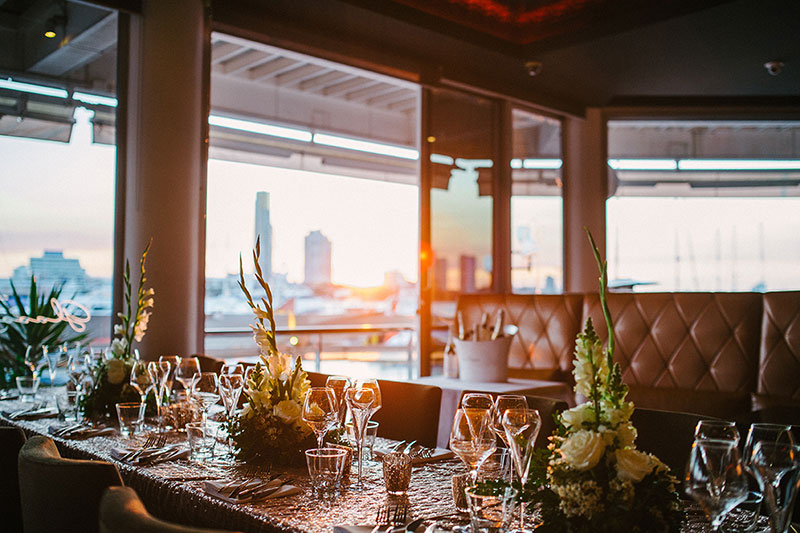 Photo of Glass Dining & Lounge Bar (above)
If you've set your sights on having your wedding on the Gold Coast, you'll be spoilt for choice! You can take your pick from a fantastic array of venues for your wedding reception close to the golden beaches and surf, at a theme park or in the lush hinterland. As one of the fastest growing cities in Australia and over 13 million visitors each year, the Gold Coast is teeming with a diversity of restaurants, bars, clubs, retreats, hotels and resorts. The Gold Coast has something for everyone...
 
Gold Coast Wedding Reception Venues
 
GAINSBOROUGH GREENS
If you love the relaxed atmosphere of the outdoors but fancy the comfort of the indoors for your  wedding reception, Gainsborough Greens is your ideal venue.
The serenity of the lagoons and gardens will create the perfect setting for your outdoor ceremony, followed by photos where you can marvel at the breathtaking backdrop of mountains, lilly covered ponds and bustling wildlife.
The indoors reception area continues to offer magnificent views overlooking the golf course's manicured gardens and picturesque lagoons, and it comfortably seats 120 guests. You have a choice of menus from buffet, a la carte or a specially designed menu in consultation with the executive chef. With garden lights and a candle-lit reception room, the atmosphere is romantic and magical.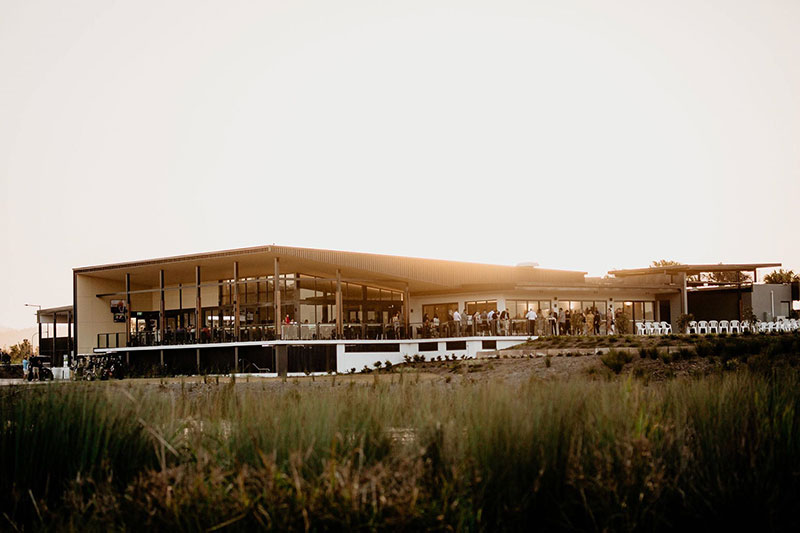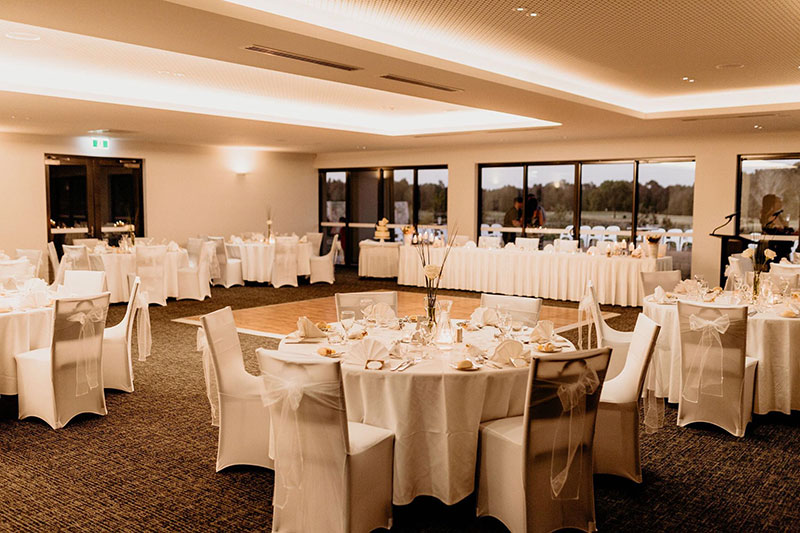 Gainsborough Greens
GLASS DINING & LOUNGE BAR
As well as perfecting the art of intimate dining and award-winning fare, Glass Dining and Lounge Bar has world class views to complete the ultimate dining experience. A panoramic million-dollar view of the Marina and Broadwater will captivate you and your guests at this stylish and sophisticated venue.
The unique space incorporates a private dining room, a cosy lounge area, as well as indoor and outdoor dining areas for intimate or large weddings. The seated capacity inside holds 80 guests or 150 for the entire venue. A stand up function accommodates 150 guests inside or 350 for the whole venue.
Known for its fresh seasonal produce, the finest meats and fresh local seafood, it is a house of Moet & Chandon, and holds the 2017 Bronze National award for Restaurant & Catering in fine dining.
Glass epitomises elegant yet relaxed waterfront dining and can be as formal or as informal as you wish. Accessible by car, boat and helicopter, why not wow your guests with an unconventional and grand entrance!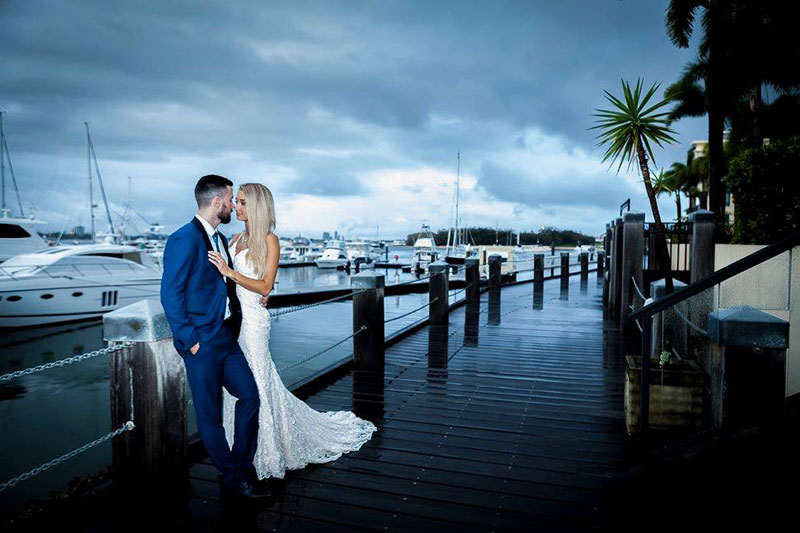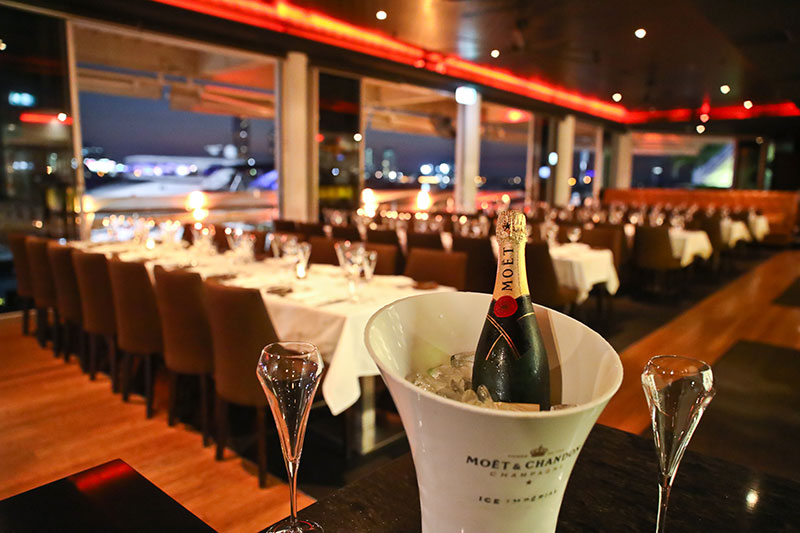 Glass Dining & Lounge Bar
LAKELANDS GOLF CLUB
Are you looking for a venue that has everything for your special day? This could be it...
Lakelands Golf Club offers a gorgeous garden ceremony location, with many beautiful photo locations onsite including a cascading waterfall, bridges and superb gardens, plus a styled reception space for you and your guests to continue celebrating into the night.
With three unique packages on offer, you are sure to find one to suit your style and budget. Onsite photo locations, a helicopter landing area and a fireworks display are all available to you when you design the wedding of your dreams at Lakelands Golf Club.
When making an enquiry, be sure to ask their onsite functions coordinator if  you are also eligible to obtain the two rounds of free golf on their award winning golf course when you book your special day.
Seated and standing capacity is from 40 to 120 guests.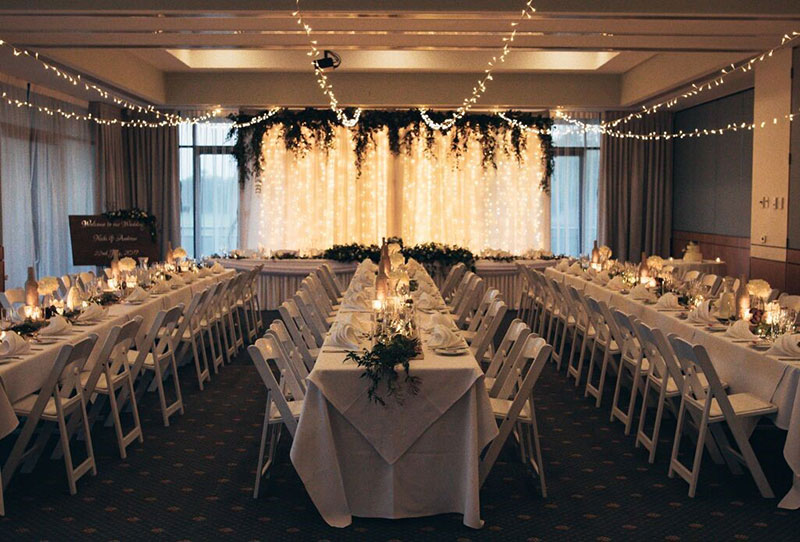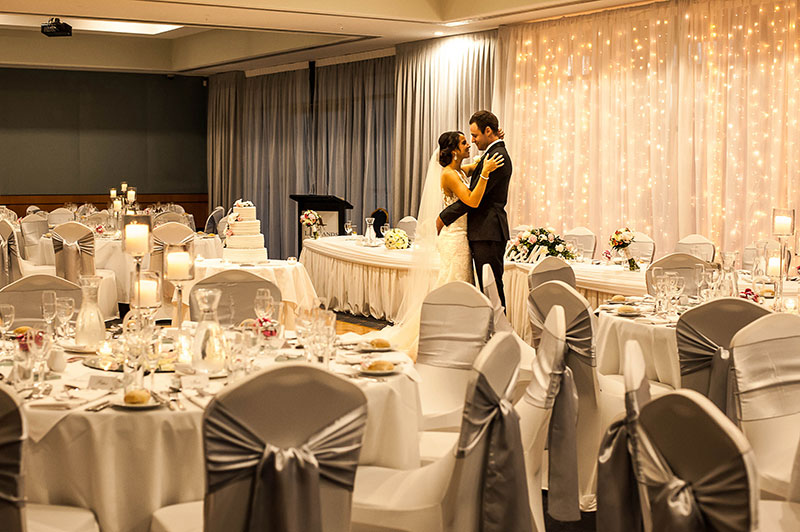 Lakelands Golf Club
LINKS HOPE ISLAND
From the moment you drive over the Venetian Bridge and the Clubhouse looms into view, it will be clear to you that you have found a truly elegant venue.
Newly renovated, Links Hope Island has a variety of spaces to suit all styles, from beautiful gardens to rolling fairways, the renowned Venetian Bridge to the Mediterranean style clubhouse with its stunning function rooms...this venue exudes classic luxury.
With a maximum seated capacity of 300 guests and standing capacity for 450 guests, Links Hope Island boasts remarkable variety and value when it comes to planning your wedding. You will receive personal and professional service from your first call to when you say your farewells, so if you are looking for a dedicated and passionate team to bring your wedding vision to life, you have found it...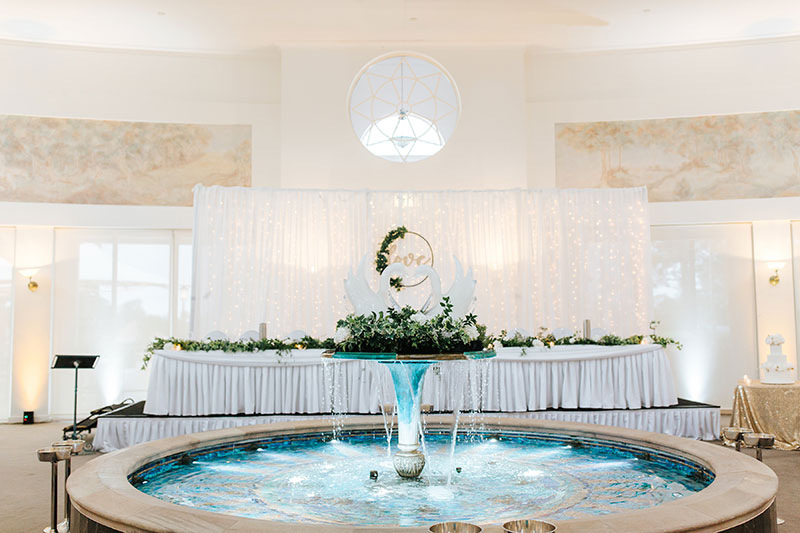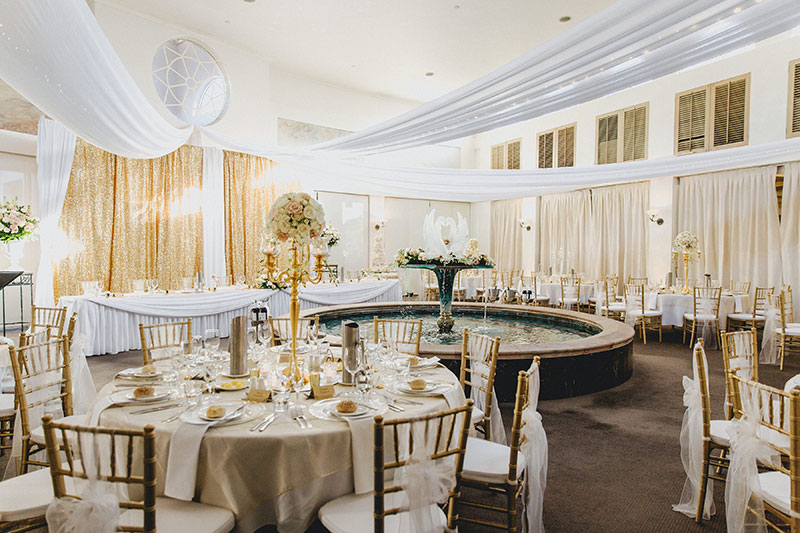 Links Hope Island
MERCURE GOLD COAST RESORT
Nestled among lush surrounds, Mercure Gold Coast Resort has your wedding day looked after.
Share your special day with family and friends as you enjoy sweeping views of the Gold Coast hinterland, creating the perfect ambience.  Let the creative wedding professionals design a cosy indoor soiree or a night under the stars, with the option of a traditional plated menu, an indulgent banquet feast or a relaxed reception with cocktails and canapes. After dancing the night away, escape to your private room and wake up to an indulgent breakfast delivered your door.
You won't forget your wedding day with amazing photo opportunities throughout the gardens and the grand staircase.
Seating 320 guests or 600 standing, Mercure Gold Coast Resort is perfect for your pre-wedding soiree, wedding ceremony, wedding reception and accommodation. No need to stress – everything is looked after.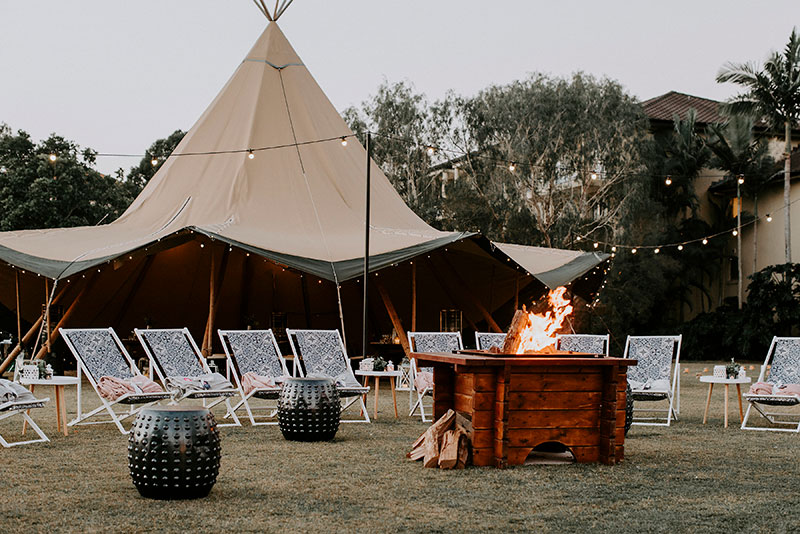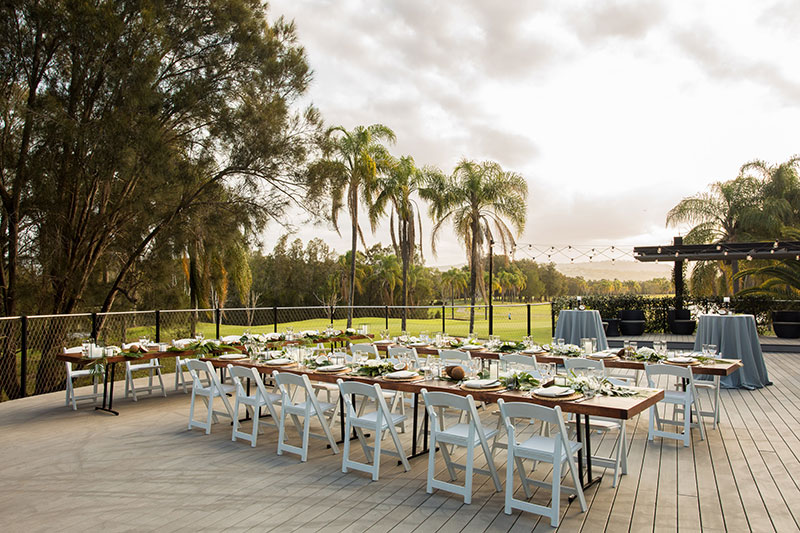 Mercure Gold Coast Resort
RACV ROYAL PINES RESORT
There are many reasons couples want to celebrate their wedding on the Gold Coast, and RACV Royal Pines Resort makes the final decision easy.
With such a wide choice of ceremony sites and unique venue options for your reception, plus onsite luxury accommodation and recreation facilities, it really is the perfect venue to celebrate your special day.
RACV Royal Pines Resort have a variety of capacities ranging from intimate, which includes 50 guests, right up to their largest ballroom which caters to 900 seated or 1500 standing.
And if you prefer to have your wedding ceremony indoors rather than outdoors, nestled into the lush landscape is the resorts beautiful wedding chapel, one of a kind in Queensland – naturally it creates an intimate and romantic ceremony.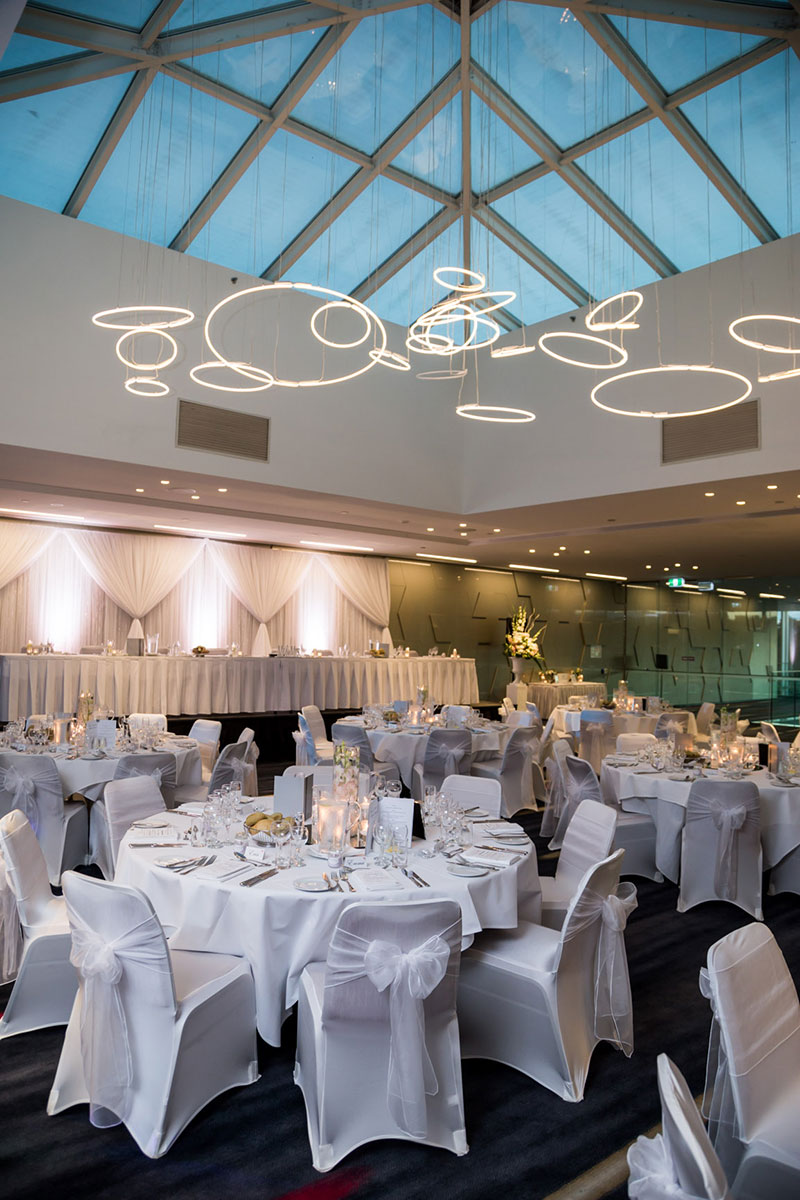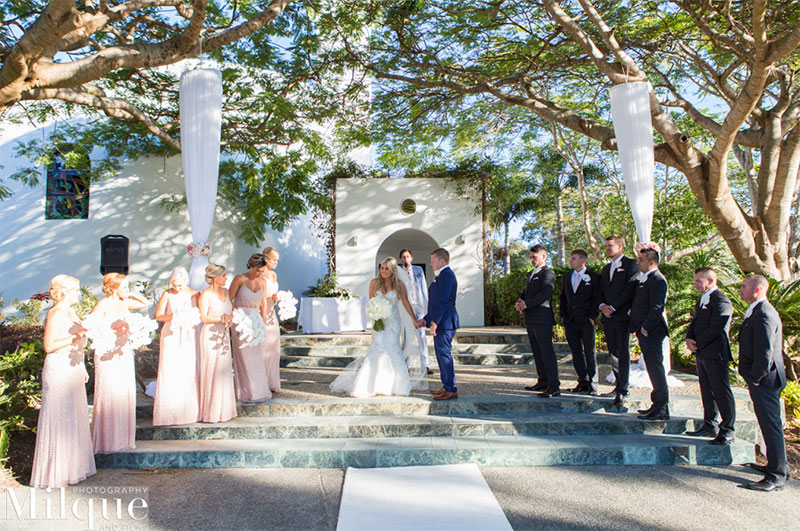 RACV Royal Pines Resort
SURFERS PARADISE MARRIOTT RESORT & SPA
Whether you dream of hosting a grand formal evening or a small intimate gathering, choosing the Surfers Paradise Marriott Resort & Spa means you can indulge in five-star hospitality in a warm and relaxed atmosphere – the perfect backdrop to an elegant day surrounded by family and friends.
The beautifully appointed function rooms offer a unique ambience and the perfect location for a wedding ceremony, wedding reception or wedding renewal. Your experienced and dedicated Wedding Planner will provide a level of service that allows you to be the ultimate host and cover all the details and their specially created all-inclusive packages will ensure your wedding day runs smoothly and effortlessly.
The Resort's on-site floral and creative design team can create fresh wedding bouquets and centrepieces and will ensure the continuity and flow of your theme from arrival to departure and their award winning Executive Chef will create a wedding menu that reflects the Resort's five-star food innovation and creativity.
Whether a Poolside reception catering to 120 seated or 250 standing guests, a Garden Terrace reception catering to 250 seated or 350 standing guests, or a reception in the Ballroom which caters to 500 seated or 800 standing guests, the experienced team of Marriott certified Wedding Planners are professional and will ensure your every expectation is met.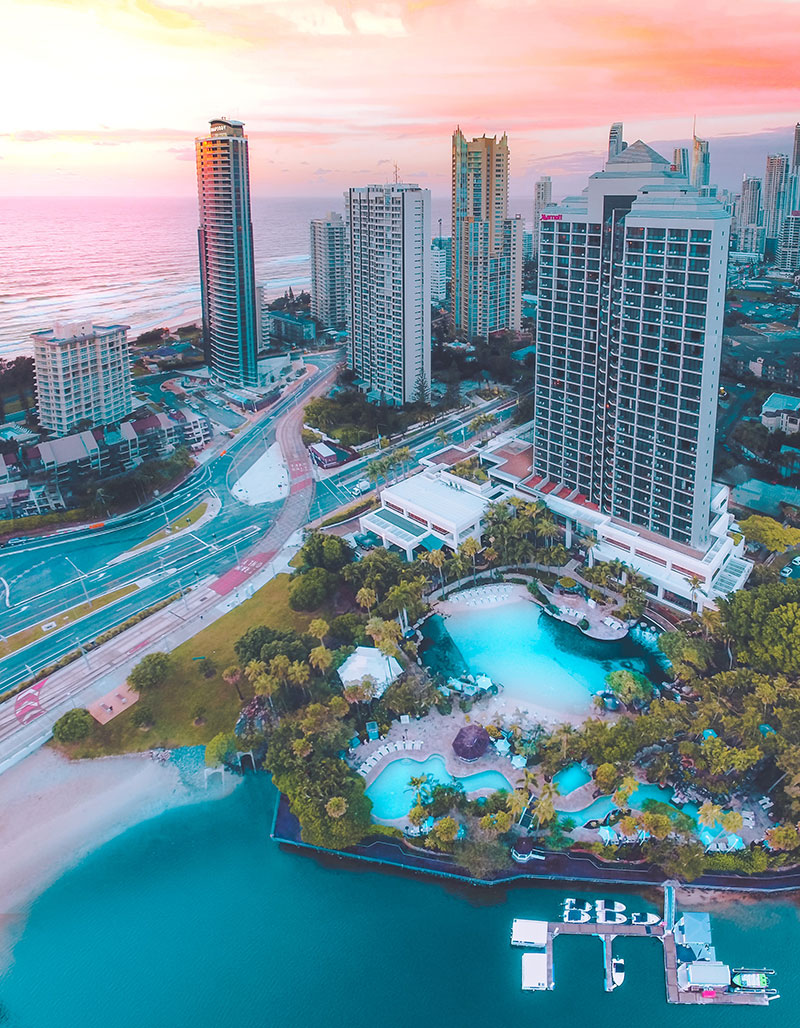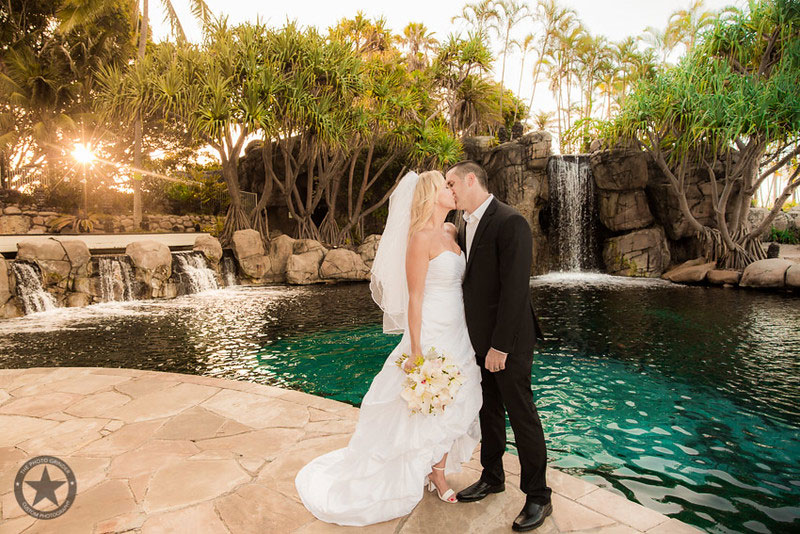 Surfers Paradise Marriott Resort & Spa
SALT
Located in the heart of Salt Village at Kingscliff, Salt offers a picture perfect location for your wedding. Surrounded by stunning beachfront, park and garden spaces, these breathtaking views create the perfect backdrop for your special day.
In addition to offering a stunning reception setting, there are a variety of ceremony options on offer for all wedding styles. The flexible and spacious deck creates an idyllic setting for your reception or ceremony for up to 280 guests - A relaxed setting with the sounds of the ocean close by!
From an intimate formal sit down reception to a lavishly themed cocktail gathering, Salt offers flexible catering and beverage options to suit all budgets and dietary requirements. Their talented chefs pride themselves on attention to detail, exceptional quality, freshness and the delivery of a memorable dining experience every time. Want to spoil your guests? A sumptuous menu created by their executive chef will do that perfectly...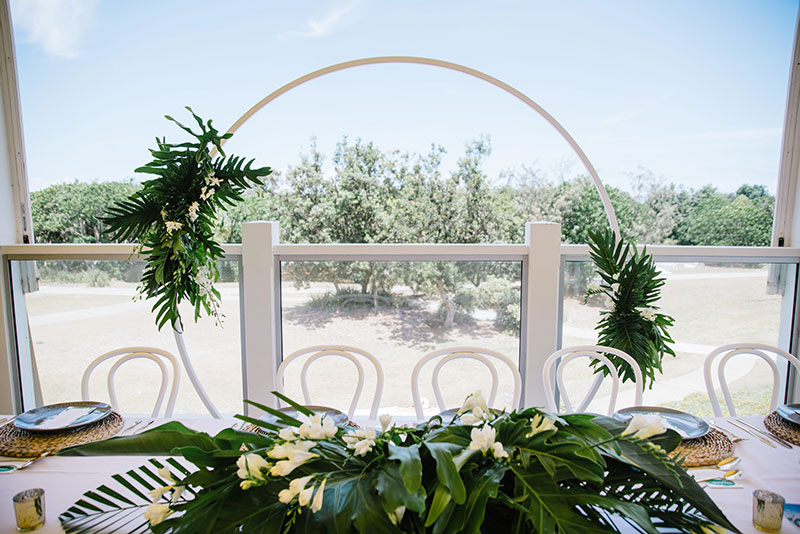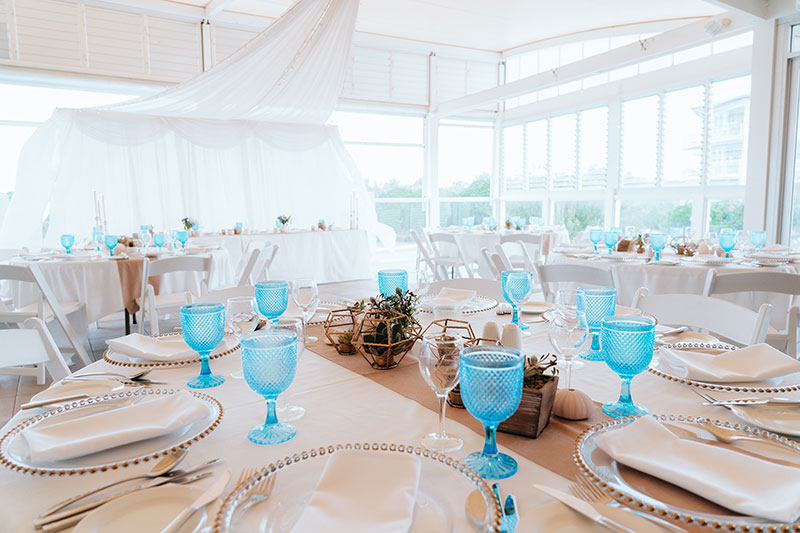 Salt
SHERATON GRAND MIRAGE RESORT, GOLD COAST
Sheraton Grand Mirage Resort is the only beach front resort on the Gold Coast with sparkling blue lagoons and lush island areas to say, 'I do'.  The resort's absolute ocean front location makes it the number one location for a beachside wedding.
Choose between a ceremony on one of their lush islands or lawn areas, followed by a reception in Horizons, the Gold Coast's premiere reception venue with floor-to-ceiling windows overlooking the Pacific Ocean.
Sumptuous reception menus, specially designed packages, meticulous attention to detail and a welcoming yet relaxed ambience will ensure that your special day is a success.
Select from one of their premier reception locations. The Horizons Venue can be booked in conjunction with a minimum of 50 or more guests and a maximum of 140 guests (with dance floor). The Pandanus Venue can be booked in conjunction with a minimum of 50 or more guests and a maximum of 140 guests (with dance floor). The Ballroom venue can be booked in conjunction with a minimum of 200 or more guests and a maximum of 450 guest (With a dance floor). Smaller weddings are hosted in their beautiful Oyster Bar and Grill restaurant with a maximum of 40 guest seated and 60 for cocktail style.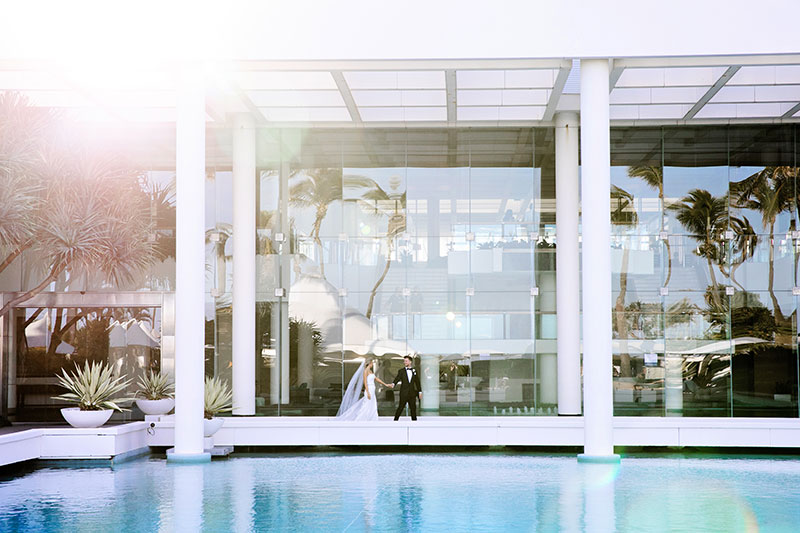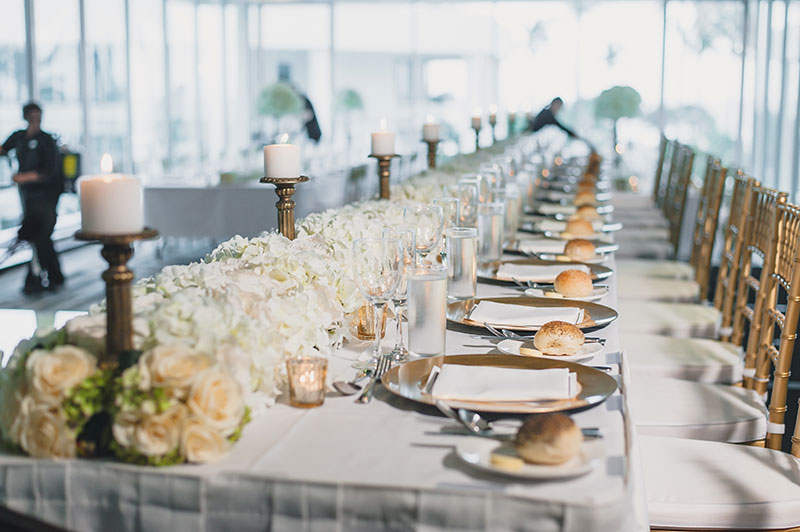 Sheraton Grand Mirage Resort, Gold Coast
SOUTHPORT YACHT CLUB
Unmistakably one of the most spectacular private waterfront wedding venues on the Gold Coast. Southport Yacht Club's function rooms capture the stunning views of the Club's private 300 yacht Marina, overlooking the tranquil Gold Coast Broadwater.
The Compass Room, located on level one, accommodates for larger wedding receptions (160 seated or 250 standing), with floor to ceiling glass windows showcasing the spectacular views, whilst their sun-drenched Western Deck, grassed Eastern Lawn or the world's first Waterscape Pontoon bar, are perfect for ceremonies, intimate receptions and cocktail parties.
If you're looking for a unique venue, minutes away from world famous beaches, with picturesque opportunities either on their private beach or their impressive Super Yacht Marina as the backdrop, then Southport Yacht Club sounds like the venue for you.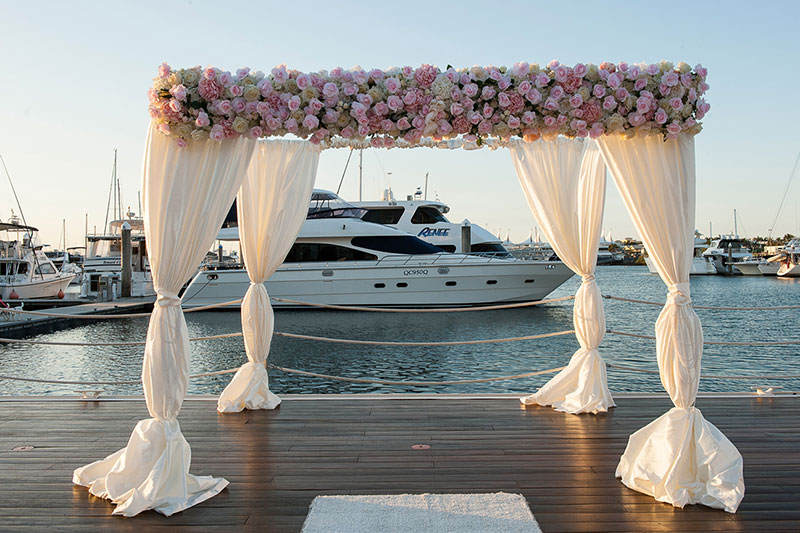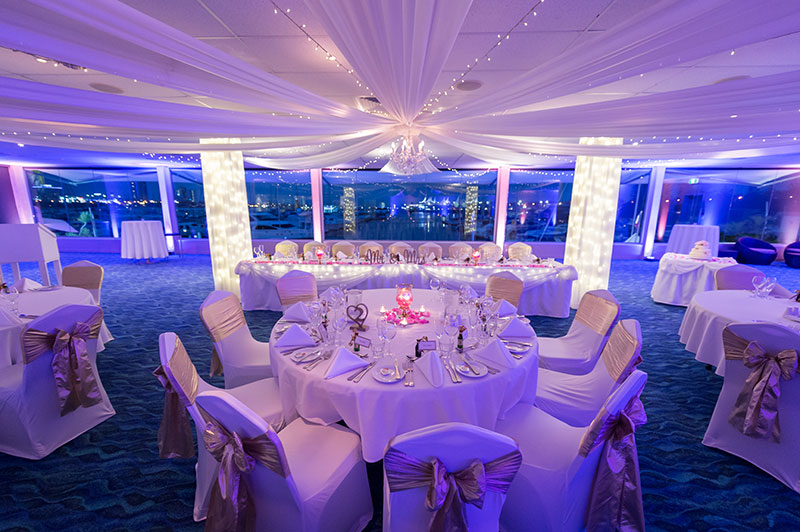 Southport Yacht Club
SURFERS PARADISE GOLF CLUB
If you're looking for an affordable wedding, the Surfers Paradise Golf Club team specialise in creating beautiful weddings that don't cost a fortune.
They've put together wedding packages starting from as little as $85 per person, leaving you with additional funds to spend on those little extras that will make your event the wedding of your dreams.
You can choose from indoor and outdoor celebration spaces that cater for up to 200 guests. The indoor option is a private function room for up to 180 guests in an elegant sit-down event. There are two outdoor options - choose from an intimate outdoor space accommodating up to 60 guests or an alfresco reception area under the stars on the beautiful fairway which accommodate up to 200 guests. All spaces overlook their manicured golf course which also has a stunning garden ceremony location.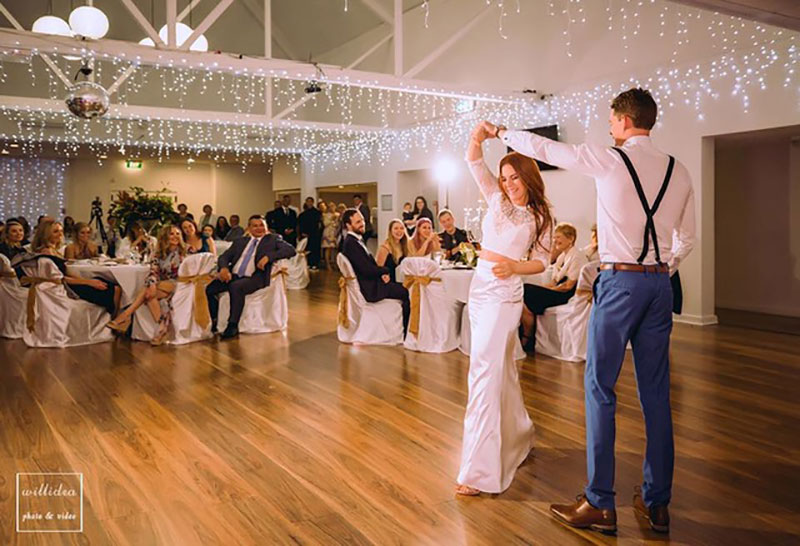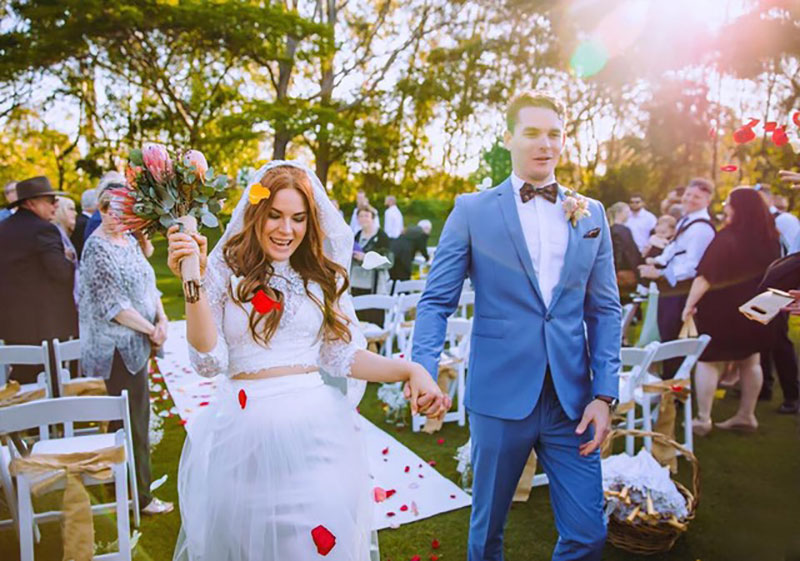 Surfers Paradise Golf Club
VILLAGE ROADSHOW THEME PARKS
If you and your fiancé aren't exactly into simple, quiet weddings and you're more about living life big, a theme park wedding is a fabulously fun way to celebrate the occasion.
Known for its thrilling attractions and unmistakable charm, Warner Bros. Movie World offers a range of venues that suit both intimate and grand weddings – superhero fans, check out their impressive Hall of Justice for a little shameless fandom! And we know what you're thinking – yes, you can hire out (some) of the rides for the night!
Movie props, characters, thrill rides and lots of theatrical for a Hollywood style glamour wedding!
Capacity: Up to 1500 guests seated – Up to 3000 guests standing.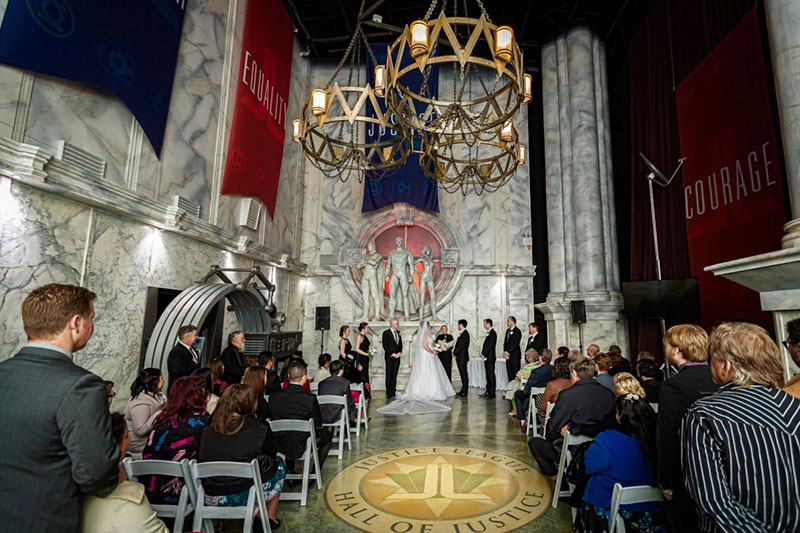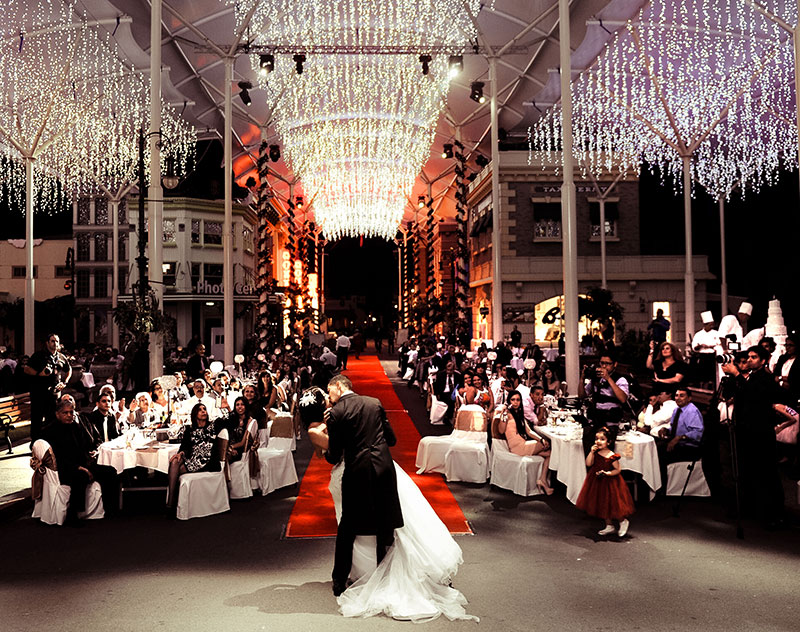 Village Roadshow Theme Parks
Gold Coast & Hinterland Wedding Reception Venues
If you prefer to take in the amazing scenery and relaxed atmosphere of the hinterland, the Gold Coast Hinterland has some exquisite venues. We've chosen two which are perfect for couples who love the beauty of the hinterland and the luxury of a beautiful venue for their special day.
 
BARTLE HOUSE
At Bartle House once you are ready, you are there!
Bartle House is Queensland's most exclusive, all-inclusive private wedding estate situated on stunning Tamborine Mountain in the Gold Coast Hinterland. You will wake up to a hair and makeup team ready to work their magic while you sip on champagne and nibble on various platters in the comfort of this luxurious mansion that is all yours!
You can choose from several picturesque locations for your ceremony, followed by a formal banquet worthy of royalty, or a simple feed from a mobile caterer of your choice. You will then dine and dance under the cover of a decorative marquee or beneath the star filled mountain sky – the choice is yours...At Bartle House you can just relax and enjoy every minute of your stay with your entire wedding in this one perfect location.
Accommodation for 14 guests.
Ceremony and reception for 150 additional guests.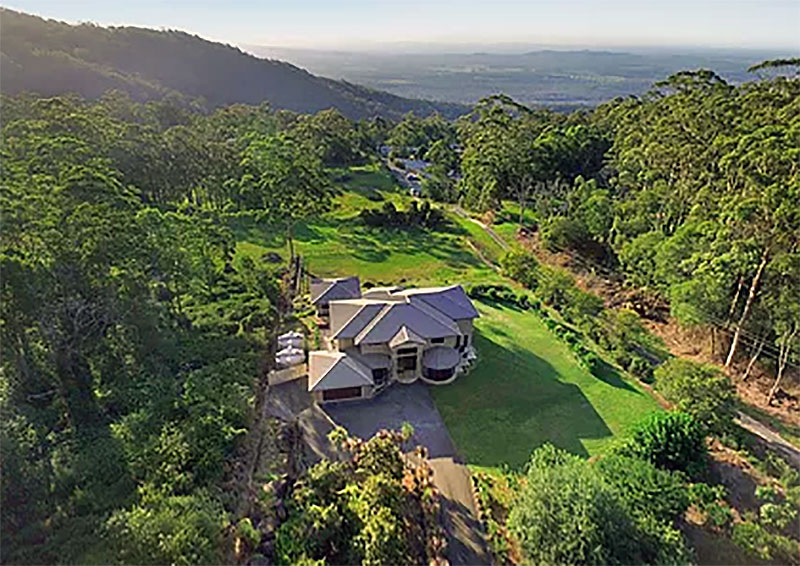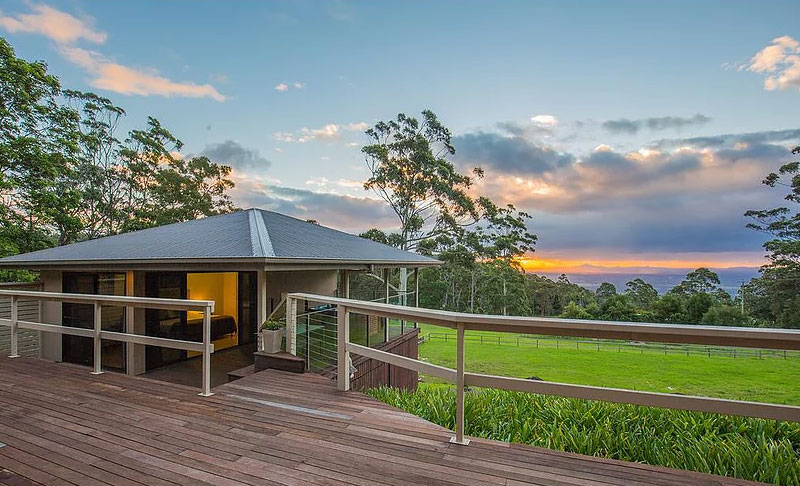 Bartle House
PETHERS RAINFOREST RETREAT
Whether you are interested in a small elopement followed by a fine dining experience, a relaxed reception with your closest friends and family, or a grand affair; Pethers Rainforest Retreat will tailor a package to suit your needs.
This boutique wedding venue set in the luscious rainforests of beautiful Mount Tamborine is a magical and secluded rainforest setting making it the perfect backdrop for your special day. They offer all inclusive wedding packages, photo ready surrounds, fine dining and luxurious, private treehouses equipped with a double spa and fireplace.
The main lodge features a 7m high ceiling with glass floor to ceiling windows looking into the treetops and a 3m open fireplace. If you're looking for a bespoke event that's forever unforgettable, Pethers Rainforest Retreat ticks all of the boxes.
Capacity: 90 seated guests or 110 cocktail/standing guests.
Pethers Rainforest Retreat
If you would like to contact any of these venues, make sure you click on their 'View profile' button. If you're still searching for more Gold Coast wedding reception venues, check out our online directory or visit our Your Local Wedding Guide Gold Coast Wedding Expo held at the Gold Coast Convention & Exhibition Centre at Broadbeach, twice a year in January and August.