The Best Wedding Cake Ideas and Trends
Published 17th July 2020 in ALL Categories, Cakes, Trend
Dark Cake (above) by Simply Divine Occasions.
Choosing your wedding cake design is not always an easy element to finalise, especially with all the flavours, styles, decorations and tiers you need to choose.  But we promise, it can be a fun and delicious part of your wedding planning!
To make life just a little easier we have put together some of our top wedding cake ideas. These wedding cake design trends are all about understated elegance, with a lot of natural elements incorporated into the overall look. 
Naked and Semi Naked Wedding Cake
Naked and semi naked cakes are still a big trend with the boho theme continuing to take centre stage in wedding styling.  The simplicity and adaptability of a naked cake, with natural flowers, fresh fruit and/or greenery, makes for a lovely centrepiece at your wedding. Additional decorations such as coloured chocolate dripping, hand painted accents or hidden surprises of fruits and flavours within the layers can be added for extra effect.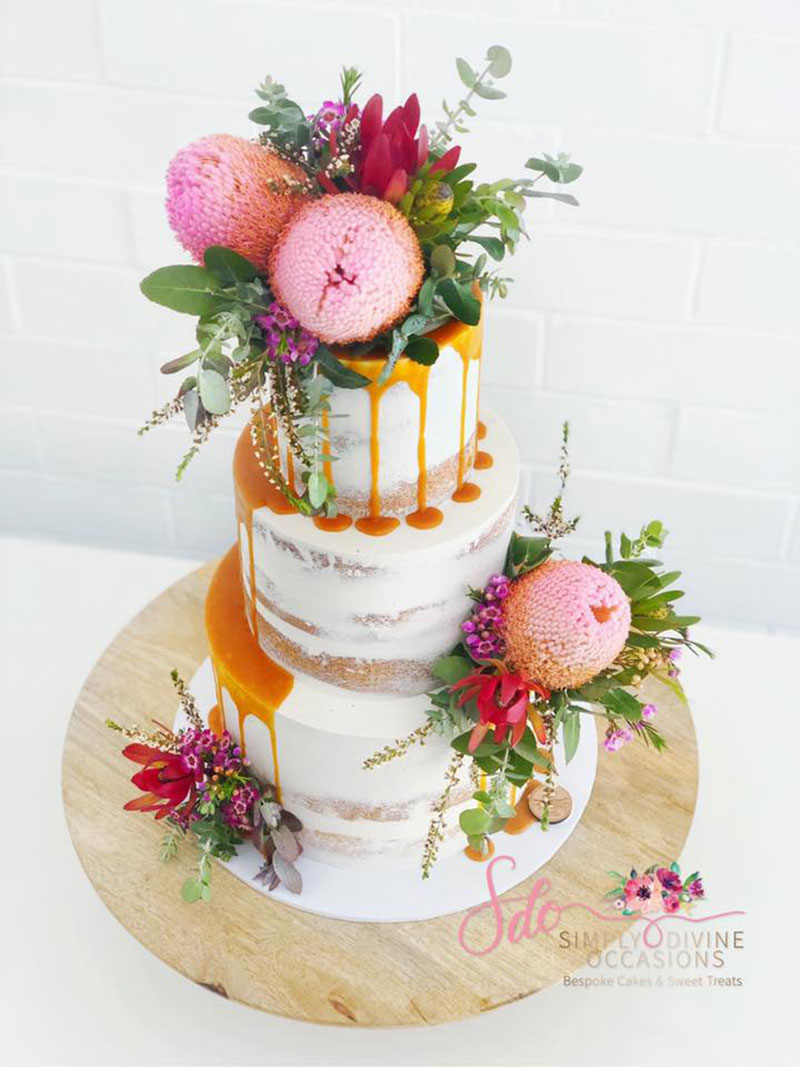 Semi-Naked Cake by Simply Divine Occasions
Dark wedding cakes
For the modern discerning bride who is more than happy to part from tradition, a dark cake might be something to consider. Essentially, this cake uses dark or black coloured icing with gold or silver leaf accents, accompanied by a fresh floral arrangement on the top or cascading down the cake. This is a simple way to tie in a touch of modern elegance with an eye catching colour pop that has lots of wow factor your guests will love!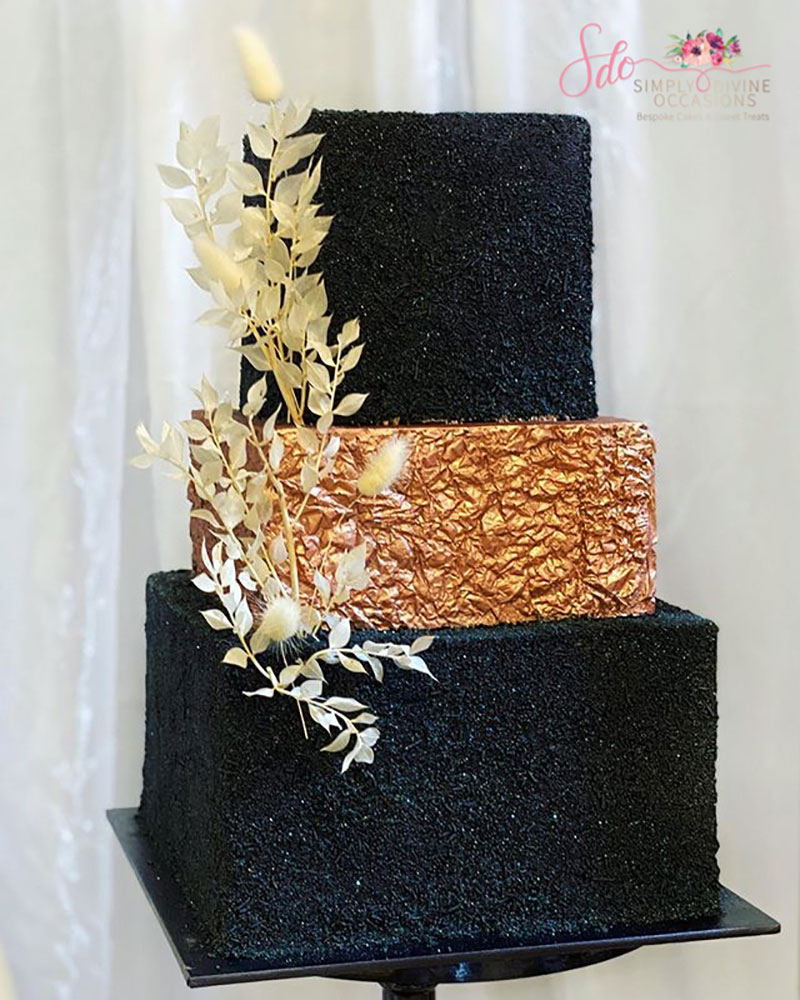 Black & Gold Wedding Cake by Simply Divine Occasions
Edible Flowers
Fresh flowers on your wedding cake has always been a stunning way to connect your wedding colour and flower theme. 
This year it's being taken a step further by using edible flowers. Not only will your cake look stunning with a variety of fresh blooms incorporated into the overall design, your guests won't have to remove the bouquet to eat their dessert either.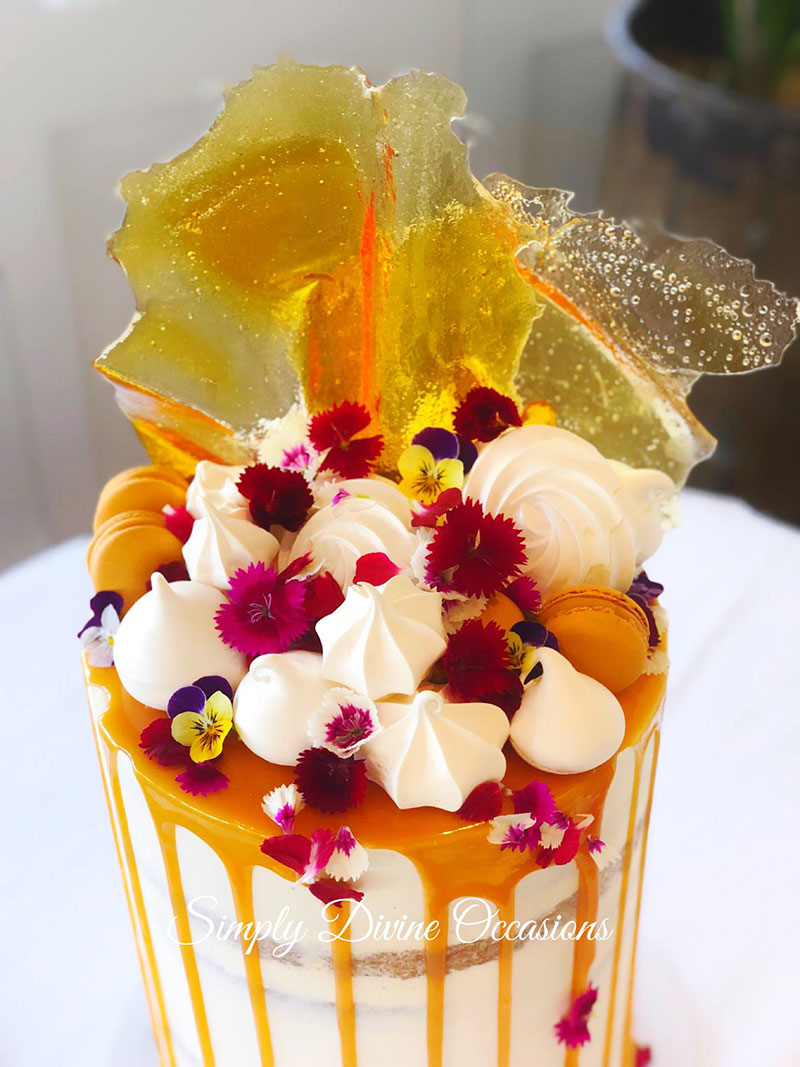 Cake with fresh edible flowers by Simply Divine Occasions
Prints and Patterns 
Prints and patterns are on trend as brides tie their decorations and key wedding elements into the cake design. Decorative tile patterns printed or hand painted onto the cake, especially for brides with a Moroccan theme or wanting a pop of colour.  Geometric shapes and patterns are also popular, with the option of having a geometric shaped cake design, or incorporating geometric decorations and patterns onto your cake.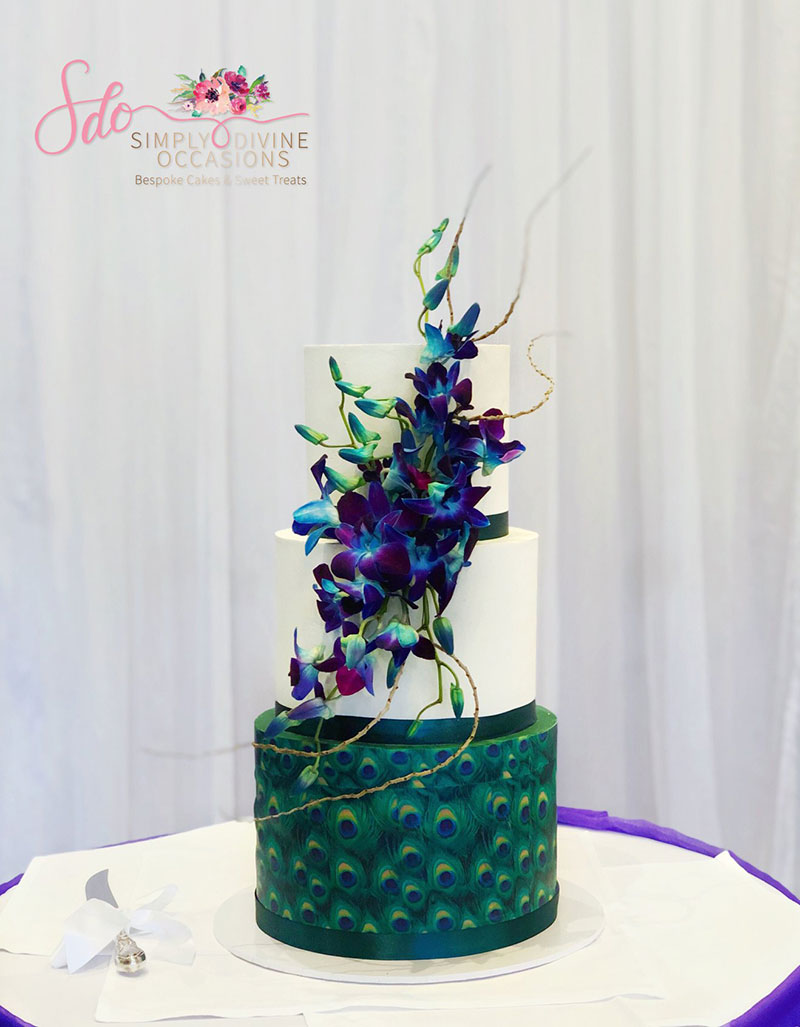 Cake with a decorative printed pattern by Simply Divine Occasions
Painted Flowers
Hand painted 3D butter cream flowers is also a huge trend. This style of cake is a stunning understated art piece, just picture an edible Monet sitting at your dessert table.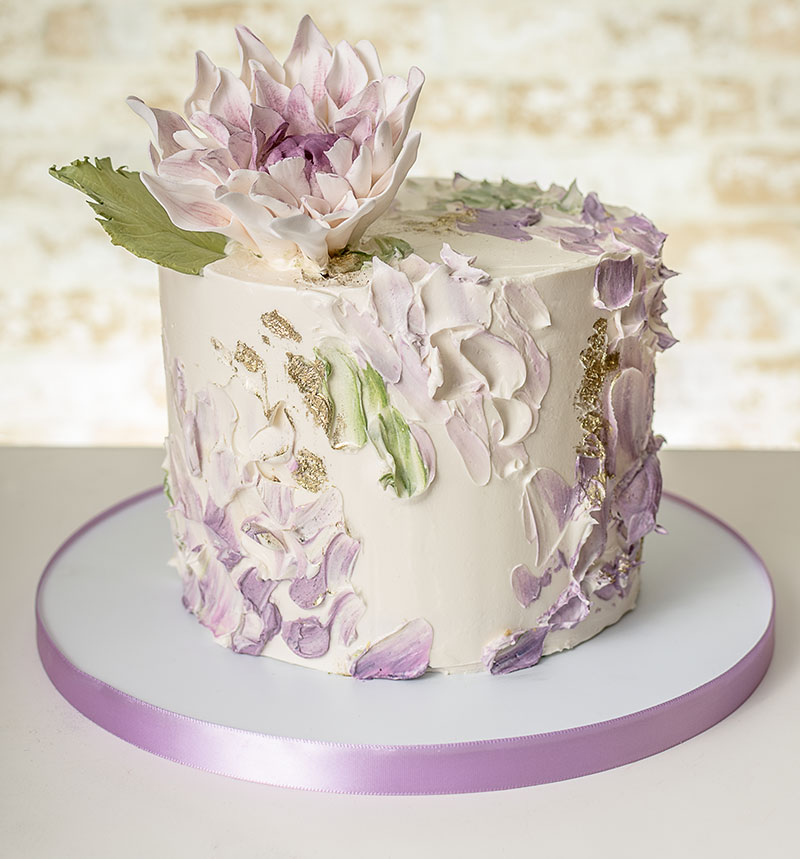 Macramé and Crochet
Macramé is being taken a step further and becoming an edible part of the cake decorations. Imagine a simple iced cake with a piped macramé or crochet/knitted pattern intricately laced across your wedding cake. This is just another way to incorporate some beautiful yet subtle design into your boho, country or rustic wedding, especially if you are using other macramé elements in your wedding decor. 
Cake with a knitted effect
Dessert tables
Dessert tables are still on trend.  These include a wedding cake that takes centre stage, with a matching theme that ties in the main elements of the cake with the rest of the desserts on the table. Regardless of your style, you can tie your theme into the dessert table and make it a real standout feature.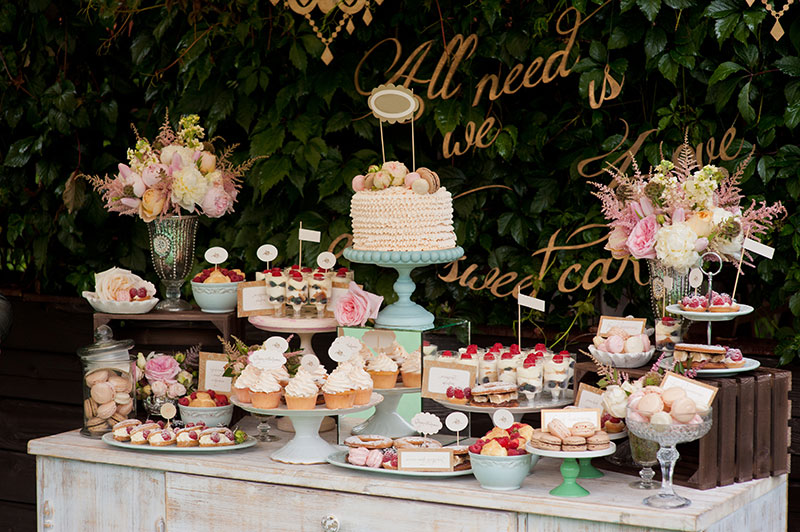 Donut Wedding Cake
If you're after something a little more bite sized and individual, then a donut cake might suit your wedding.  There are multiple ways to create and display this style of dessert so it still stands out as a centrepiece, like a traditional wedding cake. You can use a cake stand and decoratively stack the donuts with fresh flowers and fruit, display them on a donut wall, or use a large plate to layer them.  There are so many options, and with different flavours and coloured icing, you really can make this a stunning individualised element your guests will love. If a donut cake is a little too understated for your taste however, this little delicious morsel would also make a great accompaniment to a dessert table.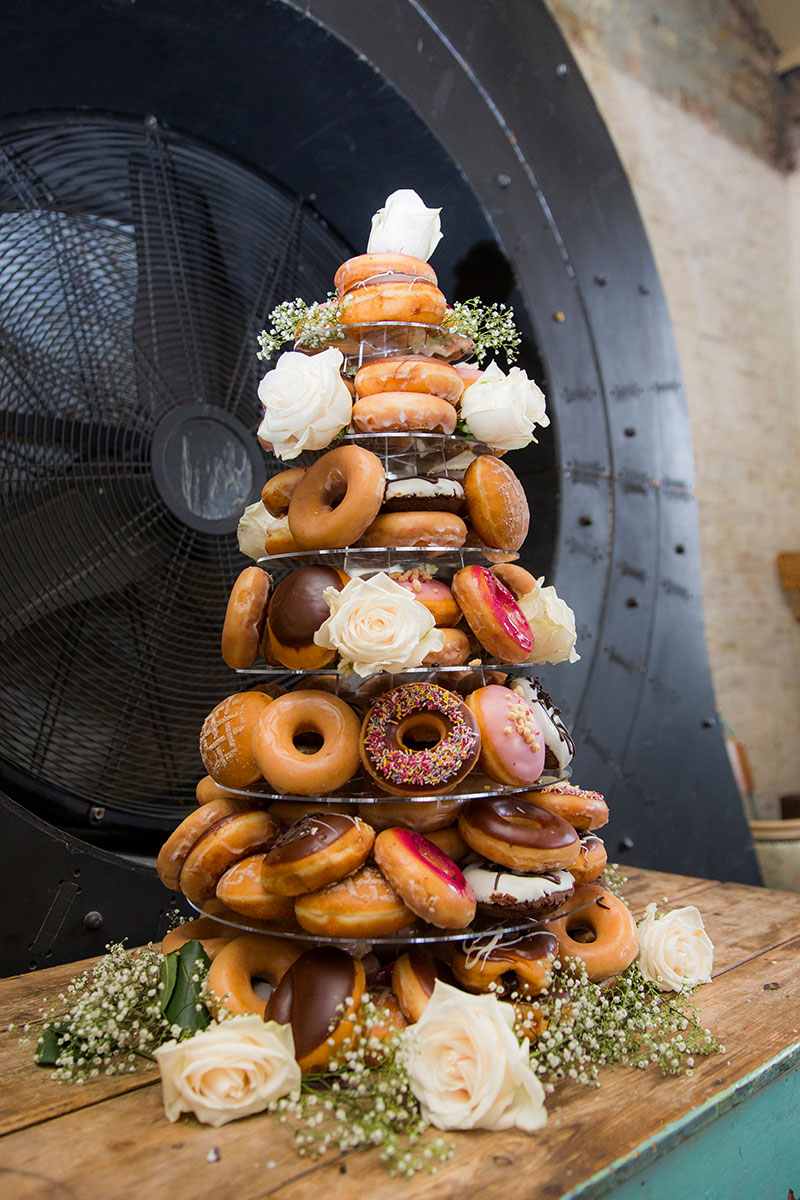 Cheese wedding cake
Ok, so maybe you're a savoury person and the thought of having a large tiered decadent sweet cake just doesn't appeal to you at all. If that's the case, then why not go with some of your favourite cheeses, stacked to look like a tiered wedding cake. You can decorate it with fresh flowers, honeycomb, dates and a cake topper to make it look every bit as good as a traditional cake.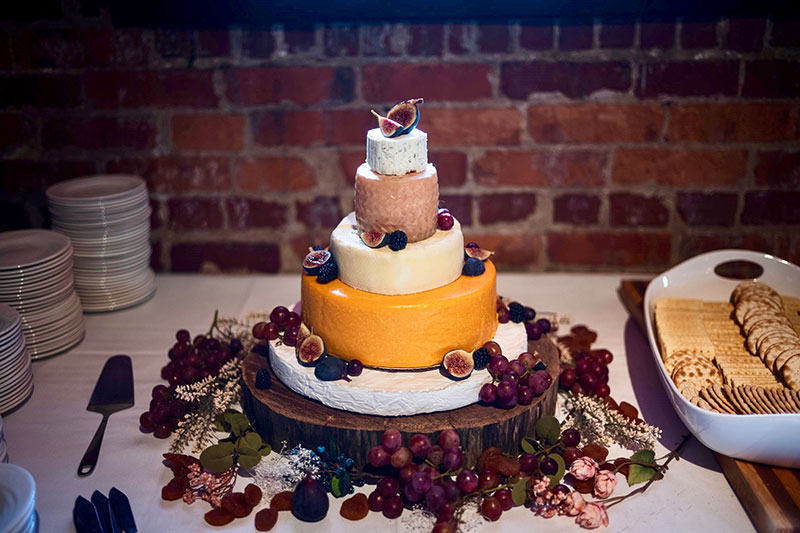 Cheese Wheel Wedding Cake
Cake toppers
Gone are the days of having a replica version of the bride and groom standing on top of the cake as decoration. A popular decorative cake topper to add to your wedding cake design these days come in the form of wooden carved personalised signs. You can get everything from your names, a significant word, love hearts, initials, to the date of your big day. This is a great way to really personalise your cake.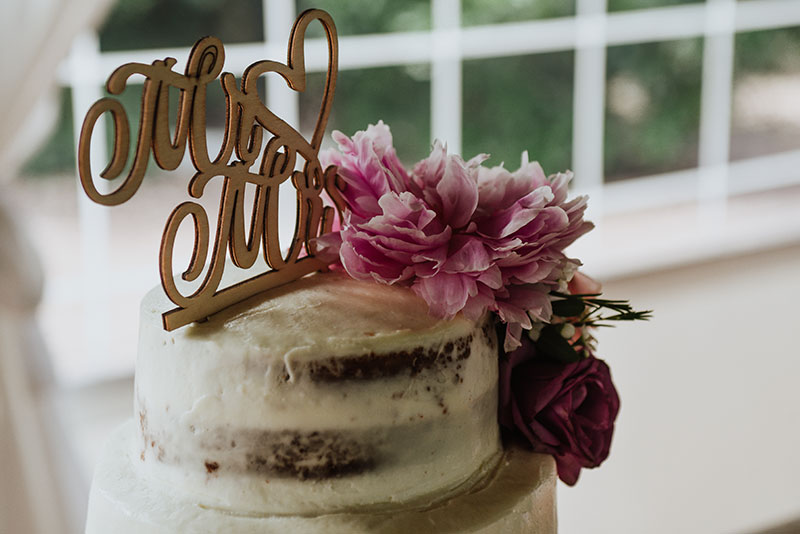 We hope that all this fresh cake inspiration not only makes your mouth water, but also helps you pick the perfect cake for your wedding day. Want more wedding cake inspo? See more cakes in our wedding directory.