Suit Tips for His Special Day
Published 3rd June 2019 in 5 minutes with, ALL Categories, Fashion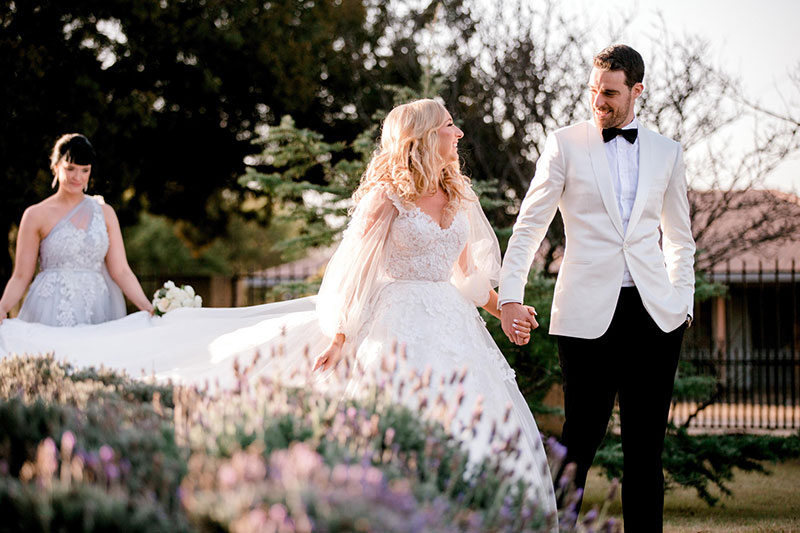 Photo above taken by Kaitlin Maree Photography
On your wedding day, it's his special day and time to stand out as well...
We're sure it comes as no surprise that brides-to-be have traditionally done most of the planning and organising for their wedding. And often, the wedding dress is deemed to be one of the most important items they need to purchase...but what about the groom? Is the same level of importance placed on his wedding attire?
This had us searching for some answers...it led us to Bulimba based menswear shop, Black Jacket Suiting. The team at Black Jacket go above and beyond to attain the right fit, style and price, offering the groom the option to hire, purchase or have a tailor-made suit specially made for his wedding day.
So where do you start? And how do you choose? Ryan Fisher, Director of Black Jacket Suiting has a few tips below to point you in the right direction...
SUIT FIT
Suit fit is the most important aspect of any suit. Focus on getting the shoulders of the jacket and the upper thighs of the trousers to fit properly. And for your wedding party, keep in mind their shapes and sizes when choosing a suit. A wedding party of larger men, for example, will not fit a slim cut, off the rack product.
What is an off the rack suit? Off the rack suiting means purchasing a product that is pre-made and designed by an established suiting brand name. Simply put, it is what you would usually find on the shelves as stock in suiting stores. There are many different brands out there and each have many different variants of styles and cuts.
ALTERATIONS
Alterations can be your best friend. Most people don't realize the impact a few small changes to a suit can make. A decent Tailor can greatly improve the overall look. Suiting is like cutting a piece of string; you can always make it shorter/slimmer.
SIMPLICITY
Simplicity is the key when thinking about weddings. Trying too hard is easily noticeable – you want to complement your outfits, not match them!
RESEARCH
Do you research before you venture into a suit store. Figure out what 'look' works with your wedding style and what will complement your partners attire.
SETTING THE GROOM APART
Setting the Groom apart is an imperative aspect of your big day. Remember, it's his special day too. You want him to complement you, and his groomsmen to complement your bridesmaids.
TIME
Time is always a valuable asset to have in your back pocket. Be organised and get things locked in early – this will save a lot of unnecessary stress with your attire for your big day.
OFF THE RACK SUITS
As we all know, weddings can be expensive occasions and when it comes time to looking at outfits for the men, the budget may be wearing a bit thin. If this sounds like you, off the rack suits can be an affordable alternative, with pricing from Black Jacket Suiting starting at $99 to hire, and $270 to purchase. And with access to over 20 brands of suiting and over 250 different styles and colours, it's a great option at Black Jacket Suiting.
TAILOR-MADE SUITS
If you're after a unique and specific look for your big day, tailor-made options, albeit more costly, allow you to get exactly what you desire with respect to style, fabric, colour, composition, quality and most importantly – fit. Black Jacket Suiting carries two ranges of tailor-made suiting options each with over 750 fabrics and lining variants to choose from. You're looking at a 3-4 week turnaround on all tailor-made products with wedding packages starting at $720 for a full tailor-made suit.
WHAT COLOUR?
 
NAVY
Navy is the colour of the season, with many diverse variants depending on the composition of the fabric chosen. This colour provides versatility in both a day and night environment and works well with almost all skin complexions. The wedding featured here flawlessly demonstrates this point.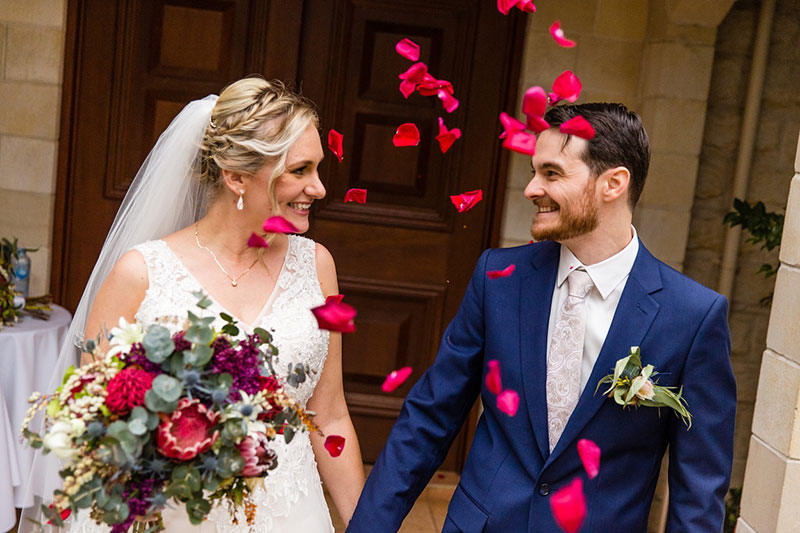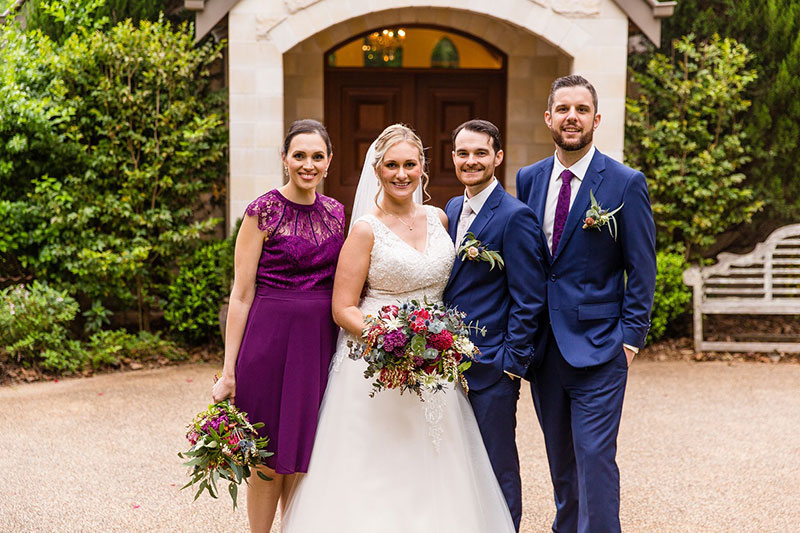 The navy perfectly complements the backdrop, the flowers and the bridesmaid's dress in this afternoon setting, providing an elegant yet casual style.
 
LIGHTER GREYS
For an elegant country or casual beach wedding, lighter greys add a classy, soft touch.  Dressing the groom in a vest will ensure he stands out, even when the jackets come off.
Here the groom stands out in a darker suit, but with the addition of a light grey vest to tie it all in.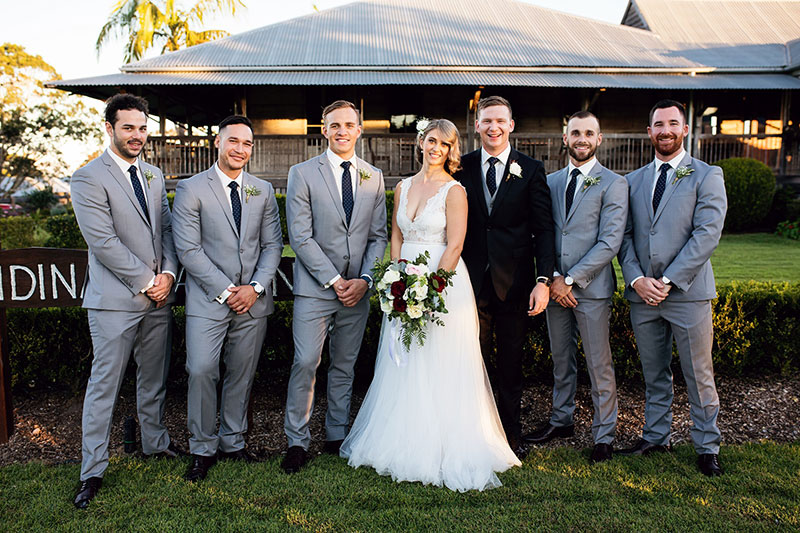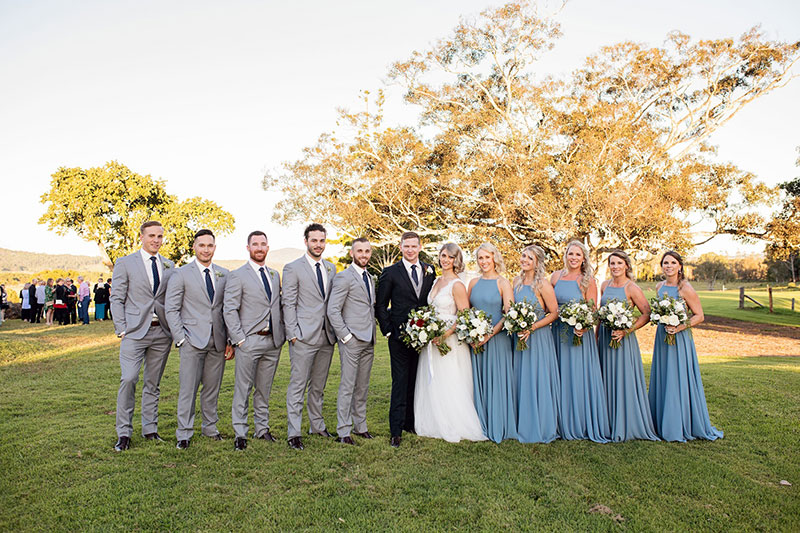 A sophisicated casual look for a country wedding.
 
BLACK AND WHITE
A tuxedo works every time! And whatever your wedding style, black and white looks smart and sophisticated. For a more casual wedding you can complement the suit with more casual accessories (casual belt and shoes).
Photos below taken by Kaitlin Maree Photography.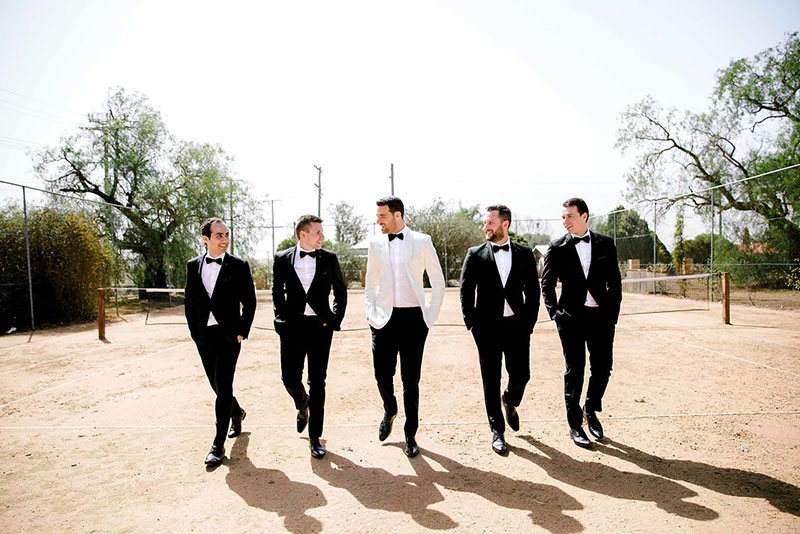 The groom stands out in a stylish white suit jacket while his groomsmen look sharp in their black and white suits.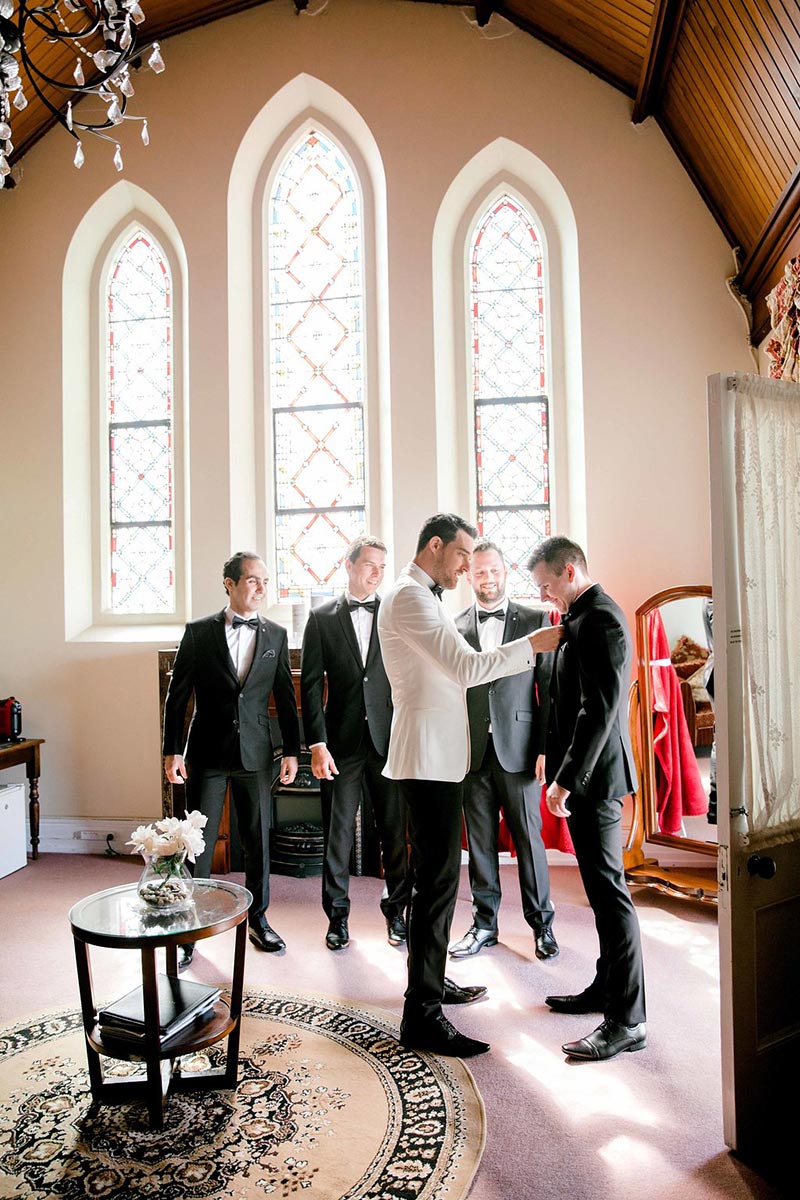 The groom's black pants and bow-tie are the perfect contrast to his white jacket to create a modern classic look.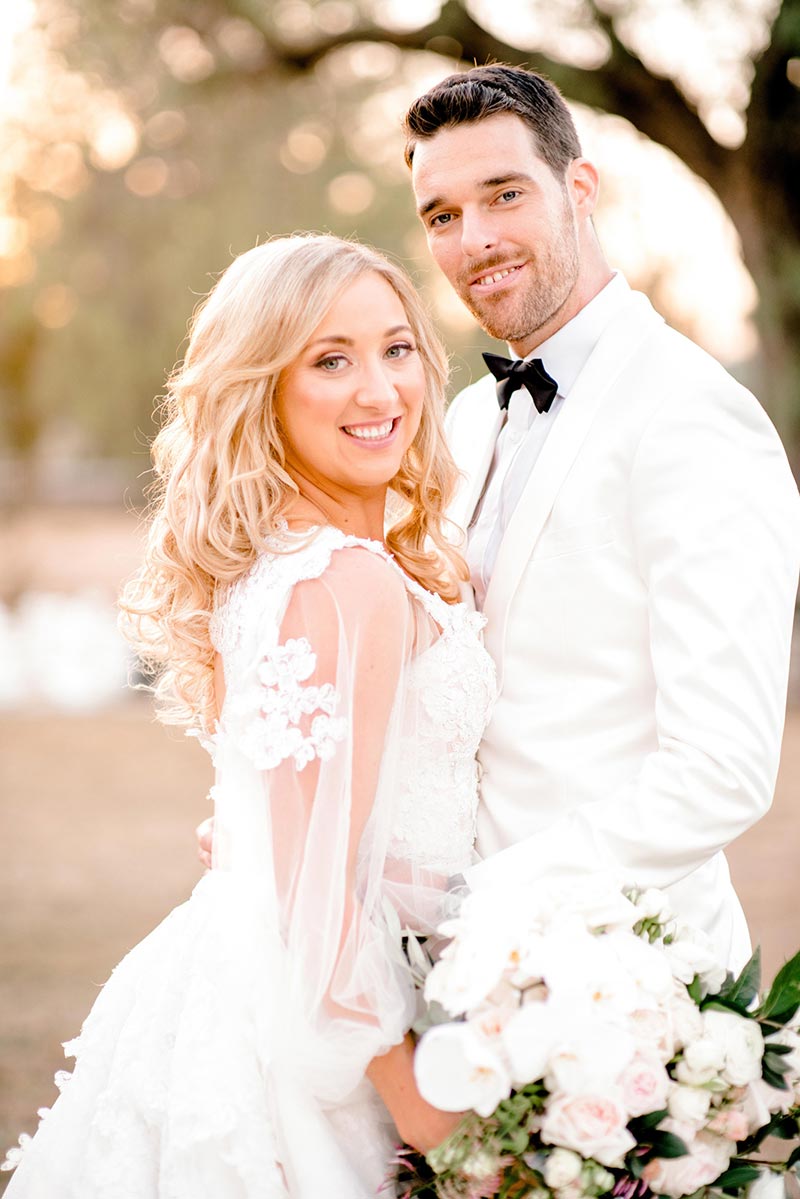 If you're looking for personalised service, expert knowledge and product diversity at an affordable price, find out more about Black Jacket Suiting here.
And the good news is...you can visit Black Jacket Suiting at our upcoming Brisbane Wedding Expo on 30th June - and go in the draw to Win a Tailor-Made Suit valued at $1200 from Black Jacket Suiting as part of our Major Prize Package. Entry to the Major Prize Package is available to engaged couples (one entry/couple). See more details on our Brisbane Expo page.