Sarah & Matthew: Autumn's Golden Hues
Published 28th August 2013 in ALL Categories, Real Life Wedding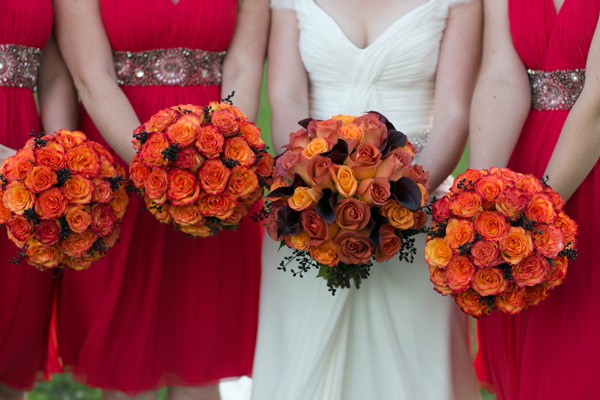 Sarah and Matthew chose some middle ground for their gorgeous Autumn destination wedding and selecting Peppers Manor House, Sutton Forest, was a masterstroke of outdoor elegance.
Matthew's proposal to Sarah was nothing short of fairytale – setting the scene for their picture-perfect wedding day…
"Matt took me to the first restaurant that we went to and he got his brother to come in with an acoustic guitar and he sang me Peter Gabriel's Book Of Love. He then got down on one knee…. it was a Friday night and for some reason most of the clientele that night were 17-20-year-olds, all the girls started squealing and as he was on his knee (unbeknown to him), he had a halo of 17-year-old girls surrounding him. I said yes and then all around the restaurant there was a chorus of girls hitting their boyfriends saying… "Why don't you do that for me?"
Having picked a date, Sarah managed to not get too carried away by the details 'do you think the hurricane lanterns will look better with their handles up, or their handles down?'. She knew she wanted an outdoor wedding choosing Autumn for its temperance and Sutton Forrest as "it's just stunning. It has old world charm and character and it's not too big, so the venue itself is intimate and the grounds feel like they have come straight out of an old English novel… plus it provided accommodation for our guests. We could have a great time and then just walk upstairs and be in bed."
"The attire and accessories worn were almost Edwardian without being overly stylised. Mostly we just wanted everything to be vibrant and beautiful."
The wedding day can be quite stressful for the bride – was yours?
What helped me to cope was by staying in the moment… it didn't mean that some moments weren't stressful… but it did mean that I allowed the day to take me, so whilst at times there was stress at other moments there was joy and surprise and beauty and so many other great things.
There is sure to be many, but what is the one memory you'll cherish forever?
Jumping in the pool at the end of it all … I asked Matt if we were sure we were going to do this. His response? He kissed me, and as I was all wrapped up in the excitement and trepidation he gently pushed me towards the pool as we embraced. We were falling; it was such a surprise and thrill. The water was cool, but to my surprise it was a salt water pool and it was simply delightful. The day drained away and we were just two people lost in our adoration of each other and the thrill of the moment – our moment.
In hindsight, is there anything you would do differently?
Have an exit strategy. Matt and I spent a fair amount of time planning the wedding and the reception but we neglected to think about what to do once it was all done, for us and for our guests. Our speeches ran overtime cause all our family just wanted to tell us how much they loved us, but this meant that we didn't have as much time on the dance floor as we and our guests would have liked. So when it was 'home time' not everybody was ready to leave and the end of the night was left hanging. Make sure you have a game plan for your exit and make sure you have a game plan for those of your close family and friends who want to dance the night away and really let loose (especially as it will most likely be those who contributed a lot of emotional energy into your special day and so all they want to do is kick their heels up and they can't really do this until the official proceedings of the reception are over).
Best advice for other brides?
Try not to get too hung up on the things that don't go exactly to plan. Focus on the positives and allow yourself time to stop and take it all in.

Guests: 112
Menu
Canapes: Zucchini Puff & tzatziki, Thai fish cake, Pan seared chilli tiger prawns, Smoked kangaroo & onion jam/ blini
Entree: Hoisin marinated chicken roulade, Asian salad& chilli cashews, Prawn skewer& cauliflower panna cotta w/ broccoli, cous cous & carrot vinaigrette
Main: Grilled beef sirloin & col cannon w/ parsnip, carrot, speck & wholegrain mustard jus, Barramundi w/ herb crust & paella cake w/ squid, chorizo & harissa
Dessert: Wedding cake: Carrot cake, White chocolate, Chocolate Mud
Photographer: Emily Hanna, Esh Photography / Videographer: John Bulloch, Slate Productions / Gown: Vanessa (Embellished) by Karen Willis Holmes / Flowers: Kate Powell, Absolutely Flowers / Cake & Topper: Planet Cake / Hair: Megan Hardwicke  / Rings: Solitaire Jewelry / Makeup: About Face Makeup Artistry / Bridesmaids Dresses: George Evening / Groom: Jack London / Groomsmen: Black Tie by Xavier / Ceremony & Reception Venue:Peppers Manor House Sutton Forest / Celebrant: Lyn Thow, Hughes Baptist Church / Bonbonniere: Impress Print Management / Equipment Hire:YES Event Hire Bowral / Entertainment: DJ Dutch Courage / Honeymoon: Aura 24 / Dancing: Ralene, Danzon Dance Studio / Photo Booth: De-leon - Snap Photo Booths / Stationery: Bespoke Letter Press / Jewelry: Jeanette Maree Jewelry / Sunday BBQ: Mt.Broughton Golf Club
Bride's Processional: The Book Of Love - Peter Gabriel
Peter Gabriel – The Book of Love from sheepfilms on Vimeo.
Signing: This Old Love - Lior
Recessional: Something In The Water - Brooke Frasier
First Dance: Watch Over Me - Bernard Fanning