Sarah & Jarrad: From the valley to the sea
Published 5th July 2013 in ALL Categories, Real Life Wedding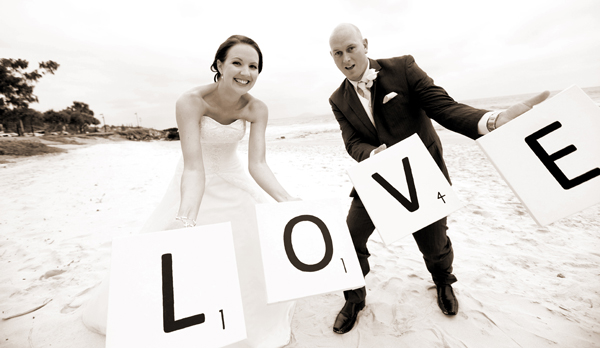 It was a case of slightly delayed kismet before Sarah and Jarrad were married at a beautiful Sunshine Coast hinterland wedding. The couple had met 12 months earlier and it wasn't until Sarah was unattached – and informed of Jarrad's crush – that things really got going.
But things weren't so ideally scripted, as Sarah candidly tells, "Around this time I was doing some weekend stable-hand work and Jarrad just happened to see me one day in my dirty jeans, tucked into my long socks and smelly work boots!" But rather than head for the hills, he was most definitely still keen, "he pursued me! I thought, 'well he's probably seen (and smelt) me at my worst and he's still interested, so things are looking good!"
This all happened before the two had even had a chance to have a chat. Cue a mutual friend's birthday party, and an opportunity to seize…
"This was my chance," Sarah relates, "He was standing at the bar, so I walked over and joined him and we chatted for ages. He was lovely, really sweet and such a down to earth guy. We danced the night away and I decided that this guy was definitely worth getting to know! We went on our first date the next weekend, and have been together ever since."
That was four years ago, and when it came the time to propose Jarrad knew to trust his instinct.
"Jarrad took me on a holiday to Port Douglas for a long weekend, where we stayed at the most luxurious resort. The morning after we arrived we went for a drive and stopped at a beach access, where Jarrad asked if I'd like to go for a walk to see the beach. So we trekked through the bush finally leading us to a practically deserted strip of beach. Jarrad tells me that he didn't have any plan in place of how he wanted to propose, only that he would know when the time and place were right."
Jarrad had found the perfect place, and knew "this was it, as we pretty much had the beach to ourselves."
Ever playful, the couple decided to play a game, "…he would write a message in the sand a bit further up, and I had to write one here where we were standing. Then we would see what each other wrote. We played random games like this all the time, so I never thought twice that there may have been an ulterior motive. So we wrote our messages and Jarrad followed closely behind as I walked over to his. When I reached his message, he had written "Will you marry me".
It took me a few seconds to process what he'd just written, then I turned around and he was down on one knee with a ring. He then said, "Will you marry me?" He literally took my breath away, I found it hard to breath and he had to catch me as I almost collapsed! I was so overwhelmed with happiness and excitement! This was one of those moments that you always dream of, but it's such an indescribable feeling when it actually happens to you. Oh and I said 'yes!'"
Sarah and Jarrad were married at the delightful AnnaBella Wedding Chapel. Nestled in the Sunshine Coast hinterland and combining one of the couples' two loves: the rustic beauty of a garden wedding.
"We both have fond memories of the country growing up, and also of the beach where we have spent a huge part of our lives as well. So having our ceremony in a wedding chapel surrounded by lush green paddocks, rustic furniture and beautiful gardens, followed by a reception at the beach, meant that we could incorporate our love for both scenes."
Balancing a full time with planning a wedding is a process of expert time management, and Sarah turned to the internet to complete a lot of research.
"A lot of my research took place during lunch breaks, searching the internet for suppliers and sending out bulk email enquiries."
But on the day Sarah attests to thorough pre-planning enabling her to enjoy her wedding, and have the day run smoothly. Still, it was all very exciting and girls will be girls…
"I woke at 5am on my wedding day, with no chance of falling back to sleep! A couple of my bridesmaids had also woke, so we cuddled up on the couch together and talked excitedly about the day ahead. Our day seemed to just flow perfectly. We didn't rush, but enjoyed each and every moment and process that arrived. I had such a wonderfully supportive group of bridesmaids that ensured I didn't need to worry about a thing all day."
With any Bridezilla fears tucked away by her pre-planning and wonderfully supportive friends and family Sarah was really able to 'enjoy the experience and focus on planning one thing at a time so the whole experience was not too overwhelming."
Enjoying her perfect day, Sarah reminisces on her favourite memory, "I will never forget walking into the chapel and seeing Jarrad stranding there at the end of the aisle. We didn't take our eyes of each other. This was my favourite moment of the day.
"Ever since I was a little girl, I knew that one day when I met the person I wanted to share my life with, that I would marry them. I believe marriage is a life long commitment and promise made to each other, that no matter what, we are in this partnership together and will love and honour each other always. It was so special to have our family and friends witness this vow.
Wedding Music
Bride's Processional: From This Moment On – Shania Twain
Recessional: Just The Way You Are – Bruno Mars
 First Dance: Everything I Do – Bryan Adams
Photographer: Greg Gardner / Gown: Spurling Bridal & Formalwear / Flowers & Boutonnieres: iBlossom / Cake: A Beautiful Cake by Mary Brown / Cake Topper: Buderim Floral Art / Hair: Hair By Nicola / Rings: Underwoods Fine Jewellers / Makeup: Pru Edwards / Bridesmaids Dresses: Spurling Bridal & Formalwear / Groom & Groomsmen: Johns Formalwear / Ceremony Venue: AnnaBella the Wedding Chapel / Reception Venue: The 4th Floor Restaurant / Celebrant: Pastor Gordon Carter / Bonbonniere: Candy Addictions / Entertainment: Unique DJs / Honeymoon: Thailand
Guests: 110
Menu
Canapés
Smoked salmon, cream cheese & chive roulade
Bocconcini, cherry tomato and sweet onion tart tartins
BBQ pork sesame buns
Entree
Roast beef fillet, confit mushroom & mustard braised potato
Tempura prawns, apple & coriander salad, cumin citrus glaze
Main Course
Garlic & rosemary marinated lamb rump, caramelized pumpkin, potato purée, shallot gravy
Proscuitto wrapped chicken breast, mushroom risotto, broccolini, white wine cream
Dessert
Wedding cake cut and plated up.