RLW - Michelle and Jason
Published 1st June 2016 in ALL Categories, Real Life Wedding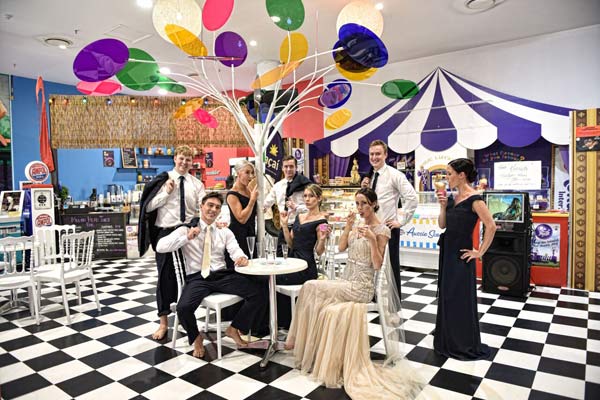 Wonderfully classic, with a vintage charm, Michelle and Jason's day captured by Sheila Sissons Photography is seaside wedding perfection - not even a Queensland storm could spoil it!
From the couple…
The location
"Jason and I love the beach. We went for a weekend visit to the Sunshine Coast and chose the ceremony location on Mooloolaba beach straight away. We wanted our day to have a classic feel, yet not too formal, and more importantly, for everyone to have fun."
The style
The style was kept simple and elegant, with a nod to the coastal location. Navy and white colours were carried throughout the decor and bridal party attire.
The gown
Looking like a modern day mermaid, Michelle's 1920s inspired Fiorenza dress epitomised vintage elegance, yet fit effortlessly with the beachside backdrop.
Choosing the photographer
"Sheila was an obvious choice for our photographer. She came highly recommended by many friends and family, and she did not disappoint. She was fun, made everyone feel comfortable, and offered great advice. As a photographer she genuinely cares, and wants the bride to have her perfect day."
Twist on tradition
Keen to thank guests and vendors, Michelle chose to give a speech at the wedding. The couple also chose to skip the mother-son, father-daughter dances, rather inviting all guests to join them on the dance floor together.
Personal touches
Jason loves classic style music, and compiled a romantic wedding reception playlist.
The final word
"When it comes to wedding planning, my advice is to be organised, and not to stress. I was so worried about the weather in the weeks leading up to the day. When forecasted showers turned into rain, to a storm predicted to hit right during the ceremony, we had no other option but to embrace it. In the end, the storm held off for our ceremony and ended up making for spectacular photographs. At the end of the day, as long as everyone is having a great time, that's all that matters."
From the photographer…
Michelle was such an elegant bride, we just knew we would be capturing some stunning images.
We are constantly on our toes and thinking what makes a good image so when we have a bride and groom that are fun and adventurous we love to think outside the box and get some quirky and creative images. We could see a storm brewing which made the sky a dramatic backdrop for us. We ran for the shelter under the Mooloolaba waterfront shops as it began to pour. It was very hot and humid and I saw an ice-cream shop and could not resist buying ice creams for the whole bridal party. The store was funky and retro inside so we ducked in and captured some quirky fun images.
Favourite photo
The close up of Michelle and Jason laughing, as it shows them in a real moment together. It captures the essence of them as a couple and the way they laugh together.
www.sheilasissonsphotography.com.au