Quentin & Kelly: A bohemian wedding
Published 5th July 2013 in ALL Categories, Real Life Wedding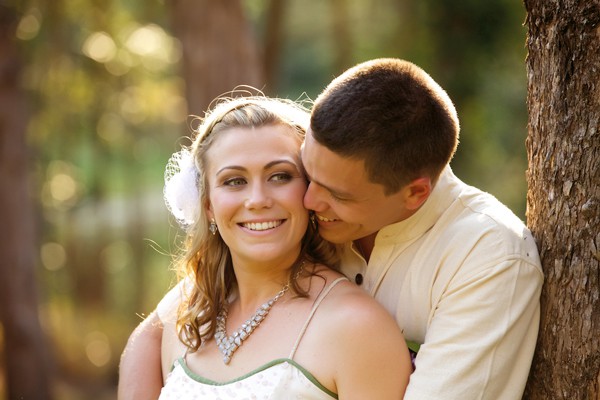 It was during a lovely quiet bush walk through Kondalilla Falls in the Sunshine Coast hinterland that Quentin proposed to Kelly – of course she said yes! And a wedding of culture, respect and love resulted.
Quentin met Kelly through her sister's husband. Hailing from Northern Queensland the couple decided to move away to the Sunshine Coast to begin their lives together, and this year marks nine years as a couple. As Kelly explains, "The planning of the wedding I found quite easy, it was the venue we had the toughest decision with. We really wanted a home wedding although we lived too far out of town so we went with The Sanctuary at Forest Glen. It is very nature-inspired and suited us to a T as we love being in nature, and the reception venue is quite rustic on the inside which we also loved."

Nature and country were significant themes in Quentin and Kelly's wedding ceremony, incorporating some very precious elements to reflect their union and their ties to the land.

"Quentin's father's side is Australian Indigenous and we really wanted to honour his culture and bring this forward into our offspring, bringing awareness through our family on both sides that as a country and culture we are one, and what better way to celebrate that than with a traditional blessing and ceremony for our wedding.
"Overall the day was perfect, everyone was very receptive to our ceremony, it was extremely special and the energy was ecstatic- having known the ceremony holder Jeremy Donavan and his brother Ash for some time made it even more special. The reception was great, the food was awesome, it all went a little too fast though!"

What is the one memory you'll cherish forever?
"The ceremony was something I'll always hold in my heart, it was so magical, during the ceremony we had our arms and hands binded with Oka, the Australian indigenous peoples call this 'the blood of the earth', this was extremely special, not only connecting as husband and wife but with our mother earth, our land as well."
Did your inner Bridezilla make an appearance?
"I would have to say, she definitely came out the night before the wedding when my soon-to-be-husband extended his buck's day to a buck's night as well. I feel I coped well, of course there were moments when things didn't go to plan, although stressing doesn't do much, it's more about making what you have work."

In hindsight, is there anything you would do differently?
"Not really, although our reception wasn't too planned, our first dance I think was John Butler Trio, so perhaps something a little more romantic!"
Why is being married important to you?
"Marriage to me is such a sacred bond that is taken a little lightly these days. It's a very special moment in a ceremony where two people connect their hearts and ancestors together as one, with the intention of being together forever – which is what my wedding meant to me. It was the most wonderful day and I would do it all over again tomorrow."

Bride's Processional: Jack Johnson – Better Together
First Dance: John Butler Trio - Zebra
Photographer: Tim McIvor Photography  / Gown: "Mermaid" by Leah Kelly / Flowers: Noosa Florist Junction / Cake: Sweet Tempered, Noosa / Cake Topper: Jam Cake Toppers / Hair: Donnicu Hair / Rings: Underwoods Jewellers / Makeup: Antoinette Wilkins / Bridesmaids Dresses: Homemade by Kelly's mother-in-law-to-be / Groom & Groomsmen: Sinerji Organic Clothing / Ceremony & Reception Venue: The Sanctuary, Forest Glen / Transport: Mazda XR-8 / Celebrant: Talitha Mitchell / Bonbonniere: Little natural hessian bags with heart chocolates / Theme: Bohemian / Entertainment: Carl Wockner