Not your average hen do
Published 24th September 2013 in ALL Categories, Pre-Wedding Celebrations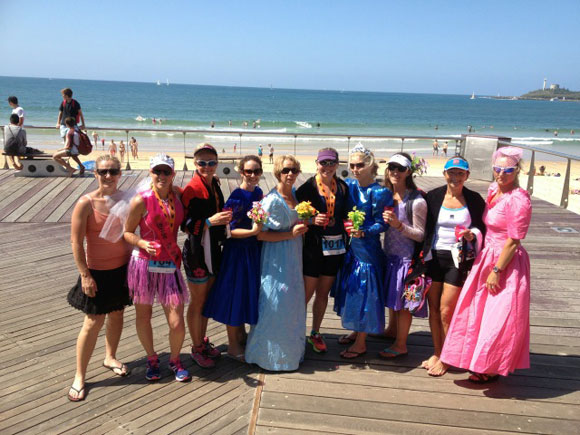 While many hens still follow tradition and celebrate their last night of freedom with a girls night out on the town, others are choosing to make their hens party a little more unique.
The hen do' is all about having a great time with your friends, so why not spend it doing something you love? Whether it be a weekend of pampering, wining and dining or something a bit more adventurous. 
Our bride-to-be and triathlete Ashley Russell decided she wanted to do something special for her hens weekend. Along with 10 friends from the Illawarra Triathlon Club they competed in the Sunshine Coast Half-Ironman. Dressed in hideous 80s bridesmaid gowns, 5 girls accepted the challenge to compete alongside Ashley while the other half were there to cheer them across the finish line. Bouquet in hand, dressed in a hula skirt, veil, tiara, gloves and the all important bride-to-be-sash, Ashley crossed the finish line in true hens party style.
What are your hen night plans? We would love to know what you'll be getting up to!