Native Flower Bouquets: A Month By Month Guide
Published 12th April 2013 in ALL Categories, Flowers, Inspiration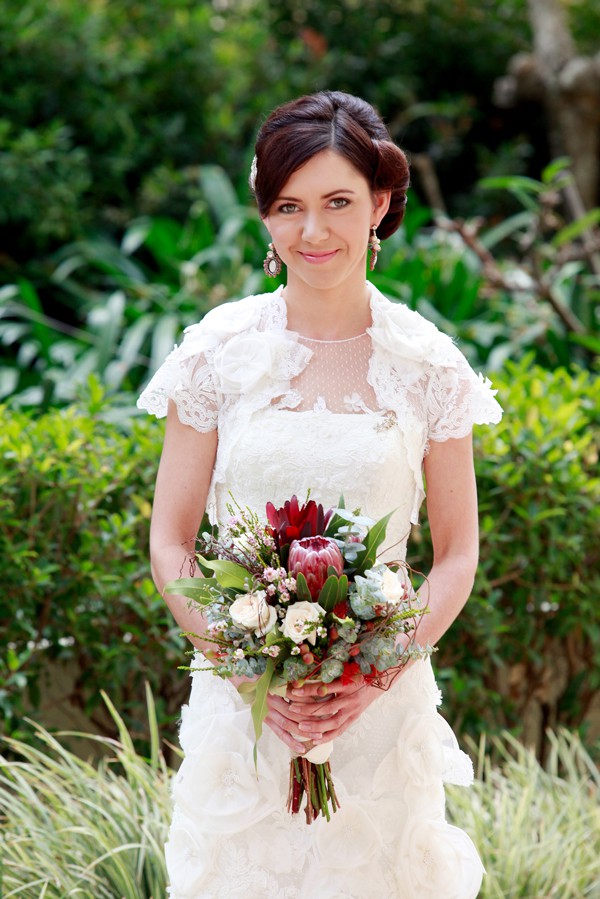 Photo credit: SMOK Wedding Photography
While many brides may have opted at one time for traditional white lilies over the bold Australian Banksia, currently native floral bouquets are hotly sought after. So while our native flora may lack a certain kind of classicism, it makes up for it by being diverse, fresh, colourful, hardy and uniquely textural.
There's so much variety – from the large and glamorous to the dainty and sweet - and with natives accessible through most metropolitan florists there's no reason not to search out a local equivalent to those lilies. We've picked out 12 of our favourite beautiful Aussie blooms, giving you plenty of choice to ponder.
January – Waratah, Telopea speciosissima
The mighty Waratah isn't for the faint-hearted. Think of it as the Australian equivalent of the red rose: bold and glamorous and screaming of passion. Most commonly available in red, this bloom is now being bred for the cut flower market in white as well, giving it that classic white wedding feel. A bouquet of white Waratah, along with the dainty Thryptomene and some green-grey foliage would be a distinctly Australian take on a bridal bouquet - textural, romantic and unique. Plus one of the greatest things about the Waratah is that they're a hardy flower, and will easily stand up to the heat without wilting halfway through a mid-summer, full sun ceremony. 

February - Protea
This sizeable yet softly-hued bloom is mistakenly thought of as an Australian native - when in fact it hails from South Africa - but as it is so easily grown in our soil it has come to be thought of thought of as an unofficial Aussie. Closely related to the Grevillea family, the Protea is equally striking and pretty and comes in a huge number of varietals. The most common is the King Protea, which comes in pink or white and these look best when they're not quite open - the feathery bracts still clinging tight around the head of the bloom. At this early stage they resemble a neat, pink pinecone and their small size allows greater manageability within a bouquet. Also seek out the variety Pink Ice, which boasts a richer pink hue and gorgeously soft petals that would make it a great bouquet centrepiece alongside some textural, tropical foliage.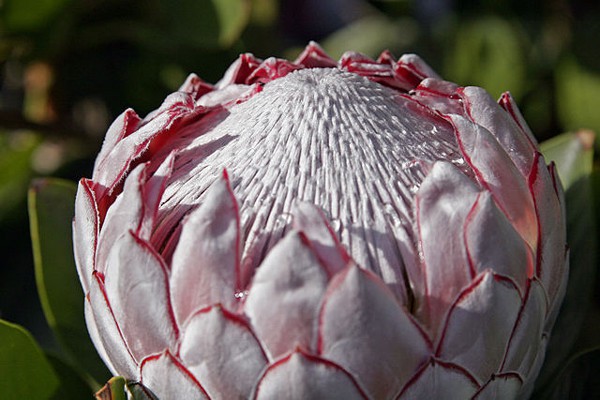 March – Paper Daisy, Xerochrysum bracteatum
The Paper Daisy, usually available from spring until autumn, has stiff, papery petals that give a hardier, more interesting texture to the European daisy varieties. Commonly available in pink, white or yellow this little flower adds a pop of colour and injection of femininity to your bridal bouquet. The daisies could be styled along with other smaller blooms, or alternatively they would look great by themselves, giving a strong statement of individuality and fun. Crinkly and cute, they would also make fantastic table settings, providing a point of interest for wedding guests.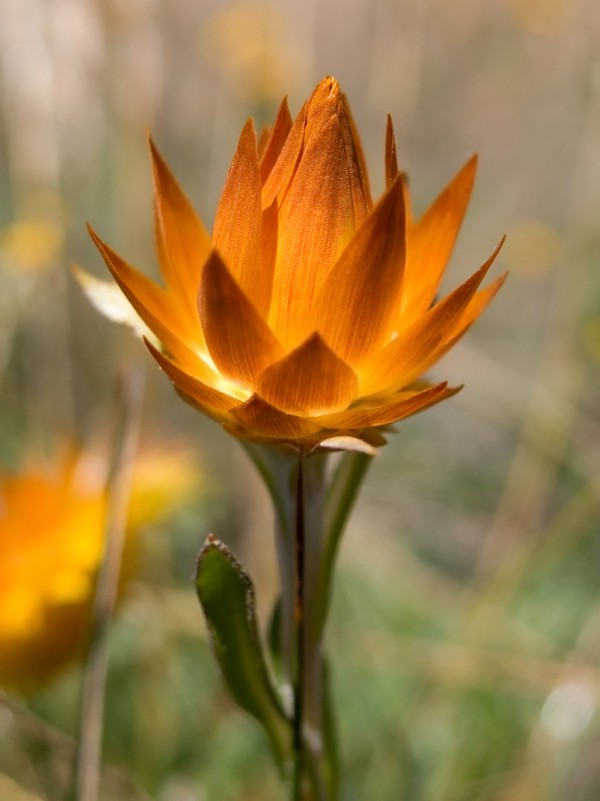 April – Flannel Flower, Actinotus helianthi
The Flannel Flower is similar to a daisy, but is velvety soft to touch - almost floppy – this starry-petaled bloom is a bit more relaxed in it's style and the perfectly hued addition to any wedding arrangement. With grey-white petals and creamy-coloured heads this flower looks at home within a bridal bouquet and, like many of native bush blooms, adds an unregimented, casual look to an arrangement. Beware those who are prone to hay fever as this flower sometimes provokes an allergic response!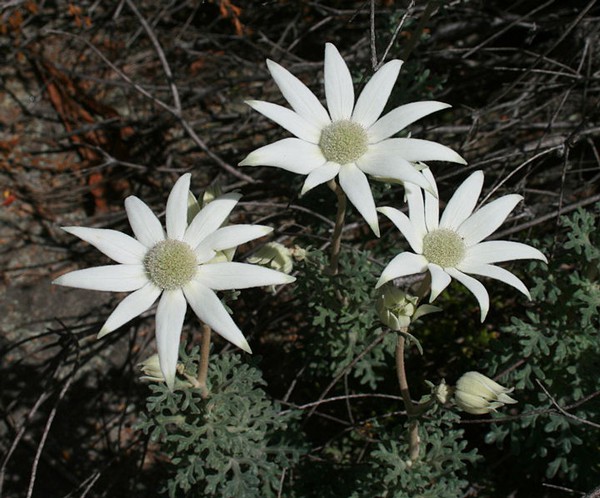 May – Dryandra
This showy, gold Banksia-related bloom is a W.A export, loving the dry climes of that part of the world. Try pairing it with softer colours and textures of natives such as Geraldton Waxflower or Wooly Bush. There really isn't any other flower with the same striking, golden colour and it's an easily adaptable bloom. With it's golden colour and spiky foliage Dryandra is a nice balance of both the feminine and masculine, and it could easily make a charming, rustic table centrepiece as well as featuring in the boutonnieres of the groom's party, paired simply alongside some grey-green eucalyptus leaves and a tiny sprig of wattle.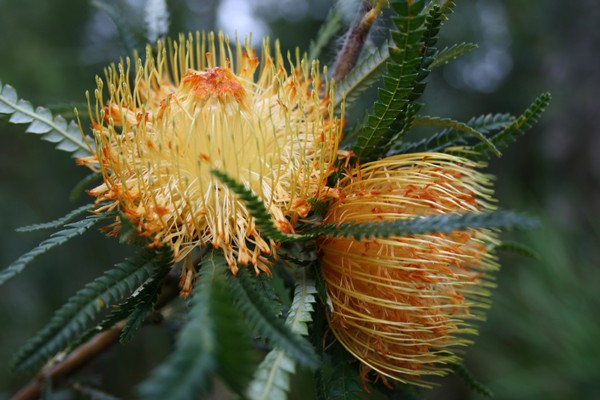 June – Blushing Bride, Serruria florida
Easily the favourite native of Australian brides, this flower is hard to beat. The downside is that you have to wait until the cold hits before it comes into season, but that's the price you pay for wanting to carry this super-soft, gem of a flower. It pairs effortlessly alongside other natives for a vintage-type feel, can be used en masse, or alternatively it's one of the few Australian flowers that sit easily alongside more European-style blooms, such as orchids, roses or Lisianthus. The strength of this flower is that it's unique in both shape and texture and unassumingly pretty, while also being hardy enough to withstand the rascally hands of a young flower girl.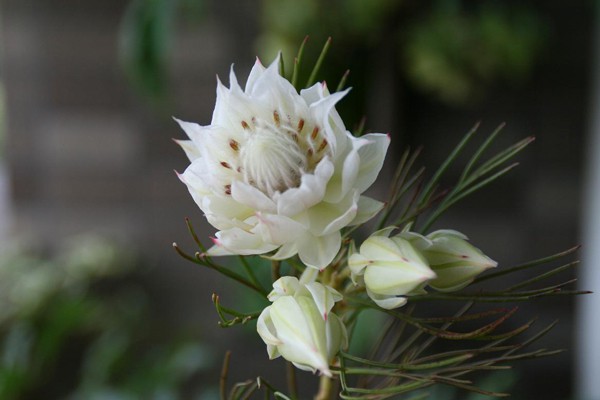 July – Banksia
Many gorgeous varietals of the Banksia are widely available. Apricot-hued Acorn Banksia's are perfectly formed and softer-looking than the traditional red Banksia coccinea  and  baxteri (Birds Nest Banksia) are quirky and endearing, with bulbous tops and angular foliage. These blooms are perhaps less widely available than the traditional Banksia but a good florist will be able to find a supplier, as they grow prolifically all over the country. Register your interest with your local florist and help support Australian grown floral produce!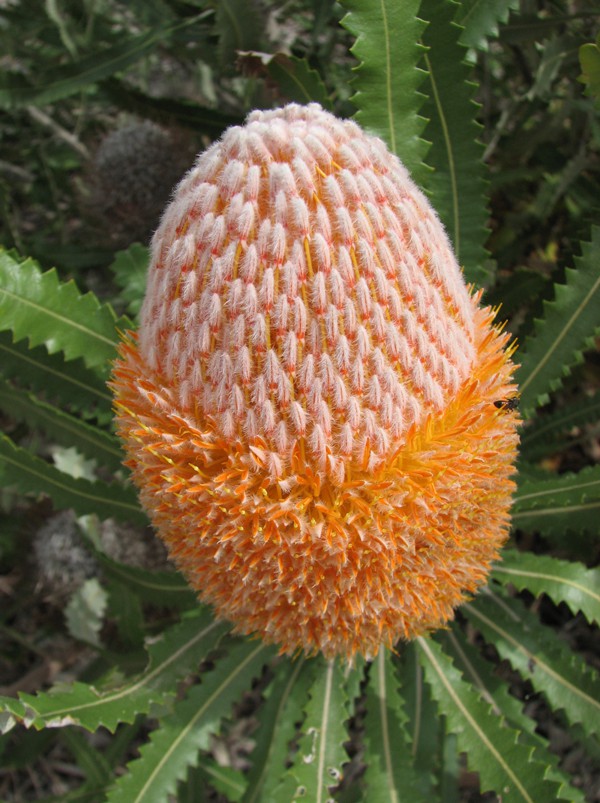 August – Geraldton Wax Flower, Chamelaucium uncinatum
This dainty native grows in abundance; is easily sourced in metropolitan areas; and in addition it's guaranteed to add a touch of bush charm to your bridal bouquet. Coming in a range of hues – white, pink, purple and a colour verging on red – the small five-petalled bloom acts as great filler for bouquets and works well alongside other, larger flowers. Think of it as an Australian alternative to a Forget-Me-Not or the common daisy, and the waxy nature of the flower lends it a hardiness and textural interest that's uncommon in European-style flowers. See also: the tiny, pink and white floral jewels of the Thryptomene flower, which similarly can be used to soften bouquets and add textural contrast.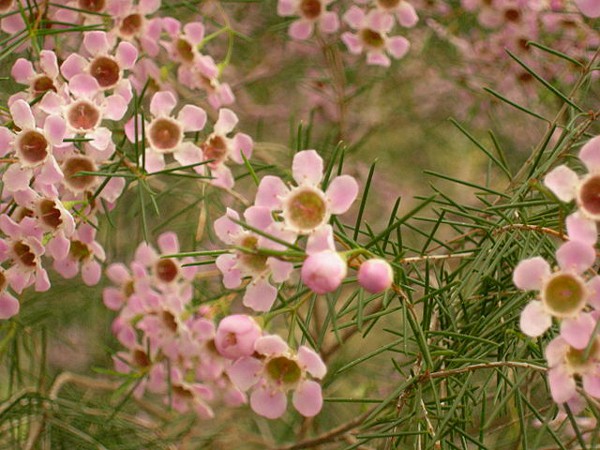 September – Smokebush, Conospermum
The Australian native Smokebush, has greyish-hued, feathery tendrils. Paired with other textural blooms Smokebush adds softness to your wedding bouquet. It could also be used alone for a very modern, monochromatic look.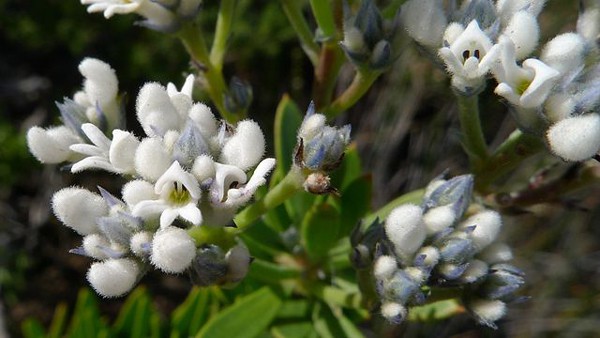 October – Yellow Bells, Geleznowia verrucosa
Yellow Bells are the Australian answer to Tulips and Daffodils. Although harder to source than some of the other Australian natives Yellow Bells are worth searching for. Bright yellow with a deep green leaf, the multi-petalled bells can be used grouped together or as filler alongside other more traditional wedding flowers. While yellow can be a harder colour to incorporate within a bridal bouquet, this bloom – like many other natives – is never overwhelmingly pretty or frilly and offers just the right amount of textural interest. Paired with flowers in a variety of greens and whites, these flowers pop with colour, fun and definitely announce that spring is underway.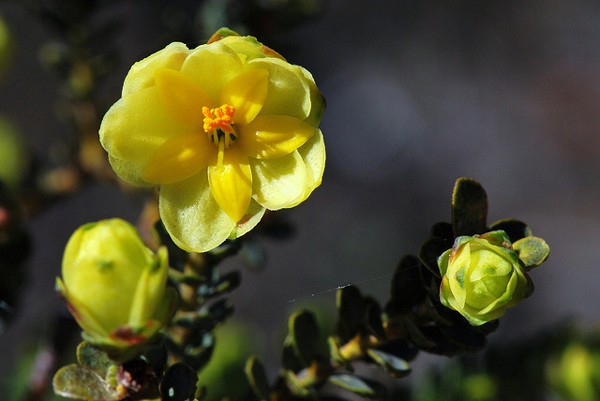 November – Boronia
Boronia, with its unusual and strong scent (fruity, tea-like fragrance), is not a flower for everybody. Perfect for a vintage wedding with its tiny, bell-shaped blooms. Available in a seemingly MAC-makeup inspired hot pink, it's also available in a brown/yellow combination, a rich scarlet and white, and grouped en masse it makes a marvelous, textural statement.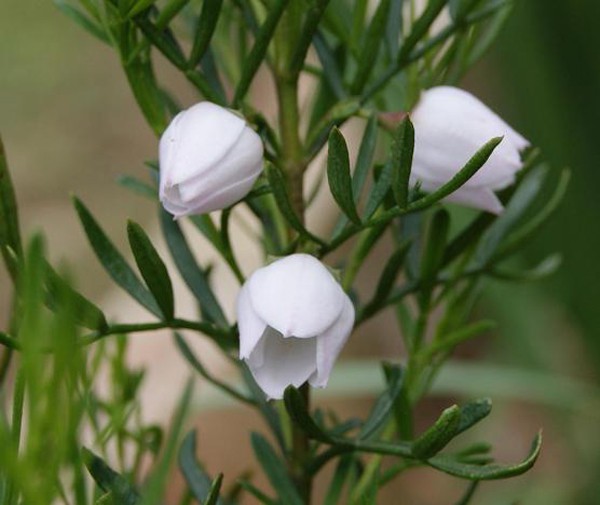 December – Billy Buttons, Craspedia
Billy Buttons – whether dried or fresh – can be used almost all year round. A favourite of decorators, brides and stylists these little buttony blooms provide a floral exclamation mark. They are cute, stylish and rustic all at once and can be used grouped together or spread out; interspersed throughout a bridal bouquet alongside other favourites such as spinning gum, acacia, waxflower or paper daisies. Their leafless, linear stems are quite striking, and for this reason they are sometimes used en masse, simply tied with twine or a gingham ribbon and resulting in a huge pop of yellow that works well in photos and results in an easily-maintained bridal bouquet, and one that can also be saved as a memento of your wedding day.