Mismatched Bridesmaid Dresses
Published 28th August 2013 in ALL Categories, Bridesmaids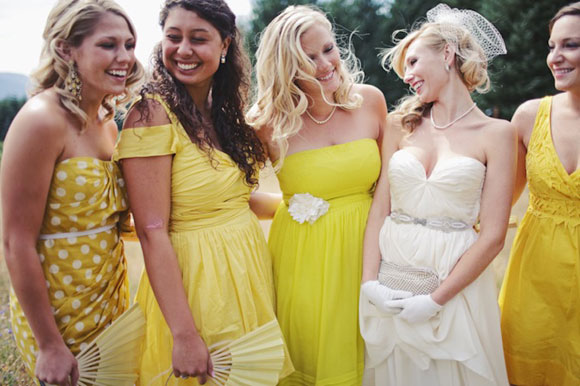 Your bridesmaids have different body shapes, hair styles and skin tones, so it makes sense not to style them in matching dresses. The mismatched trend lets you choose the best dress for your individual bridesmaids. After all, you want your best friends to look and feel fabulous on your big day.
We have pulled together some not so matchy inspiration and tips to successfully pull this look off.
Firstly, decide what you are going to mismatch. The style, colour, texture or material? If your feeling adventurous, mix them all up!
Choose a colour scheme. Usually this is various tones of your central colour scheme within the same colour family.
Pick a designer and choose multiple dresses from one of their collections.
Collect paint samples. As crazy as it sounds, this is a sure way to choose the 'right' colours.
Let your ladies choose their own dress (with some guidelines), because no one knows their body better than themselves. This way they can choose an outfit that not only suits their personality and style, but they will have something that they will be able to wear again. 
Choose an element to tie it all together – whether it be a necklace, clutch, shoes or flowers. This gives your bridesmaids an element of cohesion and is especially important if you have two or three bridesmaids rather than five or more.