Mandy & Mick: Cruising Into Love
Published 5th July 2013 in ALL Categories, Real Life Wedding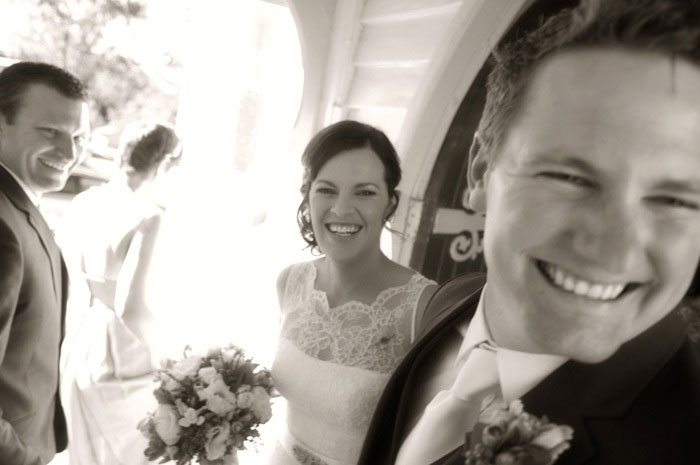 Mandy and Mick met while on a cruise - coinciding exactly with the kickoff of the 2008 NRL grand final, between Manly and Melbourne.
How did you meet?
My dear Nanna had never been overseas, so I bought us both tickets on a P&O Cruise to Vanuatu and New Caledonia. Michael's friend had a spare ticket due to someone else not being able to come. We met at exactly kickoff of the NRL grand final on the second day of the cruise and have hardly been apart since. We bought and moved into our home just six months later, and got engaged after two-and-a-half-years together.
Describe the marriage proposal…
First thing on Sunday morning May 29 our two dogs came barging into the bedroom as they like to do. Our blue staffy jumped up onto the bed and I was about to tell her off when I noticed she had a ring box and a note zip tied to her collar. The note said 'Please marry our Daddy, he loves you very much'. Michael then came in and got down on his knee and opened up the box. He picked the ring himself and I couldn't have picked anything more to my liking.
What was the most unique aspect of your wedding?
When I got into the FJ with Dad to drive to the Ceremony, my uncle (our car drivers were our three uncles) passed me an envelope with my name on it. Inside, Michael had written me a gorgeous note to say he couldn't wait to be my husband, and not to be too late. It was very thoughtful and a nice surprise amongst all the organisation of the day.
Would you change anything about your day?
We were initially to be married at the Kenilworth Catholic Church, but when I attended some fire fighter training in Kilcoy, I noticed the Saint Michael's Catholic Church and fell in love with it, and especially wanted the bell to be rang for our Ceremony. It was organised to be rang by a church attendant, but it didn't happen. Michael's little brother tried to climb up and ring it himself, but couldn't reach. It was a bit disappointing.
What details did you pay the most/least attention to and why?
I paid a lot of attention to ceremony wording, adding in some vows for our guests to say. I wanted our guests to feel involved in our wedding day and our marriage going forward. I didn't pay a lot of attention to the menu, but couldn't go wrong with Melita from Michel Chalets taking care of everything, including gluten free options.
Were there any elements in your wedding which were particularly meaningful?
The speeches by our parents were very special and very heartfelt. Lots of tears. The first dance with my Dad was a big moment for me.
Did you have enough time to plan your wedding?
I had just less than 11 months, which I felt was perfect. Enough time to plan and not stress too much, but not too long to be waiting around for it!
What was your experience at the reception venue, Michel Chalets, like?
It was a very close-knit reception with only very close friends and families, but the property itself was over 50 acres of rolling green hills which made it feel even more intimate. I was so pleased that our family could stay on the property in their own accommodation.
What did guests say about your wedding?
All of our guests commented that, even though they didn't know many other people there, they felt 'part of the family, and part of our marriage' which is exactly what we hoped for. My favourite comment from a girlfriend was that 'my husband and I went home feeling a little bit more in love with each other, so thank you for that'.
What did you and your partner agree or disagree on?
We agreed on almost everything which gave us such a good feeling about the big day. Michael picked the song for our first dance [I Won't Give Up, Jason Mraz] which I wasn't convinced on at first, but in the end it was perfect.
Did anything surprise you at your wedding?
My sister gave us a surprise poem reading at the ceremony that she had kept secret and had everyone in tears. Marty Sima sang and played his acoustic guitar while weaving through the crowd outside after the ceremony which was very fabulous.
Where did you spend your wedding night?
Michael drove me down in one of the FJs to the Honeymoon Chalet, further into the property.
Where did you spend your honeymoon?
Eratap Island Resort, Vanuatu. Michael and I met on a cruise to Vanuatu so we felt we should go back. We spent seven days there and you felt like you were the only guests, it was so private and serene. There are so many activities and private islands at the Resort that we only ventured into Port Vila once! We bought a bottle of Bundaberg Rum 'to take home' but ended up drinking most of it in one night – after all that planning it was just what we needed! But we regretted spending a beautiful day in Vanuatu curled up in bed!

Best advice for other brides?
Let everyone in your family feel involved, but remember what's important to you and your fiancé and stick to it. We have a lot of aunts and uncles and cousins, but we didn't want to sacrifice the intimate wedding we wanted, just to keep everyone else happy. We invited everyone to the engagement party, but invited only our close aunts and uncles (one from each side) to the wedding. This kept it to only our close-knit friends and family and it made a big difference to our day. We had to be tactful, but our extended family understood and supported us.
In parting...
We were a great team throughout the preparations and tried to keep the focus on the marriage, not just the one day celebration. We consider ourselves lucky to have the family support we have to guide us through the rest of our marriage.
Wedding & Reception Venue: Michel Chalets / Photographer: Moods Photography / Gown: Eve Boutique Maroochydore (Ali by Augusta Jones) / Flowers: A Sculpted Leaf / Cake & Topper: The Bake Shack / Hair & Makeup: Hot Brushes / Rings: Richardson's Jewellers / Bridesmaids Dresses: Deborah Kaylique Designs / Groom & Groomsmen: Roger David / Ceremony Venue: Saint Michael's Catholic Church, Kilcoy / Transport: FJ Classic Car Hire / Celebrant: Deacon Tim Shanahan / Bonbonniere: CREEC Burpengary / Theme: Rustic warmth / Entertainment: Marty Sima / Honeymoon: Eratap Island Resort Vanuatu
Wedding Songs
Bride's Processional: Pachelbel's Canon in D (Acoustic guitar)
Signing song: Watch Over Me, Bernard Fanning
Recessional: Smile, Uncle Kracker
First Dance: I Won't Give Up - Jason Mraz
 
Menu: