Lauren & Jared: Surprise! It's Our Wedding Day
Published 5th February 2013 in ALL Categories, Real Life Wedding
Jared and Lauren's wedding was one of welcome surprises right from the very beginning. The surprise of friends falling in love, the surprise of winning the Visionary Wedding Expo lucky door prize and Ballarat Bride Of The Year, but the biggest surprise? Their engagement party-turned-wedding!
When Lauren attended the expo she hadn't made any decisions about her wedding. "Seeing all the stalls got me excited about planning and gave me some great ideas to consider," she says. And when she took home the lucky door prize – a gown from Bridal House Geelong – she couldn't believe it "I've never won anything before so this has all been very exciting. And the excitement was to continue, when Lauren was voted Ballarat Bride Of The Year, "It was very unexpected" Lauren explains, "Jared and I had the best fun at our wedding and thought everything was totally perfect. It was so nice to see that other people thought our day was special to.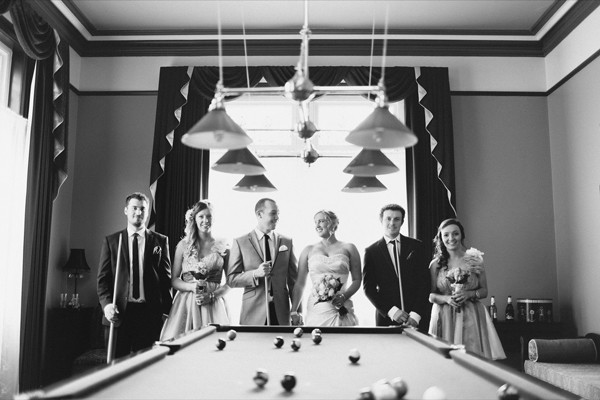 Tell us the story of how you met…
Jared and I had been friends for awhile, our friends kept trying to set us up. We started spending some time one-on-one watching the first Underbelly series or travelling to Melbourne, and things just grew from there.
After knowing each other for close to a decade, it was time to propose…
Jared took me to Melbourne to celebrate my birthday. We spent the day shopping before going to dinner at Grossi Florentino. We then went to see Frank Woodley at the Comedy Festival before returning to our hotel room that was covered in rose petals and candles. Jared sat me on the bed and got down on one knee to ask if I would marry him. We spent the rest of the night screaming over the phone to our family and friends who were very excited for us.
What was the planning process like for the wedding?
My Maid of Honour got married earlier in the year so that was really helpful as she knew exactly what to prepare for. My mum was also a huge help. She organised so many things for me like flowers and hair and makeup. I was very lucky to be supported by so many people who really helped to make the process quite stress free. The hardest part was keeping everything a secret.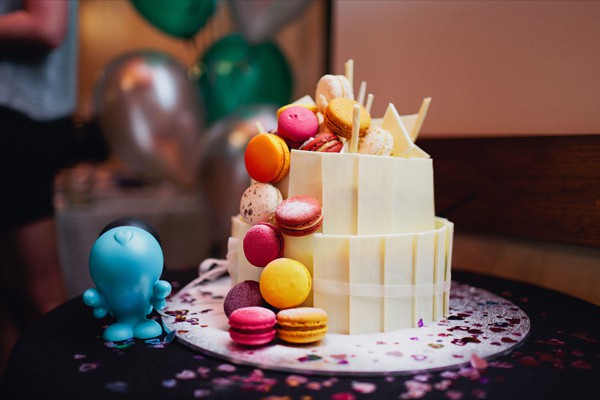 What inspired you to choose the location you picked out for the wedding and photos? 
We had the wedding at Seymours on Lydiard which is owned by a friend of mine. We booked there when it was just an engagement party and Chris was really helpful when we decided to make it a wedding. The locations for our photos were decided by us, our family and our photographer. We had photos at my mum's house, Jared's mum's house and our house so they were very special places to us.
How much of your wedding was planned with online sources? 
A bit. We got a lot of ideas online but visited a lot of places to make final decisions.
Did you have a theme picked out? If so, was there any special reason for it? 
Our theme was pretty much just a surprise. We wanted the night to just be a big party with our friends and families and that's exactly what it was.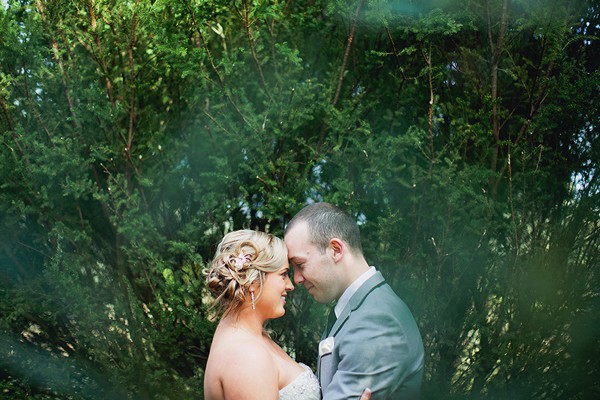 The wedding day can be quite stressful for the bride how did you cope? 
The morning was a little stressful, I started to freak out a bit. My dad calmed me down in the car on the way to meet Jared and I got a little teary. After seeing Jared though, all my stress disappeared and we both just enjoyed the rest of the experience.
Did your inner Bridezilla make an appearance? 
I didn't really have any time to be a Bridezilla - nothing went wrong in the process of planning the wedding. I was really lucky to have such great support and love from everyone who helped us.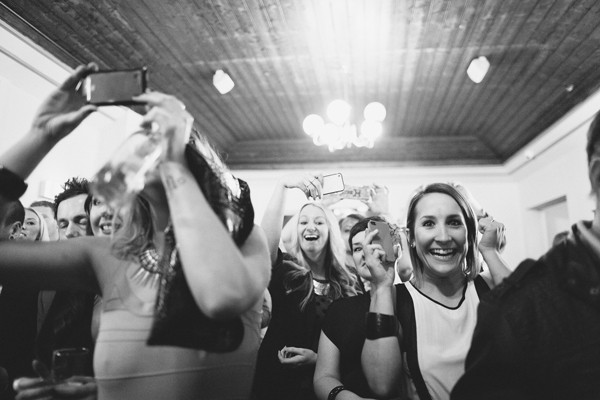 You threw a surprise wedding! How did the day go?
The first time Jared and I saw each other was at his mum's house for our first lot of photos. It was funny seeing each other all dressed up but it was the moment I knew we were doing the right thing. 
We had all our photos and then went home and got changed into our engagement party clothes, this gave us some time to relax with our closest friends. 
I started to get nervous once at the engagement party, I wasn't scared of being married but of walking down the aisle and everyone staring at me. A friend came up to me and said someone had told her they thought it was going to be a surprise wedding but she knew we had planned to elope to Haymen Island which I thought was funny. 
We snuck out to get changed, I had to walk down the outside stairs and back in through the entrance of the pub which was a little awkward in my massive dress! A friend caught us walking up the stairs and I had to walk through the other room which was hosting another engagement party! 
The wedding was perfect. Everything went exactly as planned and Jared and I had a really great time exchanging vows and rings. Afterwards, it was just like a massive party full of all the people who are special to us which is exactly what we wanted. We would not change a thing about our day or night. People have asked do we feel like we missed out on anything but no way. Our wedding was totally about us and represented who we are. We loved every bit of it.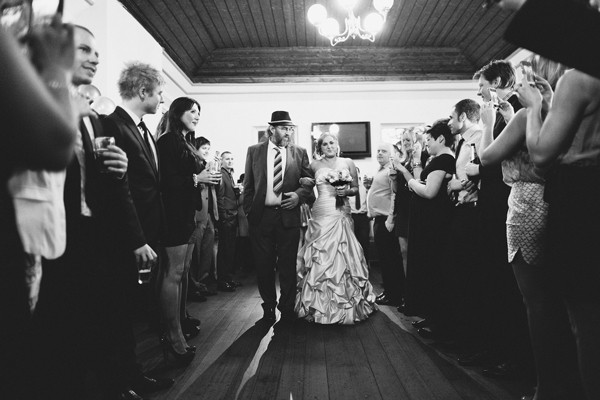 There is sure to be many, but what is the one memory you'll cherish forever?
Jared seeing everyone when the announcement was made, he said everyone was so happy and excited. Unfortunately I missed this. Mine would be my dad being able to walk me down the aisle and seeing how proud my mum was.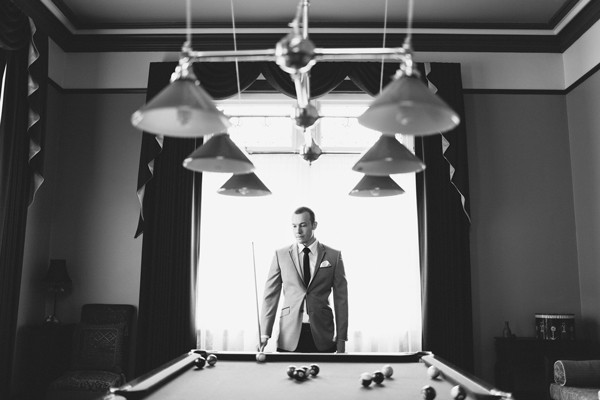 In hindsight, is there anything you would do differently?
Not a thing.
Why is being married important to you?
Because it is the next step in our relationship that shows how much we truly love each other and care about each other.
Photographer: Sayher Heffernan / Gown: An Essence gown from Bridal House Geelong / Flowers:Whites The Florist / Cake: Yummy Cakes / Cake Topper: Kid Robot / Hair & Makeup: Alfredton Hair & Beauty / Rings: Jared had my engagement ring made but our wedding rings came from Michael Hill / Bridesmaids Dresses: eBay / Groom & Groomsmen: Formal Red / Ceremony & Reception Venue: Seymours on Lydiard / Transport: My mum works for Eclipse Ford and they lent us a car for me and Jared to travel in / Celebrant: Anastasia Meek / Entertainment: We just put a play list on my iPad / Honeymoon: We went to Sydney the week after which we just organised but have booked a honeymoon to America in April through Flight Centre.
Guests: 90
Menu: Finger food including kangaroo fillets, prawn skewers, meatballs, mini smoked salmon pancakes, mini quiches, pecking duck spring rolls, deep fried brie, party pies and sausage rolls
Wedding Songs
Brides Processional: Angels - The xx
Recessional: Can't Get Better Than This - Parachute Youth