Joanna & Colin: A springtime Mt Tamborine wedding
Published 5th July 2013 in ALL Categories, Real Life Wedding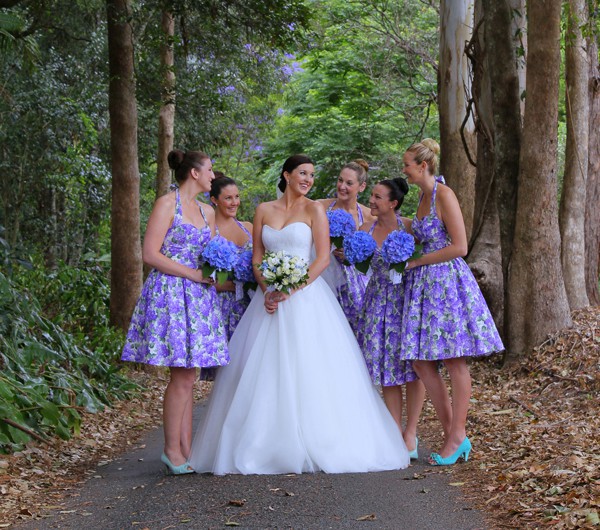 Joanna's spring wedding to Colin took in the best of Mt Tamborine's glorious, blooming Jacarandas and Agapanthus; however the lilac hue did nothing to calm her nervous excitement. "Driving to the church was the worst, I thought my heart was about to jump out of my chest!
Joanna had returned from the UK, taking a nursing placement in remote NSW. That's where she met Colin, a paramedic, who had also been posted there temporarily. "We immediately hit it off and developed a very special friendship, however… it took another four years of Colin's perseverance before we finally got together!"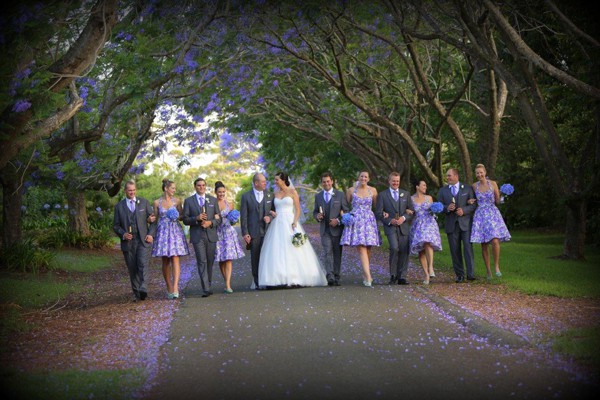 So after six years Colin knew the time and place was right to propose to the love of his life, Joanna. Taking a trip to Vanuatu with two close friends Colin had planned to climb to the top of the Tanna volcano to propose. But Joanna had the feeling that she was being left out of something, and fate intervened.
"Being that girl who needs to know everything, we stood cuddling each other at a house party on NYE, 2011, overlooking Port Vila harbour watching the fireworks," Joanna explains. "As everyone chanted TEN, NINE, EIGHT, I looked at Colin and said, 'Babe, are going to propose to me on Tanna?!' And in that moment, I blew my own marriage proposal! So there, on the stroke of midnight, Col asked me to marry him. Upon climbing the volcano two days later I, of course, insisted that he propose again!"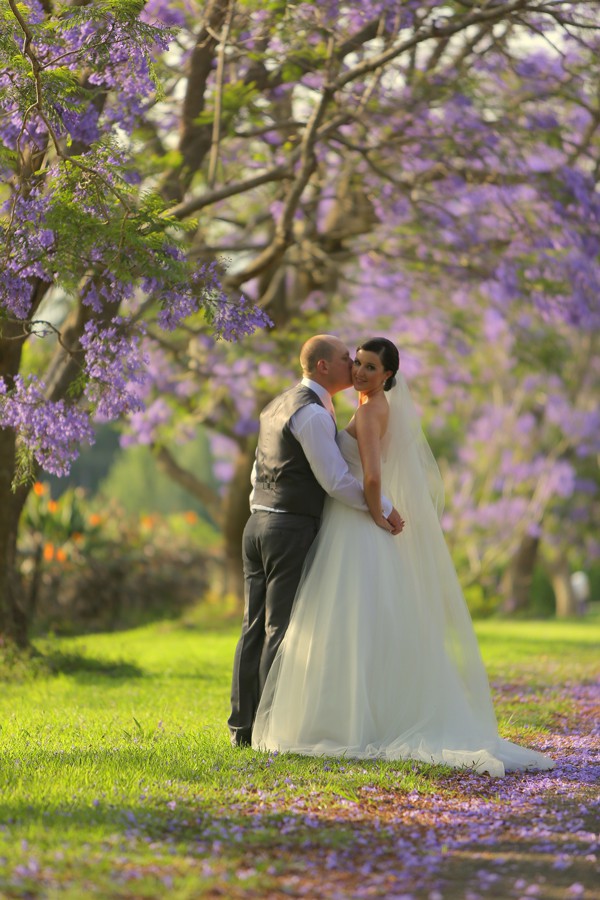 When it came time to plan her wedding, Joanna turned to various online tools to help her budget and source numerous bits and bobs, but admits planning a wedding takes a lot of work.
"It was horrid. I had NO idea about the amount of time and energy that went into the planning of a wedding. What was important to me was knowing that I wouldn't be stressed on the big day, so I planned everything meticulously and gave everyone in the bridal party a copy of the Timeline for the day which allowed me to relax knowing that everybody else knew what was supposed to be happening.
"The morning of the wedding was very stressful! Despite the copious amounts of Moet, macaroons and hilarious bridesmaids surrounding me, I was unusually nervous! Driving to the church was the worst, I thought my heart was about to jump out of my chest! However, upon finally reaching the top of the aisle, as soon as I took Col's hand I immediately calmed down."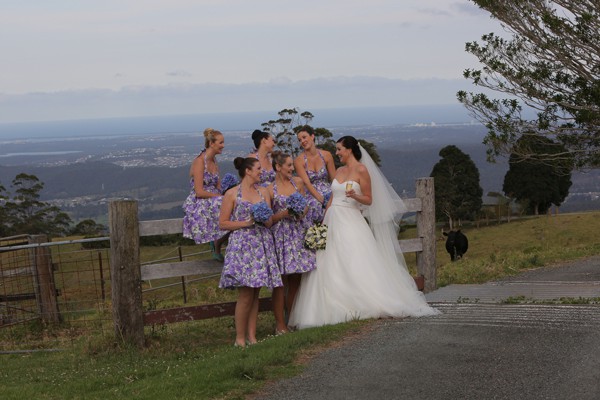 The choice of location was a much simpler task, taking the spring season and infusing it through their chosen theme of Floral Elegance with the region's naturally abundant Gardenias, Hydrangeas, Jacarandas and Agapanthus.
"Mount Tamborine is a gorgeous little town in the Hinterland behind the Gold Coast and it's where my family had been holidaying since the 1940s, eventually relocating there. Colin and I settled on the mountain together two years ago and it will always be very special to us. Our wedding photos were taken at different locations across the mountain but mostly on a beautiful street lined with Jacaranda trees which I have loved since I was a little girl and at a local farm which has some of the best views on the mountain!"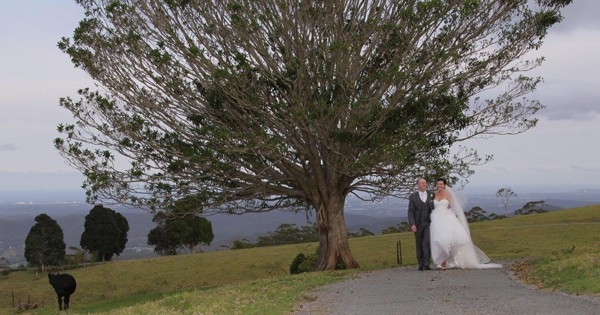 Did your inner Bridezilla make an appearance?
I'm pretty sure I wasn't a Bridezilla. The whole concept irritates me and I didn't want to resemble that in any way.  My bridesmaids may have had a different view though!
What is the one memory you'll cherish forever?
I will forever cherish the memory of my husband-to-be pledging his commitment to me for the rest of our lives.
Why is being married important to you?
Marriage is the utmost sacred commitment you can make to another person. It is the promise to always, through thick and thin, stand by their side and support them, putting their needs before yours. It creates a loving and stable environment to raise children and encourage the growth of one another into the people we are destined to become.
Best advice for other brides…
Firstly, it doesn't have to be perfect. Secondly, take a deep breath, have a glass of wine, and move forward.
Guests: 110
Menu
Entrée
Salt & pepper prawns w/ a tomato salsa
Pumpkin & spinach risotto balls w/ a Greek salad
Mains
Atlantic Salmon
Beef Wellington
Desert
Citrus Crème Brulee
Sticky Date Pudding
Bride's Processional: Pachabel's Canon
Pachelbel's Canon In Beautiful 1080p High Definition (H.D.)! from John Hampton on Vimeo
Signing: Angus & Julia Stone - The Wedding Song
The Wedding Song - Angus & Julia Stone from The Flower Shop on Vimeo
Recessional: The London Festival Orchestra - A Midsummer Night's Dream
First Dance: Adele - One & Only
Adele - One and only from Jovenilson Jesus on Vimeo
Photographer: Linda Pasfield / Gown: Karen Willis Holmes / Flowers: Nola Woodward / Cake: My cousin Merilyn! / Hair: Angela Lane / Rings: Stuart Alexander / Makeup: Natalie Streat, Streat Makeup / Bridesmaids Dresses: Modcloth / Groom & Groomsmen: Suits by Formalwear Express / Ceremony Venue: Tamborine Mountain Presbyterian Church / Reception Venue: Heritage Estate Winery / Transport: 1927 Rolls Royce followed by two EH Holdens /
Minister: Kim Dale / Bonboniere: Koufeta (Traditional Greek wedding favour of five Sugar coated almonds) / Theme: Floral Elegance / Entertainment: Our guests! / Honeymoon: Six Senses Laamu, Maldives