How to be ink free on your wedding day.
Published 13th March 2018 in ALL Categories, Planning 101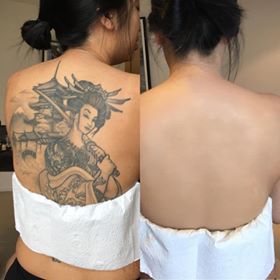 Tattoos -  You may still love them, or perhaps your love affair has ended...maybe you just don't want them visible on certain occasions... whatever your situation, this is a must read if you want to be ink free on your wedding day.
After seeing an amazing disappearing act performed by Invisible Ink Temporary Tattoo cover by Suzi Dent showing a 'now you see it, now you don't' scenario involving a rather large back tattoo on a bride-to-be, we were keen to find out a bit more.
We caught up with Suzi, and here's what she had to say...
"Many men and women have tattoos now, but there are still moments and occasions in life where being able to temporarily hide your Ink so you can have flawless skin is a desirable way to look. Many night clubs and venues on the Gold Coast refuse entry to people with neck tattoos. Being able to have these covered so you can go out and party with your friends, without the embarrassment of being refused entry is a great solution. Also, many Brides like to have their tattoos and their bridesmaids tattoos hidden on their wedding day, because quite often a beautiful gown and a tattoo visually clash."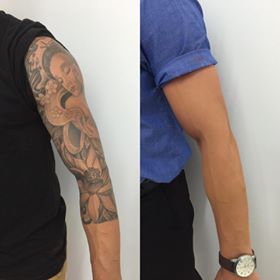 So Suzi, how long does it take to cover a tattoo?
"It all depends on the size of the tattoo, necks take about 30 minutes and a full back takes an hour. Time is taken with skin preparation as the skin has to be shaved first."
How long does it take to dry?
"It dries quickly and is not alcohol based, so it is gentle on skin."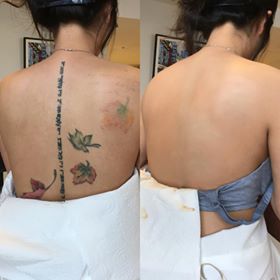 Does the concealer rub off easily?
"It doesn't rub off on your clothes, so it's safe to wear with the most expensive wedding dress."
How long does it last?
"It will last for days and is sweat proof, waterproof and rub proof."
Can you wash the area after it has been covered?
"You can shower, wash with soap, swim in chlorinated pools, surf."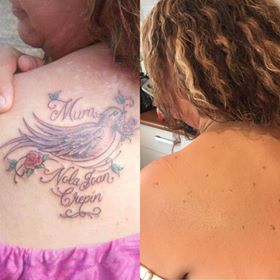 Why do you think your service is so popular?
"My service is really popular because I'm providing a quick, painless and cost effective temporary solution to what can sometimes be a visual issue."
Do you have any advice to anyone interested in your services?
"I need a picture of the tattoos that need to be covered so I can quote a price."
Lastly, do you find men want Invisible Ink, or is is mostly women who contact you?
"It is an even split between both!"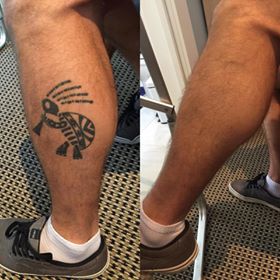 These images are amazing and really tell the story themselves. So if your ink needs to be temporarily invisible, contact Suzi, she has a mobile service and can come to you or you can see her in her studio in Elanora on the Gold Coast.
Contact Suzi by phone: 0412 607 691, via facebook: Facebook Suzi Dent Hair and Makeup Artist, or email: suzimakeupartist@outlook.com