Great Gatsby Inspired
Published 8th July 2015 in ALL Categories, Styling, Themes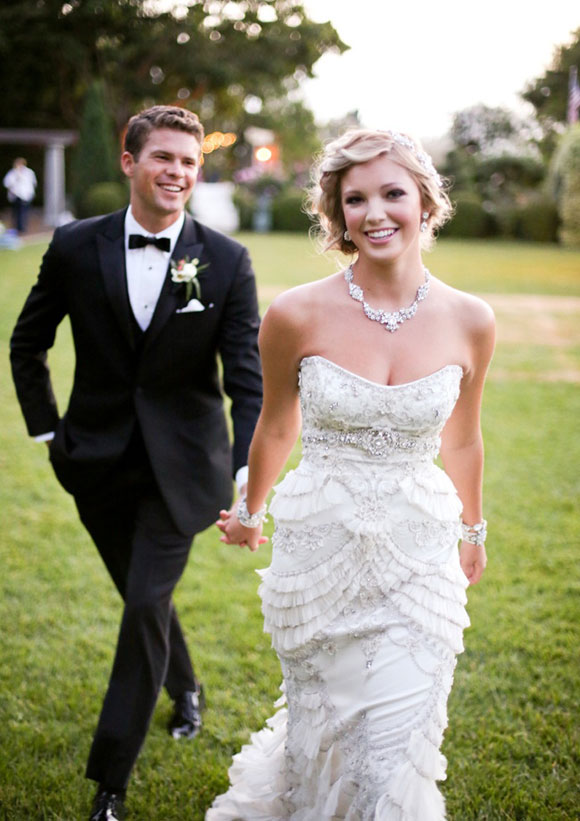 Baz Lurhman's rendition of the classic novel "The Great Gatsby" is continuing to have a big impact on all things wedding. Want to channel your inner Gatsby without looking like a movie extra? Here are some tips and inspiration from the team at Your Local Wedding Guide.
Styling
If you're throwing a Gatsby do' you have to think BIG! Grand locations with high ceilings, chandeliers and of course a staircase for your big entry. Old country estates or public buildings of the deco vintage like parliament houses or universities set the scene perfectly. The glitz and glam of the 1920s is also translating to wedding decor. We are loving the black and gold colour schemes, elaborate centrepieces and champagne towers.
Fashion
Brides and grooms are turning to Daisy Buchanan for inspiration and the dapper Jay Gatsby himself – think jewelled headpieces, bold lips, finger waves, crisp suits and slicked hair. For the ladies the 1920s was all about drop-waist gowns, intricate details and anything the sparkles – epaulets, rhinestones and sequins were highly favoured during this time period. Complete your look with Gatsby make-up that emphasizes the features that frame your face – smokey eyes, rich hued lipstick and perfectly-groomed eyebrows. To achieve the well-polished Jay Gatsby look opt for a slim cut suit for a timeless style that is both modern and jazzy. Keep the look 'this century' by choosing to add only a few hard-working retro-centric pieces, be it an amazing pair of shoes or a burgundy bow-tie.
Love the look? More inspiration on our Gatsby Inspired Pinterest Board.