Emma + Jonathan's Real Life Wedding
Published 4th May 2019 in ALL Categories, Real Life Wedding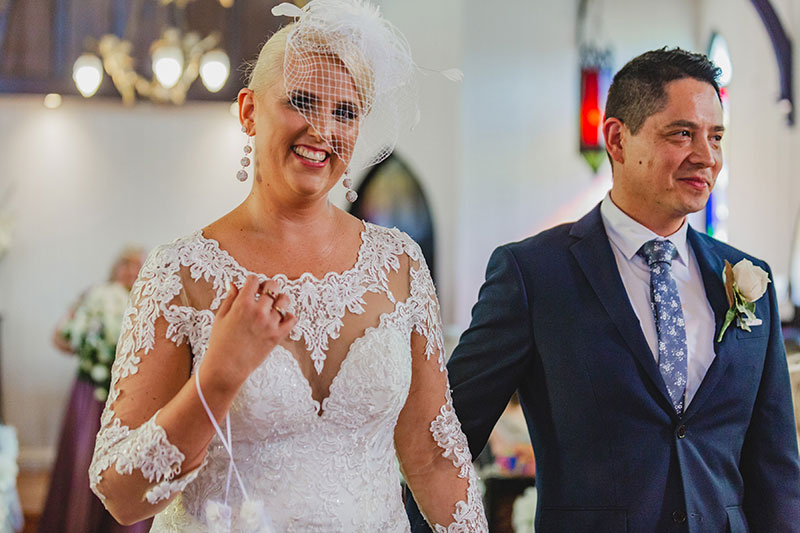 Photos taken by Angela Brushe Photography
Emma was positively glowing on her wedding day! A morning spent with the girls, getting into her dress, putting on her veil, and walking into the Chapel to see Jonathan, her husband-to-be standing there...these were some of the most special and memorable moments for Emma.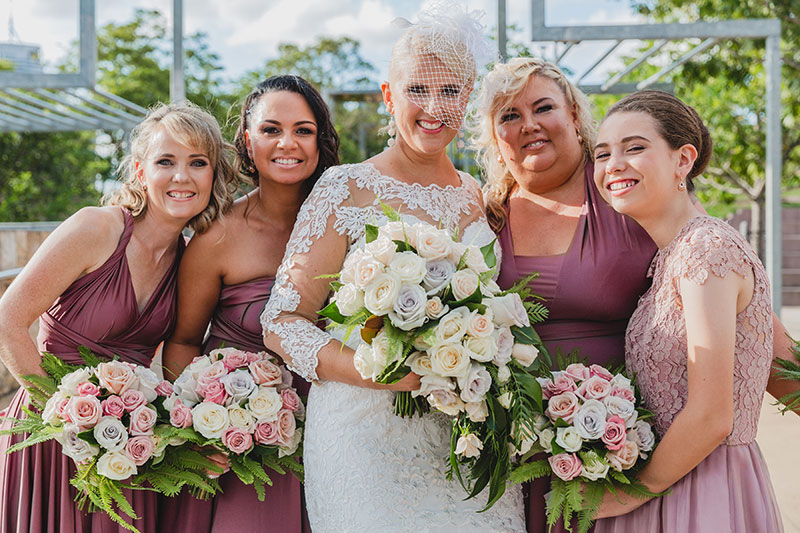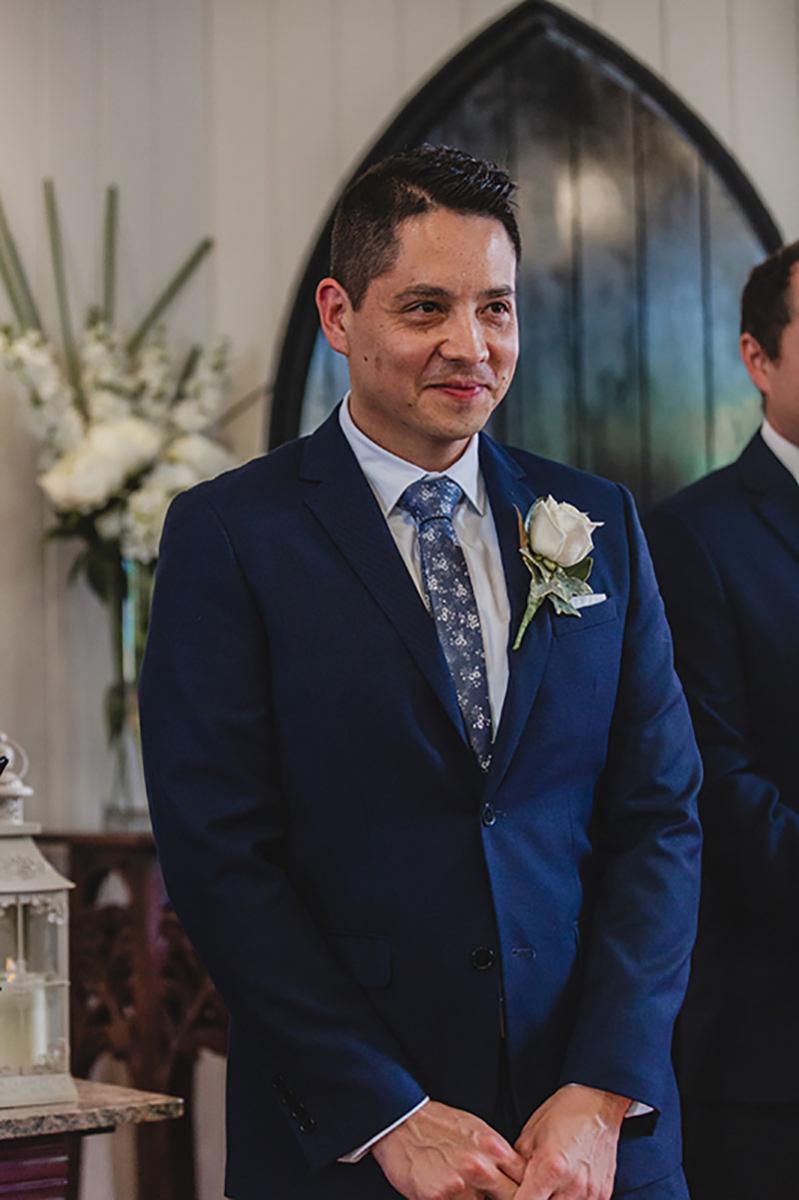 Born and raised in Brisbane, Emma met Jonathan, who hails from England - online. Jonathan sealed their future together on 14th February 2018 (Valentines Day),  when he got down on one knee (by the Eiffel Tower in Paris, we might add), and asked Emma to marry him. Proposals do not come any more romantic than that, and the sweet romantic moment will be one Emma will treasure forever.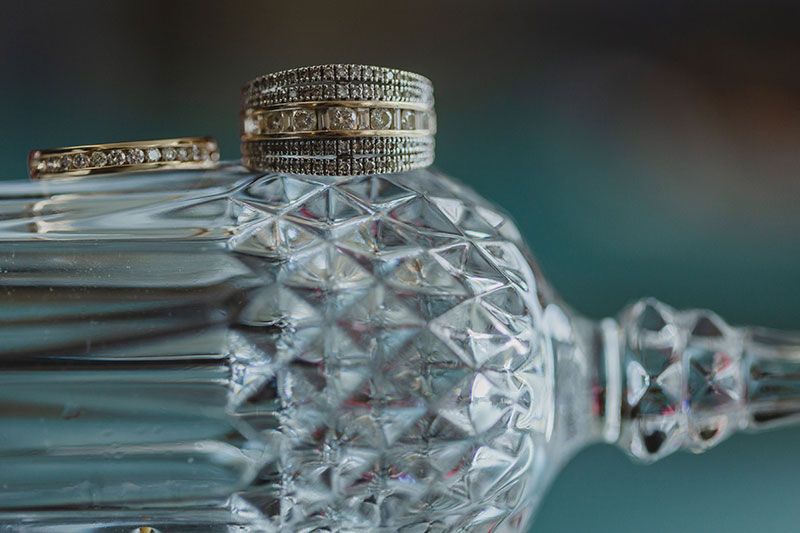 With a year to plan their wedding, Jonathan handed the reigns to Emma and she happily took control. With wedding planning ideas gathered from Pinterest, wedding expos and Facebook, Emma organised their dream wedding with 80 guests from Brisbane and England in attendance.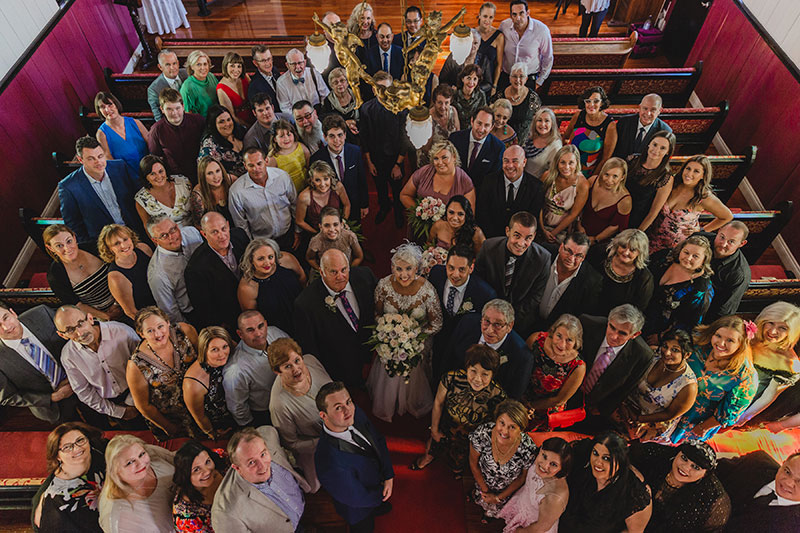 After a touching ceremony at Broadway Chapel, where Emma arrived in a friends stylish Mercedes Benz, they continued their celebration into the evening at Easts Leagues Club. But not before their Photographer, Angela Brushe Photography captured some stunning shots at the beautiful Broadway Chapel.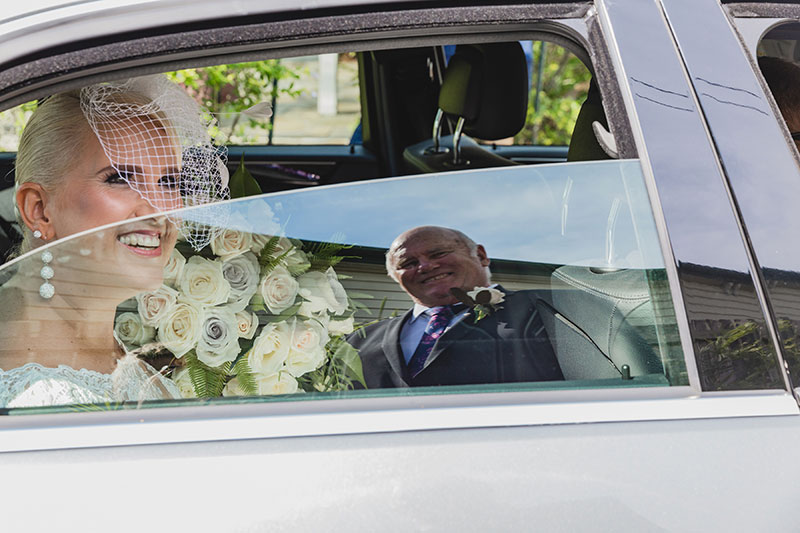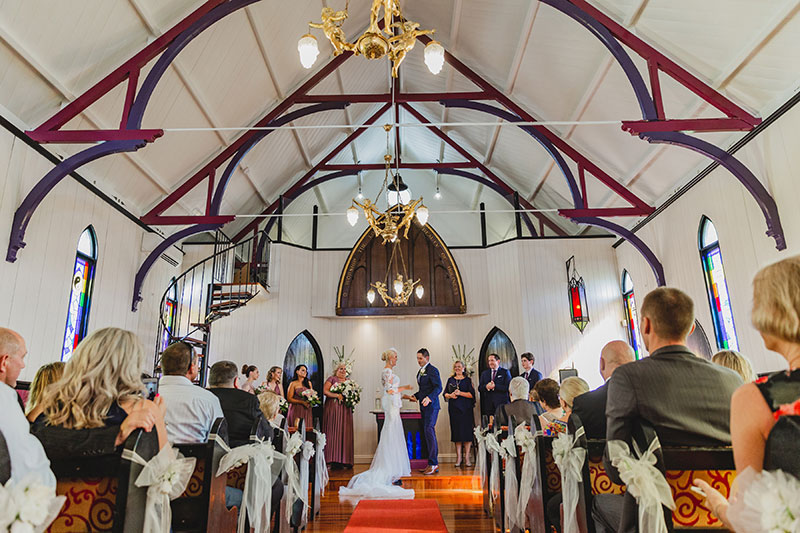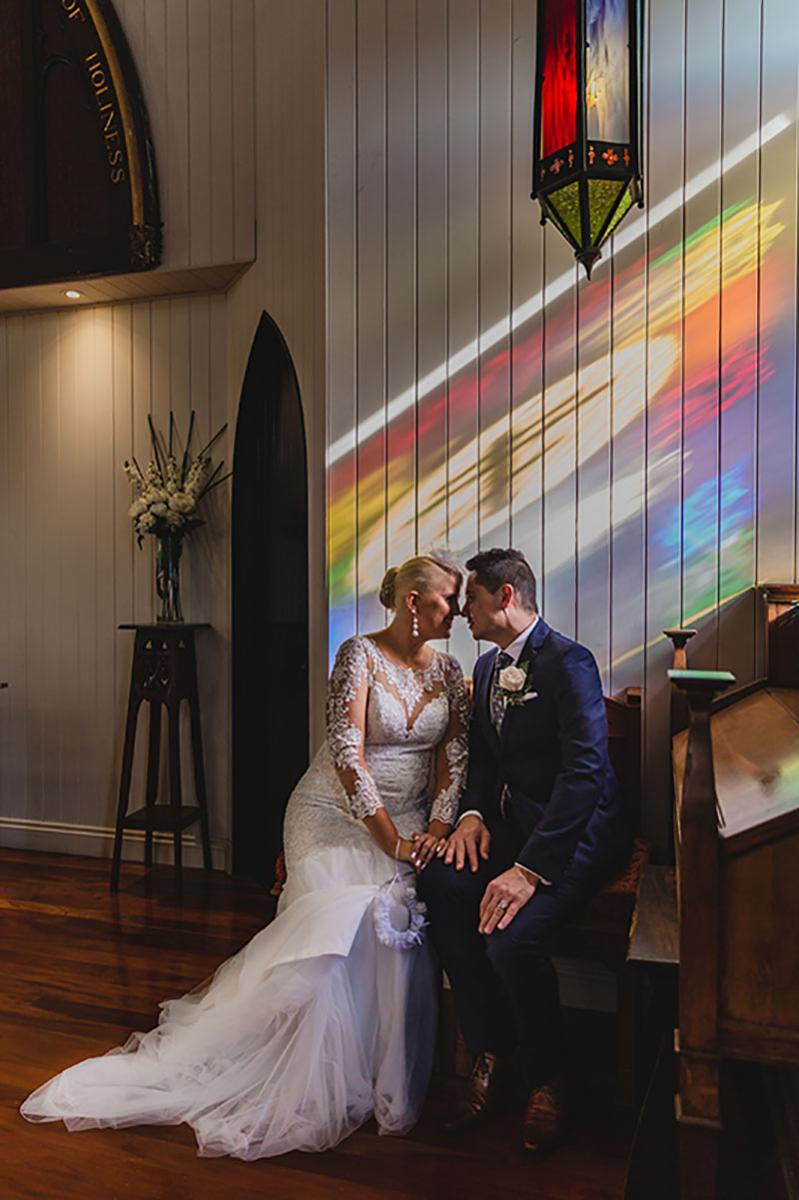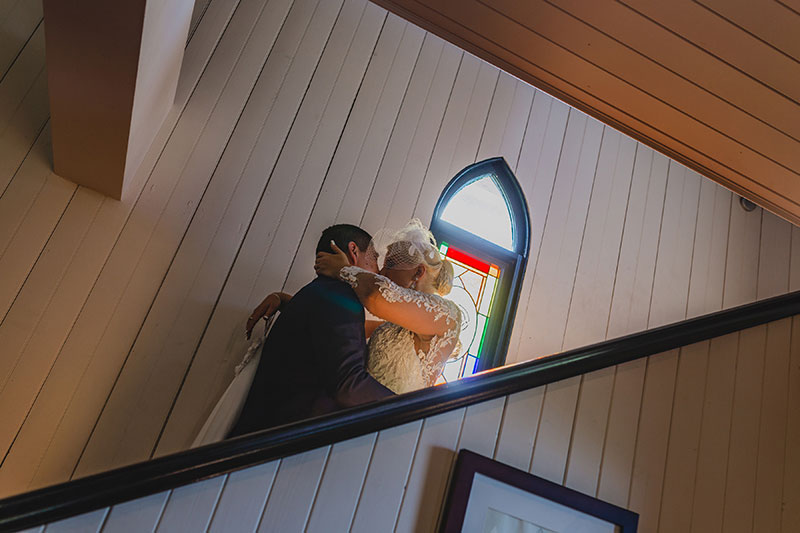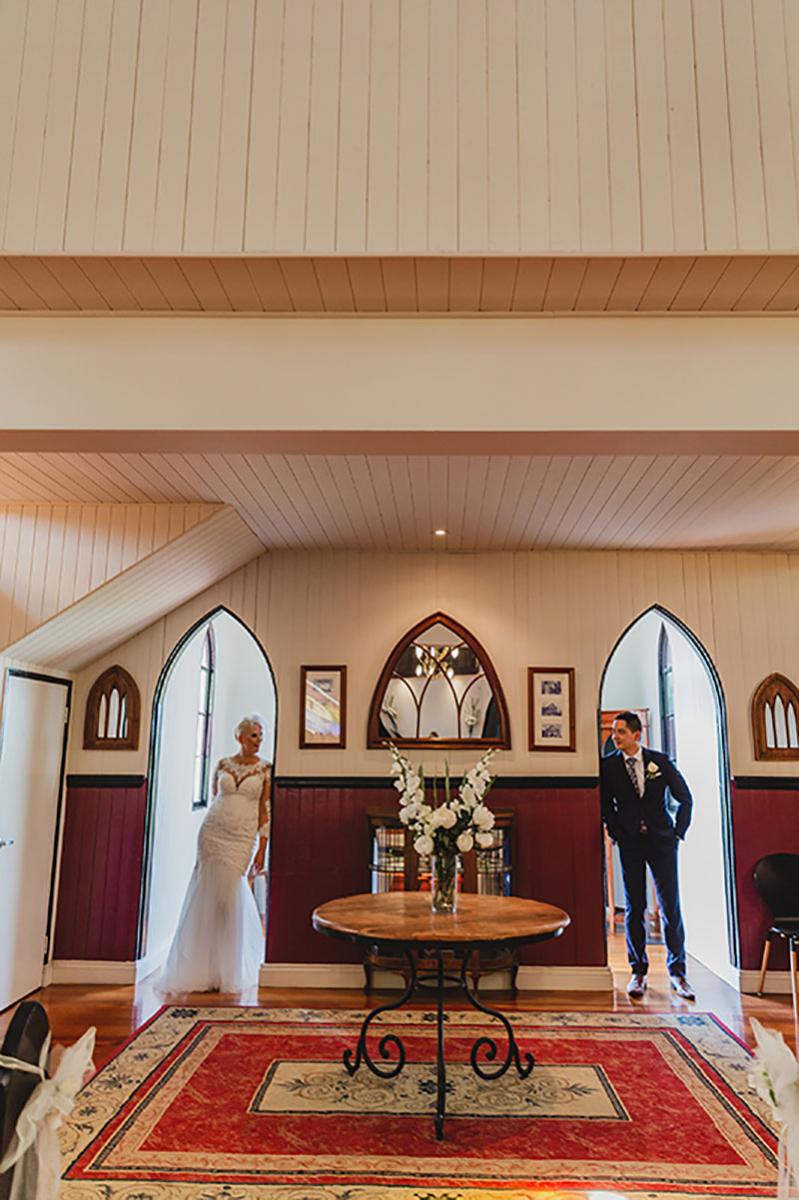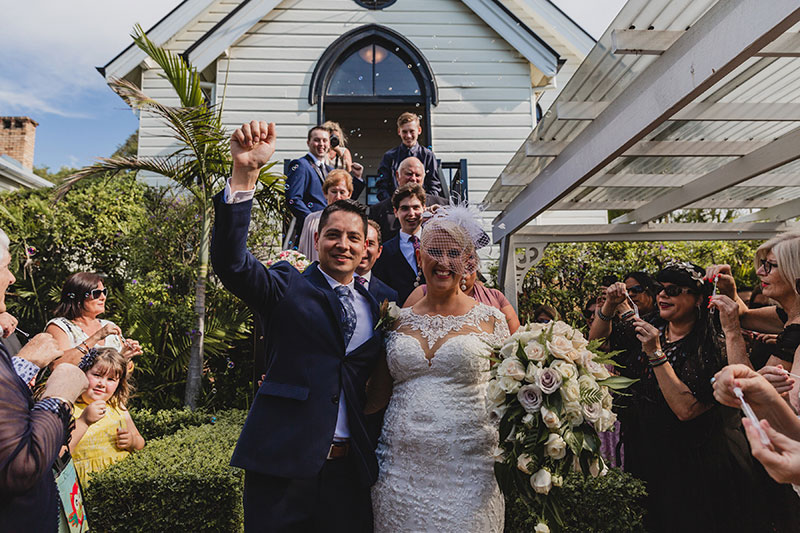 In stark contrast to the very chilly day they encountered in Paris a year earlier – their wedding day was incredibly hot! Thankfully, it cooled down during the evening as they celebrated with their guests.
Emma's gorgeous wedding gown was a blend of five dresses into one, from Sentani Bridal & Evening Wear, and her birdcage veil from Bejewelled Bridal topped it off. And Jonathan, in his blue suit from Taracash, looked sharp and modern.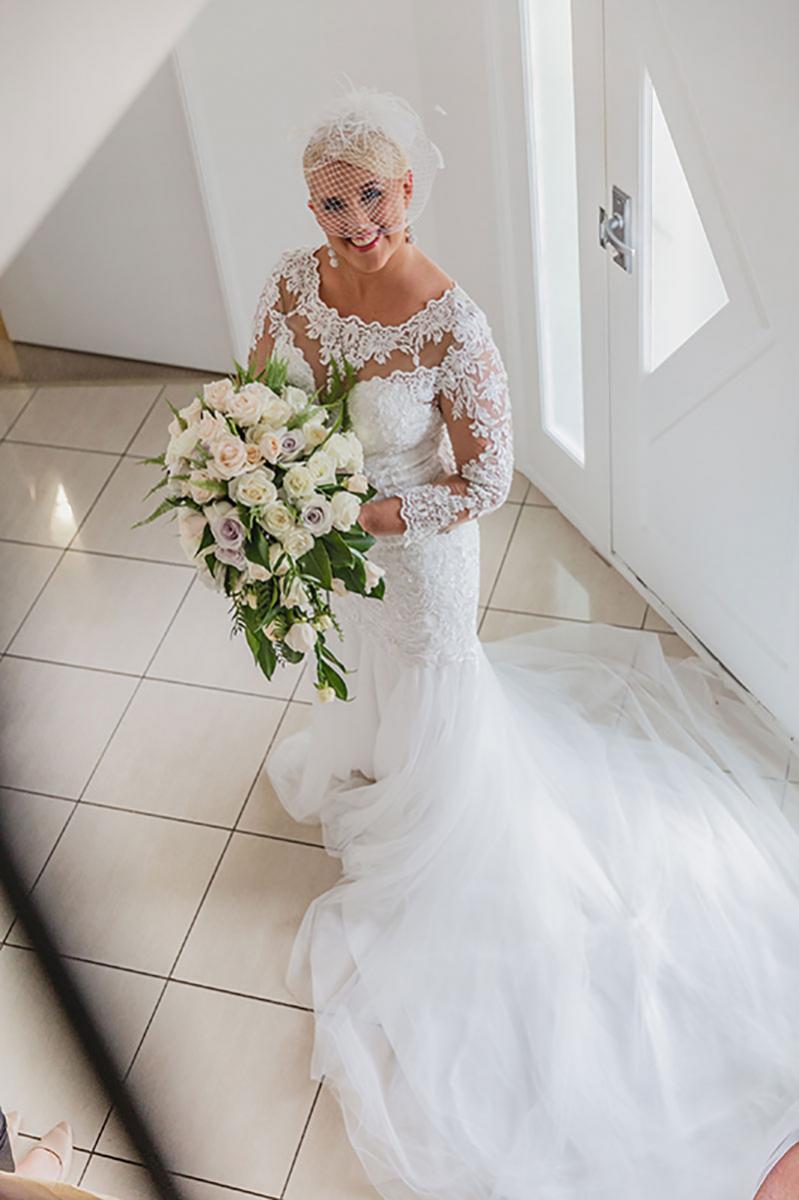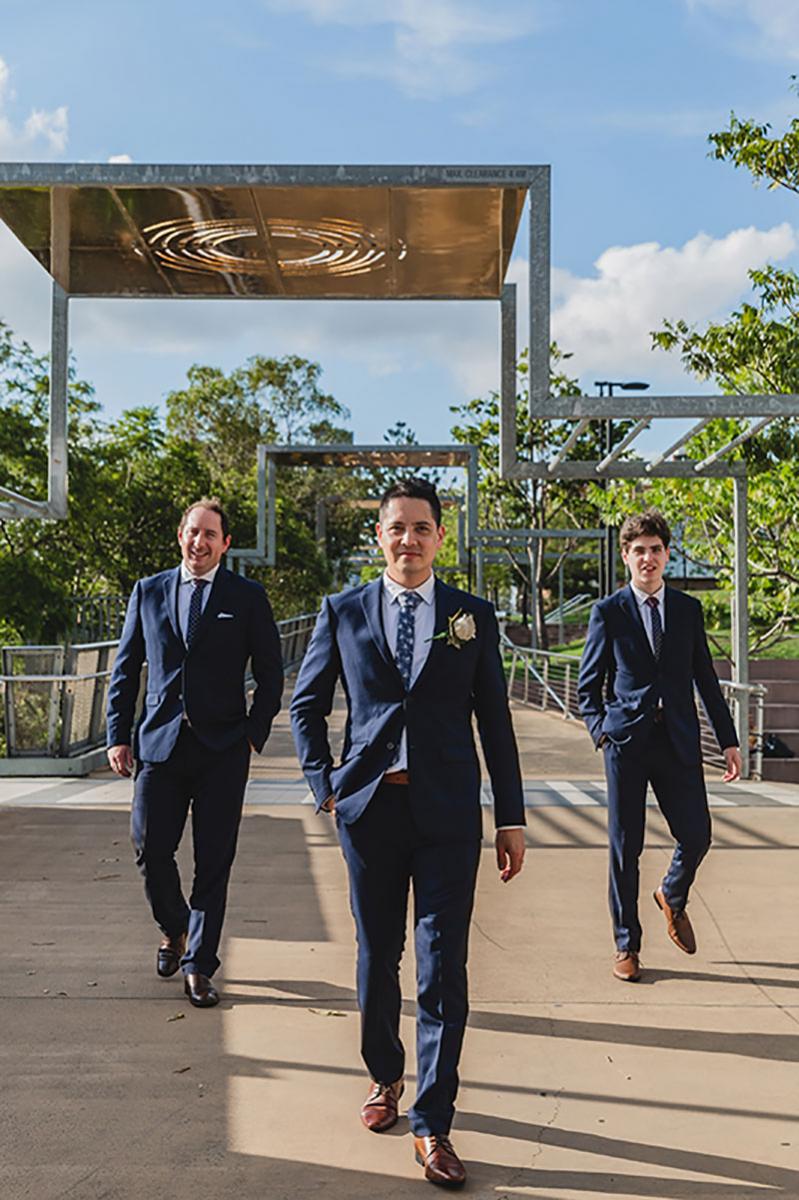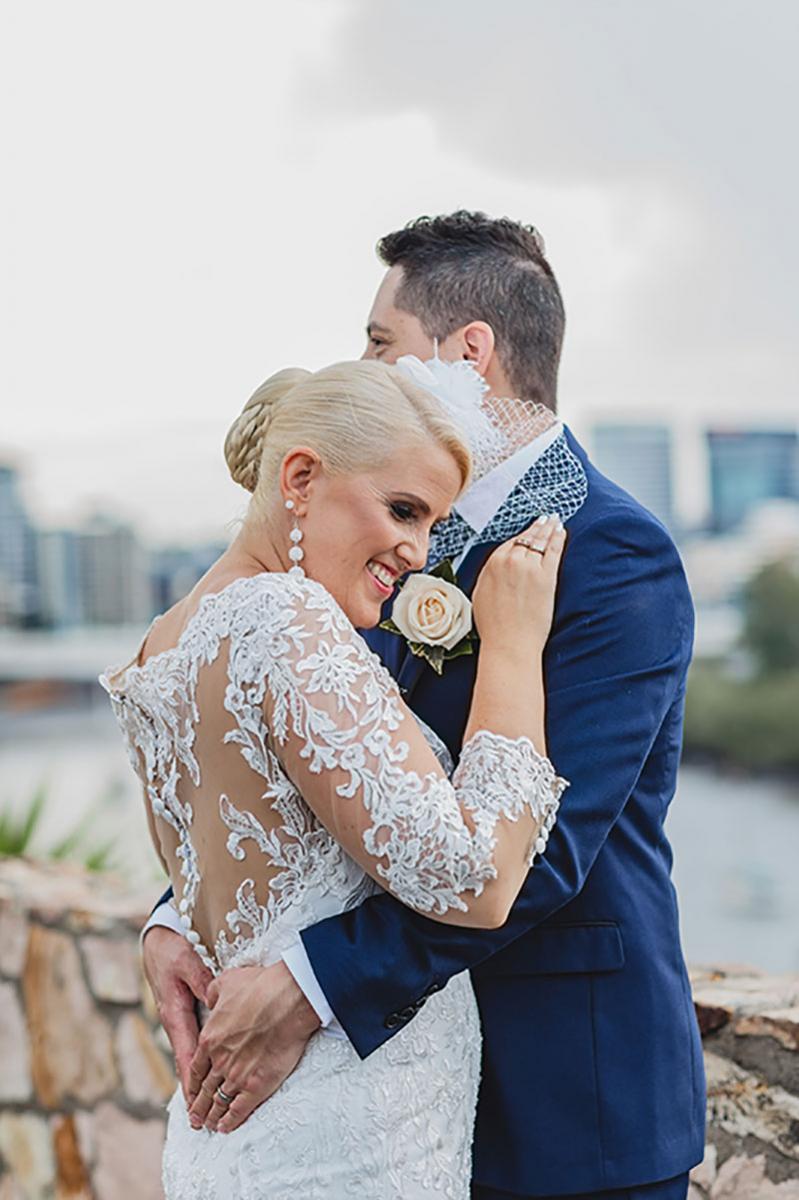 One of the highlights of the evening was their first dance which they had worked on and had a lot of fun with, leading up to their wedding. The dance lessons helped to make their first dance extra special. Their wedding cake was a beautiful storyboard cake, custom made by Bella Sophia Cakes, which told their unique story in pictures.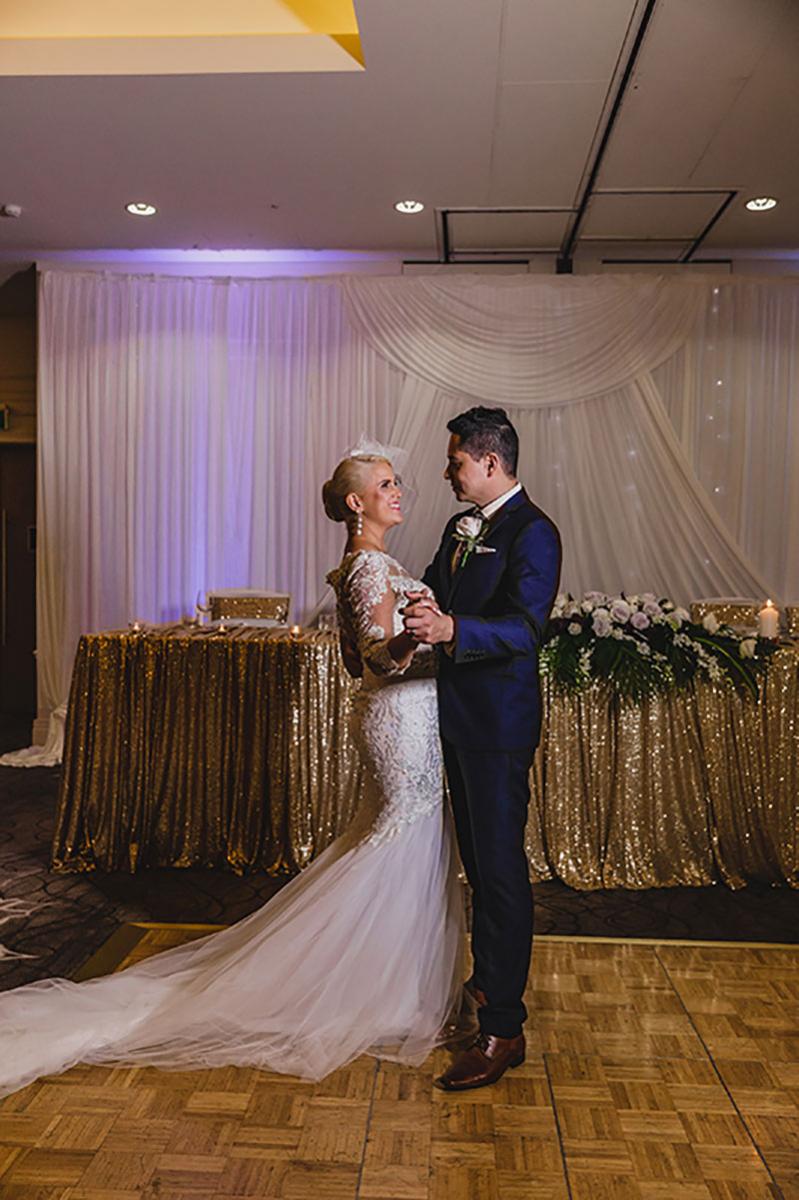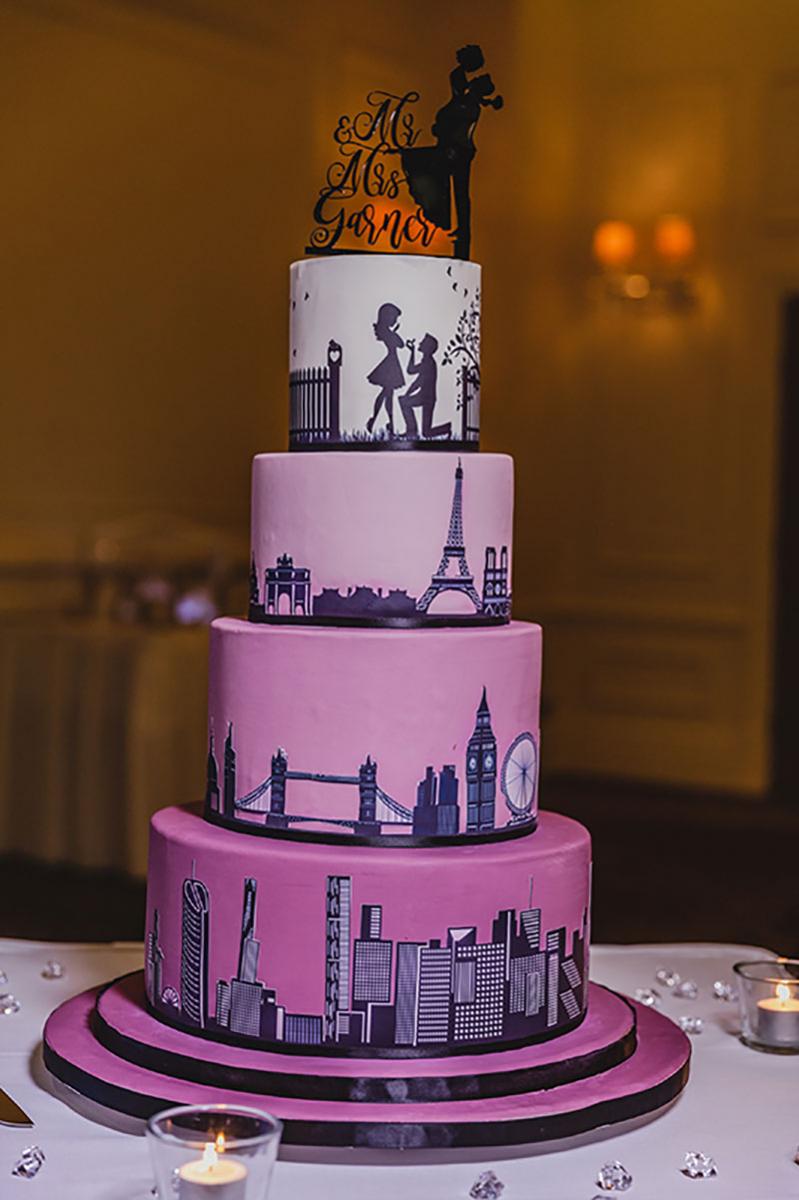 Guests commented on their enjoyable day, and Emma and Jonathan were surprised at how giving their guests were with the wishing well. "The guests and family made it all so lovely", recalls Emma.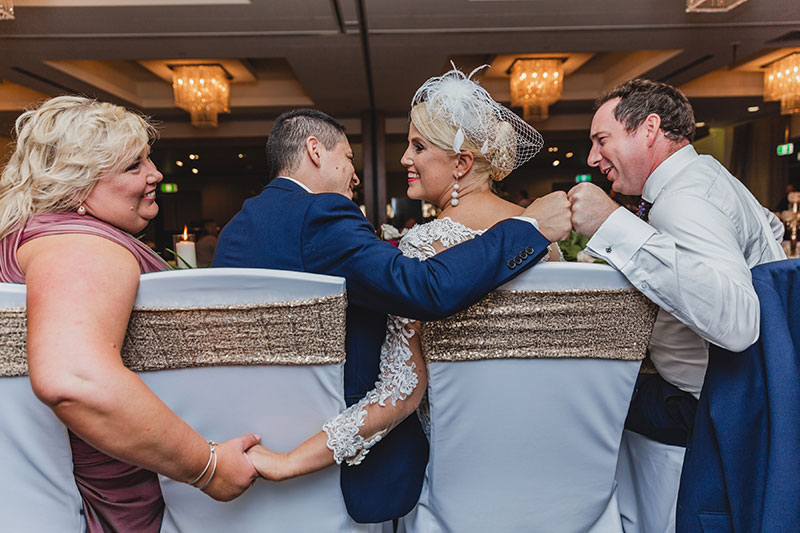 They spent their first night at Southbank, before heading off to Bali for their Honeymoon, where they stayed in a Premier room with it's own private pool. " We enjoyed cocktails on a daily basis", Emma laughs.
Excited to start their life together, she says it still feels like a dream. They are both loving life and can't wait to create more memories together as a married couple! And her best wedding advice..."Remember to take a minute and take it all in, as the day goes so fast".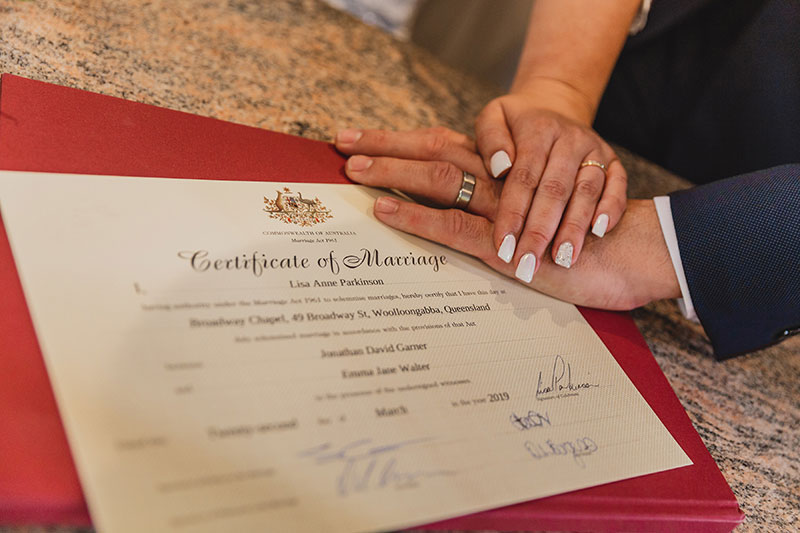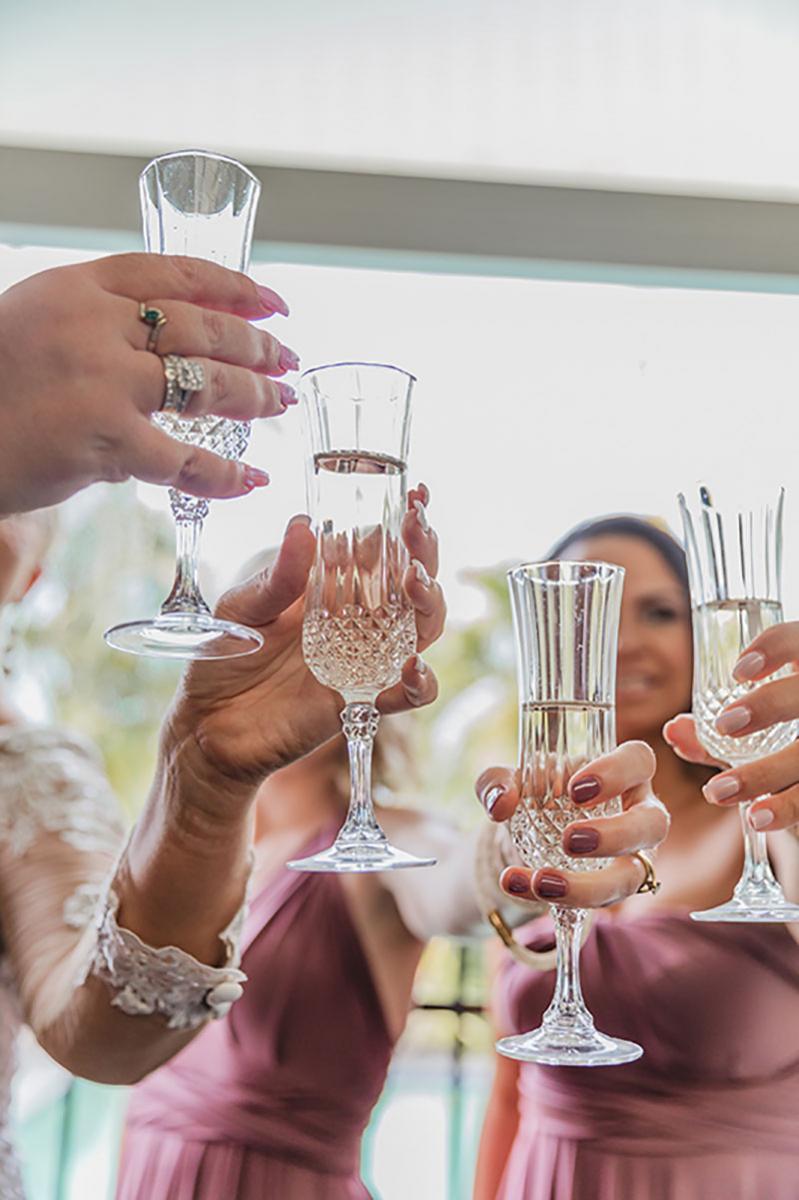 Details:
WEDDING DATE: 22nd March 2019
PHOTOGRAPHER: Angela Brushe Photography
GOWN: Sentani Bridal & Evening Wear
RINGS: Michael Hill Jewellers
ACCESSORIES: Online
BIRDCAGE VEIL: Bejewelled Bridal
HAIR: Trudy Lynch – The Hair Studio
MAKEUP: Cherie's Beauty
BRIDESMAID DRESSES: Sentani Bridal & Evening Wear
GROOM'S SUIT: Tarocash
GROOMSMEN'S SUITS: Tarocash
CEREMONY: Broadway Chapel
CELEBRANT: Lisa Parkinson
RECEPTION: Easts Leagues Club
NUMBER OF GUESTS: 80
THEME: Formal
MENU: Entrée - Watermelon and King Prawns/ Thai Beef Salad, Main - Salmon and S & P Calamari/Fillet of Beef. Dessert - Wedding Cake
ENTERTAINMENT: Dj , Snaptured Photo Booths
FLOWERS/FLORIST: Paul
CAKE/MADE BY: Bella Sophia Cakes
BOMBONERIE/FAVOURS: Labelled Chocolate Bar/ Wooden name tag
TRANSPORT: Friend's Mercedes Benz
WEDDING SONG/DANCE: Aisle - "You are mine" Spencer Coombs, First Dance - "How long will I love you" Ellie Goulding
If you're getting married soon or have just got married, contact us and have your wedding featured online! And if you're planning your wedding in Brisbane, the Gold Coast or Canberra, come and visit our wedding expos to find the right suppliers for your special day. Looking for wedding suppliers right now? See our online wedding directory.