Darienne & Ian: A celebrant in Tasmania
Published 5th July 2013 in ALL Categories, Real Life Wedding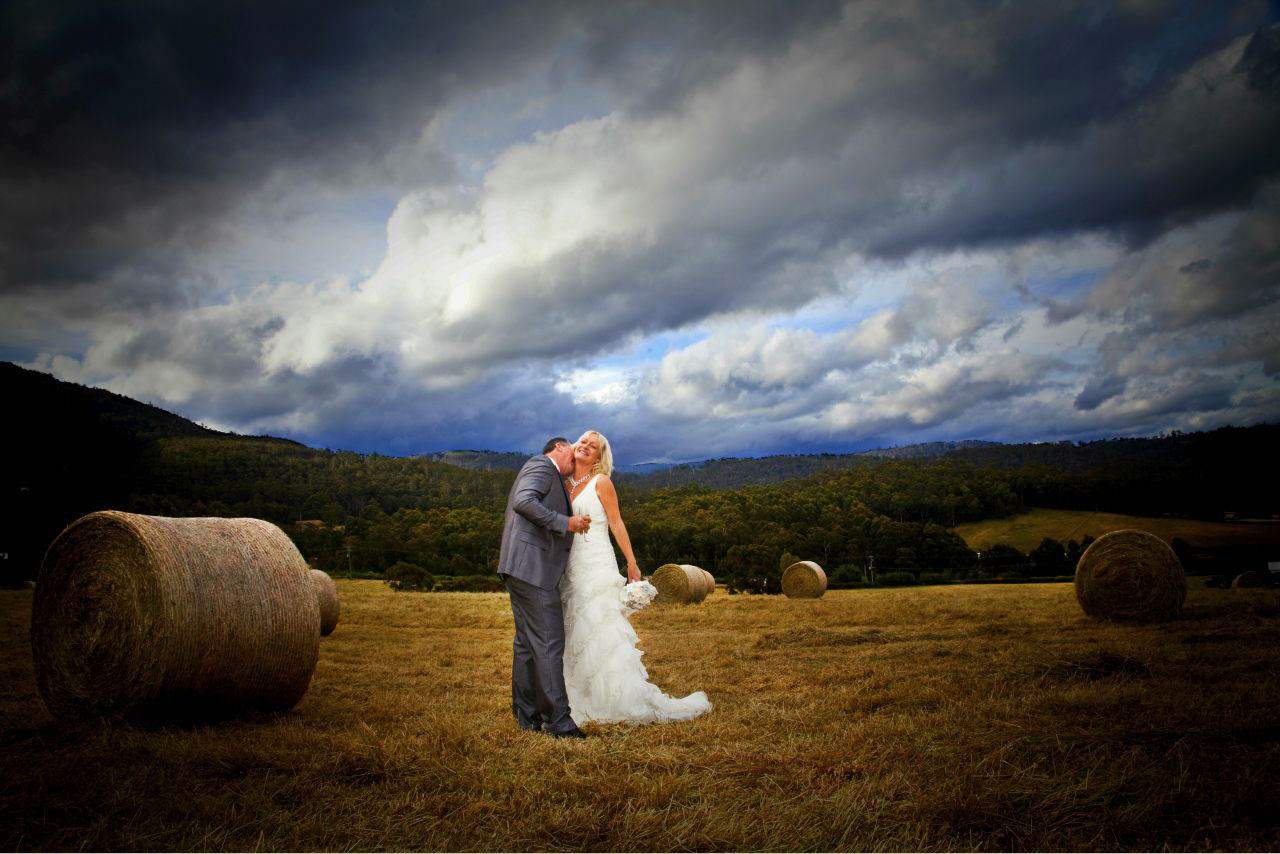 Darienne Davis, a wedding celebrant from the Sunshine Coast, chose Tasmania to marry her own beau, Ian, on New Year's Eve 2012.
"Initially we planned to run away to get married," Darienne offers. "After all, being a Sunshine Coast Marriage Celebrant how could I possibly pick just one favourite location, photographer, florist or any other wedding supplier for that matter? We love Tassie and had planned a holiday there with our friends so just decided in the end that we would exchange our vows there. As many small weddings it started off quite simply but turned into a major production but it was perfect. The location is absolutely breathtaking with views to forever across the d'Entrecasteaux channel."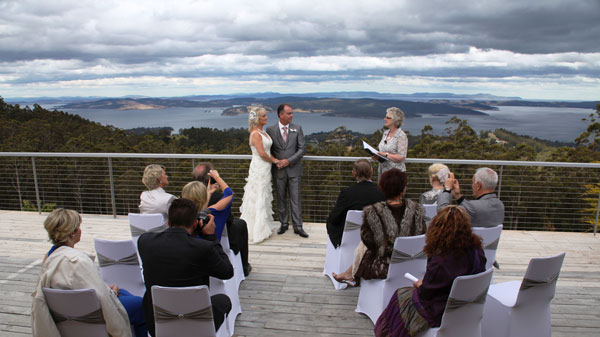 Darienne met Ian through a mutual friend, "She asked if she could give me his number, then asked the same of me and we met for coffee at Mooloolaba. After our first real date, he just never left!"
And it seems Ian is the romantic type, judging by the perfect timing of his proposal….
"We were on a fantastic month long holiday. We travelled to Perth and stayed with friends then went to Phuket for eight days. We then returned to Perth and went to the Kimberley where we enjoyed and amazing 10-day cruise through its stunning waterways. Upon our return to Perth we hired a car and had an eight-day road trip around south Western Australia, visiting Busselton, Albany and many other beautiful locations. But it was when we stayed at Margaret River for two days that Ian decided to pack a picnic (cheese, pate and a beautiful bottle of Zamphire bubbly from the Evans & Tate vineyard – my fave). It was a freezing late afternoon and I felt a bit daggy in my tracksuit pants and joggers, we walked down to the beach and laid out a rug. The sky was cloudy and grey, he got down on one knee (well actually two 'cos he tripped) and proposed to me. Not long after that the cloud lifted and we watched a most beautiful sunset."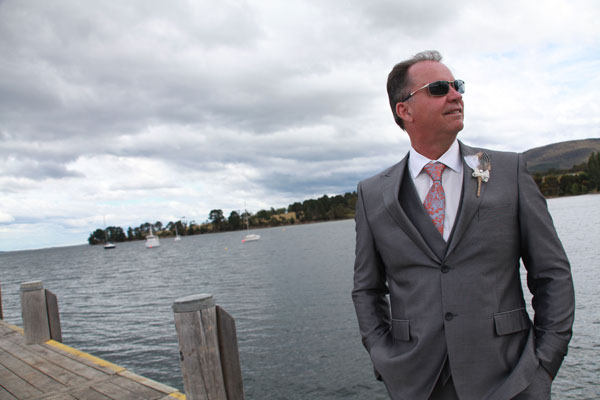 Darienne's dream location for a wedding was Italy, but "weddings are about close friends and maybe we would not have had them with us [in Italy] so we believe our dream wedding was what we made it in Tasmania. The location was superb and everything just fitted together.
"Tasmania is a hidden gem. It is beautiful, pure, refreshing, friendly and slow. It is full of beautiful locations, surprising hidden gems, challenging Australian history and the most stunning rainforests and waterfalls anywhere on the planet. It is unspoiled and rugged in many areas but then breathtakingly beautiful just around the corner. It is four seasons in two hours and full of surprises. It is melt in your mouth Tasmanian Salmon and all things seafood. It is beautiful wines and vineyards. It is raspberries and berries and artistic juices flowing in every direction. It's a little piece of heaven on earth!"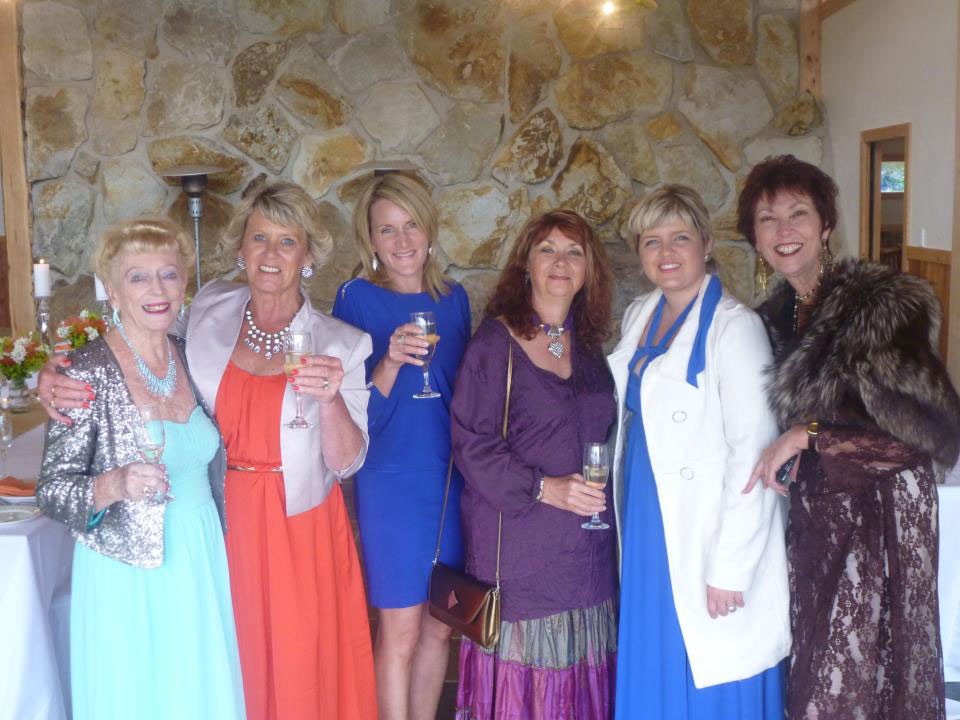 As a celebrant, how did you approach booking another one for your ceremony?
"We found her online and loved the fact that she was an artist too. Luckily she was coming to Queensland so we got to meet her first which was important to me. She was lovely and we booked her straight away."
Did anything surprise you at your wedding?
"I was surprised that it went so quickly. I was surprised that I was so nervous and emotional. I was surprised at just how wonderful it felt to stand there with my partner for life and become his wife!"
What advice would you offer brides-to-be?
"I always tell my brides to try to relax and everything will be fine. I did however manage to channel my inner Bridezilla on a number of occasions (thanks to my husband Ian for putting up with me and still showing up on the day). Have lots of back up plans as things can go wrong. Remember at the end of the day that you are marrying your life partner and nothing else matters. Do it your way and make it unique and memorable.
"It was a very special day [for us] and now we have the rest of our lives to plan, and live and dream together. The hard work is not over, it is just beginning. My favourite expression is "If you want to know the ending look at the beginning" and if that is true then we will have an awesome life together!"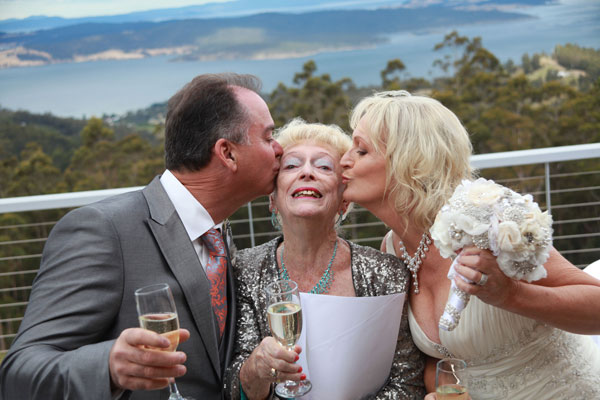 Bride's Processional: Fields Of Gold - Eva Cassidy
Eva Cassidy - Fields Of Gold from Selcuk Taskin on Vimeo.
Signing: My Guy - Mary Wells
Recessional: This Will Be (An Everlasting Love) - Natalie Cole
First Dance: Michelle Featherstone - We Are Man & Wife
Guests: 14 total
Photographer: Beyond The Lens / Gown: Bridal Vision, Sydney / Rings: Prouds / Hair: & Makeup: Tiffany Ingram-Read / Groom: Ferrari Formal & Bridal / Stylist:: Darienne, with help from Hayley from Wholehearted Studio, Sunshine Coast / Celebrant: Faridah Cameron, Hobart / Reception: Woodbridge Hill Hideaway Function Centre / Theme: Burlap & Bling / Menu: Catered by Amy Currant from Woodbridge / Entertainment: Our favourite music list / Flowers: Lisa Kingston / Cake: Cupcakes made by Darienne & her Tassie friend Shelley Shelton with cake toppers by Sunny Girl Cakes, Maroochydore / Bomboniere: Individual champagne glasses engraved with guest's name provided by Brad and Donna Caldwell of All Seasons Trophies & Engraving in Hornsby Sydney
Accessories: I made my own brooch bouquet. This was a labour of love and many of my girlfriends' gave me a brooch to incorporate into the bouquet. I bought some flowers and made some from silk chiffon. I wired all the brooches and covered the stems in florist tape then satin ribbon embellished with a diamante and pearl ribbon. I wore a feathered hair clip which I added a couple of guinea fowl feathers to) from my girlfriend's own guinea fowl; we collected these from the grass (no we didn't pluck them) when I visited Tassie in September. I also made a buttoniere for Ian which match my hair clip a little – it was very cute (but he referred to it as his 'dead' bird!).