Chris & Jane: Rain couldn't dampen this wedding day!
Published 5th July 2013 in ALL Categories, Real Life Wedding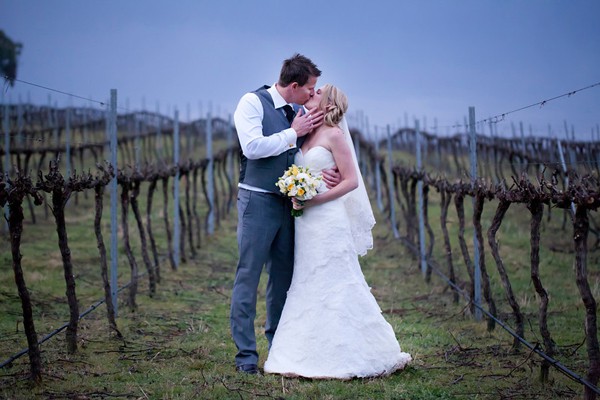 Jane let one thing go when planning her wedding to Chris, "the one thing I didn't worry about was the weather, as it was completely out of my control. Surely enough we had storms and heavy rain throughout the ceremony." But thanks to some clever use of space "the weather didn't seem to matter at all. All that mattered to me was that I was about to marry the man of my dreams."
Jane and Chris met at Kingston's Belgian Beer Café, plucking up enough courage to break the ice. Two–and-a-half years had passed before Chris took Jane back to his home state of Western Australia to propose…"We went out for a beautiful dinner at the Indiana Tea House on Cottesloe Beach on the last night of our visit. After dinner we went for a moonlight walk on the beach and Chris got down on one knee and asked me to be his wife!"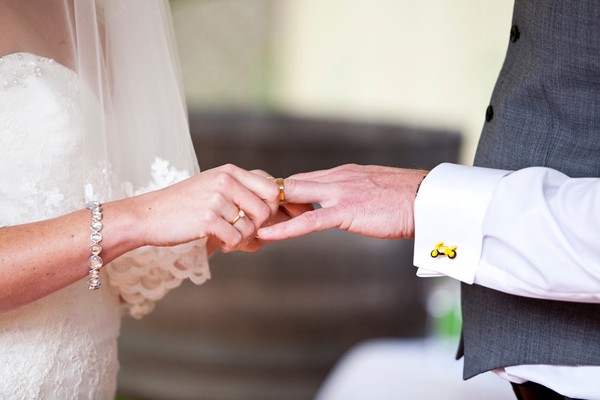 Cue six months of planning for an October wedding date.
"There were times when I felt like it was a great idea to have all the stress and work over quickly so we could begin our married life and have the wedding done," Jane offers, "and other times I felt it would be better to have the planning process over 12 months so that I didn't have so many jobs piling up so quickly!"
Settling on a theme of relaxed intimacy, punctuated by the bright yellow hue, Jane notes "Pinterest was a great site for visual ideas leading up to the wedding."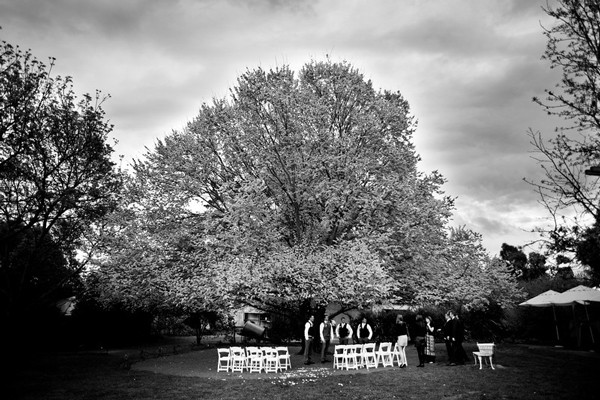 The couple selected the beautiful Poacher's Pantry and surrounding homestead for their venue and reception, Jane confesses, "The photo shoot was absolutely freezing, but the photos turned out just perfectly. Mel and her husband made us feel really comfortable and we felt reassured that gloomy weather makes for fantastic photos!
"The reception seemed to absolutely fly past. The food was beautiful and the staff were very friendly and helpful. Our MC, my cousin Garry Pollack, surprised us with a unique rendition of Frank Sinatra's I Did It My Way, complete with personalised lyrics…it certainly had the entire room in stitches and was worth its weight in gold!"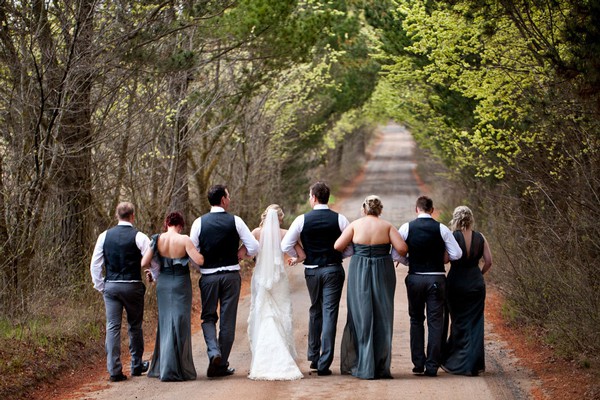 "We were a bit nervous leading up to the bridal waltz, but it turned out just fine (in spite of the fact that by that stage I had taken off my muddy, wet shoes and the bustle had broken on my dress! We danced with me barefoot and Chris had rolled up his sleeves and we just felt like ourselves – it was our moment! After the bridal waltz, the rest of the reception simply flew past. Our band entertained the guests all night with a fabulous mix of songs that really got people up and moving."
There is sure to be many, but what is the one memory you'll cherish forever?
Our vows! We had both written our own vows and the wedding was the first time we heard each other's vows. It turned out to be quite an emotional experience for both of us and was a beautiful expression of our love for each other.
The wedding day can be quite stressful for the bride – was yours?
It certainly had its moments. I was lucky that I had a lot of support from my husband and beautiful bridesmaids.
Did your inner Bridezilla make an appearance?
When I asked my husband this question, he smiled and said no comment!
Best advice for other brides?
Enjoy the ride. It all happens so quickly. Months of planning and it seems to be all over in a blink on the big day. Take some time to really enjoy the special moments of your big day and share the workload – it is a team effort.
Any parting words…
Just breathe, smile and take it all in and say I do!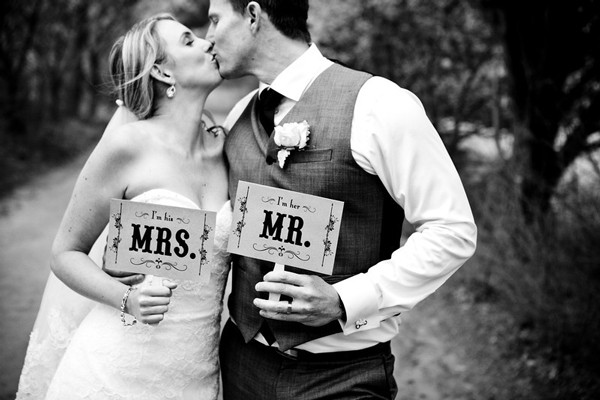 Guests
: 86
Menu
Canapes
Fetta & fresh herb 'cigars' wrapped in light filo pastry
Prawns in kataifi pastry w/ chilli coriander dipping sauce
Smoked chicken & water chestnut san choi bow
Entrée
Baked scallops w/ classic prosciutto, Morcilla almond crumb & sauce Jacqueline
Smoked duck terrine, cornichons, mustard fruits & toasted baguette
Twice cooked pork belly, crackling & a fennel, mint & Persian feta salad
Mains
Smoked lamb rack served w/ mushy peas, goats cheese gnocchi & oxtail sauce
Rare roast beef eye fillet with French beans, Desiree mash & café de Paris butter
Pan-fried Blue Eye cod served on a zucchini flower and preserved lemon risotto w/ local mussels & basil emulsion
Dessert
Wedding cake: White chocolate mud cake w/ vanilla frosting
Lolly bar themed with yellow and cream lollies
Wedding Music
Bride's Processional: Angus &  Julia Stone – The Wedding Son
The Wedding Song - Angus & Julia Stone from The Flower Shop on Vimeo.
Signing: Just Breathe – Pearl Jam (followed by What A Wonderful World – Alison Mosshart & The Forest Rangers)
Pearl Jam SNL Just Breathe from Richard M on Vimeo.
Recessional: Lego House - Ed Sheeran
Ed Sheeran - Lego House (Official Video) from Ed Sheeran on Vimeo.
First Dance: Have I Told You Lately - Van Morrison
Have I told You lately - Van Morrison - HD Lyrics on Screen from Oltrelorizzonte on Vimeo.
Photographer: Mel Hill Photography / Gown: Roz La Kelin / Flowers: Poetry In Flowers, Gungahlin / Cake: Amelia's Cakes, Enid Taylor / Cake Topper: Poetry In Flowers, Gungahlin / Hair: La Bimbi Salon, Belconnen / Rings: Creations Jewellers, Manuka / Makeup: Emma Tod / Bridesmaids Dresses: Jim Hjelm, Modern Bridal / Groom & Groomsmen: Roger David / Ceremony & Reception Venue: Poachers Pantry, Homestead Lawns / Transport: True Blue Car Hire / Celebrant: Barry McCarthy / Flowers/Boutonnieres: Natural stem posy in a loose less structured style of yellow roses, white lisianthus, white camellias and cream David Austen roses / Bonboniere: two macarons (one lemon, one salted caramel from Sweet Petite) / Theme: Intimate, relaxed and rustic / Entertainment: Something Like This –  Don McKenzie. Three-piece live music playing throughout the canapés and the band played for the rest of the evening following dinner / Honeymoon: A week in Darwin straight after the wedding (October), followed by close to a month travelling trough America over the Christmas break: New York, Chicago, New Orleans, Las Vegas and finally Hawaii! / Invitations: by Brooke Turner, Design Key (local Canberra graphic designer)