Choosing the Right Flowers for your Wedding & Reception
Published 3rd April 2019 in ALL Categories, Flowers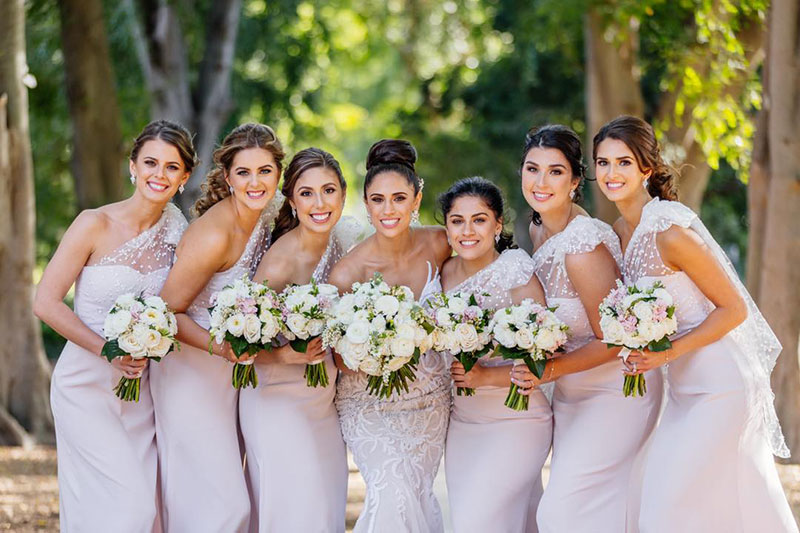 Photo by Evernew Studio (above)
Whether you're going all out to create that 'Wow' factor or you're leaning towards a more conservative display, choosing wedding flowers takes a bit of time and effort. The flowers you choose and how you arrange them is a very personal choice, so doing some research and looking at wedding flowers ideas and pictures will be valuable as a starting point. You'll be happy to know we've included heaps of gorgeous images for inspiration right here, plus details of florists who can help you create them.
We all love the instant splash of beauty and colour that flowers add to a wedding, but some of us can't get enough of them! If that sounds like you, remember that you don't need to just stick to wedding flower bouquets. We've included some ideas on these but also other areas where flowers can be used with amazing effect for your wedding. The choices you make for your wedding flower bouquets however, will set the tone for your flower arrangement ideas for wedding reception, ceremony, wedding cake flowers and boutonnieres, so ask yourself the following questions to help guide your choice:
    Do you prefer classic wedding flowers, succulents or native flowers?
    Do you like tailored or organic, free-form arrangements?
 
Where to use flowers
 
THE BOUQUET
 
The number one use of flowers for weddings is, of course - in the wedding flower bouquets. So if you've chosen your gown and ceremony setting, now is the ideal time to select your bouquet so it  harmonises with your wedding style, theme and setting. It's not as simple as choosing the colour and type of flower you like though. Certainly do that first, but next think about the shape, size and unique finishing touches that will express your style also.
Native flower wedding bouquets are right up there in the popularity stakes at the moment, and we can see why…whether created as a full bouquet of natives or just included as a statement piece within a more traditional bouquet, Australian natives look bold and effective.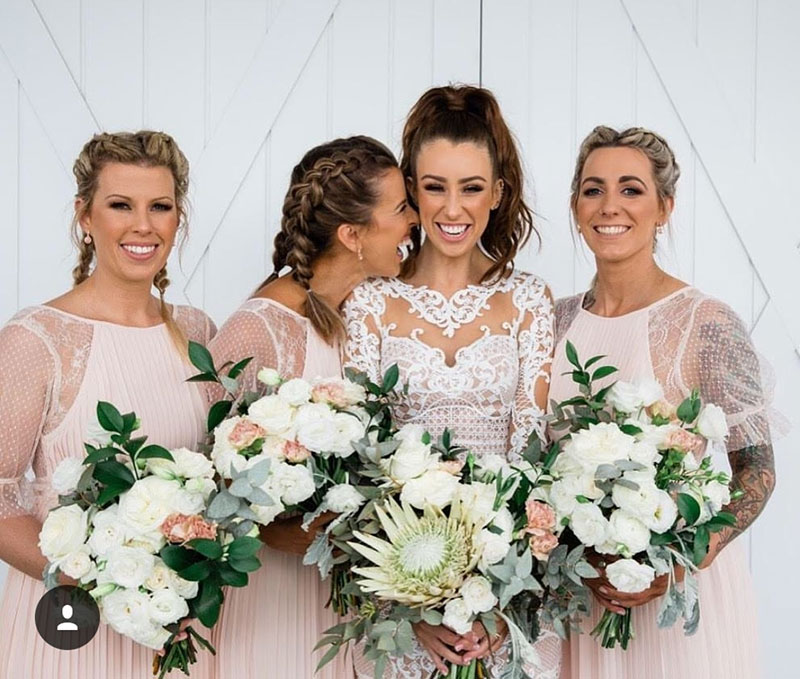 Soft, fresh and bold. A classic colour combination, together with a native twist.
Florals: The Posy Collective
Photographer: Lee Calleja Thomas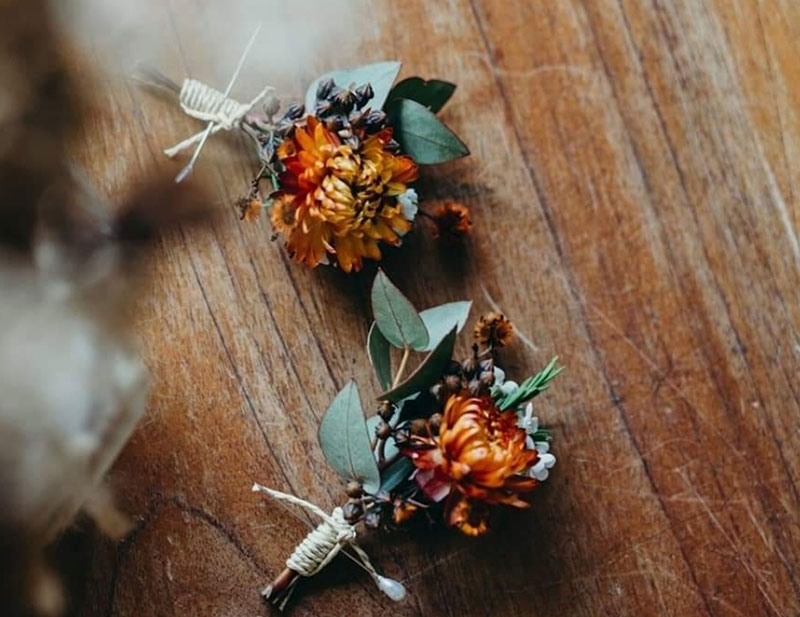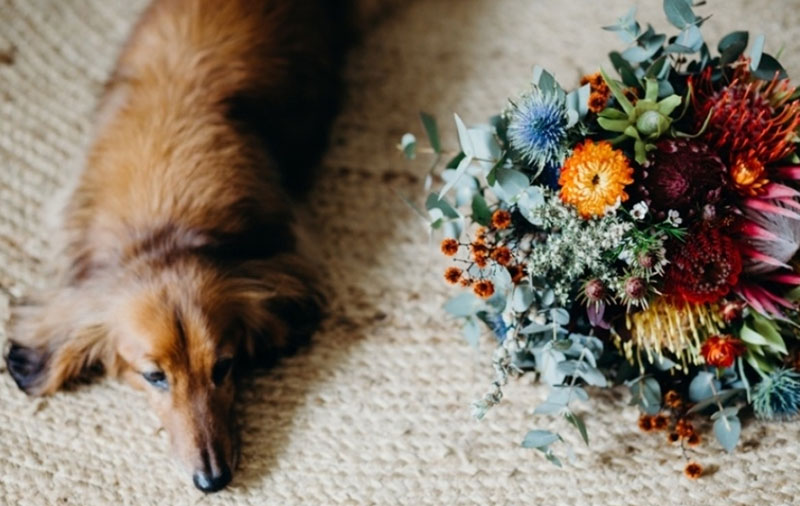 A rainbow of Native flowers
Florals: The Posy Collective
Photographer: Sarah Jane Prince Photography
 
We love native flower wedding bouquets, and this is one of our favourites...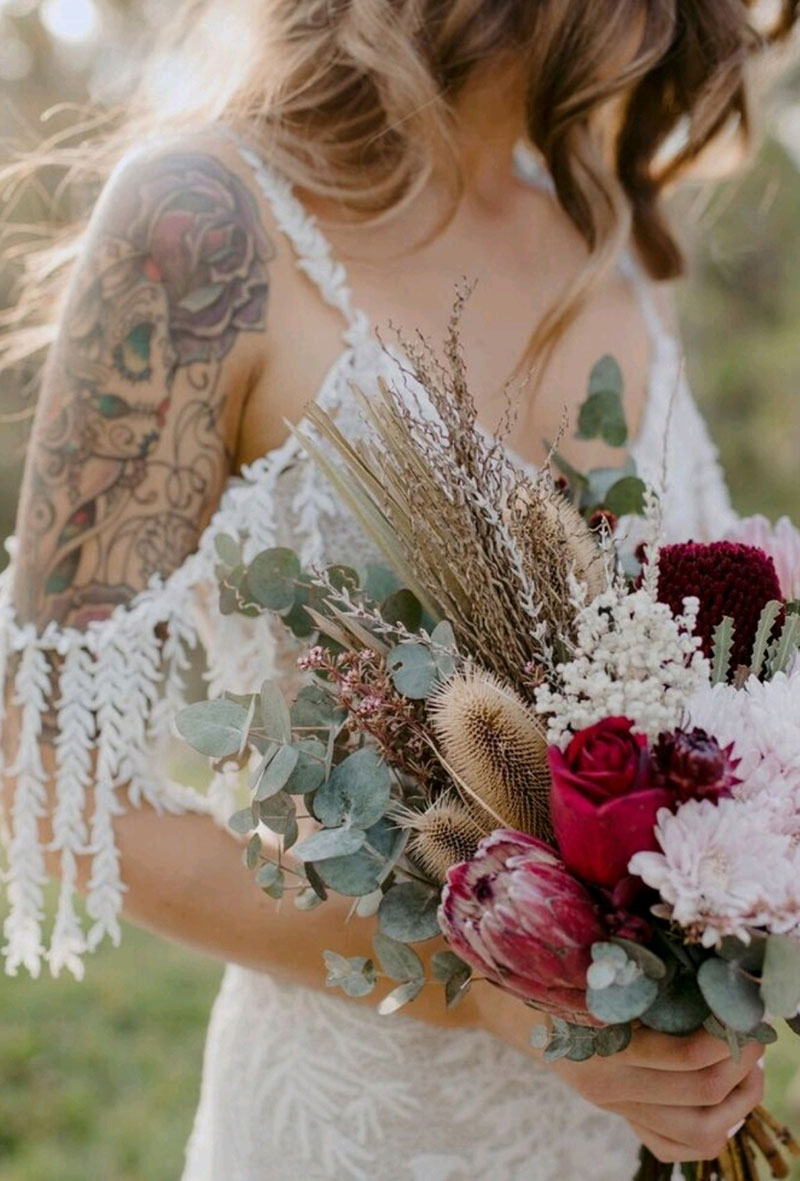 Wild botanicals – the contrast of freshly dried flowers together with soft petal and native blooms.
Florals: The Posy Collective
Photographer: Heart and Colour
And we can't help but swoon over some of this seasons most popular colours…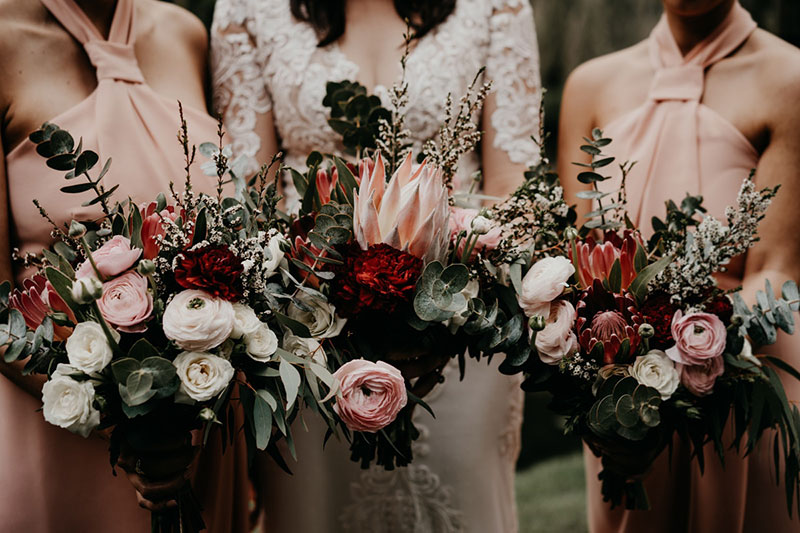 Deep, rich and extremely romantic
Florals: The Posy Collective
Photographer: White Parrot Photography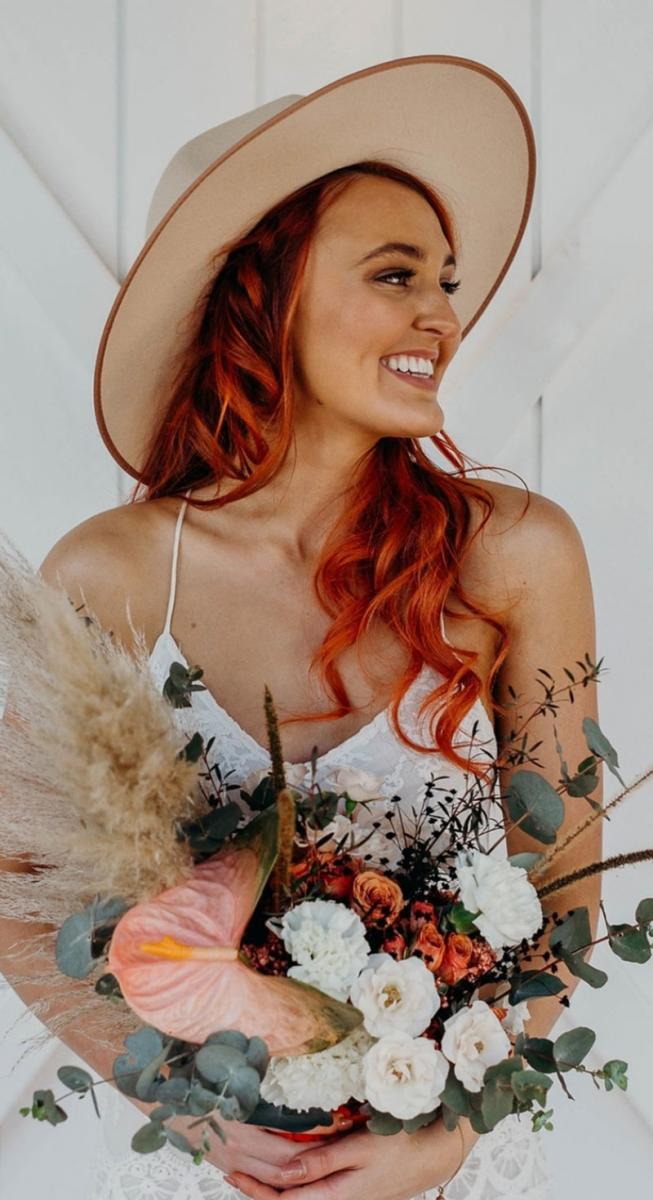 Desert inspired blooms for the fearlessly fun bride
Florals: The Posy Collective
Photographer: Chasing Moments Photography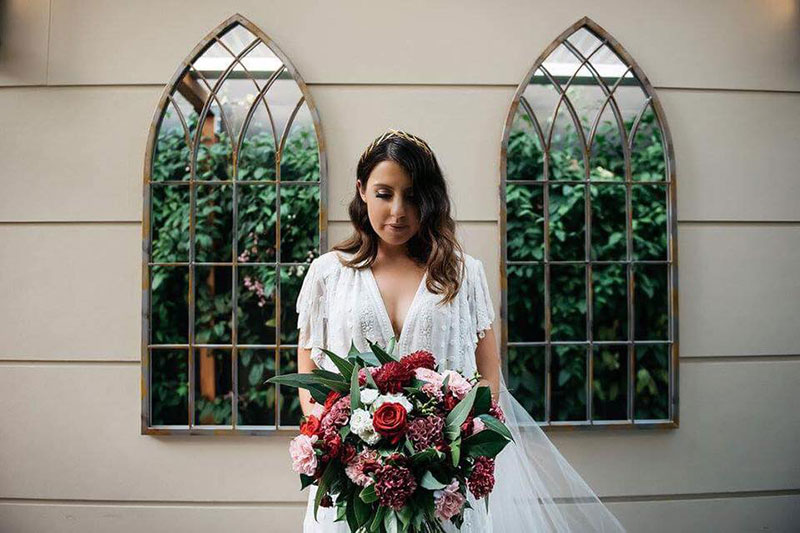 Stunning wedding bouquet flowers incorporating shades of dusty pink, rich reds, and contrasting greenery.
Florals: Brisbane Market Flowers
Photographer: Amanda Peppermint Photography
AS A CENTREPIECE
 
Do you prefer classic wedding flowers such as Roses, or are modern and unique Succulents more your thing? Both can look stunning as flower wedding centrepieces, but flowers such as roses can add that extra dimension with their beautiful fragrance and colour. Ultimately the best flowers for wedding centrepieces for your wedding will be those that complement your bridal bouquet and wedding colours. Wedding table flower decoration ideas such as floral installations hanging above can look stunning as well, and they have the added benefit of being unobtrusive.  Flower wedding centrepieces add beauty and a splash of colour that outdo most other centrepieces.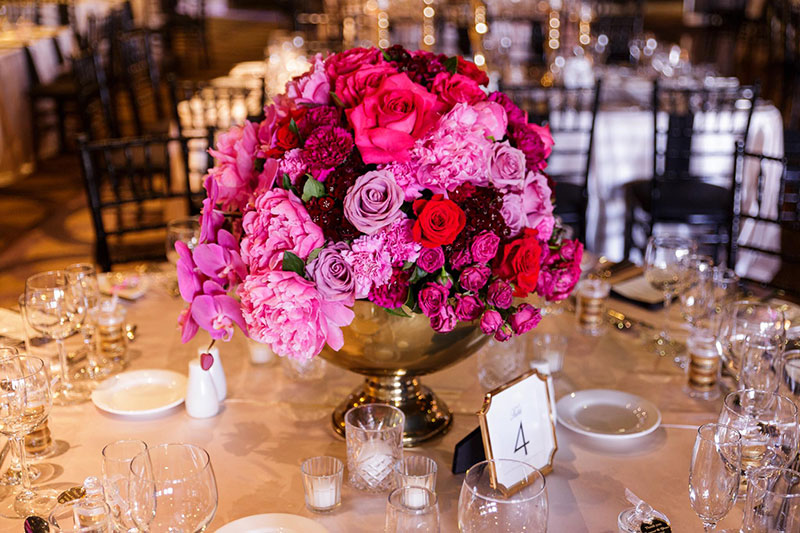 Creating impact with colour
Florals: Brisbane Market Flowers
Photographer: Porfyri Photography
 
ON YOUR ARCH
 
Wedding arch flowers for your ceremony are a lovely addition to an outdoor wedding. They help to define your space and provide a focal point. And if you love flowers, it's the perfect way to set the mood and style of your special day. Whether you have a beach, country, garden, forest or hinterland wedding, flowers for wedding arch decoration will finish your ceremony space. This outdoor hanging flowers wedding arch below is one of our favourites...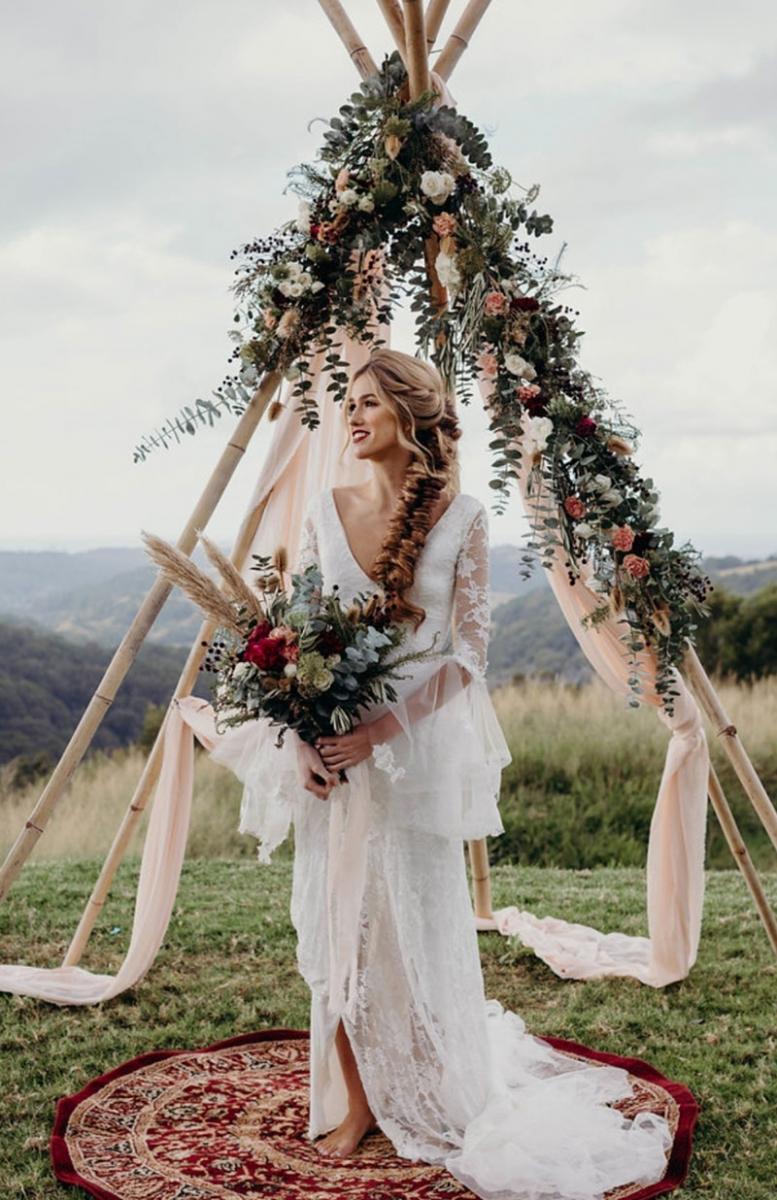 Boho at it's best
Florals: The Posy Collective
Photographer: Chasing Moments Photography
 
All styles of outdoor wedding ceremonies look special with wedding arch flowers...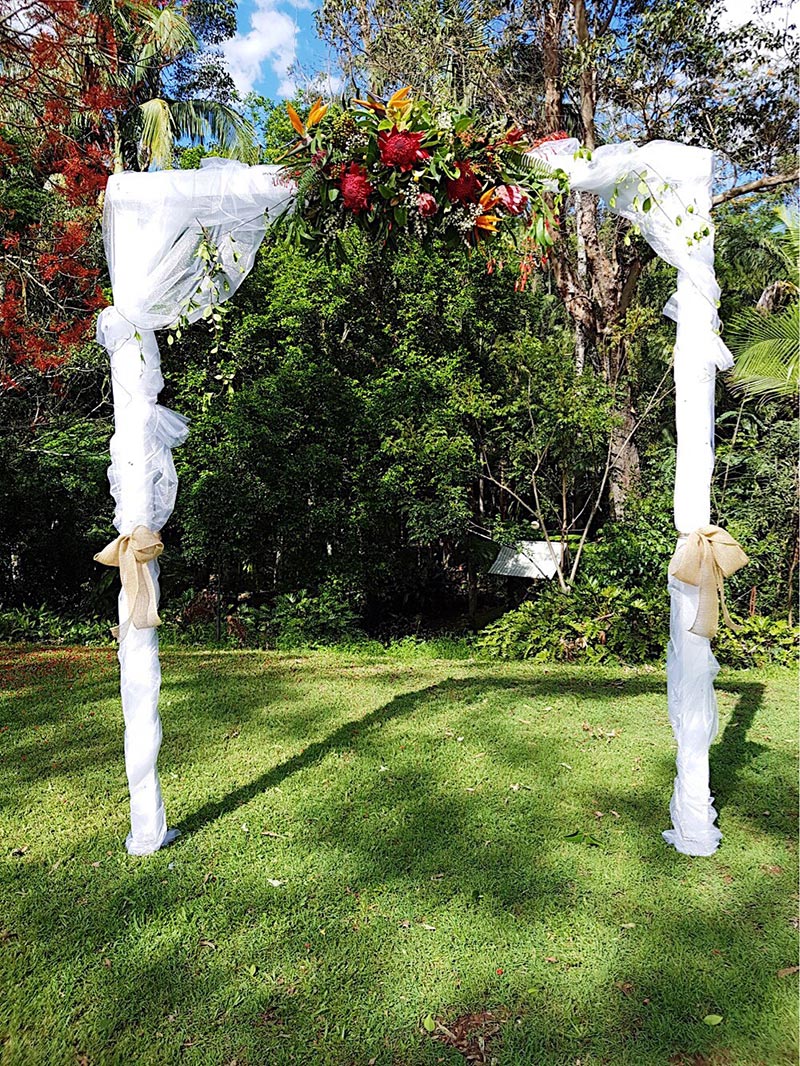 White organza arbour with native floral garland
Florals: Yandilla Rose
 
ON THE CAKE
 
Fancy fresh wedding cake flowers on a rustic buttercream semi-naked cake with drips, or do you prefer the completely iced buttercream wedding cake with flowers on top? These are the most sought after wedding cakes for 2019. Fresh flowers on cakes are popular as they easily complement your wedding bouquet flowers and colour scheme. How to decorate a wedding cake with fresh flowers depends on the flowers you choose and the style you are trying to achieve - add a rustic feel with an assortment of bright, fresh, gathered from the garden looking flowers, a boho style works well with bold, rich colours and organic, free-form flower arrangements, or to add a touch of romance, you can't go wrong with roses in your chosen colour scheme.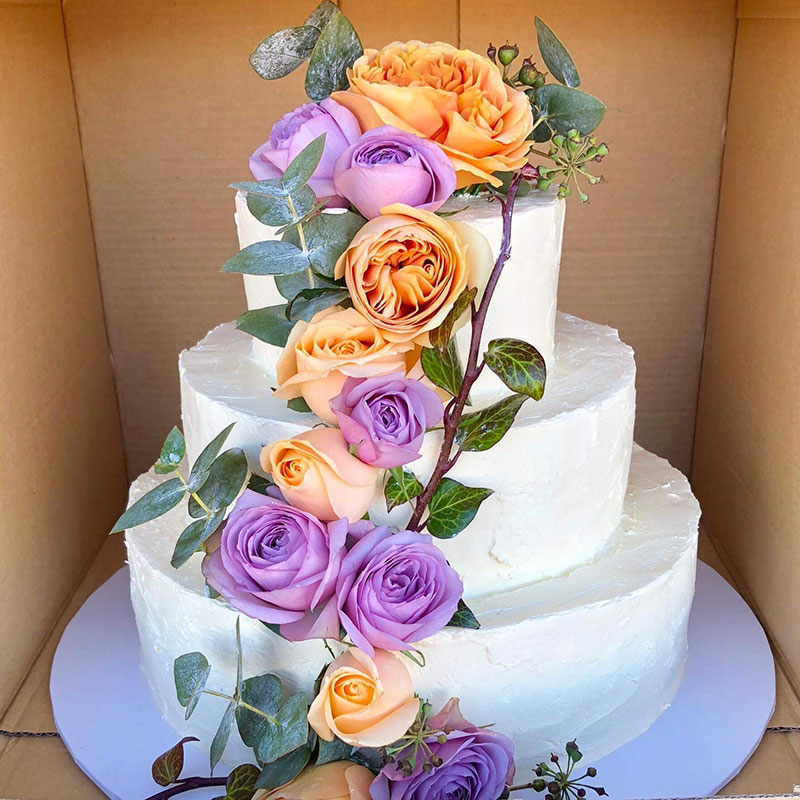 Romantic and colourful roses – elegant with a rustic feel
Florals: Yandilla Rose
 
IN YOUR HAIR – YOUR BOUTONNIERE – YOUR CORSAGE
 
Wedding hair flowers, boutonniere flowers and wedding corsages are also popular ways to include flowers in your wedding. They can add the final touches to create the perfect look for your wedding.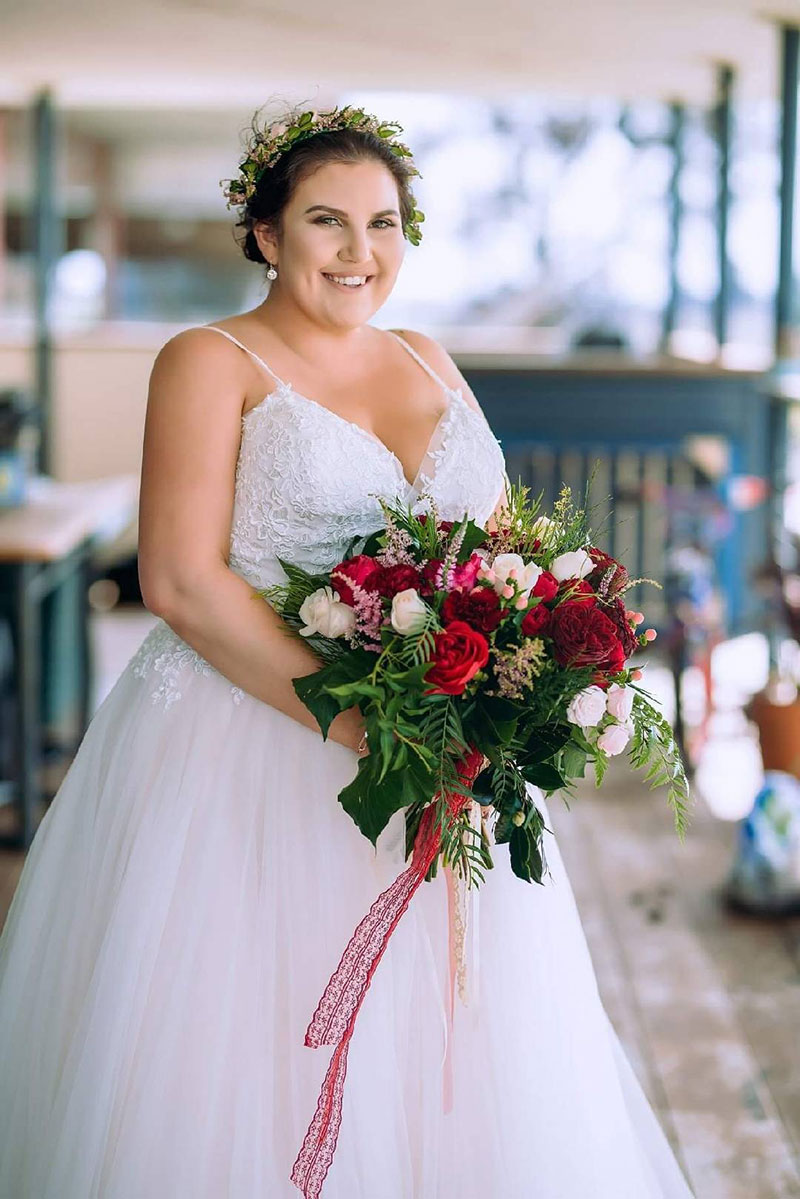 Wedding hair flower crown
Florals: Yandilla Rose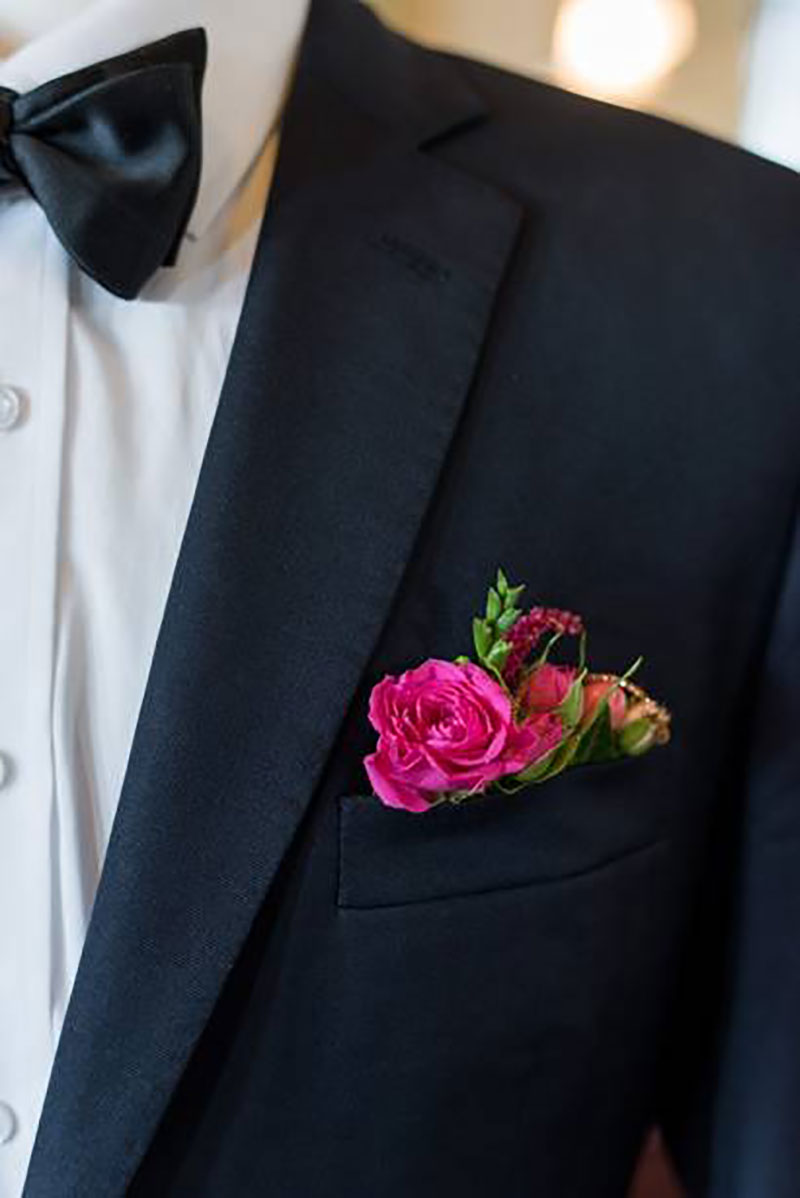 Stylishly Chic – instead of placing the boutonniere on the lapel, it's tucked into the jacket pocket
Florals: Always Fabulous Flowers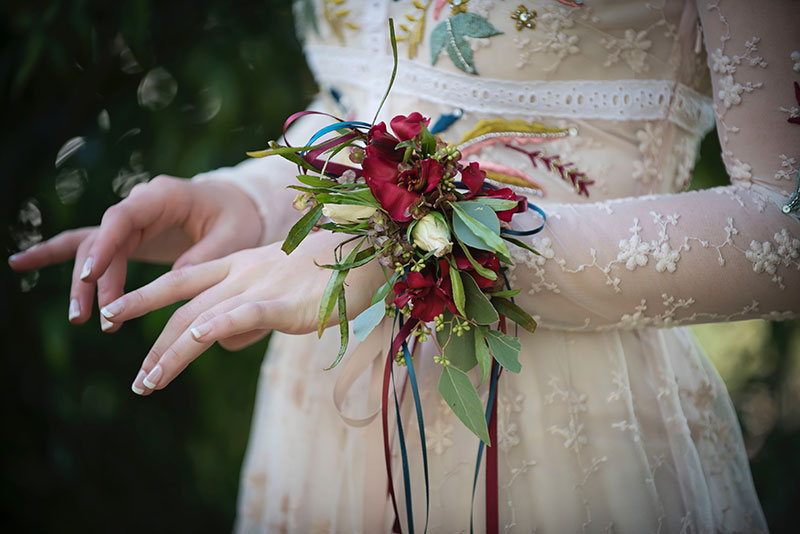 Wrist corsage
Florals: Yandilla Rose
Choosing Seasonal is Important
 
Before you set your heart on a particular flower or combination of flowers, check on their availability. While you may have a good idea of what you want, it's best to talk to your florist before you make any final decisions on actual flowers. Your florist will be able to advise on what will be right for your timing and style, and also of alternative or similar flowers if yours aren't available or in season. While out of season flowers may be able to be imported for your wedding, the cost will rise, plus the flowers may not last long – especially if they have to put up with our extreme weather.
Choosing wedding flowers by season is the way to go, but even flowers that are available all year round, may only be available in certain colours, in certain seasons. Popular flowers such as Roses and Oriental Lilies  are available all year round, but other popular flowers such as Arum Lilies and Peony Rose aren't...luckily, their season coincides with the popular Spring wedding season. Wedding flowers by season is something your florist will certainly be able to give you advice on. If you love Australian native flowers, these too are seasonal, so make sure you check before you plan your wedding flower bouquets around those lovely, bold Proteas!
 
Fake/Silk Flowers
 
If your favourite fresh flowers are not available for your wedding you might consider artificial wedding flowers. The beauty of these fake wedding flowers, particularly silk wedding flowers, is that they look so real! The advantages of using artificial wedding flowers are:
    They are always in season
    You get to keep them after your wedding
    Perfect for destination weddings – just take them with you!
    Allergy free
    They look great throughout your wedding regardless of the weather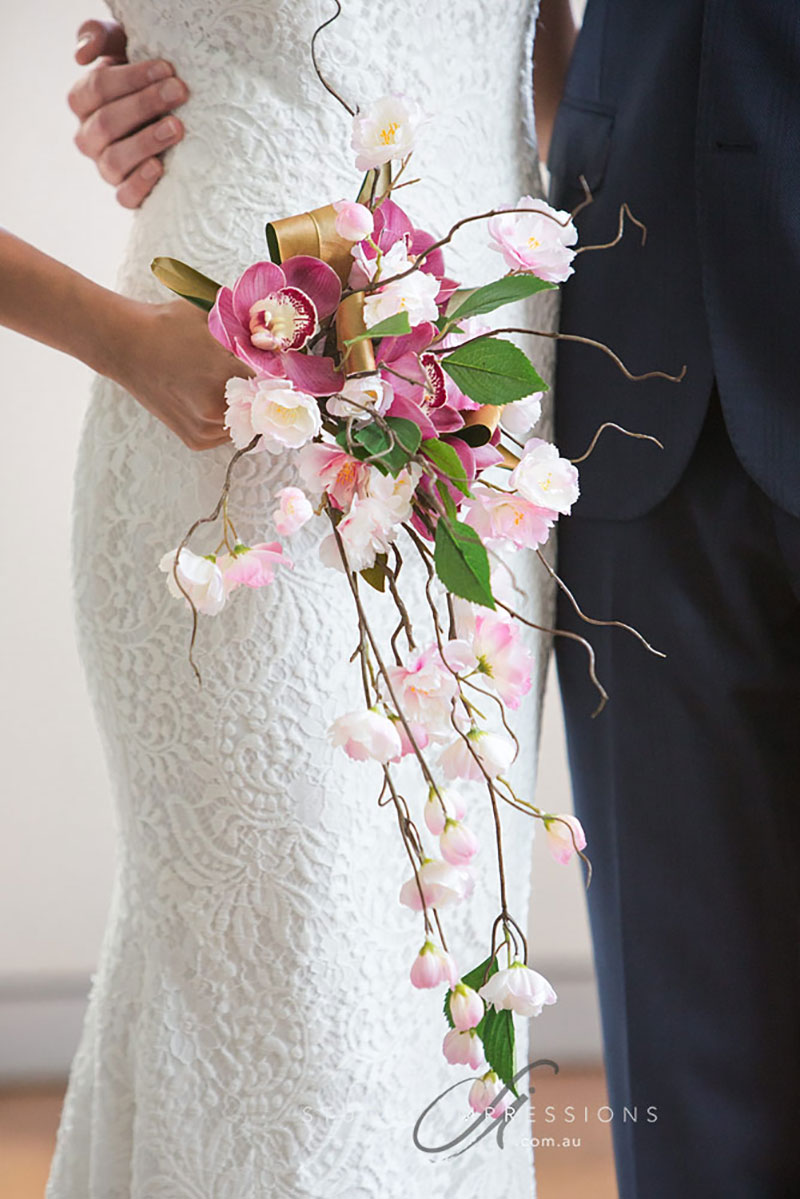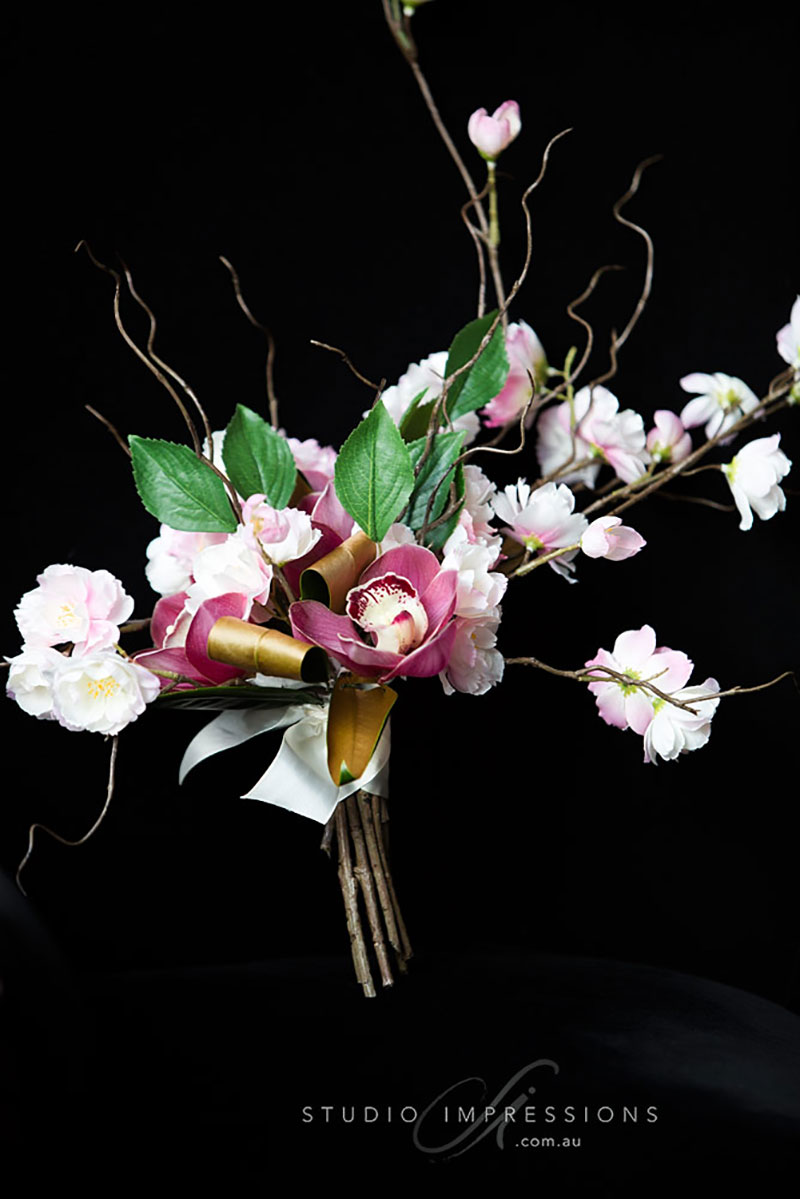 Something elegant and whimsical, combining silk blossom with real orchards and folded gold magnolia leaves – Asian fusion.
Florals: Always Fabulous Flowers
Photographer: Studio Impressions
 
Not just limited to wedding bouquets, artificial wedding flowers can be used with effect
throughout your wedding. A silk flower garland for weddings can look very effective.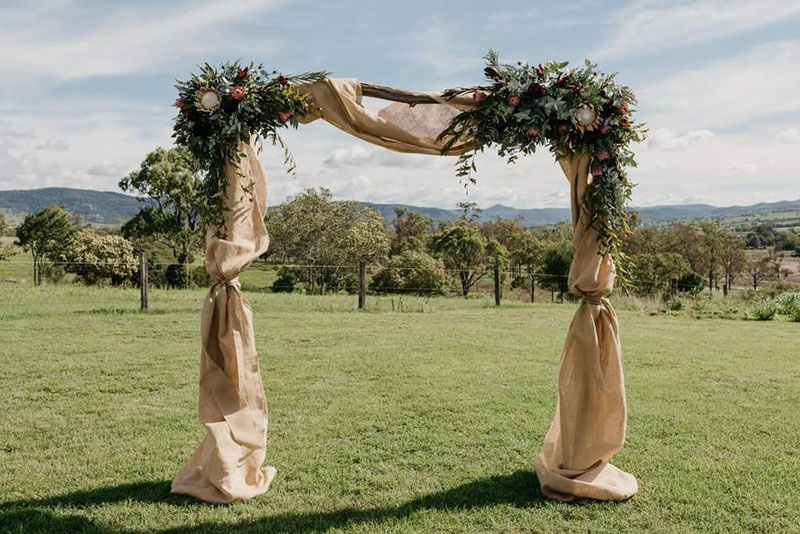 Country styled arbour with an artificial native garland
Florals: Yandilla Rose
 
Trending now in 2019
If you love country, ivory or blue wedding flowers, you are not alone. These styles are pretty popular right now...

Country Wedding Flowers ideas - This particular bouquet was inspired by the beautiful farm setting where the wedding was held in the quaint country town of Kalbar.
Florals: Exclusive Wedding Flowers
Photographer: Dalli Photography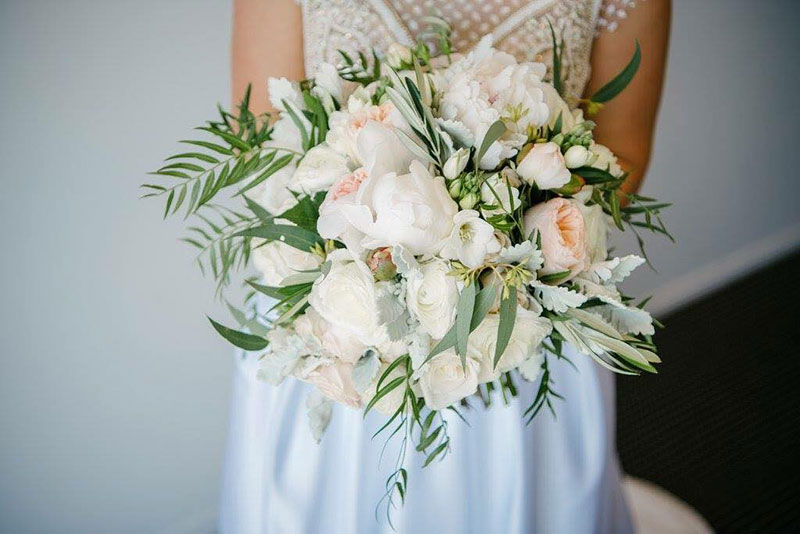 Ivory Wedding Flowers ideas – It's no wonder that Ivory coloured flowers are popular for weddings – not as stark as white, plus it complements all other colours without being overpowering.
Florals: Brisbane Market Flowers
Photographer: We are Twine
 
When it comes to wedding flowers, there are no strict rules to follow. The most important thing is that they work for you and you love them!
Need a little more inspiration? You can get more ideas, more info and view more flower photos by visiting each of the florist's profile links in this article, or visit our wedding directory.