Carly & Patrick: Country Wedding Ideas
Published 5th July 2013 in ALL Categories, Real Life Wedding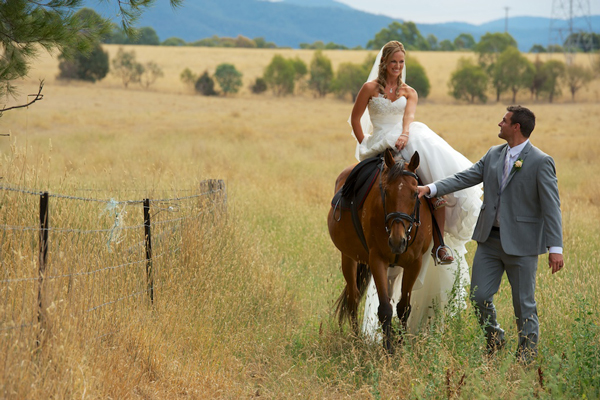 For their Tuggeranong country wedding Carly insisted on her noble stead, Tyson, being a part of the ceremony. Tyson had been by Carly's side for eight years, a year before Patrick, her husband-to-be, came on the scene.
Carly spotted Patrick in a Canberra nightclub, and like most bold, confident women sent her friend (wing-woman?) over to chat to him first. There started a friendship, that blossomed into a loving relationship with Patrick popping the question at a most memorable time…"Patrick proposed to me in hospital a few hours after our first baby was born. He came to my bedside and got down on one knee with a ring he had already gone and chosen with my mum. Such a surprise! Definitely the best day of my life without a doubt."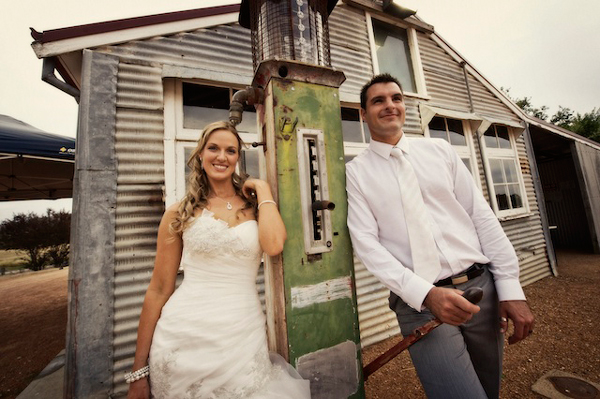 With a country theme picked Carly set about her wedding planning with mum and bridesmaids in tow… "The planning process was a lot of fun with all the amazing ideas to choose from! Having lots of girly time with my mum and bridesmaids helping was definitely a plus. As the time came nearer to the wedding date, I did find it so stressful just making sure I had thought of everything and everyone booked for the right day and time. We didn't have any troubles with the planning along the way though and it all ran smoothly.
"While planning the wedding I did a lot of searching on the Internet for absolutely everything. I got ideas for locations, dresses, makeup, hair, favours, invitations, decorating… everything. It's just so easy to have everything right there for you in the one place to research."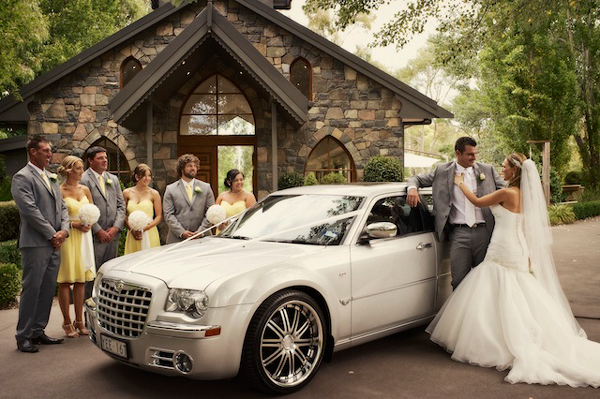 Settling on the lovely Chapel at Gold Creek, with a reception following at the Tuggeranong Homestead just south of Canberra, Carly and Patrick captured a church feel without marrying in a church, capped off with wonderful the rustic and country inspired hues of the Tuggeranong Homestead's surrounds.
"The Chapel at Gold Creek is such a beautiful place to have a wedding ceremony. We loved that it had a traditional church feel, without actually being a church. I've always wanted to walk down a proper aisle, so it was perfect for us. The Tuggeranong Homestead, for the reception, was an amazing location for that casual country feel that we were after. We are pretty laid back people and I think people relax a lot more and have a good time if they can let their hair down a little."
The Homestead was also the perfect place to have Tyson feature in some truly gorgeous wedding photos.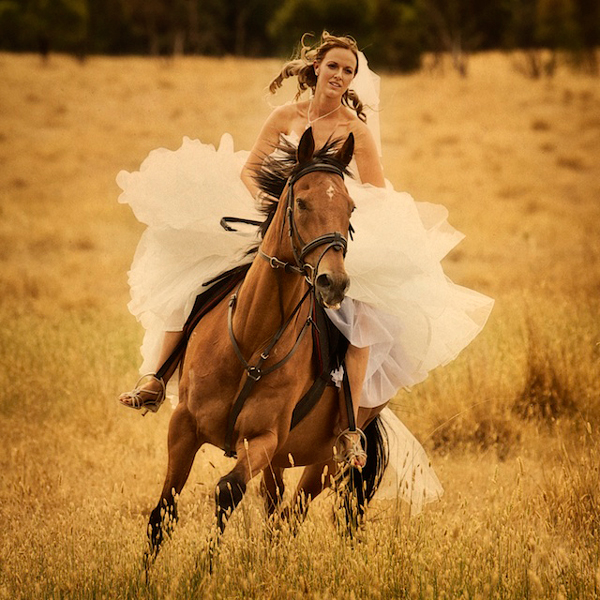 "Tyson is a family member to me so he just had to be in the photos. It also was very fitting with the country theme. [He] was so well behaved I was blown away! He had so many people around him all making a fuss, and me riding him with a big dress and veil flapping all over the place, but was still on his best behavior as always.
"I was pretty worried leading up to it, how it would all go because I guess it could have turned out pretty bad if he had have decided he wasn't into it. There were a couple of times when cantering, he came pretty close to stepping on my veil so I think luck was on our side that day!"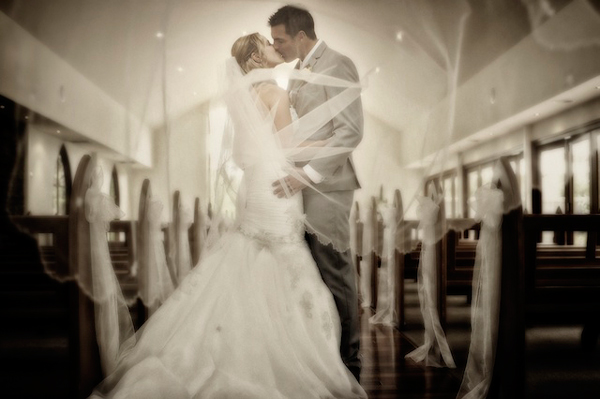 With a sigh of relief exhaled as Carly and Patrick drove off for their Blue Mountains honeymoon Carly notes, "The actual wedding day was the least stressful part of all. I think because I knew I had organised everything as best I could and whatever happened from then was out of my control. The excitement of it all just took over any stress I think. I just couldn't wait to get down the aisle.
"I must admit though, it is a relief when you get in the car to leave the reception because you know all that hard work is over and now you just get to enjoy your new married life and reflect on how perfect the day was."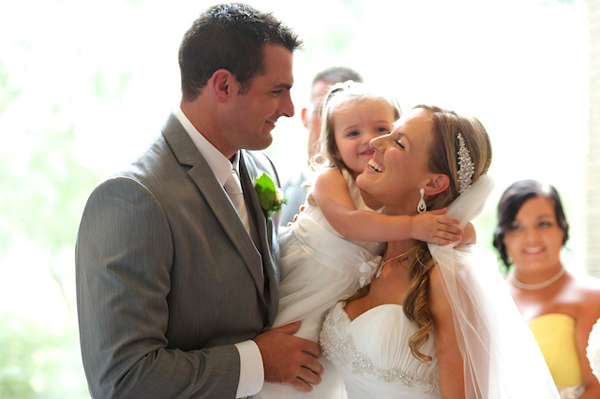 "I will cherish the whole day forever, but the one standout memory was my amazing mum, who is also my best friend, walking me down the aisle, and seeing my husband-to-be, and our two beautiful children down the end, all so happy. It was a moment that will forever stay with me forever, and was easily the best part of the whole day.
Why is being married important to you?
"I think being married just gives you that extra level of a commitment to each other. It shows how much you love, honour and respect each other.
I think you can have all the same values and commitments when you're not married too, but for Patrick and I, it is important to show to each other, that we really are together for better or worse and also it is a day to really celebrate life together and love."
Best advice for other brides?
"Just enjoy the day and breathe in every minute of it. The whole experience can't come quick enough when you're waiting for the day, but when it arrives it is all over so fast. Don't take a second for granted. Live happily ever after!"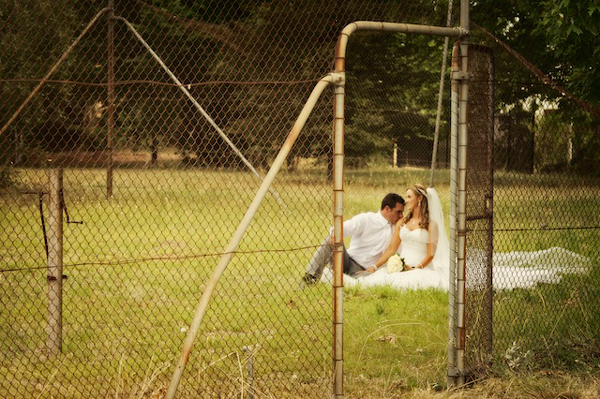 Photographer: Ben Kopilow from Fusion Photography. AMAZING! / Gown: Chantelle by Brides Desire / Cake: Made by Patrick's brothers fiancé / Hair: My beautiful friend Jenna O'Donnell did all of our hair. Absolute miracle worker! / Rings: Both from Michael Hill Jeweller, Belconnen / Makeup: The bridesmaids and I all did our own make up / Bridesmaids Dresses: La Belle Bridal / Groom & Groomsmen: Suits and ties from Ron Bennett, shirts from Myer / Ceremony Venue: The Chapel at Gold Creek / Reception Venue: The Tuggeranong Homestead / Transport: Chrysler 300 for bride and groom and a BMW X5 for bridesmaids / Celebrant: AFP Chaplain Gayl Mills / Flowers & Boutonnieres: Embassy Florist, Civic. I made the bridesmaids bouquets myself with fake foam roses / Bonbonniere: Gold foil wrapped heart shaped chocolates / Theme: Country / Entertainment: Tuchasoul duo, Steve & Rae Amosa / Honeymoon: Blue Mountains for twon nights without the kids. We'll go on a bigger honeymoon on our wedding anniversary.
Gusts: 85
Menu
Canapés in the gardens to begin with, which were zucchini balls, calamari, spring rolls, bruschetta and other pastries
Main: Barbeque buffet style food, tender steak, marinated chicken breast and six different gourmet salads.
Dessert: Wedding cake with cream and strawberries
Bride's Processional: Songbird – Eva Cassidy
Signing: Instrumentals
Recessional: Better Life – Keith Urban
First Dance: Better Man – James Morrison