Ashleigh & Nick: From Scotland, with love
Published 5th July 2013 in ALL Categories, Real Life Wedding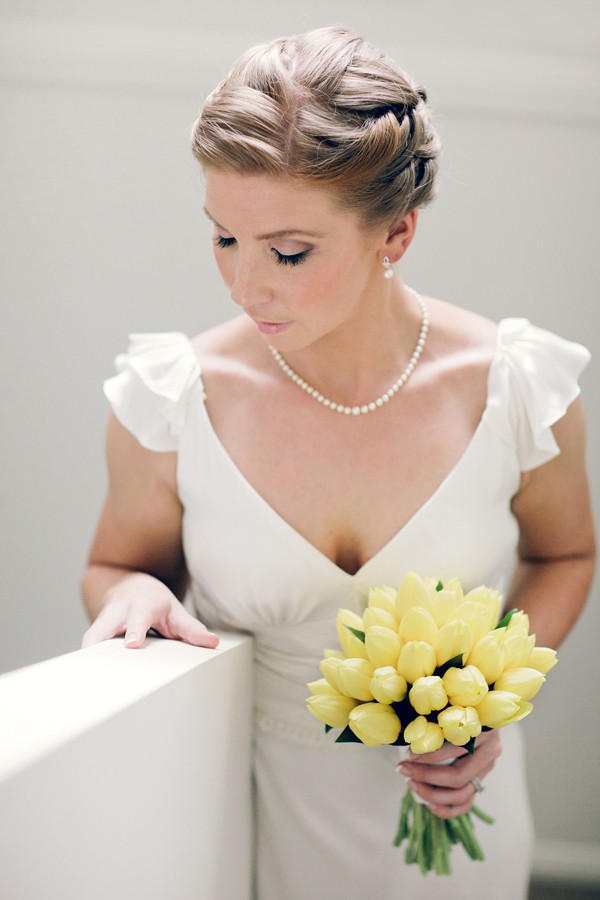 A wedding was far removed from Scottish lass Ashleigh's mind when she stopped halfway through her round-the-world trip at Hillstone St Lucia for a casual job, but it placed her in the path of Nick, and a whirlwind romance was born.
Scotland may be the home of golf, but it took Ashleigh several thousand kilometres to find the love of her life coincidentally working aside a golf course, as a chef at Hillstone St Lucia. And it all happened rather suddenly, "I fell in love pretty quickly, ditched my ticket home and have been with Nick ever since!" Ashleigh tells.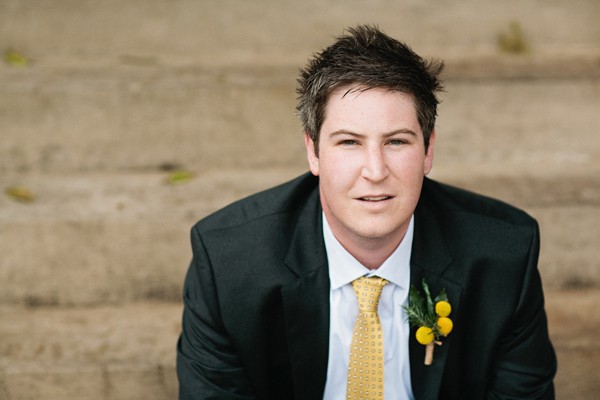 Nick proposed on December 21, 2011, the day before my parents were to arrive from Scotland for Christmas., re-creating the couple's first date, proposiing at the top of Mount Coot-tha in Brisbane.
Being quite a laid back couple, the couple took to planning with an eye on keeping things intimate and enjoyable. "The planning process was a lot of fun, and didn't take a lot of work. We knew we wanted a small wedding, and to be surrounded by our family and friends."
And the choice of location was something of a no-brainer, "We were married at Hillstone St Lucia, as this is where we met and fell in love, it held a lot of significance for us." Not only did in hold significance, but with both the bride and groom being involved in the hospitality industry for years - Nick a chef and Ashleigh with years of experience – they "wanted to make a few touches reflecting this. It was the reason we used fruit and veg as our table decorations, and the groom and the best man had rosemary and chilli as their button holes! The colours of yellow, navy and white were lovely spring colours."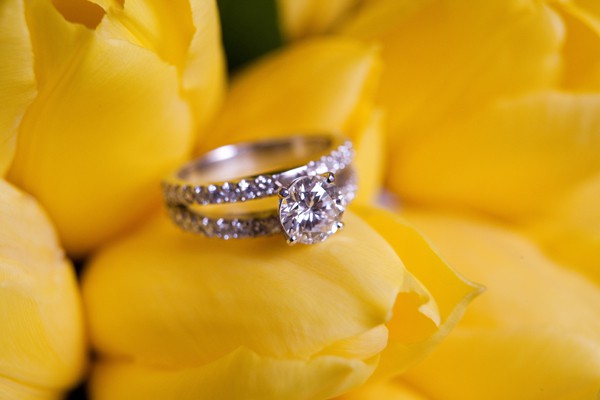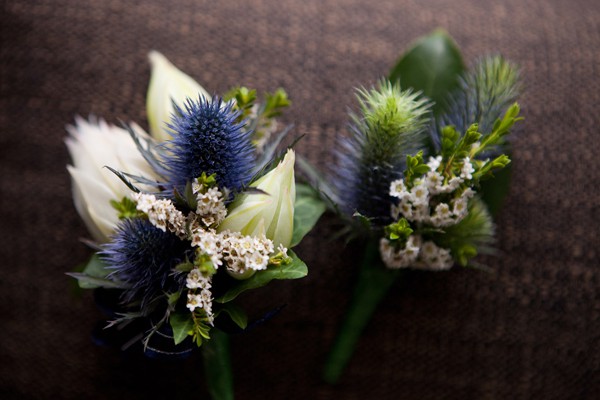 Ashleigh, a wedding day can be quite stressful for the bride – how did you cope? I had an amazing wedding day, spent with my family and best friend. It was extremely relaxing, and I could not wait to see Nick when I walked down the aisle. The only time I felt nervous was just before I walked down the aisle, the thought of everyone looking at me put me into a slight panic!
And how was the day in the end?
The wedding was wonderful; having all your favourite people in one place was the best part. It went far too quickly though, we didn't want it to end!
Did you inner Bridezilla make an appearance?
I can quite honestly say there were no Bridezilla moments for me, I loved every minute of the planning process, and the whole wedding was the best day ever!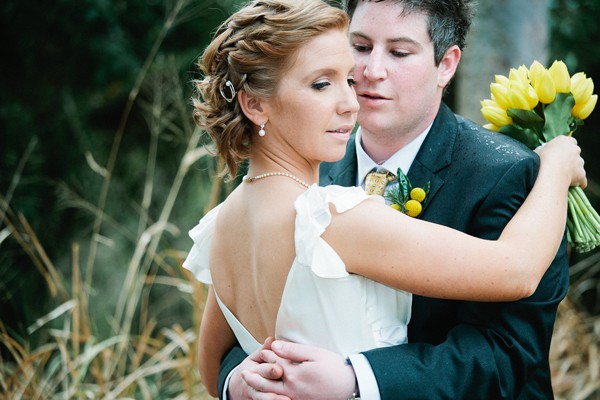 In hindsight, is there anything you would do differently?
I think the wedding reflected who Nick and I are as people and as a couple, relaxed and good fun, so I can't imagine doing anything differently.
Why is getting married important to you?
Marriage was the natural next step for Nick and I, we are madly in love, and wanted to share that with family and friends. It was the beginning of the rest of our lives. Nothing has changed for us since getting married, and we are expecting our first baby in July this year!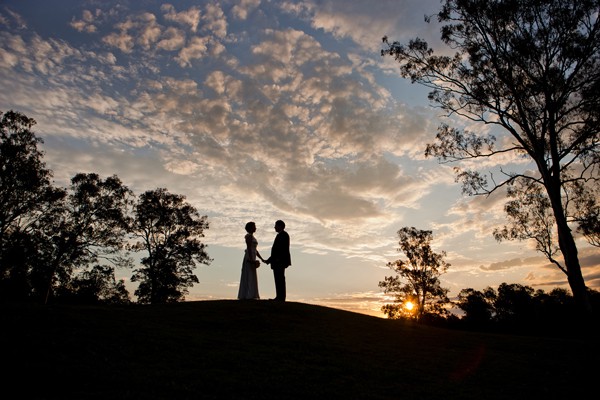 Photographer: Rebecca Williams / Gown: Karen Willis Holmes / Flowers, Boutonnieres & Cake Topper: Always Fabulous Flowers / Cake: Hillstone St Lucia / Hair: Bach Hair, Chelmer / Rings: Engagement and grooms custom made, bride wedding band Tiffany & Co / Makeup: Anita at Bach Hair Chelmer / Bridesmaids Dresses: High Street department store John Lewis, UK / Groom & Groomsmen: Hugo Boss / Ceremony Venue: Rosewood Room, Hillstone St Lucia / Reception Venue: Hundred Acre Bar, Hillstone St Lucia / Transport: BMW, Hillstone St Lucia / Celebrant: Eileen Riley / Bonbonniere: We made our own pots of jams, chutneys and marmalades / Theme: Spring & Food! / Entertainment: Our own iPod / Honeymoon: Noosa  
Number of Guests: 60
Menu
Antipasto platters include dips & emulsions, marinated vegetables,
grilled haloumi, sliced smallgoods & cured meats w/ warm bread selection & grissini
Entree
Zested ricotta & goat's cheese stuffed zucchini flowers w pink salt & fennel tips
Marinated West Australian sardines w/ fatoush salad, dried tomatoes & cucumber vinegar
Seared duck breast w/ Asian style leaves & chilli bonito vinaigrette
Main
Roasted pork loin w/ caraway seed & mango chutney
Seared tuna loin w/ citrus salad, wasabi mayo & micro salad
Roasted veal fillet w/ butter mash, baked tomato & pickled onions
Sides
Honey glazed carrots w/ toasted cumin & yoghurt
Dessert
Selection of three cheeses from our Maffra range served w/ pinot paste, cubed pear & mixed breads
White chocolate and rose water wedding cake
Wedding Music:
Bride's Processional: Somewhere Over The Rainbow - Israel Kamakawiwo'o
Recessional: Swing Life Away - Rise Against
First Dance: Baby I'm Yours - Arctic Monkeys