5 minutes with: John Boyle Entertainment
Published 20th April 2017 in 5 minutes with, ALL Categories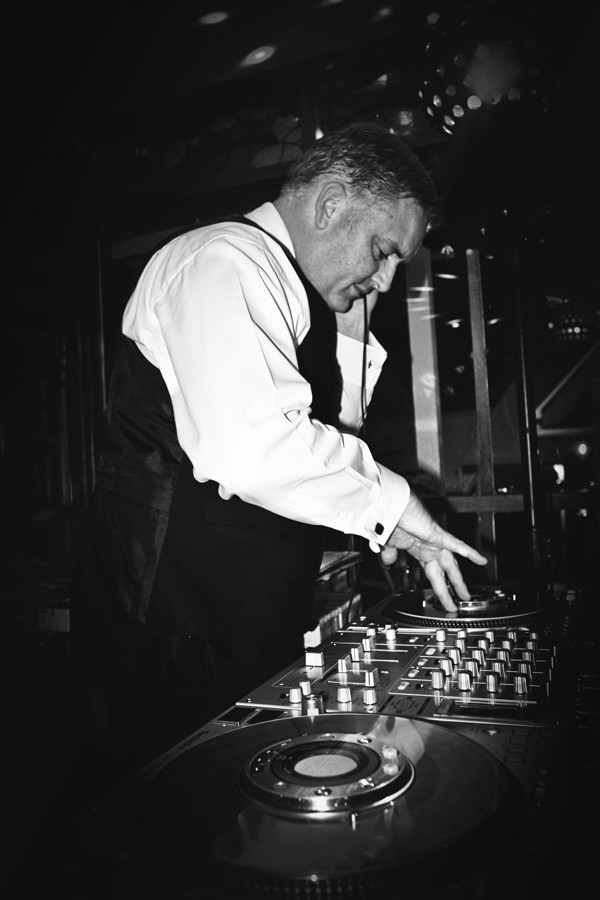 You may have spied John Boyle MCing the fashion parades at our Bridal Expos, so we sat down for an in depth chat about his career, entertaining passions, best wedding songs and his love of the industry…
How did you come to work in this profession?
Entertainment must have been in me from the beginning, I grew up in a family that laughed all the time; my father could tell a joke and keep the family amused for hours with tales and stories. My mother loves a laugh, is a huge movie fan and she taught Ballroom Dancing when she was young, so I grew up with jokes, musicals and dancing. They tell me when I was two years old I jumped on stage, grabbed a mic and sang along with the band at my grandfather's work's Christmas party. As a young boy, I would connect up a tape deck (remember those) and a portable record player (remember those too) to a speaker each and blend the songs into each other when my sisters had a party. When I was 15, I started doing the dances at my high school, rigging the lighting in the hall and after school once a week, a group of us would meet at a local community radio station and do a radio show which we produced, wrote and presented. After high school, I kept doing the occasional job and it built from there. Then in the late '80s when records were fading out and CDs were coming in I stopped the DJ side and concentrated on my presentation skills and focused on being an MC. Then in the late '90s I had a lot of people asking for me to start up the DJ side again, so I did and I'm still going today. And loving it!
What do you see as the most challenging aspect to your role as a wedding entertainer?
One challenge is that you can have up to four generations of family and friends in the same room at a wedding reception, all with different tastes and expectations in music so you are constantly choosing and reviewing the mix of music to please all.
As an MC, the challenge is to keep the night flowing and work in with the timing the venue requires, but without rushing the proceedings all fitting with the style of presentation the bride and groom have requested (plus rounding up a bridal party can be fun too – like herding cats sometimes).
In amongst all the fun on the night I always remember that I am not the show, they didn't come to see me perform, they came to celebrate a Marriage so I do all I can to help make it memorable and compliment the night, not be the focus. You sometimes get out there and help the crowd along, but I always remember to interact as required and keep the focus on the people whose day it is.
For those of us that have experienced your style at the Your Local Wedding Guide Expos, how does your reception party style differ?
Not a lot, pretty much what you see is what you get. People who book me do so because I have a fun, light-hearted approach; I can be frightfully serious if required, but most clients want me to perform in a relaxed style. I have always enjoyed helping a room full of people have fun, but it is all done with a plan and objective, as I prepare and plan for a Bridal Expo, the same attention to detail goes into a Wedding Reception. I meet all of my brides and grooms before the job (even the ones from overseas get a meeting as soon as they can) and we go through all details, then with this plan I can add a little bit of fun, a little bit of emotion, a little bit of ad-lib and a lot of what is required.
We've all seen the Wedding Singer; do you feel there is a sort-of stigma attached to wedding entertainment?
That was a great movie, it's set in 1985 – the year I met my wife. I could relate to it so much, the music, the fashion, the hair! There can be a stigma to being a 'DJ', it can sometimes come with a preconceived idea of a hat on backwards thumping out music and doing your own thing. Experienced specialists in the wedding industry are far from that. I try to surprise and delight my audience and deliver an enjoyable and fun night. I have done many jobs where the staff at a venue have told me that I was different to other DJs they have had in, they tell me that every weekend they can almost guess what the next song will be and I was refreshingly different. I like that. I have always tried to make my nights different and not fall into the 'same old same old' category. It doesn't have to be 'as usual', it should be as individual as the bride and groom are and reflect them.
In the growing face of iPod playlists at weddings, what does an entertainer bring to a wedding that a small, shiny electronic device does not?
Technology has made huge advancements in this industry and music is so much easier to get. On the internet is a range of music that no music shop could ever carry under one roof, and you can store thousands and thousands of these songs in the palm of your hand. iPods and their like are great, but they lack spontaneity, they can't plan or make decisions. An entertainer controlling the music selection and volume, controlling the mood can work with the moment and adjust to suit what is happening at the reception. Prepared playlists before the event can sometimes not work on the night as there are many people, many different likes and dislikes in the room and there is a skill to choosing and adjusting to suit the moment. Plus an iPod is usually plugged into the house system at the venue and a lot of these systems are okay for voice but can leave you wanting when you play music through them. I bring a good sound system that can do the music right and when the party starts the sound is focused on the dance floor so that the rest of the room is quieter for those who want to catch up. The DIY approach is good but an experienced, professional entertainer can do it better, brides and grooms just have to decide the level they want – okay, good, great or fantastic. An experienced and professional entertainer can help achieve fantastic.
Tell us about the lighting you use…
Lighting at a wedding is usually requested to be classy. I have lots of lights and I can create a real nightclub feel to a room- its great for parties but lighting at a wedding reception should compliment the mood of the room. So much effort is made into making the room look great – the tables, the chairs, the venue's mood lighting; so I do a classy and subtle light effect during the bridal dance and then enough colour and movement to create a party atmosphere but not go over the top. I have had the request to pull out all lights and light the floor up but most of the time a classy look is requested. Ultimately I will do what my bride and groom want – it's their party.
Is there a most extraordinary/unique union you've been involved with? If so, please tell us a bit about it…
This is going to sound like I'm doing the safe answer, but all of my jobs have been memorable for me. I have had a wide range of experiences from the very emotional to the very funny and all have been great. From my point of view; I get to be involved with a very special occasion, the happy couple are surrounded by their family and friends celebrating a very special moment in their lives… and I'm there experiencing it as well. I normally come home from a job on such a high that I can't get to sleep straight away; I really enjoy what I do and I have enjoyed everything I have done.
What is the highlight of your job?
Being a part of a very special day and knowing that I am helping make it more special and memorable, from music selection to the speech's agenda, I get involved and do all I can to help. I am aware that my bride and groom had a choice and they chose me, it is a compliment. I remember that my wedding day was only slightly overshadowed by the days my kids were born so I know how important this one-off day is and all the planning and preparation that goes in to ensuring it is right. I am so lucky that I do a job for one couple and then the sister or brother or cousin or friend contact me to do theirs, and then I get the chance to catch up with the family and friends again.
I have looked after many functions over the years for people in the wedding industry as well and that's a great compliment as they get to see many DJs and MCs and they ask me to look after the special day for them or their family.
It's a perilous question for most entertainers and DJs, but how do you deal with the drunken requests from guests?
Smile and nod, all the time checking that the request is in the parameters my bride and groom have requested and if it is, no problem. Normally at a wedding, the "happy" requests usually come from the bridesmaids – the girls who have been good and well mannered all day and when they get to the reception it's time to kick off the shoes and celebrate – combine bubbles and beat. The best way to gauge is when the aunties start asking for ABBA or the Nutbush, I know the alcohol has reached a certain level, when the groom starts asking for Kylie that's when they've had enough.
Any parting words for couples-to-be?
You want to enjoy your day; it's your party and you have it your way, make sure you surround yourself with suppliers who you trust to do the job the way you want it so you can enjoy the day as well. Remember it is one day, there is no dress rehearsal, you can't come back and 'do it all again' so please ensure that you have total confidence in everyone contributing to your day. With the music, have an idea of how you would like the mood to go and make a list of your favourite songs and artists. Plus pick a bridal dance that you feel comfortable with not what you think is expected.
Also go to the bridal expos and open days, meet all the different suppliers and talk to them, you're doing one wedding and these people have done many so go talk to them and pick up new ideas. Planning before means an enjoyable day for you.
Please tell us your Top 10 songs to play at wedding receptions...
Classic Cuddly songs:
1. Can't Help Falling In Love – Elvis Presley (it was my Bridal Dance song and it's true I couldn't help falling love with her)
2. The Way You Look Tonight - any version – Tony Bennet, Frank Sinatra, Michael Bublé, Maroon 5
3. Have I Told You Lately – Van Morrison
4. Beautiful In My Eyes – Joshua Kadison (gorgeous lyrics)
5. At Last – Etta James
6. True – Spandau Ballet (I am an '80s person)
7. Melody – Righteous Brothers (classic – appeals to all ages)
8. Wonderful Tonight – Eric Clapton
9. Butterfly Kisses – Bob Carlisle (for the Dads and their Daughters)
10. A Thousand Years – Vanessa Carlton
Classic Party songs:
1. The Way You Make Me Feel – Michael Jackson
2. Love Shack – B52s
3. Knock On Wood – Ami Stewart
4. Old Time Rock And Roll" – Bob Seger
5. Brown Eyed Girl – Van Morrison
6. Stayin' Alive – Bee Gees
7. This Is How We Do It – Montel Jordan
8. Sweet Home Alabama – Lynard Skynard
9. I Gotta Feeling – Black Eyed Peas
10. Rock Around The Clock – Bill Hailey
These are more the "Classics", there is new music every week and I keep up to date and make sure that if a ripper hits the charts I add it to the play list.
In parting...
I have had a lot of fun answering these questions and it has given me another moment to reflect on how lucky I have been; I have watched this industry change and evolve with technology and different demands. I started with records - 7 inch singles and albums, then came the 12 inch singles, then the digital age of CDs followed by iPods and Laptops and aspects have been made easier, smaller, quicker. But in amongst all these advancements the creativity to choose the music, work the room, create the atmosphere still relies on an Entertainer to put it all together and create a memorable event. It's a bit like the car industry, our cars have seen wonderful improvements; they are more comfortable with improved features but you still need a driver to steer the car and get you there.
I am very fortunate that I still have brides and grooms who have the confidence and trust to ask me to 'drive' their wedding reception where they want it to go.