WEDDING 101: Choosing your celebrant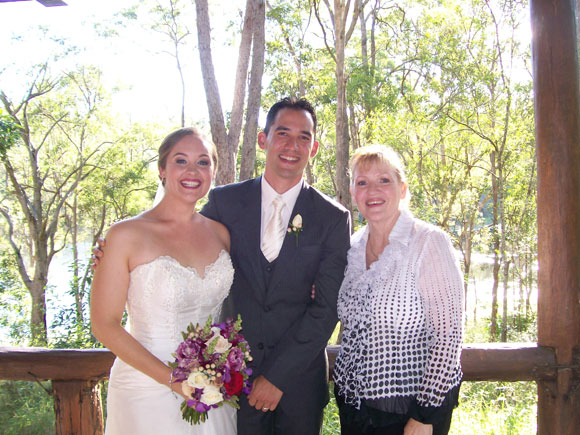 Planning a garden, park or beach wedding? How do you go about finding a civil celebrant? It's an important decision to make, as choosing the right marriage celebrant will make your day a memorable one.
To help you make your decision we enlisted the help of a respected industry expert, Civil Marriage Celebrant Shona Andersen.
Ask lots of questions! There are ceremony legalities and the personal touches to consider. So make sure you are getting all the information you need to make your choice. I would definitely recommend you make a phone call and set up an initial consultation in person with you and your groom to ask the following questions, as it's so important to find the right celebrant for you.
• Are you available on my wedding date and my rehearsal date?
• Do you/will you have any other weddings booked in for that day and how will they be scheduled?
• What official licenses/qualifications do you hold?
• How many weddings have you performed?
• Are your ceremonies written for each individual couple, or do you have pre-written ceremonies that you can personalise for us? Or do you have standard ceremonies that we can choose from and use as is? (alter according to your preference)
• Do you have samples of your ceremonies and vows we can read over?
• Can we alter the ceremony proceedings to include our own words or exclude certain parts of your scripts?
• Can we include our own poems/vows/music? Do you have any restrictions on these?
• Will you come to our desired ceremony location?
• Will you keep track of when we need to submit the necessary documentation?
• What is your fee for the kind of ceremony we want? What are the inclusions/exclusions? Does this include the cost of the rehearsal?
• Do you hold Public Liability and Personal Indemnity insurances?
• Does your fee include the hire of a PA system so our guests can hear the ceremony?
• If for any unforeseeable reason you are unable to perform our ceremony, are you able to provide us with/help us organise an alternative celebrant?

You have made your decision, what next?

Your Celebrant will provide you with some samples and suggestions to guide you along in your ceremony choices and maybe even a questionnaire (see, more questions) your answers will assist your Celebrant to design your ceremony exactly as you want it to be. Experienced Celebrants will have an extensive list of Rituals like "The blessing of the hands" "Unity ceremony" to add to your service if you wish.

If you could share one piece of advice, what would it be?

You, as a couple, really need to click with your celebrant. After your initial consultation, if you found you really clicked, lock them in immediately. If you're not convinced, book a consultation with another celebrant, repeat if necessary, until you find someone you and your fiancé are both happy with. Choose an experienced, enthusiastic and engaging celebrant wisely and enjoy the process, but remember...... Quality seldom comes cheaply!