5 minutes with: Starship Sydney & The Pontoon
A wedding on Sydney Harbour offers a day you'll never forget – and Sydney Harbour Weddings have created a uniquely beautiful way to celebrate your wedding and gorgeous reception with Starship Sydney & The Pontoon.

Tying the knot surrounded by iconic Sydney vistas, bobbing effortlessly in the harbour while you enjoy your first dance surrounded by family and friends, spying through the spectacular floor-to-ceiling glass at the 360-degree views… sound appealing?

Last year Sydney Harbour Weddings: Starship Sydney & The Pontoon was featured on Don't Tell the Bride. With the hubbub this brought, we spoke with their Wedding Manager, Rebecca Barry.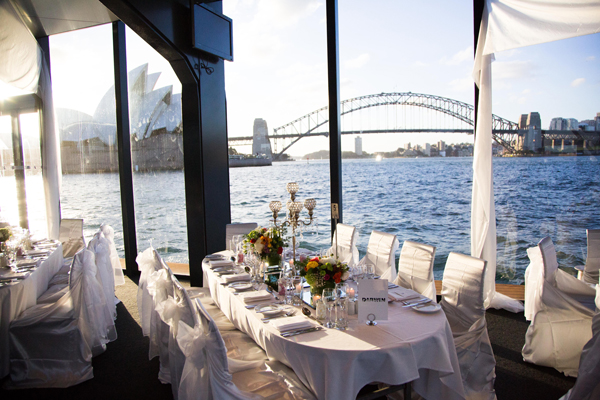 What sets Starship Sydney & The Pontoon apart for a wedding reception venue?
Starship Sydney & The Pontoon are Sydney Harbour's premium wedding venues. Both boats are surrounded by floor-to-ceiling glass and have a sleek and modern interior. The company has an exceptional reputation for providing five-star service, outstanding menus and an incredible atmosphere for our client's wedding days.
Do you have any exceptionally memorable ceremonies/receptions?
Every couple is unique and we encourage clients to add their own personal flair to their wedding day. While we have had lots of memorable weddings on board our boat, a stand out to me would be the wedding of Jessica and Raphael back in January.
Jess is Australian and Raph is Brazilian and they incorporated traditions from both of their heritages in the wedding making it extra special. My favourite part was their travel stories: they had travelled the world together and had special memories of their travels written on paper scrolls on each table for everyone to read. Every single detail of the wedding was planned perfectly and reflected Jess and Raph's personalities to a T!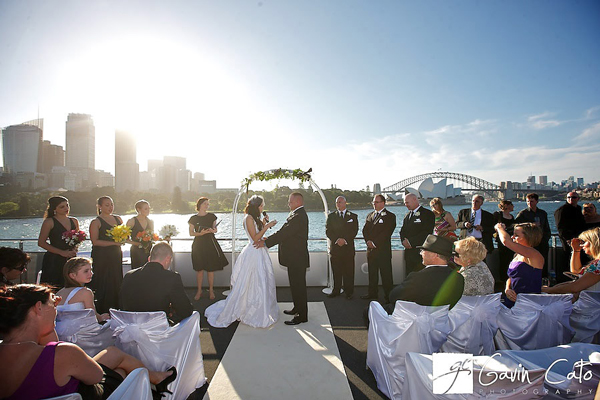 Do you have any key advice for brides (and grooms) who are planning their wedding?
Weddings are an extremely stressful time and can bring the worst out in even the strongest couples. We always try to remind our couples that while the little details of the wedding day (such a place cards, sash colours etc) are important, don't ever forget the real reason that you are planning this day: to celebrate your love for each other!

How far in advance must one book to secure Starship Sydney & The Pontoon for their wedding?
It depends on what time of year you would like to book, but usually bookings are best to be made at least 12 months in advance. If looking at any of the prime months of the year or long weekends then I would advise booking at least 18 months in advance.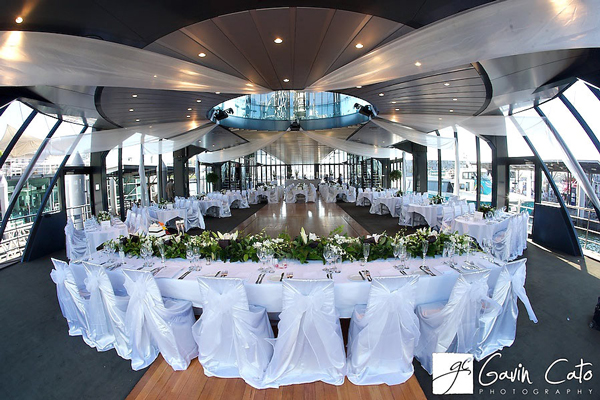 What has been the most popular song played at weddings so far this year?
For the ceremonies there has been a lot of Michael Buble played this year and a beautiful song called Feels Like Home by Chantal Kreviazuk. For grand entry songs when walking into the reception, I Gotta Feeling by the Black Eyed Peas would have to be the most popular song. It's a few years old now, but it always gets everyone up and dancing!
Any parting words of wisdom?
Think outside the square! The wedding you want may not be what is custom or traditional to your family and friends, but your own personal touches and quirks are what's going to make your day stand out and be a wedding that they will always remember. The more points of difference you can add to your wedding, the better.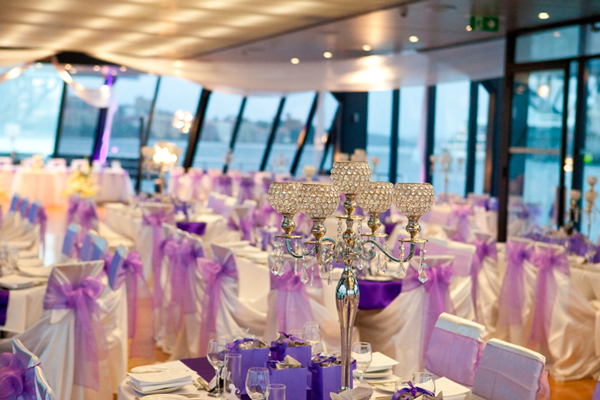 What are your Top 5 things for brides and grooms to avoid when planning their special day?
1. Avoid over-thinking!
As couples generally have at least six months to plan their weddings, sometimes they over-think their ideas and plans and usually cause themselves more stress than is necessary. Just stick with your first idea and follow your instincts.
2. Avoid getting caught up in the drama
Remember that this is your wedding day and you should do things as you want to do them. While the input of parents and friends is often helpful, they can also be confusing and a bit of a headache. Do what you want for your special day as it is only going to come around once and you don't want to have any regrets.
3. Avoid rushing into any major decisions, such as the choice of your photographer, videographer, etc.
While it is important that you book these professionals as early as possible, make sure you do your research and find the supplier that best reflects what you both want. There are thousands of wedding suppliers in Sydney and each one can offer you something unique. Particularly with photography and videography – make sure that the style of the photographer reflects the style that you would like and are comfortable with. At the end of the day, once the wedding is all over and done with, it will be the photos and videos that will be keeping your memories forever – so you want them to be perfect!
4. Avoid purchasing items for the wedding too early
95% of the time my clients will start with an idea of how they would like their wedding themed/decorated and that idea will completely change by the time the wedding comes around a year later. With so many websites with ideas, social media sites like Pinterest and bridal magazines [and expos!] around these days it is almost impossible to stick to one idea and not see something you like even more when you're doing your research. Avoid buying items too early on in the planning process out of excitement because most of the time you will end up not even using them and may be a perfectly good waste of money that could have gone towards that perfect dress or wedding cake!
5. Avoid being overly particular with timings for the wedding day
While it is important to have a schedule so everyone knows where they need to be at certain times, it is not essential to have a minute-by-minute schedule planned. Doing this will only set yourselves and your bridal party up for failure and stress on the day.
Listen to your professional suppliers as they have generally planned hundreds of weddings and can best advise you on what times are required for each element of your wedding and can come up with an excellent itinerary which is realistic to stick to. Your suppliers are here to help you, so let them take away some of the stress of the wedding day by planning your itinerary for you.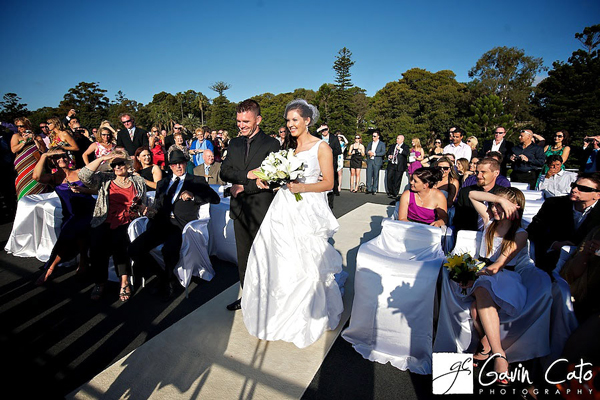 What are your Top 5 trend-tips for weddings?
1. Cheese Wedding Cakes
2. Personal Wedding Websites
Created by the bride and groom to provide guests with information about the ceremony and reception venues, travel and hotel information, after party information, gift information etc. They are fantastic!
3. Vintage Décor
Lots of whites, creams, ivory and beige all mixed together with lace, flowers and loads of candles! Add a few mason jars with candles or flowers inside and it tops everything off perfectly!
4. 'Save The Date' Wedding Videos
A great, personal touch which will get your guests excited for the wedding months and months in advance. You can make this all about the two of you, how you met and your lives together so far.
5. Personalised Wedding Vows
While this isn't a new trend, more and more couples have started writing their own wedding vows with comical, personal jokes and it makes wedding ceremonies memorable and a lot of fun for the couples, families and friends.