Sequins and sparkle - metallic bridesmaid dresses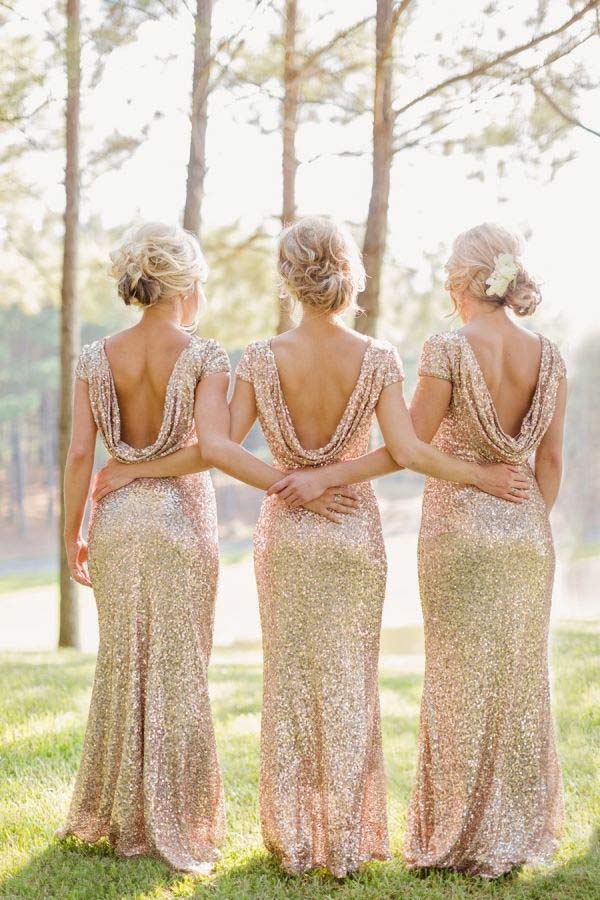 There's nothing like sequins to say modern glamour! Fabulous matte metallics and chic structured dresses are the perfect picks for a bridal party with modern day style. Sheath dresses dripping in sequins or deconstructed lace gowns will add some serious romance to a simple silhouette.
From rose gold to blush, copper, champagne and silver, this look will complement any chosen wedding colour palette or season.


STYLE TIPS

Silver hues look great on paler skin tones, while those with darker or more olive skin will look fabulous in gold, pewter or copper dresses.
If you're worried that your girls will look more like a disco ball than a bridesmaid, pair them with neutral shoes, white blooms and minimal jewellery. Mixing the super glamorous with the crisp is so chic!
When it comes to bridal party beauty, keep it classy and soft. Add big hair, bigger nails and too much make-up and it will clash with your metallic gowns.
Bring the metallic look into the modern day, with clean lines and figure-hugging silhouettes, anything too fussy might look a little 80s.
Metallics are perfect for both summer and winter weddings, pair with darker shades like burgundy blooms and high candelabras for a dramatic look, or wear light fabrics, Grecian accessories and sporadic sequins for a soft summer vibe.
If you're not sure whether to go with silver or gold, opt for rose gold gowns which look utterly romantic and works with almost any skin tone.
Sheer fabrics go beautifully with beading or sequins, blend the light with the heavy for a gorgeously balanced look.
If you're afraid of going all-out metallic, opt for some gold lace or sequin detailing on the dress to allude to the trend without diving in head first.
Likewise, matte metallics are a chic way to ease you into the look without too much sparkle.
Colour pairing: silvers look beautiful with whites, blues and greys, while gold is a little more versatile and goes great with punchy reds and pinks, elegant blacks, or romantic blush hues and neutrals.

OUR FAVOURITE LOOK (cover photo)

Bring all the glitz and glamour of Old Hollywood to your special day with this classically elegant fitted sequin gown, featuring a sophisticated cowl back drape. Available at A Formal Affair