Sherri & Daniel: Gold Coast Engagement Shoot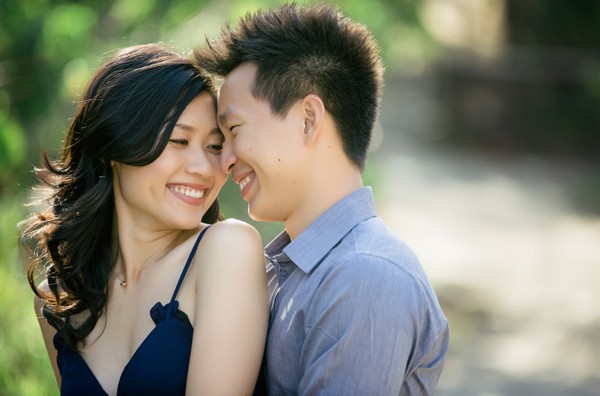 Daniel proposed to Sherri atop the Swiss Alps, midway through a wee snow blizzard he got down on one knee. "Sherri hates anything tacky or over-the-top… Getting down on one knee was always going to be the way I would propose, I just wanted to do it at an awe-inspiring location." We think he found it!

Now living in Sydney, Daniel and Sherri "wanted a rustic and relaxed feel for our engagement shoot, so with Krista from TWK Studio's suggestion, we choose The Spit on the Gold Coast. It was a beautiful little spot that had so many looks to it! It felt very special and is now a memorable spot for us."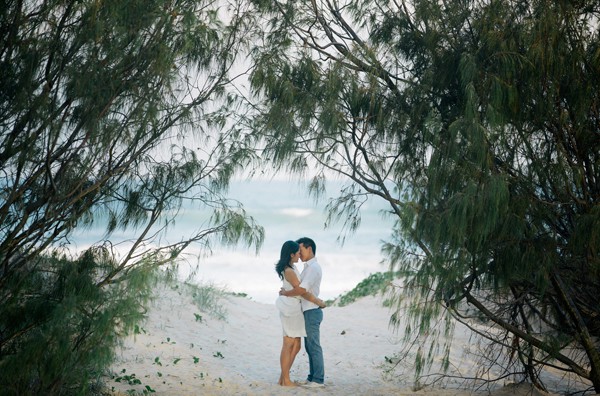 Sherri met Daniel on her first day of Uni,"it was our engineering orientation day and a mutual friend introduced us because we were both Taiwanese, and we've been friends ever since." Eight years, a couple of degree and a planned holiday later, Sherri was surprised when Daniel proposed atop Mt Rigi… even though she'd already made the startling discovery….
"I initially didn't suspect a proposal before our Europe trip (it was a trip we wanted to go on since our Uni days). But when we reached our first hotel in our first city – Paris - I found THE BOX! I was unpacking Daniel's scrunched up clothes in his day-pack and I was hanging them up for him. That's when I accidently found a hard box wrapped up in socks. I was shocked and panicked, so I threw everything back in the bag as if nothing happened. I didn't want to ruin Daniel's proposal plan and I was curious how he planned it. So I waited and waited and started guessing which city he would propose in when we traveled around Europe. It was funny that a few weeks into our trip I actually forgot about it and got surprised when it happened!"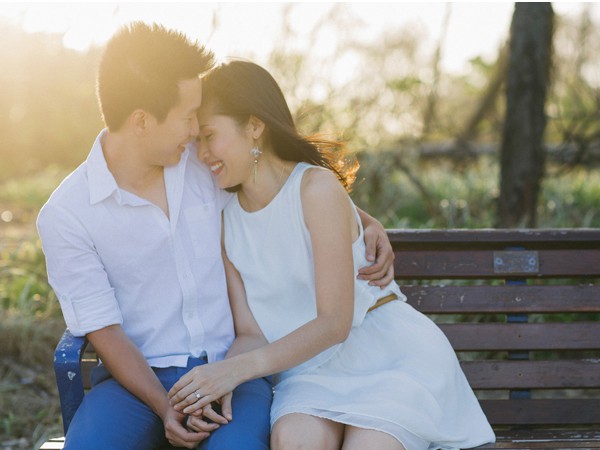 And what was Sherri's reaction?
"When Daniel proposed, I became very emotional and started crying with joy. I certainly was surprised and had no idea that that would be the day! It was the perfect setting and a beautiful surprise!"
Daniel found it rather easy to keep the secret from his beloved ("until she looked in my bag of course") but difficult to hold it in when among friends… "Sometimes it was hard not to tell my friends… you just feel the urge to blurt it out to everyone! In the end, everyone in my project team at work knew, most of the guys I do judo with knew, my family knew, plus about 10 or so close friends… so almost anyone I really came across!"
But he knew it was the right time, "Sherri just finished her Chemical Engineering PhD and that was a huge weight off her shoulders. We had been together over seven years at that stage, and were looking at the next stage of our lives – wanting to move to and explore another city, start new careers, and plan out the rest of our lives. It was the perfect time!"

But not everything went according to plan…
"The plan was to go to the top of Mt Pilatus (which was 30 minutes away rather than two hours away!) and propose in a private cable car when we were halfway to the top with a nice view. I had a bottle of cranberry juice (Sherri doesn't drink and used to always order this at bars), and two champagne glasses wrapped up in a jumper in my bag. Unfortunately Mt Pilatus was closed due to extreme weather and we had to go to Mt Rigi, where there were no cable cars to the top! We ended up on a train filled with people, so I waited until we got out of a train and dragged her somewhere isolated from others and popped the question."
But Daniel is pragmatic about the whole situation.
"Life doesn't always go to plan, and it's always good to be able to think on your feet. Things didn't go the way I had expected on the day, but in the end I still proposed in a way that I knew she'd be happy with (despite the blizzard!) and, in the end, I'm engaged to the girl of my dreams so no, I wouldn't change anything!"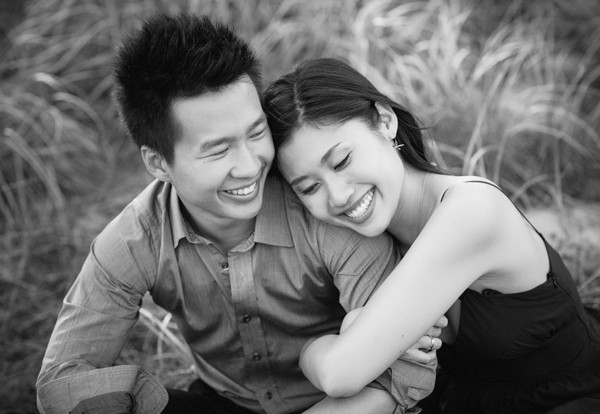 And when it came time to tell the world the couple kept it family first. "It was difficult to keep it to ourselves. We were very tempted to post it on Facebook straight away but we thought our family should be the first to know. So we waited until we got back to Brisbane to ring family and close friends. We ended up not updating our Facebook "relationship status" until Valentine's Day 2013! All of our important friends already knew though."
Enjoy more beautiful images from TWK Studio's engagement shoot at The Spit, on the Gold Coast, below...