RLW Marina & Grant
Categories: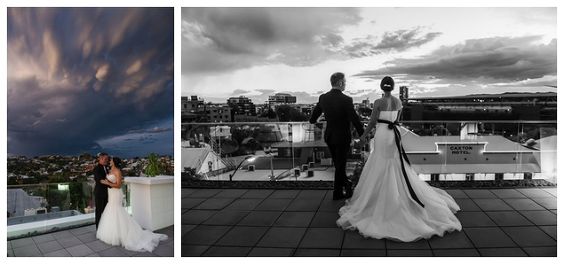 It's your wedding day and mother nature hasn't received her invitation. Rain may be many brides biggest fear, but with photos like Marina and Grant's, you learn that a few storm clouds isn't that bad!

Thank you to guest blogger Wendy Maley from Wendy Maley Photography.

"Marina and Grant made the trip down from Townsville to be married in a Brisbane city wedding in the presence of their family and friends. Both are involved in the armed forces, so it was only fitting that they marry in the chapel at Enoggera's Gallipoli barracks. The day was a classy affair from start to finish, with black, white and silver the theme in true city style. Black suits, long flowing gowns and veils, silver accents. Gorgeous. My favourite thing of course was Marina's striking blue shoes, because, well, why not? LOVE them!

Gambaro hotel was a perfect setting for Marina and Grant's reception, overlooking Caxton Street and with the perfect Italian style food to match Marina's heritage. Main Event Weddings did a wonderful job styling the venue, also providing the flowers on the day and ensuring it all went smoothly, which it did, until mother nature stepped in.


The heavens opened just as we arrived at Roma St Parklands (our planned location for photos), so some quick thinking ensued, and across the river we went to GOMA and the State Library. Good call! It was perfect. I just loved the real city wedding feel it gave to Marina and Grant's photos, and the sun even made an appearance just as we were finishing! Sorry (not sorry) I made you get in the garden guys, but the photos are gorgeous! We had a blast, but the rooftop at Gambaro's was the best part. After sunset, in fading light, we went up to the terrace and took some photos of some of the most amazing skies I have seen on the job. Needless to say, it was worth it."

Many brides think rain will ruin their wedding day and photos, when in fact rain is actually kind of beautiful. It leaves everything fresh and green, and the colours are deeper and more vibrant. Oh and the puddles! Puddles are not only fun, but make for some very creative photos. If you're a pretty easy going couple, grab some umbrellas and get out amongst it. We photographers will do just about anything to get that perfect shot, and I have seen and done it many times: lying in wet grass; crawling through long grass; having my boots filled full of seawater (didn't see that wave coming); climbing everything. We simply love our jobs, and want you to have the best day possible, so a little rain? That won't stop us. In fact, I have been super excited more than once to capture some amazing rain shots. Some of the most beautiful shots I've ever seen have been in the rain. So don't stress. Just be sure to listen to your photographer, we know how to get the goods.

TIP: Rainy days call for some creative prop usage. Umbrellas come in all different shapes, patterns and sizes, so you can get some fantastic photos with them if you're organised. I personally own a bunch of umbrellas from the classic clear and black to rainbow and polka dots. Buy yourself a cool umbrella just in case. Worst case scenario, it's a gorgeous sunny day and you have a brand new umbrella for the next time it rains. Gumboots are also fabulous. Ditto for buying a pair for back-up reasons, especially for rural and semi-rural weddings.

Love her work? Meet Wendy at the Gold Coast Bridal Expo.