Jessica & Anthony: Stormy weather and a silver lining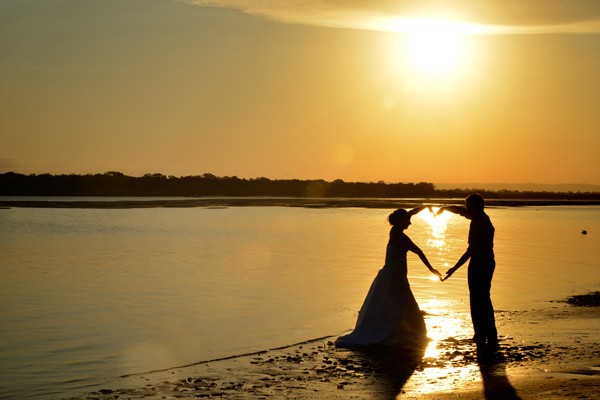 Jessica met Anthony in a conventional small town way, spotting each other at the local shopping centre. However this relatively simple meeting lead to a very memorable proposal.

"Anthony's proposal is a day I will never forget. It was September 10, 2011. I'd just gotten back from a Europe holiday (organised before be we met) and he took me for a romantic getaway to the Gold Coast. We checked in that afternoon to the Crown Plaza and a limousine picked us up, I wasn't 100% sure at the time if it was for us as a wedding was taking place at the hotel. It took us down to the marina where Anthony had organised a helicopter ride over the Gold Coast; I was scared but excited the whole time. Anthony also organised a Gondola to take us around the Marina, they had roses, chocolates, champagne and a beautiful two course dinner for us. Anthony asked me just after dinner. I remember crying because I was so happy. Anthony says his only regret is that he couldn't get down on one knee as the table was so close to our seat which was fixed to the floor."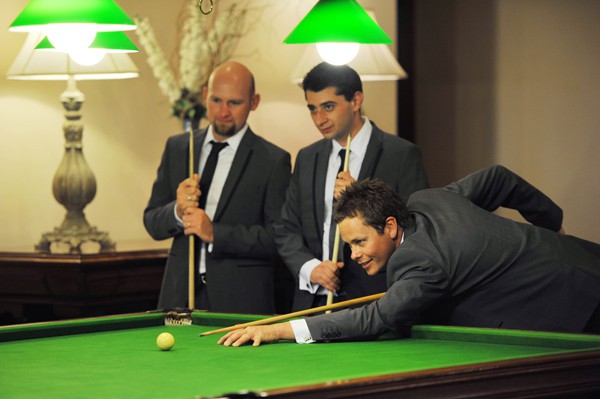 Cue wedding the wedding planning!
"We were very lucky with our planning, we went to the Brisbane Bridal Expo- due to missing the Sunshine Coast Expo and met Peter from Topiaries BeaumontHouse, Stanford. We were invited to their open day and everything fell in place from there."
The venue was an inspiration to both Jessica and Anthony, and after the groom-to-be "fell in love with one of Sheila Sissions photos taken of a 100-year-old fig tree at Topiaries Beaumont House" their venue and photographer were sorted rather swiftly.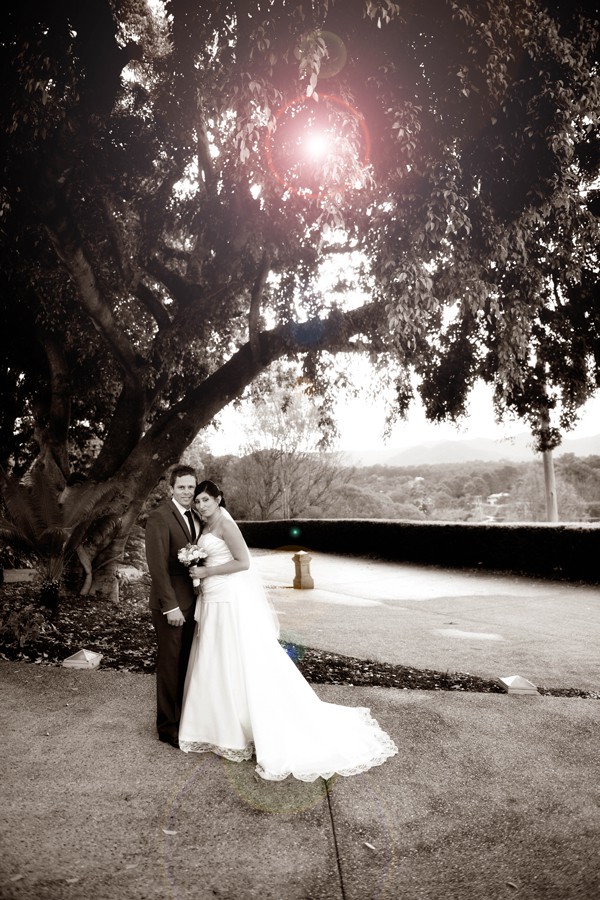 One key factor Jessica considered was the role of the weather, and her desire for a wet weather plan turned out to be a fortuitous one.
"We only wanted a venue where the wet weather backup was different to the reception venue. It wasn't easy to find on the Sunshine Coast which his why we went to the Brisbane wedding expo. Topiaries offered both, it stormed on our wedding day so we changed from the garden to the undercover area, lucky it stopped raining when I had to talk to the area!"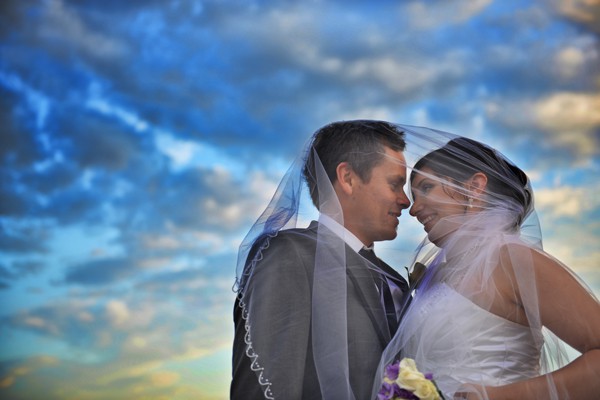 The wedding day can be quite stressful for the bride – was yours?
"I can be a very stressed out person, however knowing we had a wet weather backup calmed my nerves, everything on the day turned out to be stress free with big help from our wonderful photographer, makeup artist and celebrant."
How did your wedding day go?
"Our wedding was the most special day, yes it rained but this also meant our photos turned out really nice. We got a rainbow and it made the day a lot cooler for everyone in their suits. The day flowed by and I remember seeing my husband outside during the night, I went to join him and he said to me he enjoyed watching everyone, it gave us another perspective on our wedding day."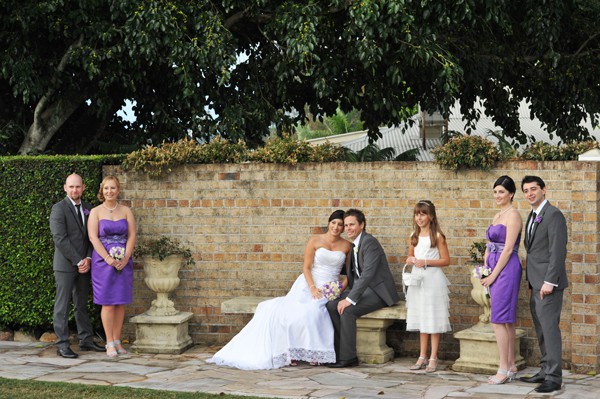 There is sure to be many, but what is the one memory you'll cherish forever?
Seeing our little niece tear up, hug her uncle (Anthony) after the ceremony and him whispering in her ear "its ok, I'll still buy you things".
Why is being married important to you?


I think it shows true commitment to each other and I would like our children to know we loved each other enough to plan our lives together forever.

Best advice for other brides?

Enjoy the day, it goes by so fast.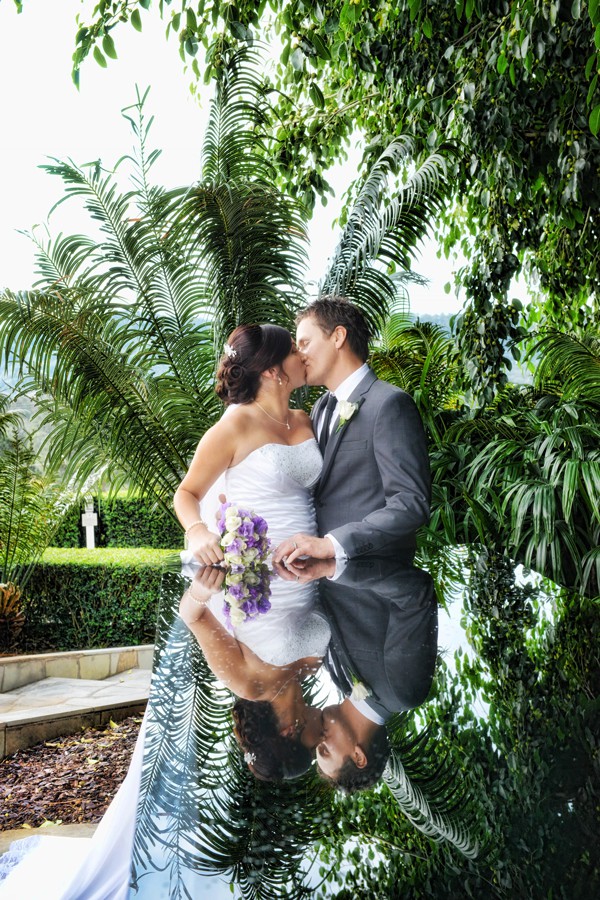 Guests: 42

Photographer: Sheila Sission Photography / Gown: Range Bridal / Flowers: The Lush Lily / Cake: Luscious Cupcakes / Hair & Makeup: Marie-Lusia Steer / Rings:Michael Hill Jewelers / Bridesmaids Dresses: Range Bridal / Groom & Groomsmen: Roger David / Ceremony Venue: Topiaries Beaumont House / Transport: onsite / Celebrant: Tracey Francis / Honeymoon: The Whitsundays / Anything we've forgotten…. We couldn't have managed without our friends and family who not only contributed but made our day such a special memory.