Planning 101 - Registry Weddings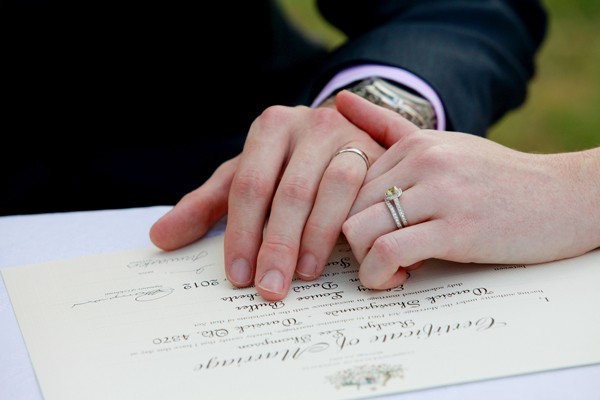 Keen to get married in a fuss-free and intimate style? Perhaps a Registry Wedding is for you. Available in most all states and territories (sans Tasmania and ACT) we outline the basics, state-by-state.
To get married in any Australian state or territory you need to be of age and lodge Notice of Intended Marriage Form with your local Registry Office or the celebrant officiating your ceremony, at least one month and one day before the date of your wedding. The fees associated with lodging your NOIM form vary from state to state, with the cost ranging from $70-140. Registry Weddings are available in every state except Tasmania and the ACT. Below are the details for registry weddings around Australia, if you're looking at a regional wedding, many local Courthouses can also conduct a Registry marriage upon request, though you're best to contact your local courthouse for more information.

New South Wales
There are Registry Offices in Chippendale (Sydney), Parramatta, Newcastle and Wollongong. In Sydney and Parramatta marriages are held on Friday evening, all day Saturday and most Sundays. Each venue has a dedicated wedding room, although the sizes do vary so check the website below for full details.
Local Courthouses throughout the rest of the state can also conduct a Registry marriage upon request. Contact your local courthouse for more information.
Ceremony costs in NSW do not include a marriage certificate, but they do include the lodgement fee of your Notice of Intended Marriage form. Monday to Friday wedding ceremonies cost $350, Friday to Sunday & Public Holidays are $445.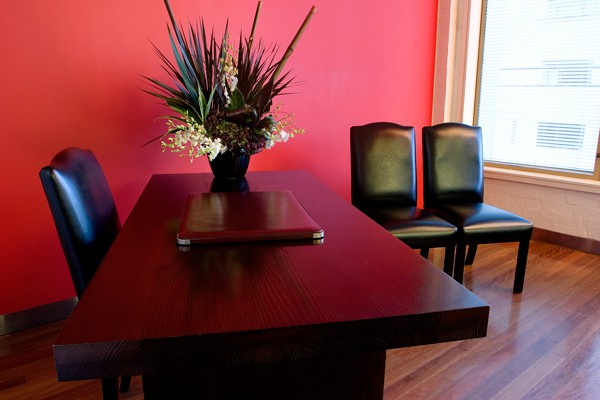 Chippendale Registry, Sydney (above)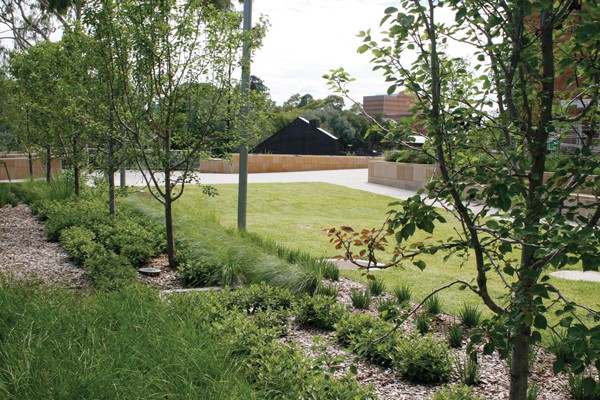 Parramatta Registry Gardens (above)
Canberra
As Canberra does not perform registry weddings you will need to refer to a civil celebrant or religious celebrant. The closest registry office is located at Unit 2, 74 Kembla St, Wollongong, NSW. To be married at the Wollongong Registry you must follow the protocol expected of any marriage by completing and lodging the required forms and information within the required time frame. Weekday registry weddings cost $350 including fees for lodgement of notice and GST, and for weddings from Friday 6pm to Sunday 5pm the fee is $445 including lodgement of notice and GST. For further information please call 1300 655 236.


Queensland
The Queensland Registry of Births, Deaths and Marriages offers two elegant, contemporary and architecturally designed ceremony rooms with breathtaking panoramic views across the city to the mountains.

Located in the Brisbane CBD at 180 Ann Street, the rooms were purpose built with acoustic design to maximise atmosphere and generous lounge areas where guests can gather before the ceremony. Also, there are private dressing rooms for you to change before your ceremony.

You can choose to hold your wedding on a weekday or Saturday between 9:30am – 4:00pm. The Registry also offers premium evening ceremonies from 5:30 – 8:00pm on a Friday and Saturday from 4:30 – 6:30pm. Prices and details on what you need are on the website or you can call 1300 366 430.

A number of regional Magistrates Courts throughout Queensland also conduct weddings.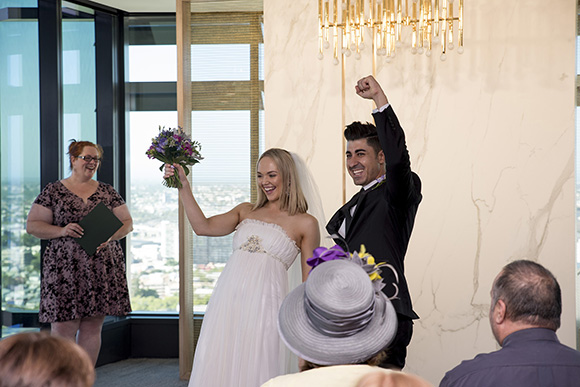 The Queensland Registry of Births, Deaths and Marriages ceremony room (above)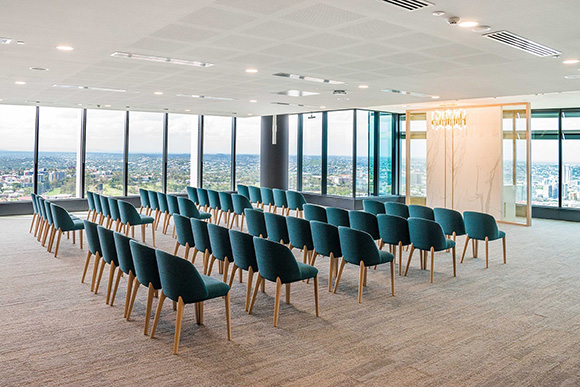 The Queensland Registry of Births, Deaths and Marriages ceremony room (above)


Victoria
The Victorian Marriage Registry offers civil marriage services seven days a week (except public holidays) at the historic Old Treasury Building, Cnr Spring & MacArthur Streets in Melbourne. Catering to a wide range of cultures, preferences and budgets the Melbourne Registry offers an elegant and affordable wedding ceremony.
The venue is open for view every Thursday 12.30pm - 1.30pm (excluding public holidays) and the building has two wedding rooms for you to choose from: the Margaret Craig Room can accommodate up to 55 people, while the more intimate Thomas Hyde room has enough seating for 8 people.
Weddings take place at the Melbourne Registry Monday to Friday 10am-5pm, Saturday and Sunday 9:30am-5pm. Monday to Thursday registry weddings cost $270 in either wedding room. Ceremonies taking place Friday to Sunday are $300 in the Thomas Hyde room and $340 in the Margaret Craig room.
In other parts of Victoria, authorised registrars in some regional courts can also offer civil marriage services. Contact your local court for further details.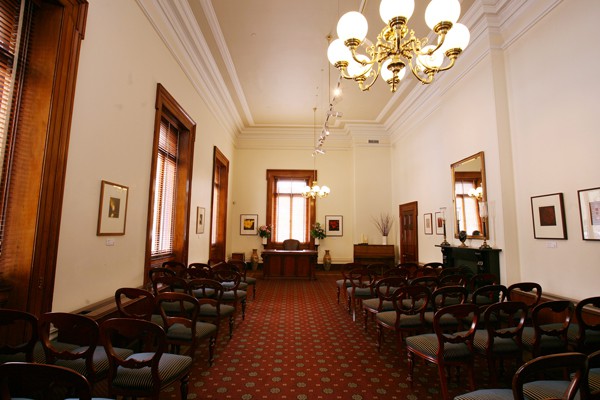 Melbourne Registry Weddings, Margaret Craig Room (above)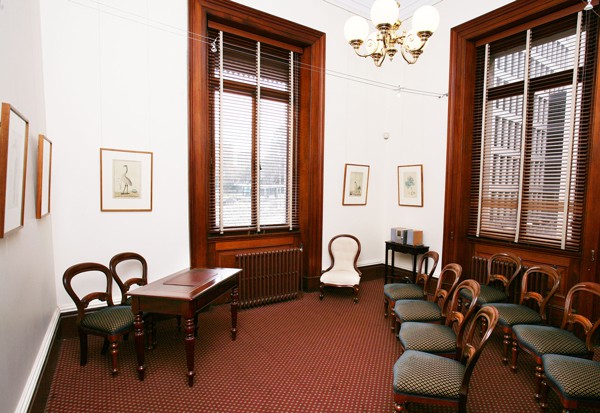 Melbourne Registry Weddings, Thomas Hyde Room (above)


Northern Territory
Registry Marriages in the Northern Territory are performed in the Marriage Room of the Births, Deaths and Marriages Office in Darwin or Alice Springs. The Deputy Registrar is available to solemnise marriages during office hours only, Monday to Friday 8am-4pm. The fee for a Registry Office Wedding in NT is $178. This includes the lodgement fee and ceremony fee.
Darwin Registry Office: Ground Floor, Nichols Place, Cnr Cavenagh & Bennett Streets, Darwin NT 0800
Alice Springs Registry Office: Centrepoint Building, Cnr Gregory & Hartley Streets, Alice Springs NT 0870
South Australia
Registry Marriages in Adelaide are conducted Monday to Friday between the hours of 10am and 4.30pm. The Births, Deaths and Marriages Registration Office provides a modern, simple marriage room for your wedding ceremony day. The office is located at Level 2, 91-97 Grenfell Street Adelaide. Full fees for a wedding ceremony, including the lodgement of your Notice of Intended Marriage form, is $258 – including venue and celebrant.


You can check if a regional courthouse near you has a registered celebrant by contacting 131882.

Western Australia
Marriage ceremonies are performed in the Registry marriage rooms located on Level 10, Westralia Square 141 St .Georges Tce, Perth, between the hours of 9.30am-3pm Monday to Friday. The wedding room in Perth can accommodate up to 22 guests and the total cost for a ceremony is $305, this includes the ceremony and lodgement of NOIM form, an official Marriage Certificate is available for $44.


Further information on regional offices are located here.