Planning 101: Outdoor Weddings State Fees and Permits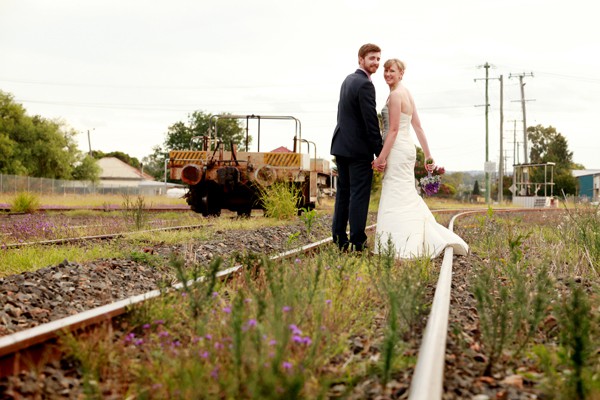 Are you dreaming of a beautiful garden wedding, outdoors in your local park or bare feet nuptials on a pristine beach? Well, if you are there are a few things that need to be sorted out first.

An outdoor wedding usually requires a few local government approvals, for instance local grounds and beaches come under the classification of national parks and every city council has their own laws and regulations regarding ceremonies and receptions. You may find that weddings are not permitted at your dream venue, or that you may need a permit or to pay a hire fee and/or bond to use the area. And remember to be mindful of these points when choosing your venue!
Most times couples will have to notify councils of a number of issues. These include the intended amount of time you will need the area, how long set up and clean up will take, how many people will be attending, if you'll have a marquee or be serving food. Is the venue needed for just a ceremony or the entire wedding?
As all regions vary, here are some guidelines of popular regions for your outdoor wedding.


The best idea is always to check with your local council. Do not forget that most areas insist that you fill out a notification or application form to use a public area. Usually these forms can be found on the website of the relevant city council. Happy planning!

Victoria

The Mornington Peninsula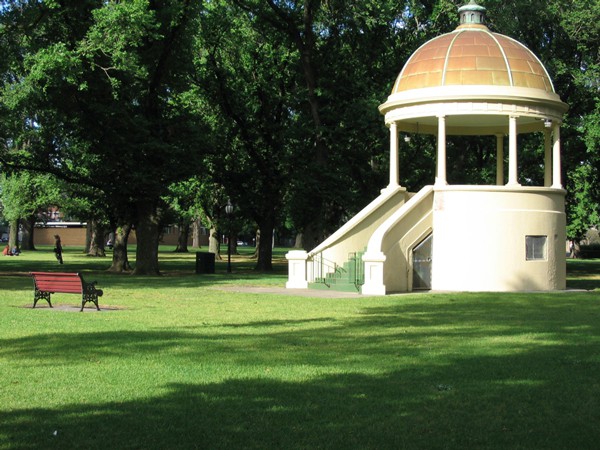 The Mornington Peninsula hosts around 300 weddings per year, and is an increasingly popular spot to tie the knot. Couples need to ensure they have completed page 21 of the Category One Information & Approval Kit form, submitting it to the Shire as soon as the date and location have been finalised (this avoids to avoid double bookings and ensures the maintenance team are aware of your ceremony).
A fee of $60 applies to hold your wedding on public land and alcohol is prohibited (as per the General Purposes Local Law). To hold your ceremony in public open space you need to complete the Category One Wedding Permit Application.


Other popular areas for outdoor weddings in Victoria include: Fitzroy Gardens, Melbourne Botanic Gardens and the Macedon Ranges.

New South Wales
Byron Shire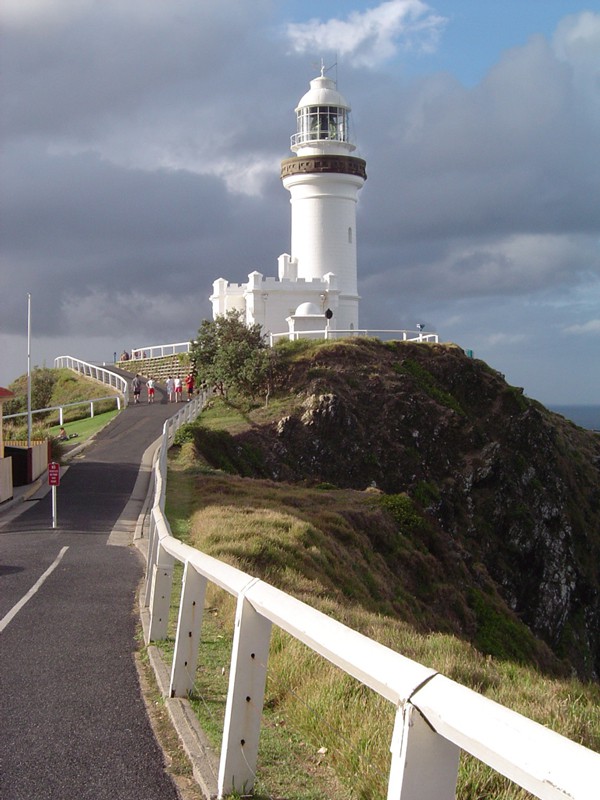 Byron Bay weddings are wonderful, an enclave of numerous beaches and parks, however not all spaces can be used for weddings. Some beaches are not owned or controlled by the council so it is important to contact the council and find out if your chosen public space is available.
You will need a temporary licence to get married on Byron Bay Council or Crown Land in Byron Shire and there is an application form available.
There is an application fee of $70 and a license fee of $100 for Byron Bay Council or Crown Land weddings and generally weddings don't require a bond, however you're best to check specifics with the council.
It's important to note that not all beaches or reserves in Byron Shire are under the care and control of Byron Shire Council, Wategos, The Pass and the Lighthouse are under the care of Cape Byron Headland Trust. For more information on which beaches and reserves are, please call 02 6626 7044.


Other popular areas include: the Hunter Valley, the Blue Mountains, Nielsen Park & Woollahra Municipal Council and Sydney Harbour.

Queensland
Moreton Bay Regional Council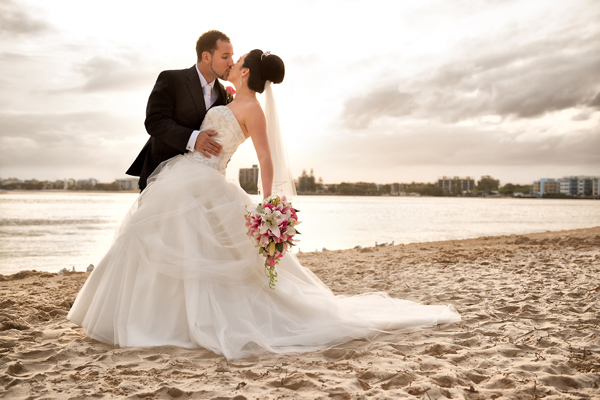 Sunshine Coast Outdoor WeddingPhoto: Images By Andrew

Wishing to get married in one of Redcliffe City Council's parks or gardens? You'll need to make a tentative booking to reserve the area you want. Here are a few steps you'll need to follow...

There are two types of bookings you need to be aware of:

A Site Booking - for wedding ceremonies and photo sessions only where the event is no longer than three hours (NB. Receptions are not permitted on public land) book via the Redcliffe Council's website, or contact Council on (07) 3205 0555. Site bookings are accepted up to 24 months prior to the wedding date, and no less than six weeks prior.
An Event Booking – detailed requirements of this booking are available here and relate to events longer than two hours, requiring vehicle access, PA systems, electricity and temporary structures (among many other things). You'll need to make a tentative booking and complete the event information form.
A booking fee of $83 is required and approved applicants will receive an approval permit letter and invoice for payment.
The Council will ensure that the area is clean and tidy for the event and no further bookings will be accepted for the area NB. Council parkland and foreshore areas are for the general use of the public, approval does not grant the organiser exclusive use of the site.


Other popular areas for outdoor weddings in Queensland include: Brisbane's New Farm Park & Mt Coot-tha, the Gold Coast's Nobby's Beach & Burleigh Heads(application forms), Mt Tamborine and the Sunshine & Cairns Coast's.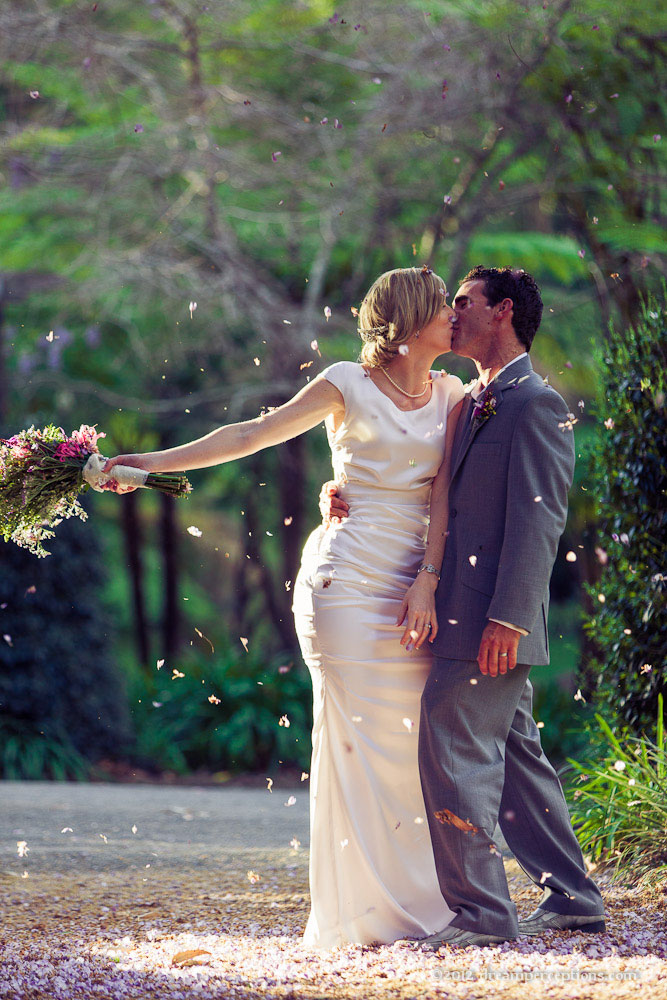 Mt Tamborine Outdoor Wedding Photo - Dream Perceptions