Levi & Melissa: A Hometown Country Wedding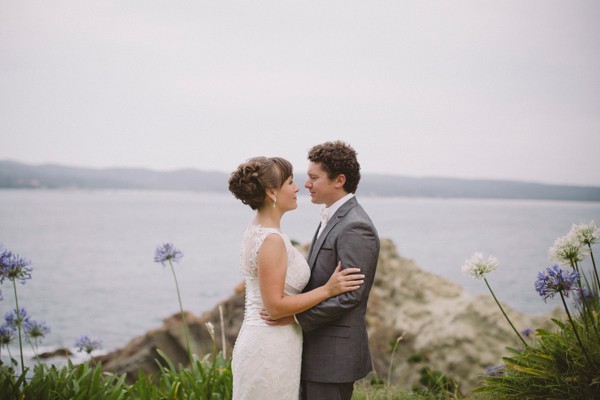 Levi and Melissa chose Eden, Levi's hometown for their wedding – where a country theme was wonderfully worked into the seaside setting.

Levi, originally from Eden, met Melissa, hailing from Alice Springs, at University. Both had moved to Canberra to study at ACU initially meeting in 2004 but it wasn't until 2006 that they truly became inseparable. And on one February night in 2012 Levi took Melissa on a date: to dinner at Dieci e Mezzo and popped the question…
"The restaurant is located in the lobby of the Actewagl building, so after dinner we had a look at the light sculptures where he got down on one knee!" Melissa tells. Levi & Melissa tied the knot in 2013 at Our Lady Star of the Sea Catholic Church with a Reception following at Oaklands Event Centre.
"Levi grew up in Eden and I had always said to him that we would never get married there as I didn't think it was fair for him to get married in his home town, if I couldn't. (Selfish, I know!) However, once we visited Oaklands I had a pretty quick change of heart! It incorporated the 'country' style that I wanted for the wedding and would allow Levi to get some beach photos which is what he wanted! A good compromise."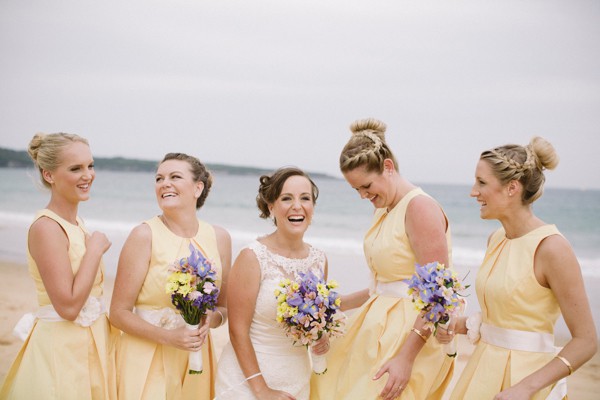 With about a year to plan and a country theme picked out Melissa turned to "a lot of ideas and inspiration for this particular style in bridal magazines and online." Collating a lot of her inspiration on one particular site… "A lot of my inspiration for wedding decorations, themes, dresses etc came from Pinterest! I also found a picture of the dress I wanted online through Annabel's Bridal Studio's website, which I ended up buying."
"The planning process was pretty pain-free. I was told by lots of people to book early! Once I had booked the Church and reception venue, everything else was pretty relaxed. My next big things to organise were the dress and the photographer. After that I just did little bits here and there. As our wedding was interstate we had to organise a few trips to Eden to finalise things when it got a bit closer to our wedding date (meet with the event planner at Oaklands – we went through three of these meetings during the planning, had hair and makeup trials and participated in a pre-marriage course organised by the Parish). There were times when people asked me how the 'wedding planning' was going, and I thought to myself 'is there more I should be doing?!'"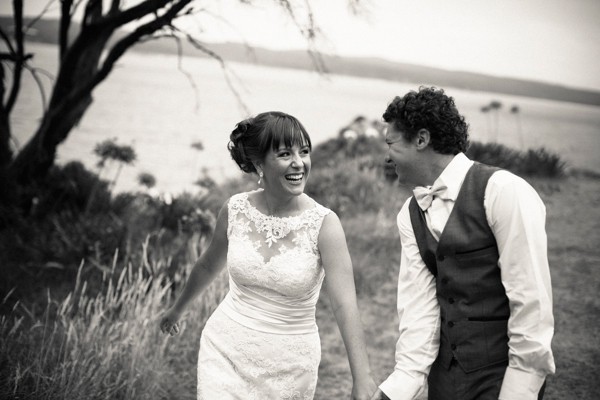 We'll let Melissa take us through her wedding day…
"The actual wedding day was really good. I had been told by a lot of people to 'take it all in on the day' and I made sure to do just that!
We started with our hair at Cheveux by Twofold in Eden, where we had nibbles and Moet on arrival. After this we went down the street to Eden Spa and Beauty to get our makeup done where we had some more nibbles and champagne. The bridesmaids and my mum had a practise of our flash mob dance in the alleyway while I got my makeup done.


We headed back to our unit and had a bit of down time. This is when we played a board game and made ourselves some lunch. Meanwhile Dad was busy polishing the car (he has spent the past three years doing up an old Holden – his pride and joy).

We made our own bouquets the night before the wedding so we added some ribbon and pins to them after lunch. We got dressed (I realised how warm a wedding dress can be!) and had a few photo's before it was time to go. After a relaxed morning 'go time' crept up on me, this was when I first started to feel a bit nervous and got some butterflies!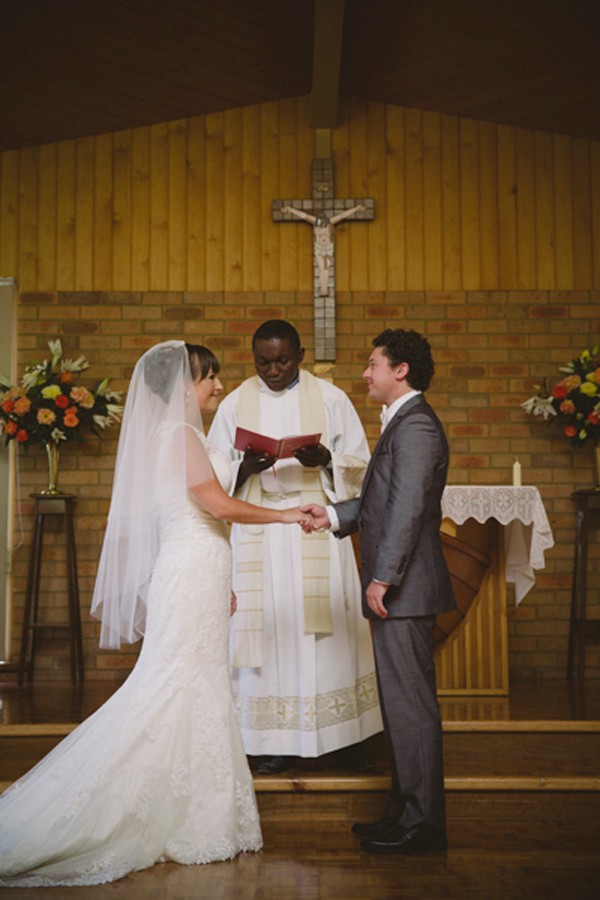 We arrived at the Church and just before I walked into the church my veil fell out of my hair! I had a mini panic attack as all of the bridesmaids were already at the altar, I didn't think I could trust Dad to put it back in for me. A friend of my Aunty's was outside the church and shoved it back in my hair for me, I then spent the entire ceremony wondering what it looked like because it had ended up in a different spot to the original plan.
Our priest Father Constantine was excellent, the readings were excellent and the ceremony went very well.
We had a group photo and some family photos outside the church straight after the ceremony. After this, the bridal party were driven to our first location by my two brothers, Shane and Mark and our friend Nathan. We went to a little pine forest overlooking the ocean, not far from the church. Getting photos done is one of the best things about being in any bridal party! It's always so much fun, it was overcast at this point so we didn't even have to squint!
Next location was Aislings Beach in Eden. Getting to take the shoes off was nice. It was a bit windy down by the beach so we all got a bit too much of a view with the bridesmaids dresses flying around!


We then travelled to Pambula and stopped for a few photos at the Homestead at Oaklands. From our three locations we got some very different and excellent photos. (Thanks to our amazing photographer of course!)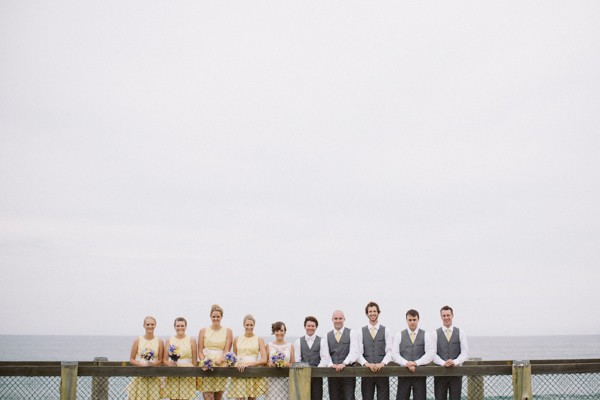 The reception went really well – food was good, speeches were good! My brother Mark was MC (this was his first wedding ever, so he did very well!). Highlights of the reception would be the speeches, the shoe game, the dessert buffet and our flash mob to Call Me Maybe."
In hindsight, is there anything you would do differently?
"For our reception we just had an iPod and I was left responsible to choose the dancing music. This was so hard to choose, not knowing what would be a hit on the dance floor at the time, I wish I had left it up to someone else, and added more songs for the oldies to dance to."
Why is being married important to you?
"I think it's important to make that commitment to the person you love, in front of all the other people you love. No backing out! You're in it together then!
"Don't get caught up on things that will be out of your control (like weather), involve lots of people in the planning (give jobs to the bridesmaids, mothers and the groom) and choose a good photographer (those are the memories you'll have FOREVER!)
Have fun! It's bound to be the best day of your life, so make sure it is!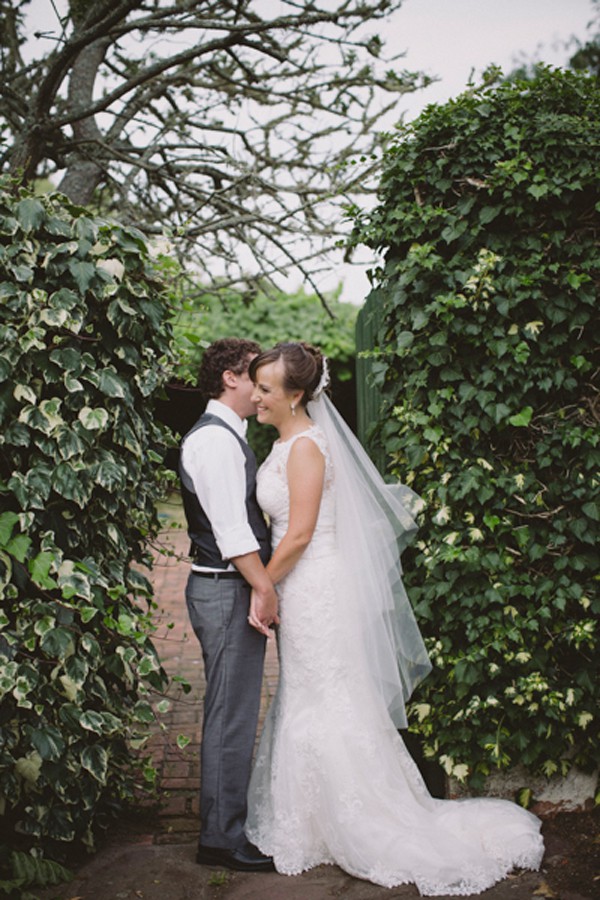 Photographer: Amanda Thorson – Thorson Photography / Gown: Annabel's Bridal Studio, Kingston / Flowers: Whitby's Florist, Pambula (bouquets arranged by bridal party) / Cake: Sandra Huff, Eden / Hair: Cheveux by Twofold, Eden / Rings: Levi has his Dad's ring, Melissa's rings through a friend / Makeup: Eden Spa & Beauty / Bridesmaids Dresses: Cue / Groom & Groomsmen: Mark Anthony, Eden / Ceremony Venue: Our Lady Star of the Sea Catholic Church, Eden, NSW /Reception Venue: Oaklands Event Centre, Pambula, NSW / Transport: Holden HR Premier – Bronte Bruce. Other cars supplied by our Godparents / Celebrant:Father Constantine Osuchukwu / Bonbonniere: Homemade Relish & Pickles made by our mum's Debbie (Melissa) and Sue (Levi) / Theme: Country /Entertainment: iPod manned by Sam / Honeymoon: Thailand: Phuket, Koh Samui & Bangkok

Guests: 97

Menu
Canapés
Baby Spinach Feta Quiche, Chicken Sate Skewers w/ Peanut Sauce, Herbed Meatballs w/ Tomato, Vegetarian Rice Paper Rolls, Platter of Dips
Main
Backstrap of Lamb on a Medley of Roasted Root Vegetables w/ a Red Wine Rosemary Jus / Prosciutto wrapped Chicken with Rice Pilaf & tossed Fresh Greens / Vegetarian Option: Tart of Roasted Red Capsicum w/ Mushrooms & Baby Spinach
Dessert
Honey Cheesecake w/ Toffee Shards, Lemon Wattle Seed Tart, Fig & Raspberry & Burnt Butter Tart


Bride's Processional: Holding Out For A Hero – Ella Mae Bowen
Signing: Forever – Ben Harper
Recessional: Lead Balloon – Kasey Chambers & Shane Nicholson
First Dance: Songbird – Glee Cast

Songbird Santana Glee cast from Leonardo on Vimeo.