Modern Moroccan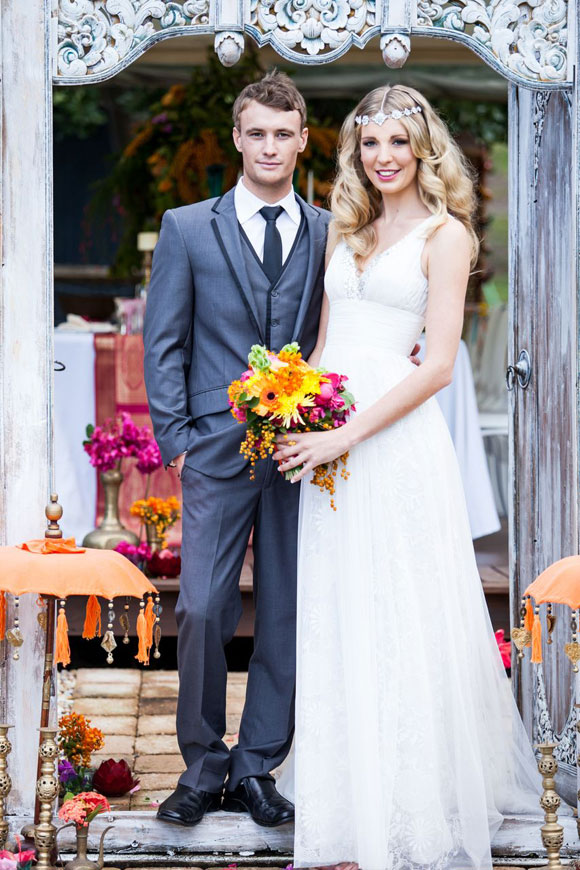 Morocco ... Exotic, mysterious, and vibrant. Gold Coast-based wedding photographers, Gerhard and Nadia van Vuuren from Infinity Faith Photography together with Pearl Bridal and Formalwear Express Gold Coast have brought Morocco to life in their latest photo shoot.
What was the inspiration behind this shoot?
The concept behind this colorful and culturally styled vision was to create something unique, reflecting the love story of two free spirits. We are so lucky to have local suppliers who like to push the envelope and do things a little differently and be bold. Interesting and colorful, that was the impression that emerged from our Moroccan inspiration. We wanted to give the brides some colours to work with and some new LOCAL vendors to choose from.
How did you go about creating your 'Modern Moroccan' vision?
The Moroccan style was brought to life through the use of contrasting colour, design and texture. This was achieved by using a colour pallet that encompassed pinks, oranges, greens, purples, fuchsia, deep corals, as well as many different patterns and designs.
The key to the shoot's overall look and feel was to find the right wedding dresses. Due to the nature of the theme, rules are allowed to be broken, anything goes and the decision of a wedding dress is the same. Pearl bridal supplied two of the most gorgeous dresses from their collection.
Thinking we were going to struggle with Men's wear for a styled shoot, Geoffrey from Formalwear Express Gold Coast saved the day. After measurements, we decided on a charcoal grey suit with matching waistcoat, white shirt, black tie and cufflinks - a real gentlemen's attire.
How can our brides achieve this look?
The "Jennifer" dress with rich texture and diamante beading contributed to the Moroccan style. We used the current trend of a jeweled headpiece (from Lovisa) to accentuate the Middle Eastern look while simultaneously making it a bit more current. The "bling" added a wow-factor and complimented the dress. The loose-finger waves, also a current trend, is a bit more of a retro hairstyle, but gives the bride a flattering and flirty look. What makes this hairstyle modern and fresh is its free-flowing quality. It looks really touchable, and the waves are not as sculpted as before.
The "Treasure" dress was a more traditional choice and was specifically chosen for those brides that are still captivated by the princess-cut wedding dress. The styling goes to show that you can spice up a traditional dress and achieving a totally different look that is dramatic and new. We loved the side bun, which is a massive hair trend right now – it is a look that is chic, sexy and easy to achieve. At last, a runway trend that can be worn in real life and look super natural on your wedding day. The floral headpiece gave it the Moroccan flavour that we needed for this look. In both looks we wanted more natural make-up with accentuated pink lips.


Love their work? Catch Infinity Faith Photography, Pearl Bridal and Formalwear Express at the Gold Coast Expo on Sunday August 4.