Five minutes with: Dunbar House
Magnificently refurbished with the utmost attention to detail, Dunbar House offers world class dining, exceptional service and breathtaking views of the Sydney skyline right on the shores of Watsons Bay.

It was a perfect summer day when I recently visited Dunbar House on Marine Parade at Watsons Bay, to review their new Summer Tastes Menu. Stunningly located in Robertson Park, Dunbar House is right on the waterfront. Neatly located tables offered breathtaking views through the huge windows of magnificent old fig trees and the brilliant blue of the bay; waves washing onto the beach and that iconic view of Sydney Harbour

The once decrepit looking Dunbar House, built in 1837, was lovingly restored in 2010 by caring new owners, the Grand Pacific Group. Following another freshen-up, it is beautifully decorated in an eclectic style: modern beach house looks mix with classic Georgian accents. Such care was also extended to the table settings: lovely linen, heavy cutlery and beautiful Wedgwood and Royal Albert Bone China tea services. Attention to detail was clear in the facilities also, which often prove the Achilles heal for venues, here they were immaculate, nicely decorated and equipped with lovely toiletries, making you feel very pampered indeed.
I was greeted at the door by very pleasant and helpful staff and promptly seated. The service throughout the meal was efficient and professional, yet remained friendly with a personal touch, many of the diners were locals enjoying a special pre-Christmas get-together. There was an outstanding level of service and thoughtfulness in providing blankets for those blustery days on the terrace, enabling diners to still enjoy the view and sit outside.
The new summer menu is Modern Australian with an emphasis on fresh seafood, and had so many delicious sounding dishes (like Roast Salmon with Avocado and a Grilled summer Vegetable Salad, Crisp Pork Belly with Witlof, Pear & Hazelnut Salad and Cauliflower Puree, or Orrecchiette with Wagyu Meatballs with Fresh Tomato, Basil & aged Parmesan) I settled on the salmon.
So many times when dining out, a menu sounds good but fails to live up to its promise. But at Dunbar House the meals exceeded their description, the food looked great but even more importantly was absolutely delicious. In fact my Salmon was so delicious that I couldn't stop eating it all. A perfectly cooked crisp skinned fillet was served on a salad of grilled seasonal vegetables balanced by the creamy saltiness of feta cheese, and rich avocado. It was light, fresh and so pretty scattered with micro-herbs - the dish was summer on a plate.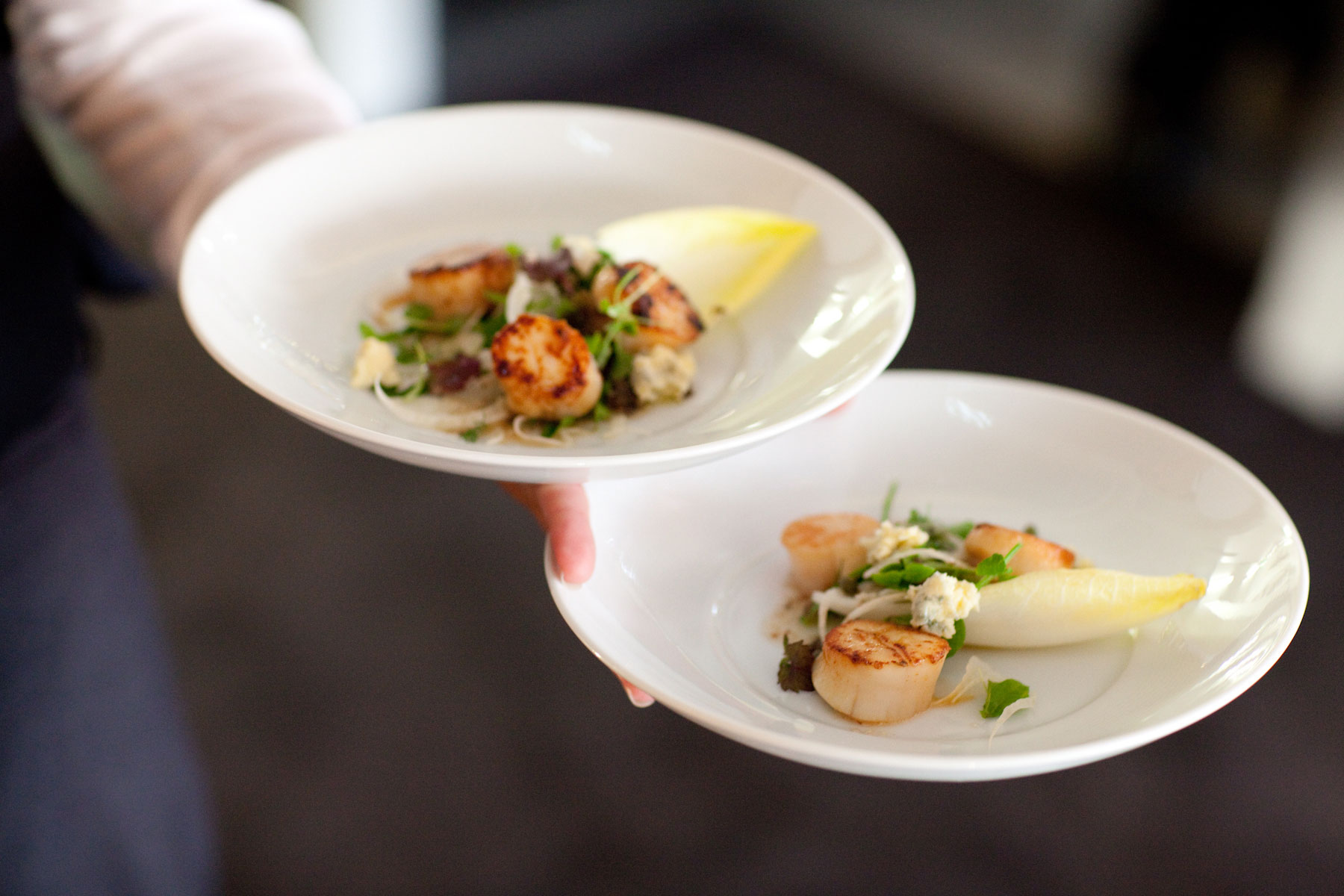 The desserts were even more tempting and came out looking fabulous to ooohs and ahhs of appreciation. How to decide between the Rhubarb & Lime Cheesecake, Buttermilk & Vanilla Pannacotta with Mango and a Fresh Ginger Syrup or a decadent Affogato with scoops of vanilla ice-cream and Hazelnut Gelato and a choice of liqueurs? I went with the Panna Cotta , it sparkled with authentically and the real vanilla was rich and creamy, contrasting perfectly with fresh mango and boosted by a zesty ginger syrup.

I spoke to the Head Chef, Keith Murray who is passionate about using local ingredients and creating seasonal menus which constantly reflect the very best available.

The Reception Room upstairs features a huge private balcony overlooking that world-class view, it's a luxurious, elegant, light-filled room with thick carpets, mirrors and chandeliers, perfect for wedding receptions any time of the day or night. Ceremonies can be held on the lawn, under a fig tree, guests can arrive in style at the wharf across the road, and the terrace makes a fabulous spot for cocktails - all with those drop dead fantastic views! With a variety of rooms suitable for Receptions, Hen's Nights or perhaps a High Tea Party, Dunbar House has it all, great food, excellent service and an unbeatable location.

The new summer menu is an appealing and contemporary selection of dishes that tick all the boxes and offer something for everyone. And all at prices that - given the super location - are more than reasonable. So girls, if you want a top spot for your Reception, girls night or a special place to take some overseas rellies, check out Dunbar House.

I look forward to coming back.

Capacity: 110 seated guests, 150 cocktail

Open: Monday to Sunday: Breakfast from 8am, Lunch from 12pm

Where: 9 Marine Parade
Watsons Bay NSW 2030
info@dunbarhouse.com.au
T: 02 9337 1226

To contact Dunbar House, click here.