Wedding Cake Toppers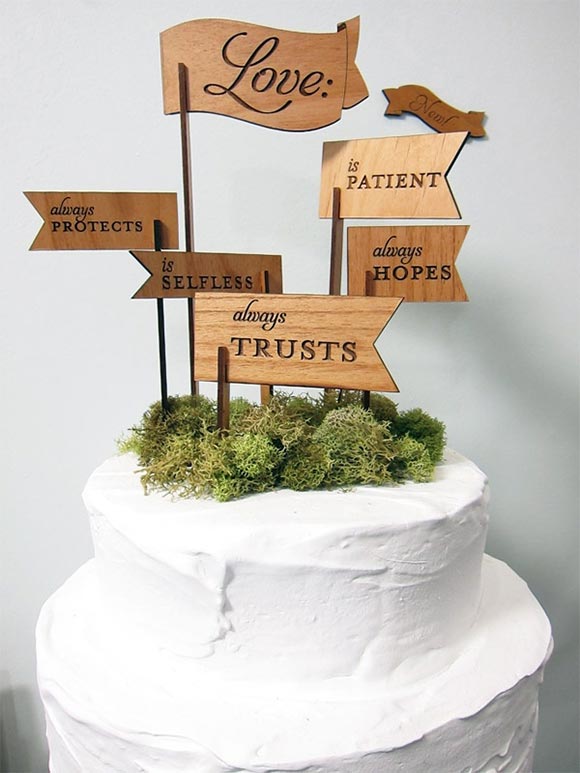 The days of generic, poorly painted plasticine bride and grooms are over. Today's wedding cake toppers are anything but boring, and are a fabulous way to add personality and style to your wedding.
Fashionable monograms, vintage jewellery, unique ornaments, fresh flowers and adorable garlands now take centre stage. Metallic monograms are great for the modern couple, and look sleek and simple a top a traditional white cake. While fresh flowers add a pop of colour and an organic element - a perfect choice for an outdoor spring wedding. If your wedding has more of a vintage feel to it, why not try a lace or ribbon bunting? Glamorous antique crowns and sweet bird figurines are also proving to be a popular cake topper choice for 2013. Scour your local antique store for a piece of old world glamour, or perhaps use a family heirloom for a personal touch. Why stop at one? A collection of heart or flag cut-outs adds wonderful texture and dimension. You could even considering adding a quote? The possibilities are endless when it comes to your wedding cake topper, so use your imagination and choose something that really reflects you as a couple, and is in keeping with your style. That way, granted it isn't edible, the cake topper will make a great memento for years to come.
CHECK OUT MORE WEDDING INSPIRATION HERE:
WeddingGuide Cake Topper Pinterest Board