Amy & Michael: A Princess Finds Her Prince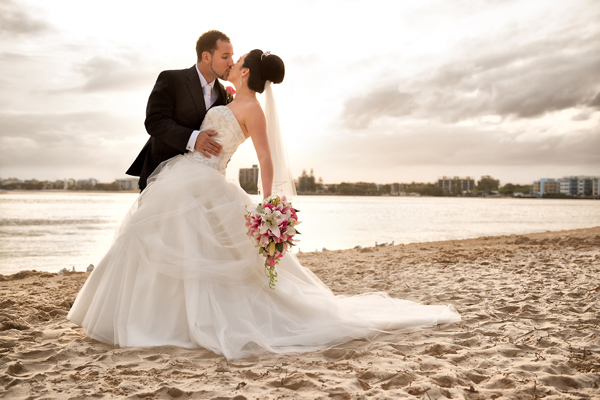 Amy and Michael's Sunshine Coast wedding was a celebration of family, love and fairytale romance.
After meeting through mutual friends and remaining inseparable for three-and-a-half years Michael chose to propose to Amy during a Byron Bay mini-break, "It was in the late afternoon and was about to storm when Michael proposed to me down at the beach," Amy tells. "We had a beautiful scene of purple skies and lightening. It was very romantic."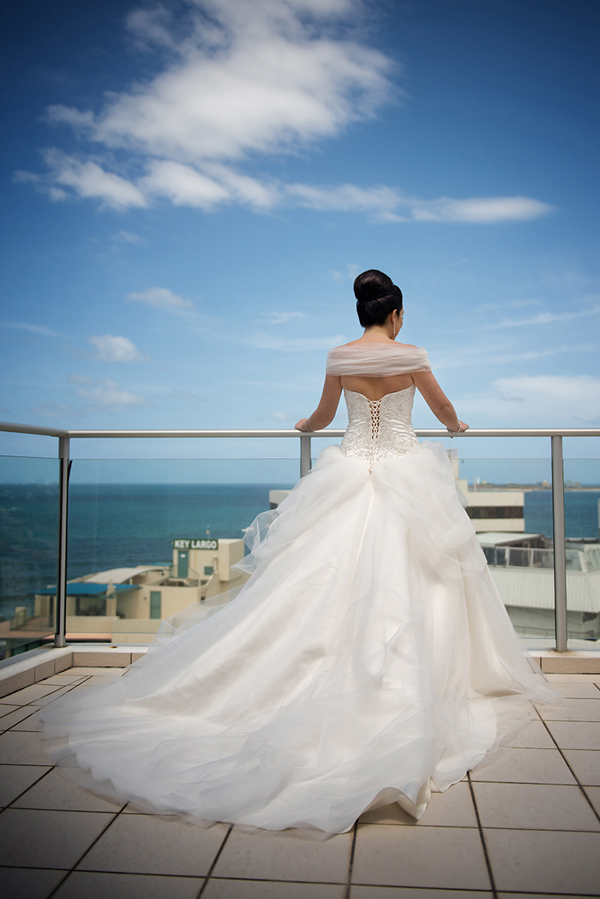 The natural union echoed when Amy and Michael's November wedding day came. "When I woke up at 5.30am it was all dark and cloudy and a bit rainy. But then it turned out beautiful sunshine when we were ready to go the ceremony. It then came over a bit cloudy for our photos down at the beach which made a beautiful background and then as soon as we got back to the reception it started to rain. Perfect timing." Family was an important aspect on the day, Amy remembers "Having my mum walk me down the aisle. My mother is an amazing person and she was always there for me no matter what. My dad was not always around after I got to high school and it was me and my mum always." Another special moment? "Hearing my father-in-law call me his daughter" during some rather touching speeches.

"The speeches my mum, Mikey's dad, the best man and maid of honour did. They were all beautiful and very meaningful to all of us."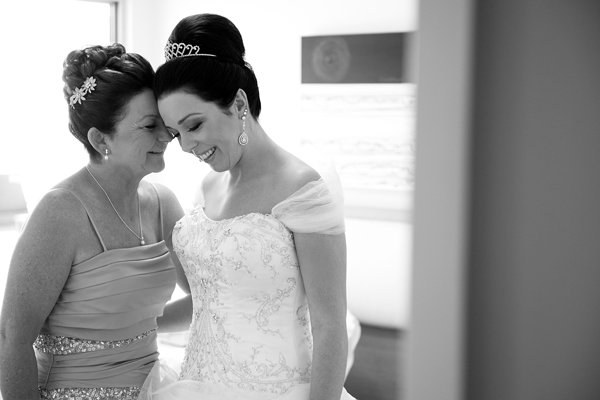 But it was the simple things that resonated the most: "The most memorable aspect of our wedding was when we were finally married and we were being introduced as Mr & Mrs Williams. Also our first dance together; it was our first dance being a married couple. It felt like it was just us together."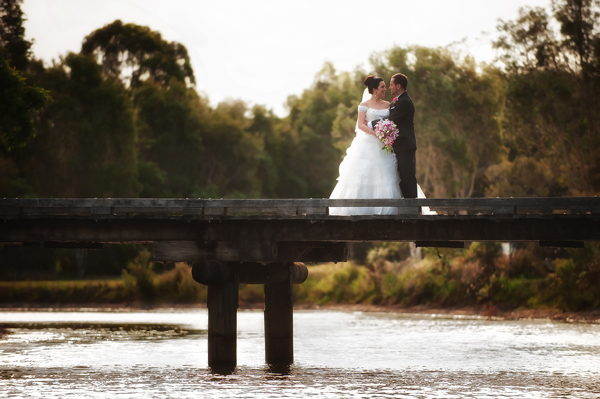 Planning and coordinating the day herself, Amy had a mantra "I just had to keep calm and not get carried away! As I planned our wedding myself I gave every single detail the same amount of attention as everything is important and plays a part on your wedding day. I wanted everything to be perfect."
Amy achieved her dream wedding, aided by her lovely husband-to-be and the helpful venue staff, "We agreed on all things as Mikey said he wanted me to have the wedding I always dreamed off. We were really glad our reception was there [at Crowne Plaza]. All the staff were really helpful and kind and they made everything run smoothly on the night."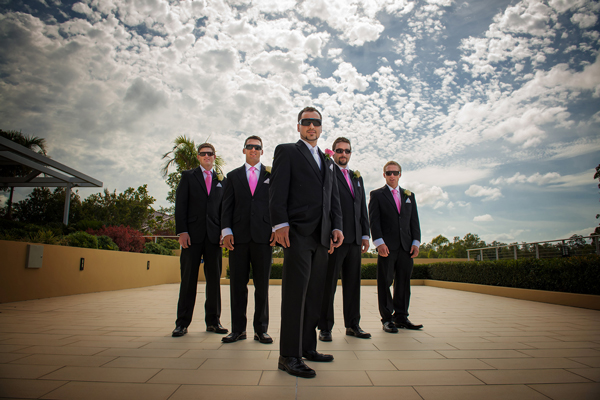 Guests on the day also enjoyed the party, "They all said they had the best time. A lot of people said it was the best wedding they had ever been too, which meant a lot to me. Everyone loved the atmosphere, food, table centrepieces and especially the photo booth!"

After spending their wedding night at Crowne Plaza along with most of their guests, Amy and Michael were able to join everyone for a buffet breakfast the following morning. The couple later honeymooned in the United States and Tahiti. "We had the most amazing honeymoon and were gone for 2.5 weeks. I highly recommend all of theses places. Disneyland was my most favourite place - it was so much fun. Las Vegas was amazing and Tahiti was so nice and relaxing. Best time ever!
"Our wedding was our best day ever. It was a dream come true and we have so many memories that will last a lifetime. We are now looking at building a house and having a family down the track.
Best advice for other brides?


"Take your time and don't be rushed planning. Remember that when you are planning there will be things that don't always go together, and this is normal! It happens to everyone, just slow down and don't get flustered, you will always be able to sort it out. Most importantly remember you will be marrying the man of your dreams in the end."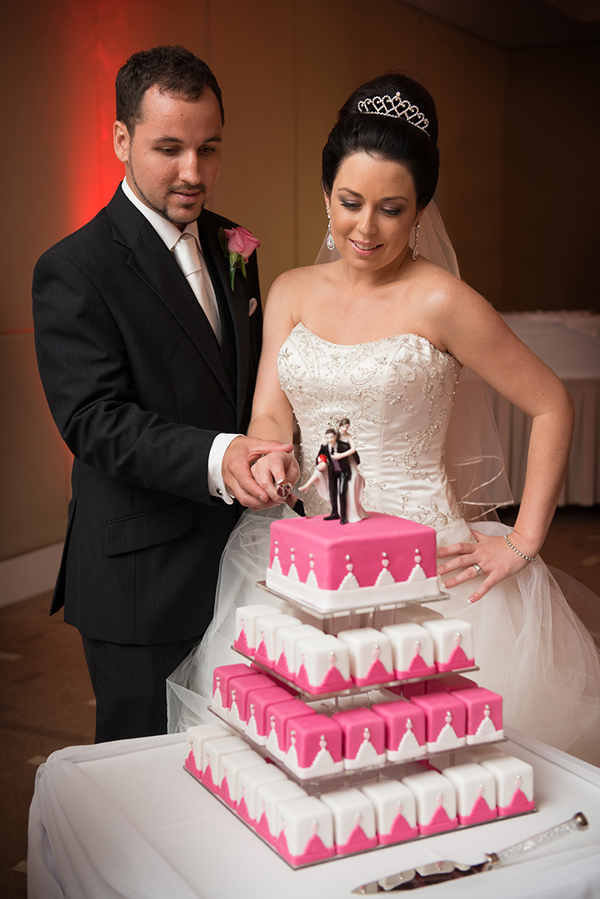 First Dance: Until The End Of Time – Justin Timberlake feat Beyonce
Photographer: Images By Andrew / Gown: Casar Elegance, Maroochydore / Rings: Underwood Jewellers / Accessories: Mother's diamond earrings, Nan's diamonds and my Aunt's diamond bracelet. / Hair: Jan, Hot Brushes / Makeup: Vicki, Silk Hair & Makeup / Bridesmaids: Hills In Hollywood, Maroochydore / Groom: Zenetti, black suit with faint pin stripe, white tie from Ferrari Formal & Bridal / Groomsmen: Zenetti,black suit with Candy Pink ties from Ferrari Formal & Bridal / Ceremony: Upper Terrace, Crowne Plaza Resort, Pelican Waters / Wedding Coordinator: Megan Dawkins / Celebrant: Barbara Wilcox / Reception: The Ballroom , Crowne Plaza Resort , Pelican Waters / Theme: Pink, Princess & Romance / Entertainment: Unique DJs / Flowers: Flourish Design / Cake: Ideas In Icing, Indian Princess Individual Cake / Transport: Image Limousines / Bomboniere: Everyone got box of four heart chocolates. Parents and Grandparents received a small photo frame with a photo from our engagement shoot and a fairytale carriage candle / Unique Extras: At our ceremony we had a sand ceremony kit, we were also binded together through our sand ceremony and we get to keep it forever. The glass heart was engraved with our initials and the wedding date. Then at the reception we had dry ice for our first dance by Unique DJs. And we had a photo booth which was so much fun, by In The Booth.
Guests: 93
Menu
Entrees
Smoked chicken & honeydew melon rosette w/ a Moroccan orange dressing
Smoked Atlantic Salmon with lemon & dill potato salad
Mains
Oven roasted rump of lamb on potato rosti with a minted pea puree
Grilled Cajun spiced Queensland barramundi on seasonal salad with kumara chips
Dessert
Chocolate Bacio w/ hazelnut praline
Banana & toffee tartlet with honeycomb crumble