Planning 101 - A Guide To Outdoor Garden Weddings
Photo: Sayher Heffernan Is your heart set on an outdoor, garden wedding? Perhaps one of your state's beautiful parks or gardens fits the description for your dream outdoor garden wedding.
Check your Council website thoroughly when choosing a park or garden for your wedding. All venues, private or public, have state government restrictions imposed on them and it's important to have your list of questions ready pre-booking!
Here's a handy check-list to consider when planning your outdoor garden wedding…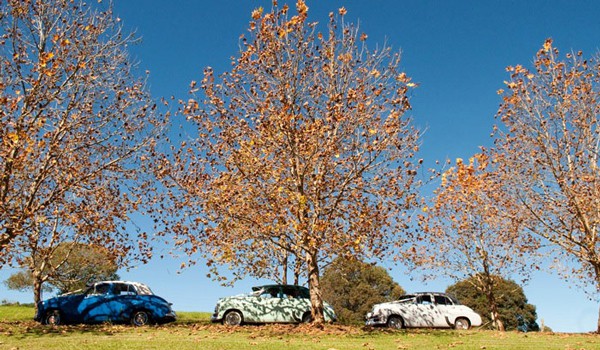 Outdoor Wedding Photo: Moods Photography

Logistics…
Access & Parking: Check that parking is adequate for a large number of guests. While off-street parking and on-street parking is legal it is best to consider the volume of those coming by car and if there are alternative modes of transportation available, also check for parking and meter time restrictions. Don't forget to ensure that the wedding party's transport, whether it's bridal cars, horse and carriage or segways (!) can manoeuvre safely inside the grounds.

Child & Wheelchair Friendly: Are the gardens wheelchair, pram and disability friendly? If your wedding guests include the very young and the elderly consider whether guests will be able to disembark close to the ceremony site. Concerened about the weather? Ask for a mud map of the area to send with your invitations, just in case!
Power: Are you're allowed to use amplified music? Is a power point available for stereo systems, your celebrant PA or any other electrical appliance required for your ceremony?
Confetti: Is confetti allowed in the garden? Often rose petals, colourless bubbles or other more appropriate biodegradable material are perfectly fine. This is an important point as the use of traditional or cheap potpourri confetti (warning: the dyes run), metallic confetti or silk petals is often banned from gardens.
Pet Friendly: Thining of sharing your day with your best (four-legged) friend? Remember to ask if your pet will be welcome, as some gardens may have strict prohibitions.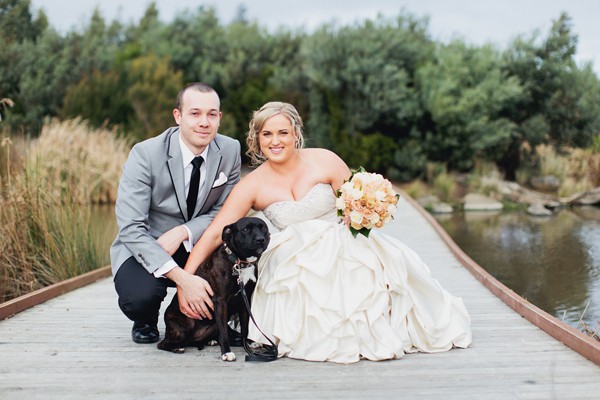 Outdoor Wedding Photo: Sayher Heffernan

Be Practical…
Public Liability & Bond: Check the garden owner has public liability insurance, and whether or not a bond is required (oublic parks often ask for a security bond, refundable on site nspection after the event).
Cover: Are there alternate facilities of cover in the case of rain? Is their shade cover from the sun? Depending on the time of day for your ceremony these are important points to consider. Check if you're allowed to erect a marquee, and if there are any applicable constraints on size.
Rest Rooms: Are they available and do they have wheelchair access? Consider the location of the toilet facilities when choosing the ceremony site – too close or too far are both bad options.
Tables & Chairs: These are basic requirements for both the signing of the registry and for your guests. It's a good idea to ask how many are available, or if you need to provide your own, and ensure you can use them on the day.
Time Limits: Be sure to check the garden and facilities will remain open for the length of time you require, even private gardens have to abide by government regulations.
Photographer: Ensure your snapper is familiar with the garden's layout if you plan on staying on-site for shots.
Lighting: Is floodlighting available for night use?
Noise: Passing traffic noise has spoilt many a wedding so ensure the ceremony site is well away from the road and if possible not able to be seen from the road. We all know how some drivers like tooting their horn in appreciation! While these are lovely thoughts, they may not be appropriate during your ceremony. Ask whether the public will be allowed on the grounds while your service is in progress and ensure any noise from waterfalls or fountains is not overwhelming. Does your celebrant have a public address system? Are they allowed? Don't forget to ask.
Music: Are you having live music? Remember that musicians must have a shaded or covered area that protects both them and their instruments from the elements. Also check accepted noise levels and council approvals that are needed. Restrictions such as a 75 decibel noise level, time restrictions such as a 10pm curfew and the number or type of musicians and use of amplifiers may also apply at your venue.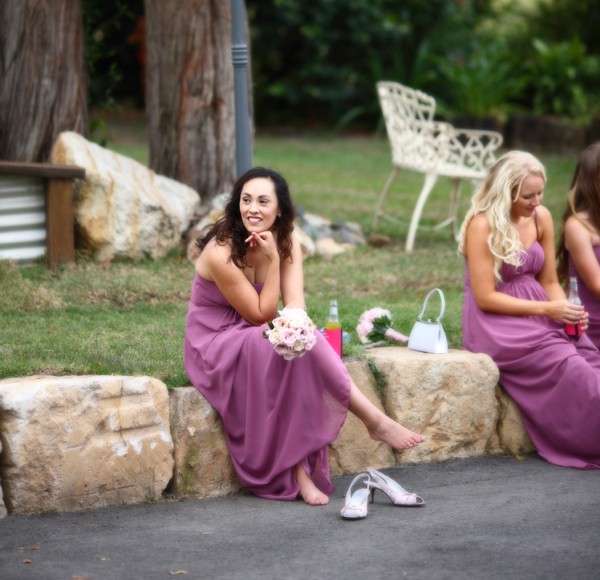 Outdoor Photo: Greg Gardner Photography

Your Guests…
Refreshments: It's a good idea to consider refreshment options for guests during and after the ceremony – whether provided by a catering company or in a self-serve manner. Remember the consumption of alcohol in public places is prohibited!
Reception & Catering: Are you providing catering on grounds or moving onto a reception venue for the celebrations? Access, delivery, service and clean-up are all things you'll need to be mindful of.
Keep Your Guests Occupied: Are your guests content to explore the gardens while the photography session is in progress? Activities like croquet and bocce are often perfect accompaniemnts to while away the house before leaving for the reception.
Smokers: There are strict laws regarding smokingin public places so be mindfiul of guests who smoke and ask them to bin their butts responsibily (who wants those stubbs in their wedding photos?).


Water Hazards: Be sure to advise parents of any ponds, fountains, lakes or other water hazards in the gardens (this is easily achieved with a note on your invite) and remember garden owners will appreciate children not running through, stepping on or hiding in garden beds.